Remember how I put "work at a bakery" on my Bucket List? Well, I kinda had my shot at being a baker! A friend of mine forwarded a job application – Provo Bakery was hiring! SQUEE! Now, I have little/no experience, but I put in my resume anyway and actually heard back! The job position didn't work out (because of my limited summer – who wants to train someone just to let them go a few months later?), but a blogging opportunity just happened perfectly.
The offer: come and watch us bake, take pictures, blog.
Um… yes please! Done.
So no, I wasn't the baker, but I had some pretty good examples to follow and I was constantly surprised at how difficult this job really is. Come, join me (the wanna-be baker) as I delve into the behind-the-scenes of Provo Bakery.
This was an especially unique experience for me because it was for the Fourth of July and the family tradition is to come in and bake – as a family. A few employees came in to help, but for the most part, it was just a bunch of guys (and me) making donuts (I took pictures – have no fear!). The other thing that made my visit unique was since it was the holiday, the family focused on making donuts. Sure, they threw in a few other favorites, but the main seller on Independence day is the donut.
*Please excuse my pictures – the flash was on because it was DARK outside.*
First surprise? We started at 11:30. PM.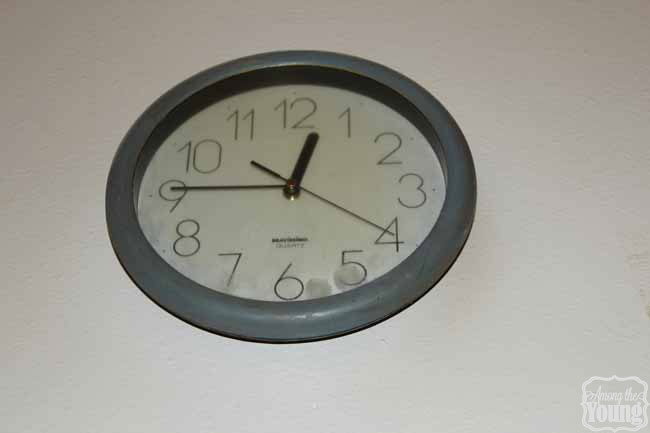 I was obviously excited to be there – I was snapping pictures of everything…literally. It was pretty cool to wear an apron though, just sayin. I was ready to go with my ridiculously large Mt. Dew and some sugar. Little did I know I was about to be wow-ed by awesome-ness.
Surprise #2 : No recipe. I guess it makes sense when you do something a gajillion times, but it still caught me off guard. There they were, just making dough like I was breathing air.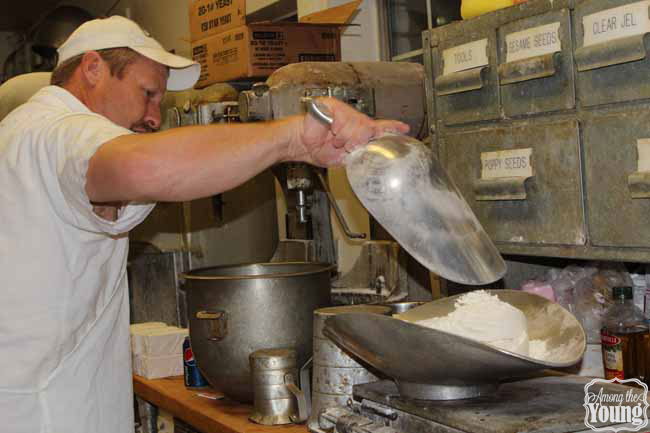 Surprise #3: Bran muffins. Actually delicious?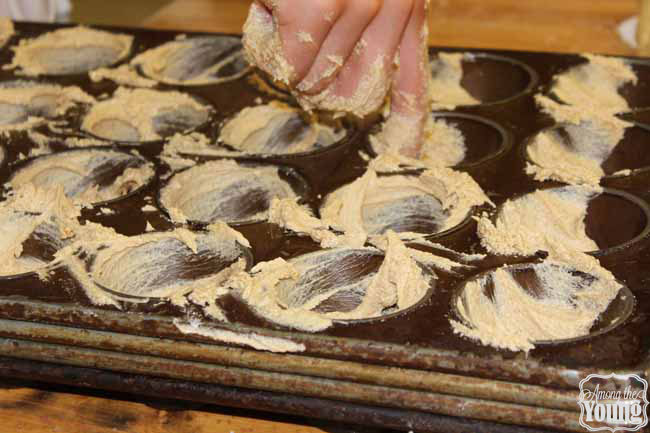 Apparently these are one of their best sellers. Who knew, right? They smear the delicious maple-y frosting in the pan, drop the batter in next….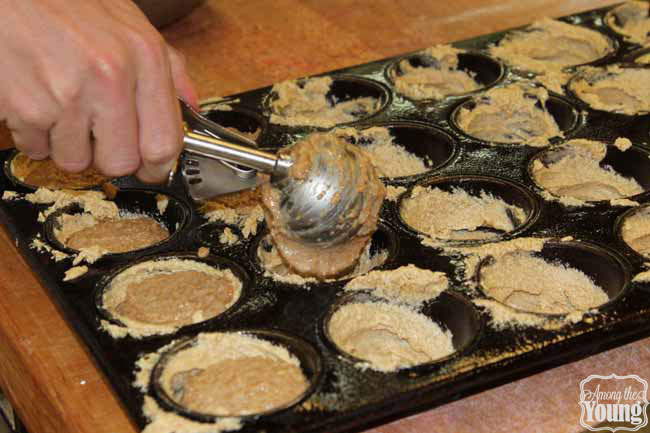 ….and voila! Delicious fresh muffins – I'm still kicking myself I didn't try one. Woulda shoulda…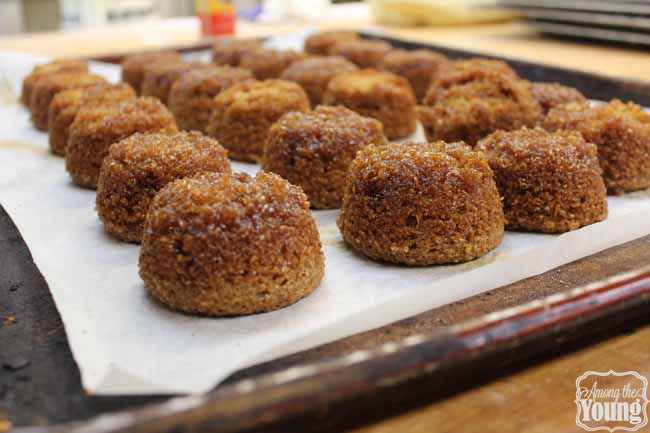 The ever popular cinnamon, orange, and raspberry rolls. I asked, "Why the fancy paper?" The response? "To make them look more fancy." Oh. I see.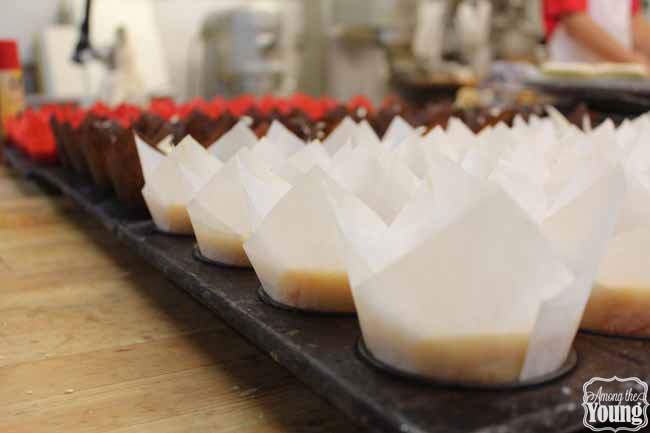 Surprise #4 and #5: Donuts are CUT by the coolest contraption ever and Crocs serve a functional purpose. Who knew?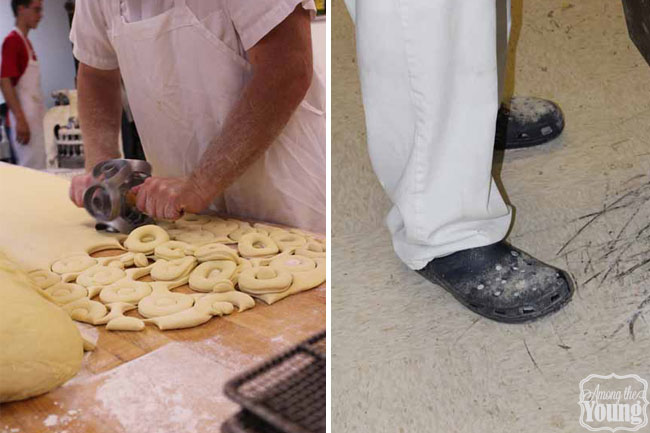 Have you ever had a FRESH, HOT, glazed croissant? Um… wow. Did you honestly think I was going to be in a DONUT SHOP, watching donuts being made, and not eat one? It may come as a shock to you, but I really only did eat one. Impressive, I know.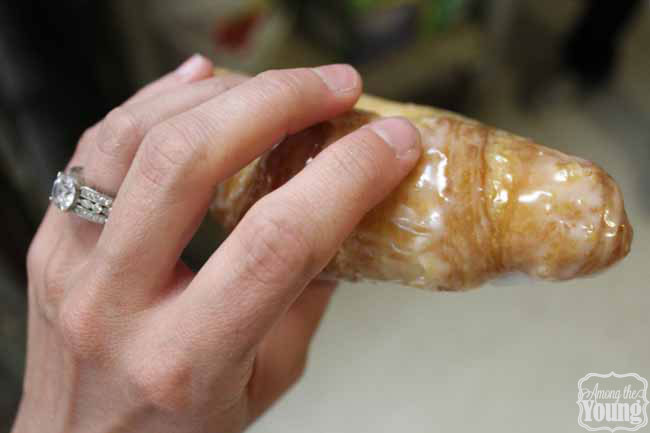 Suprise #6: The cinnamon twists.
Roll it, roll it, roll it…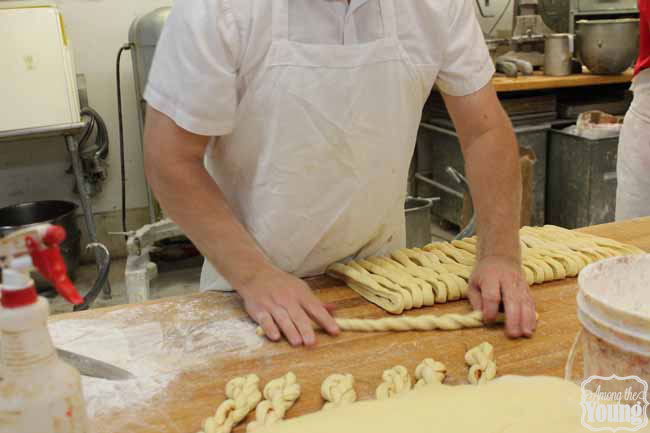 (fast as lightning) …twist it…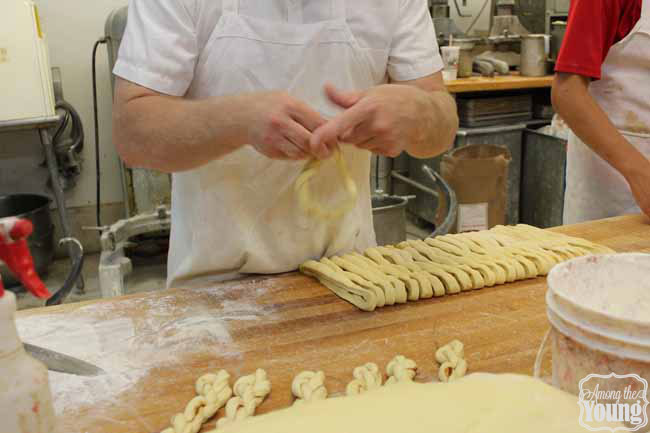 perfection. It's an art really.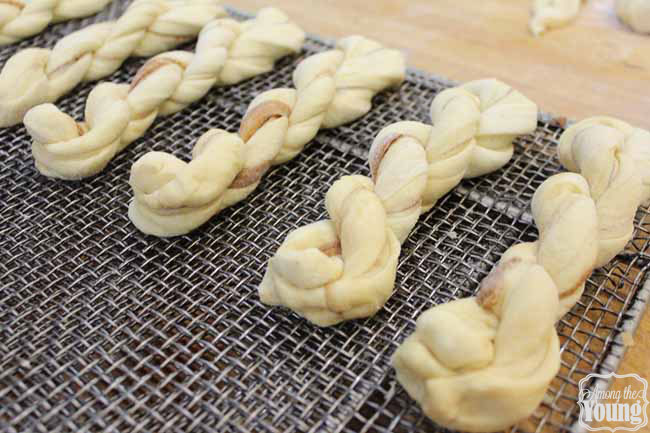 Surprise #7: Fritters. Seriously think about this – HOW is a fritter made?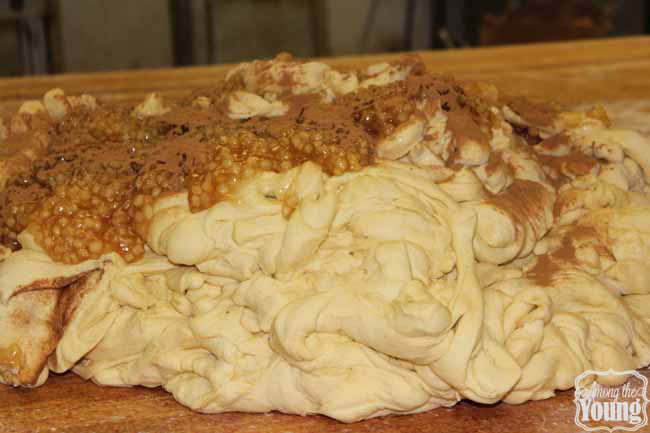 I had no idea. All the other donuts are cut out nicely, but the fritter is just the scraps heaped together, mounded with filling, rolled out, fried, and glazed. YUM. Conversion to the religion of fritters has commenced.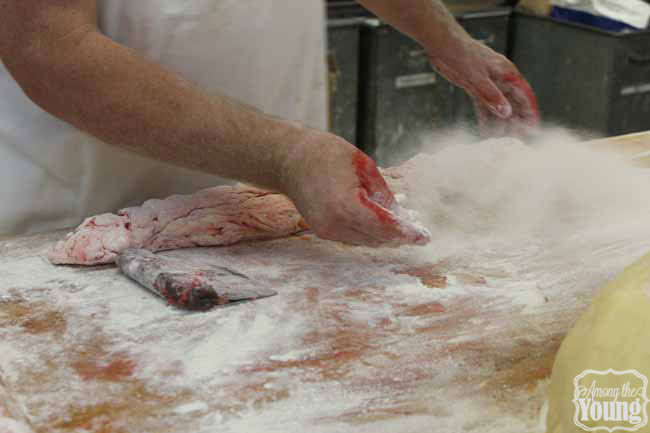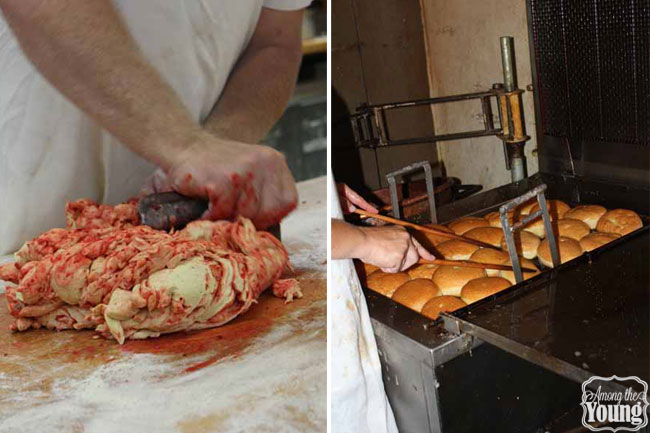 No surprises there, just a perfectly coated and delicious donut waiting to be put into your mouth.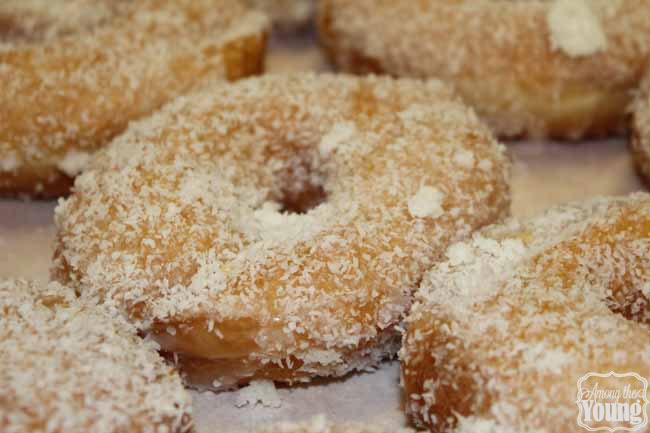 Oh hello giant long cinnamon roll. I wish I could eat that whole thing. And yes, that was ONE of TEN trays that was literally FULL of donuts.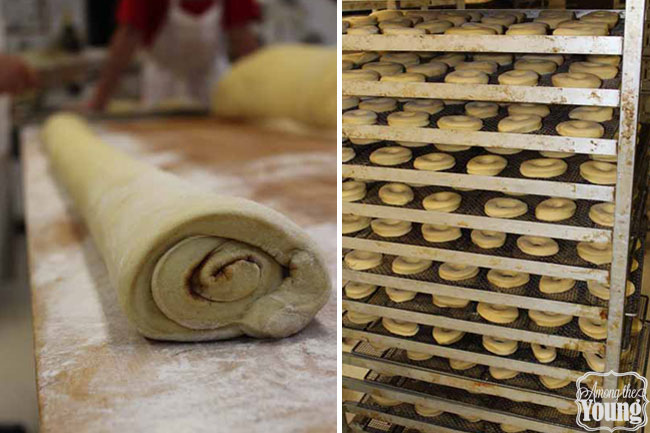 Surprise #8: The way a donut is filled. I had some grand illusion in my head that was shattered by the and total ease I witnessed here.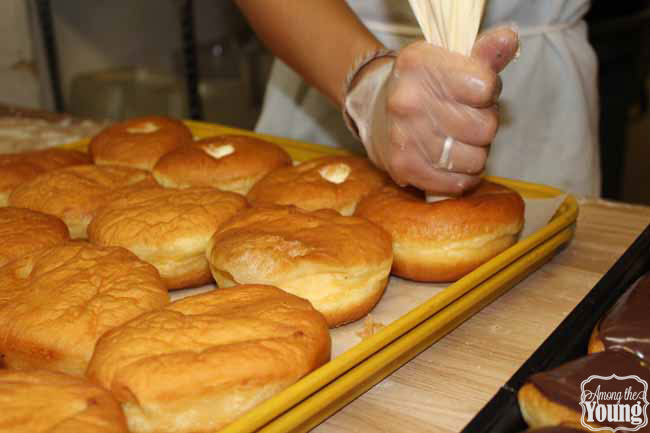 Surprise #9: How freaking tired I was. But LOOK at that display case FULL of hard work and donuts. Isn't it gorgeous?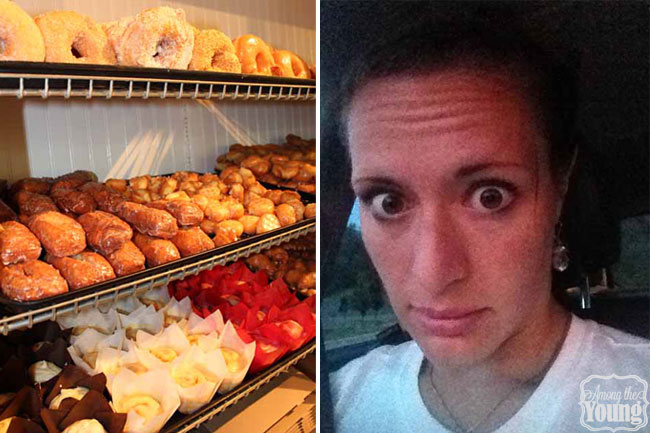 NO, I hadn't DONE anything but stay up all night and take pictures, but I was exhausted. Somehow, at 4AM I drove home without hitting anyone and crashed until mid-afternood. Oops…
It was so fun to interact with the family and be a part of the baking scene. My favorite part was definitely the made up language – I'd tell you about it, but then it wouldn't be a secret, would it? The funniest part? I was SO loopy by that point that it was HILARIOUS, but I had no idea what anyone was saying. It was like speaking German backwards. So I just smiled. This experience literally opened my eyes to what a baker does. It is tiring, exhausting, and sometimes frustrating.
Question of the day: if I worked with donuts, do you think I'd get sick of them? I'm not sure…