Shop LipSense® colors here!
Questions about LipSense®?
Not sure if you're a warm or cool tone?
Not sure which color would work for everyday vs. night?
Email me and I'll help you out babe!
LIPSENSE COLORS:
Apple Cider:
This is one of my favorite "I'm wearing lipstick, but not wearing lipstick" colors. It looks so pretty on and flawlessly matches everything. It is a little thicker than some of the other colors, but if you can evenly apply 3 THIN coats, you'll be in the money!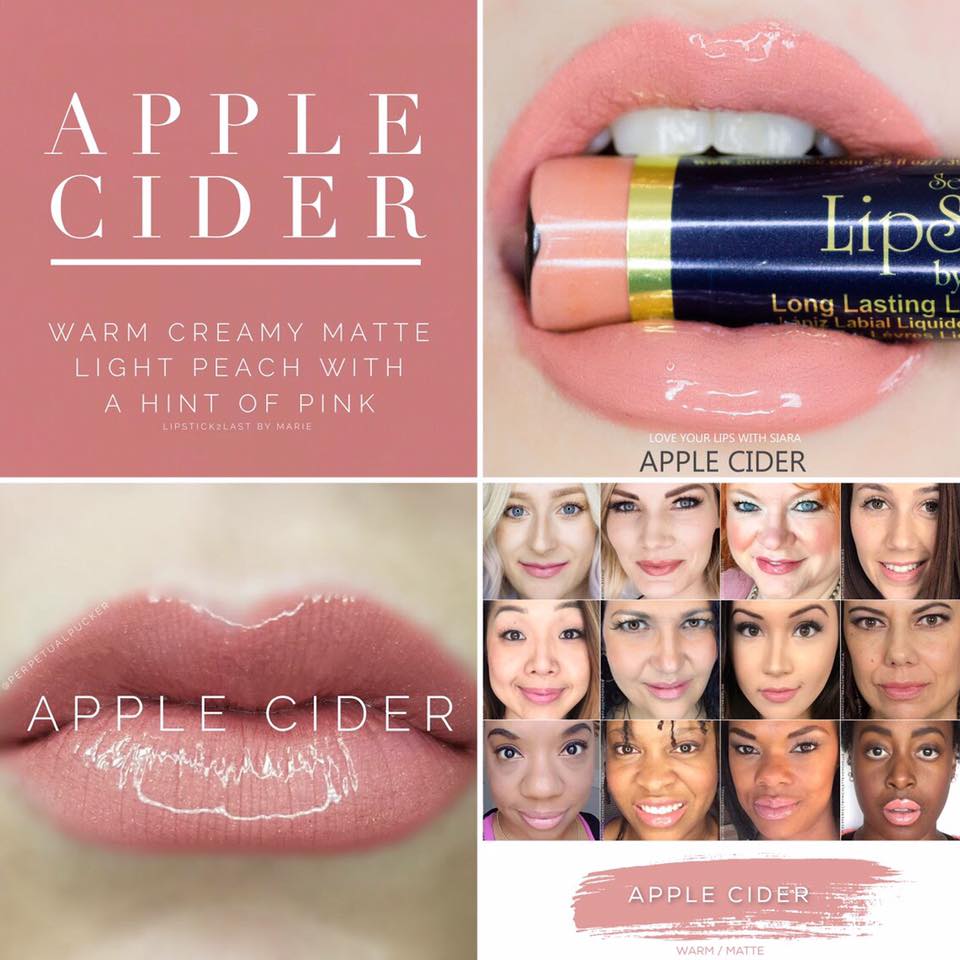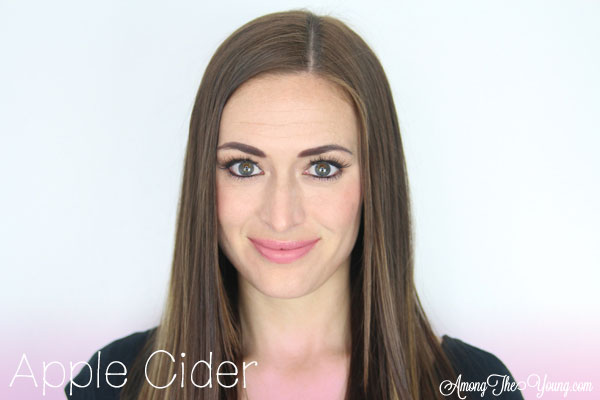 Aussie Rose:
This is one of my go-to colors during the summer. It has a lovely coral-y pink hue that makes me so happy!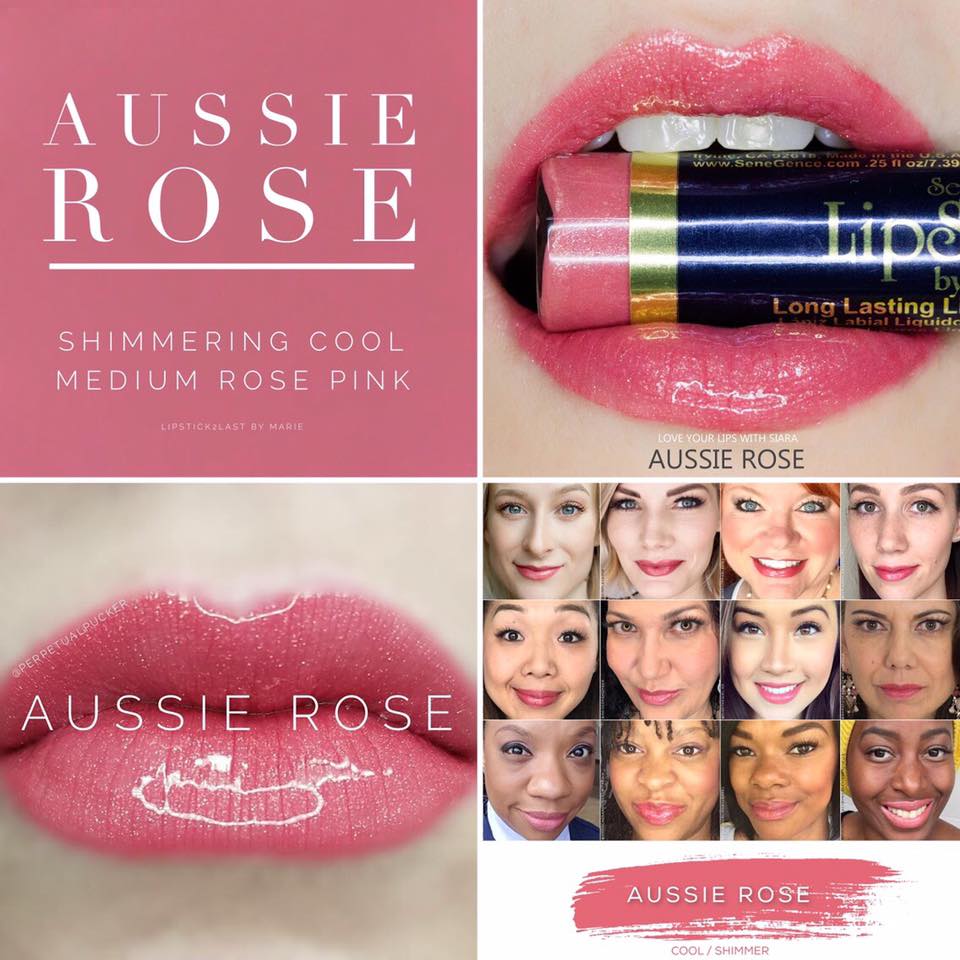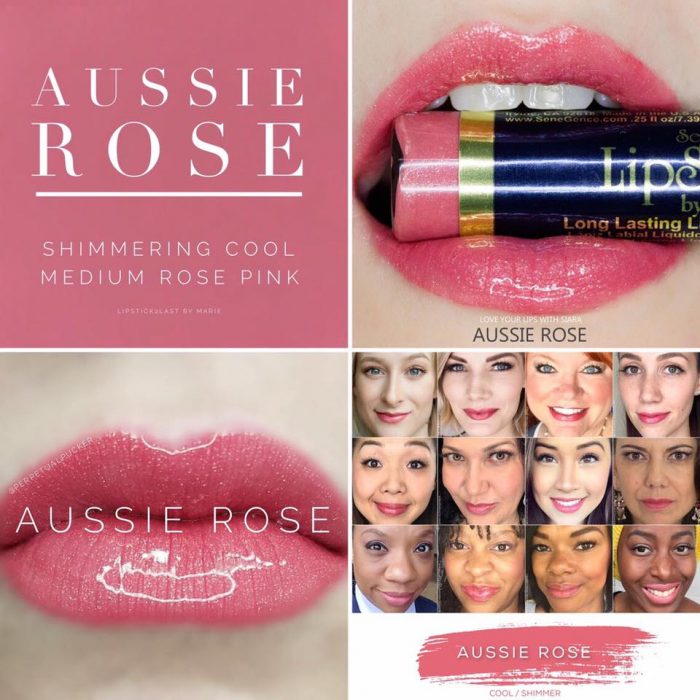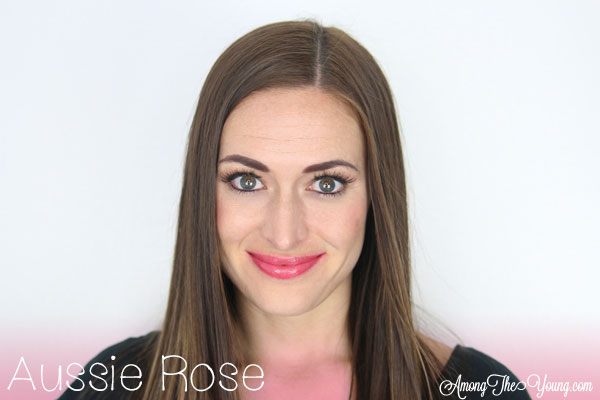 B.Ruby
This color makes me feel like Dorothy from the Wizard of Oz. It's the perfect red with a beautiful pink hue.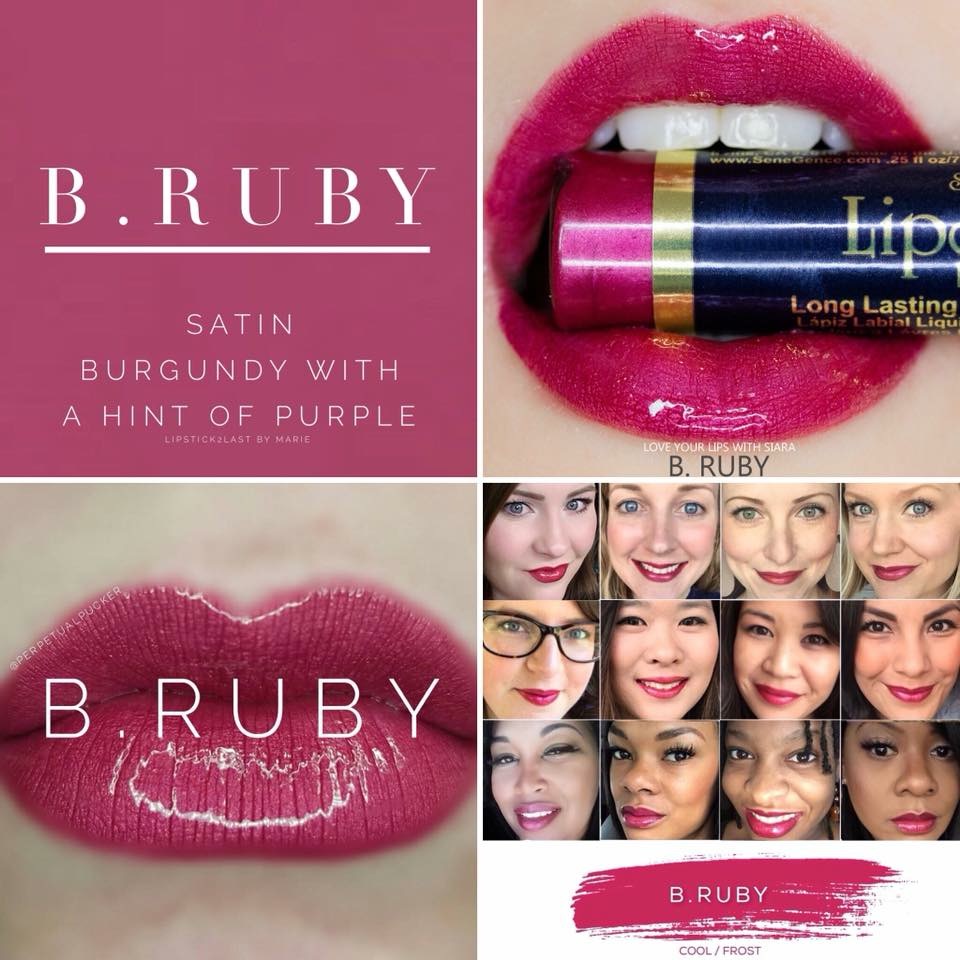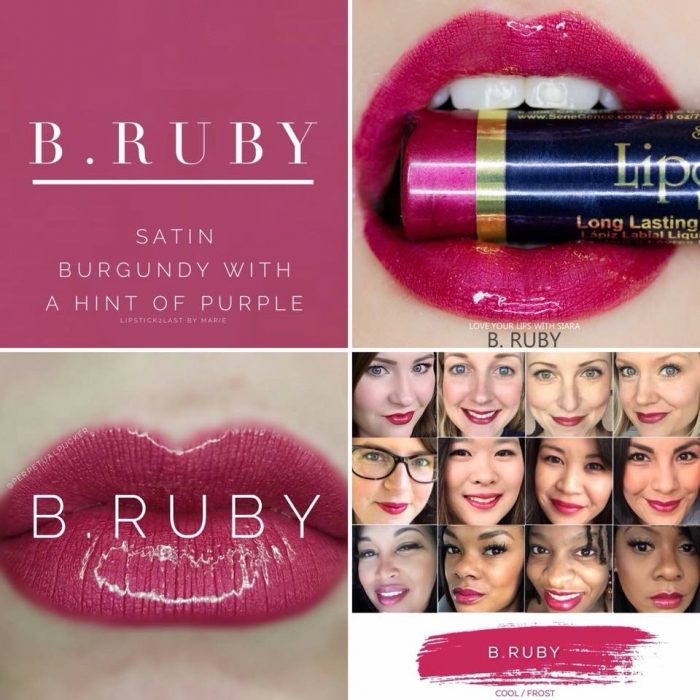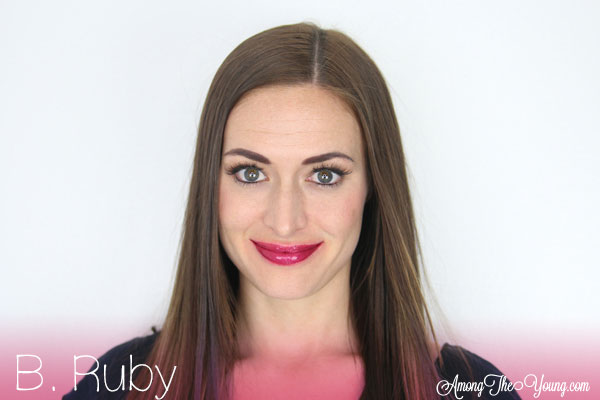 Be Mine
I adore this color because it's BRIGHT – need I say more?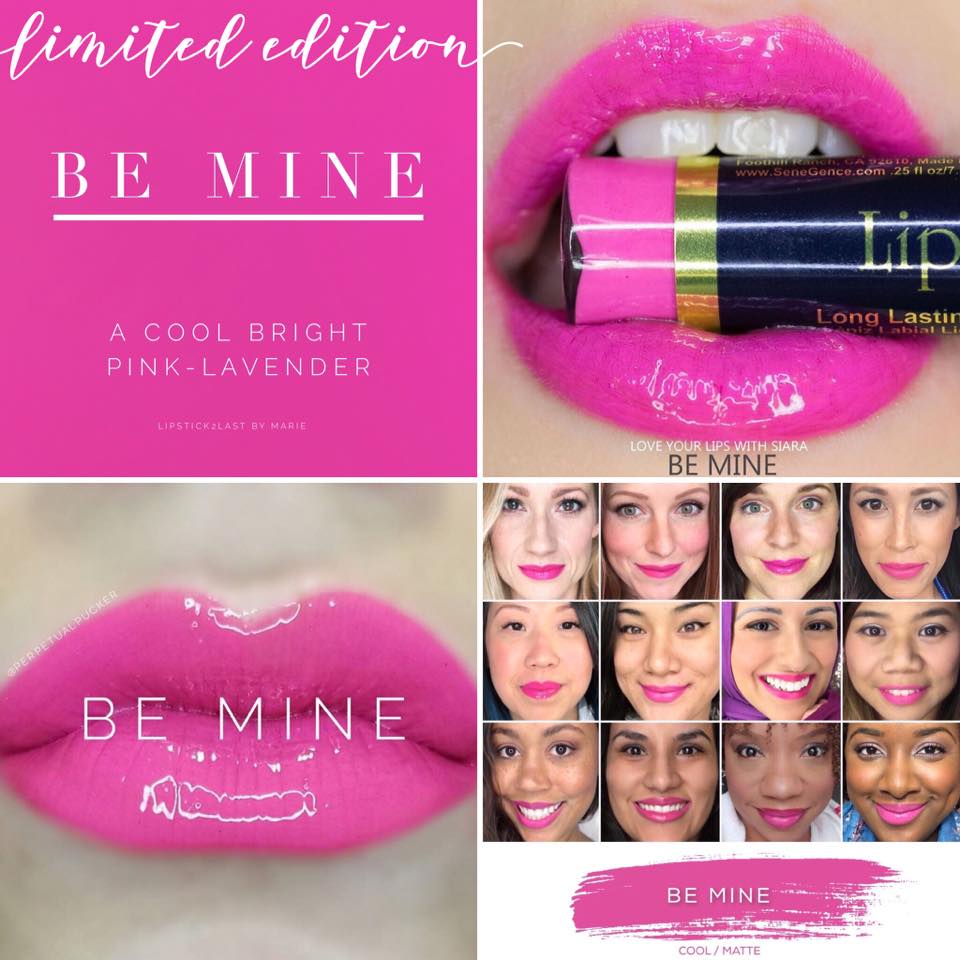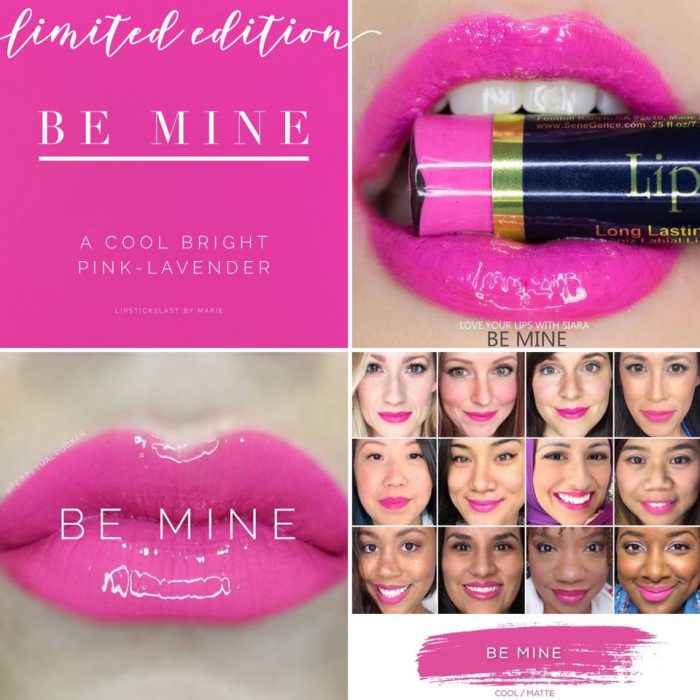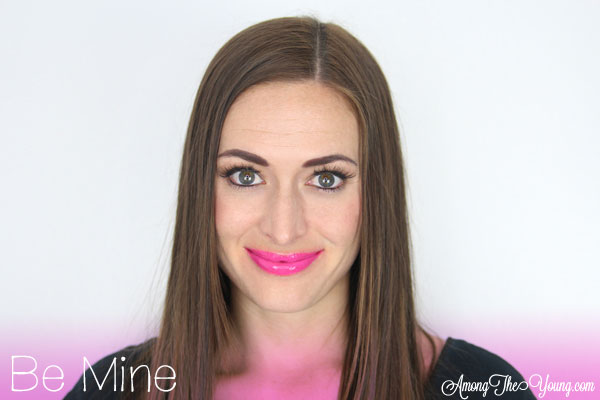 Beige Champagne
This is one of my top selling colors! People love this color because it's light enough to not be too noticeable, but you definitely feel like you're wearing lipstick.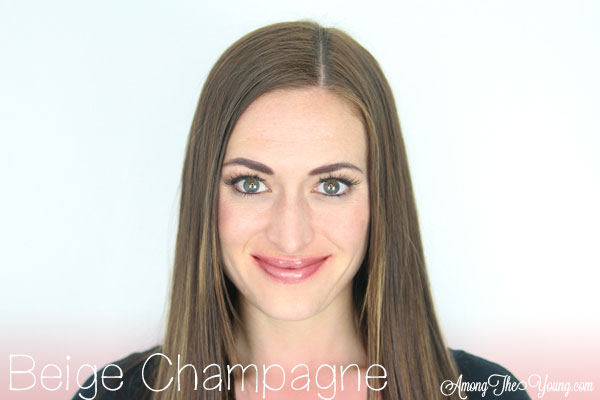 Bella
This color is one of my personal favorites. To me, it's not brown, but it's not pink. It's the perfect shade for EVERYONE (no lies – it looks great on all humans!) and it reminds me of the 90's and Rachel from FRIENDS.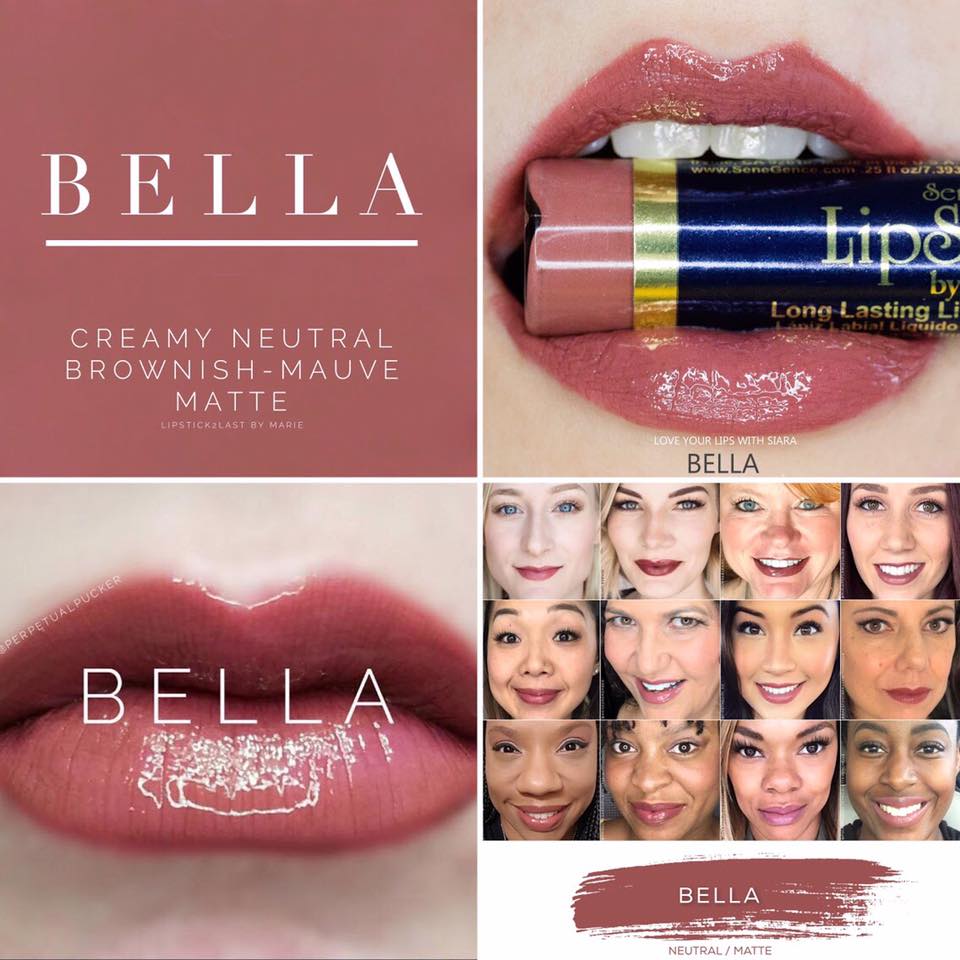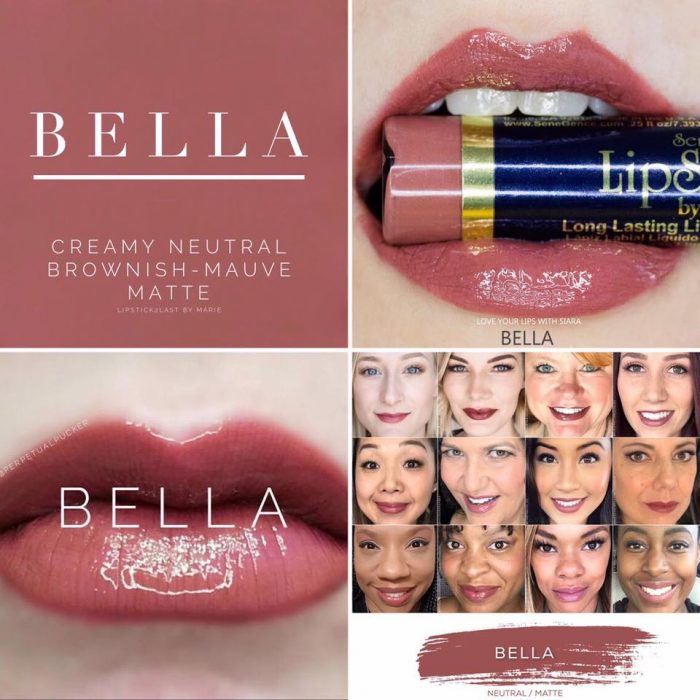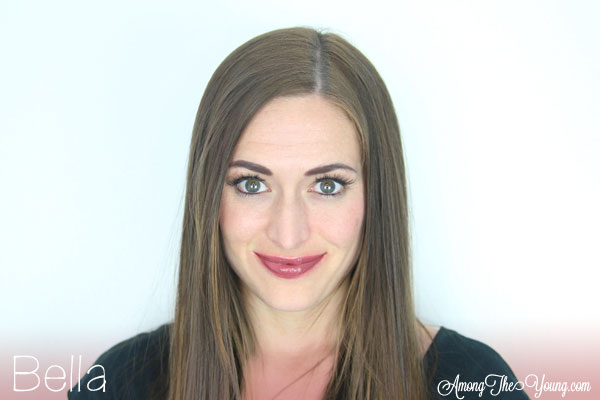 Blackberry
Who says you can't do black lips? This is my go-to for all of October and Halloween, but I LOVE a good black lip when I'm feeling dark and moody!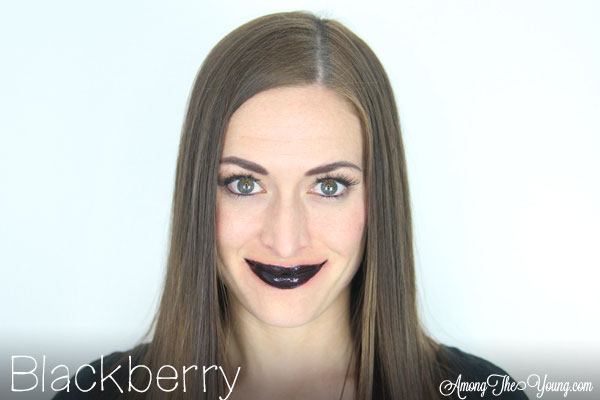 Blu J
Of all the blue hued lipstick, this one is my favorite. It's the perfect shade of bright blue. Not sure when you'll need a blue lipstick? You'd be surprised. Game day, Halloween costumes, or (like I do) just a regular Tuesday!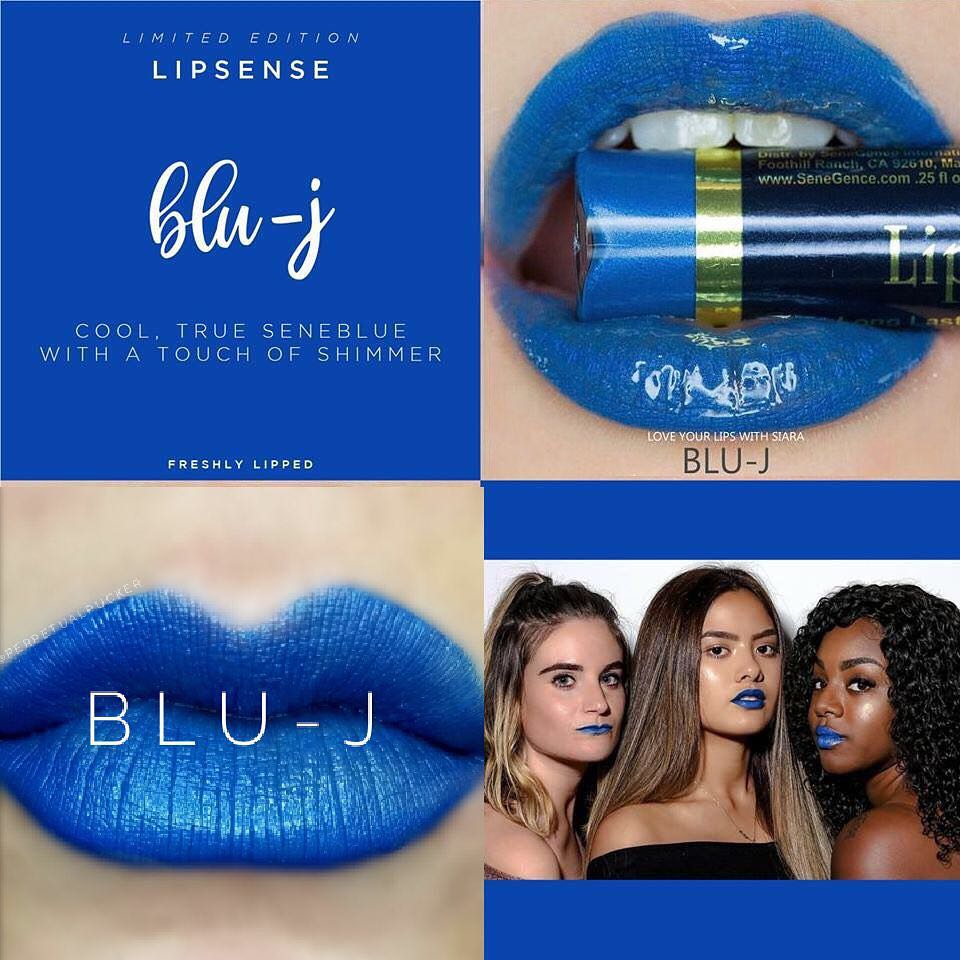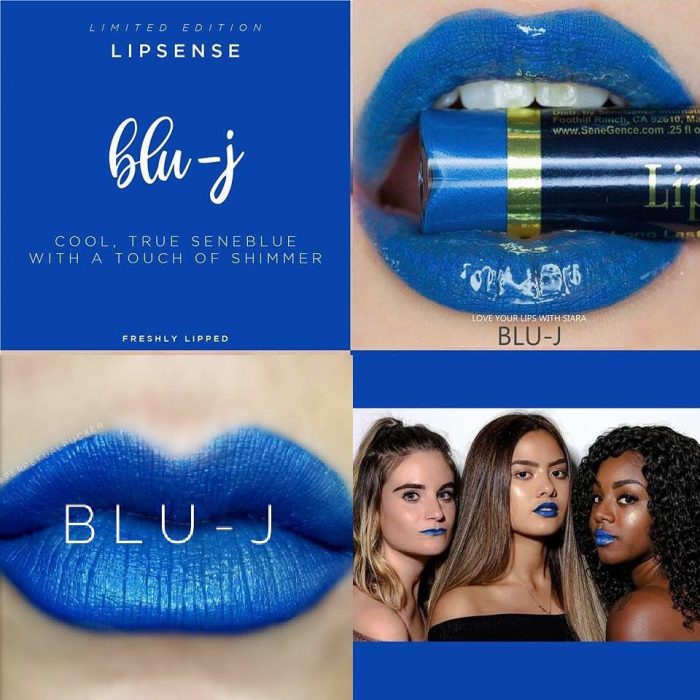 Blu-Red
This red is Christina Aguilera's red. No joke. It's BOLD and fabulous. I LOVE wearing this red – did I mention it doesn't come off?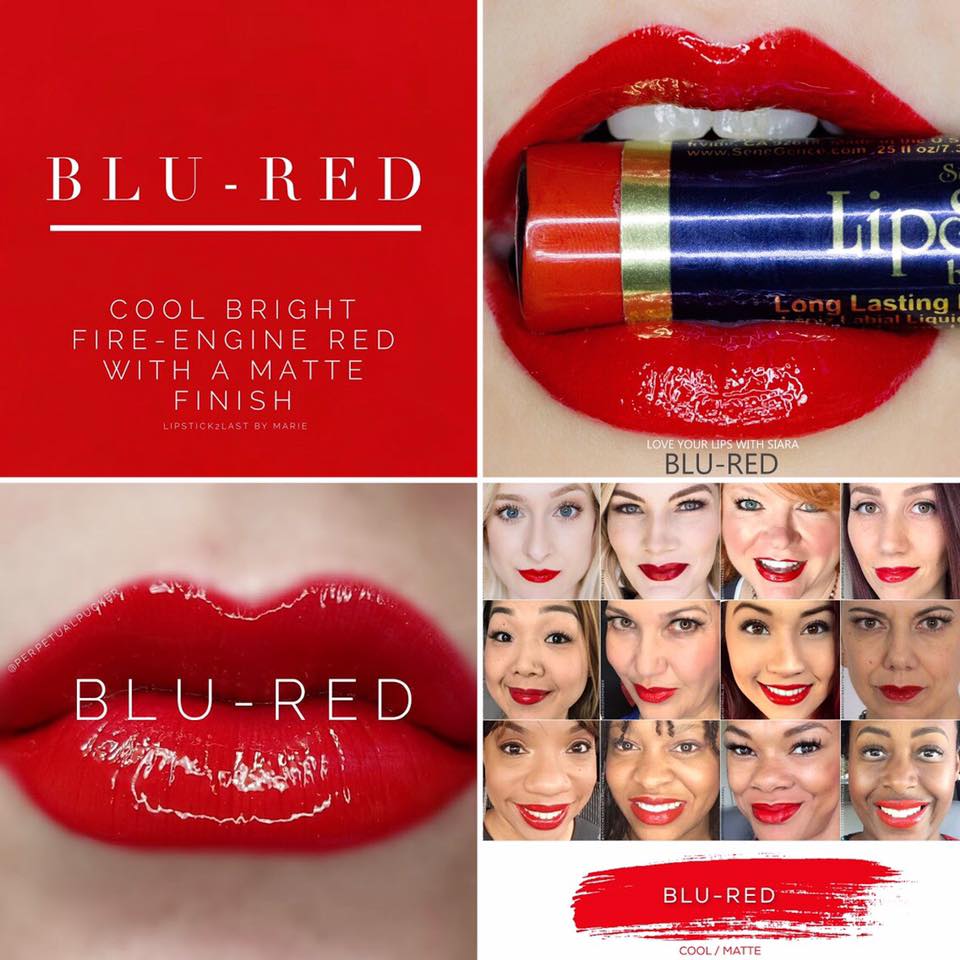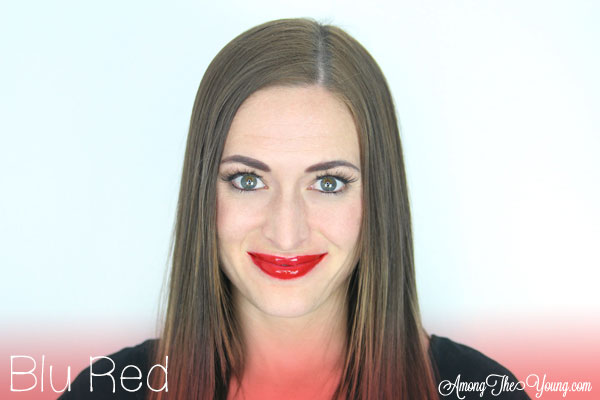 Bombshell
Guys. This is Jennifer Aniston's favorite lip color. Need I say more?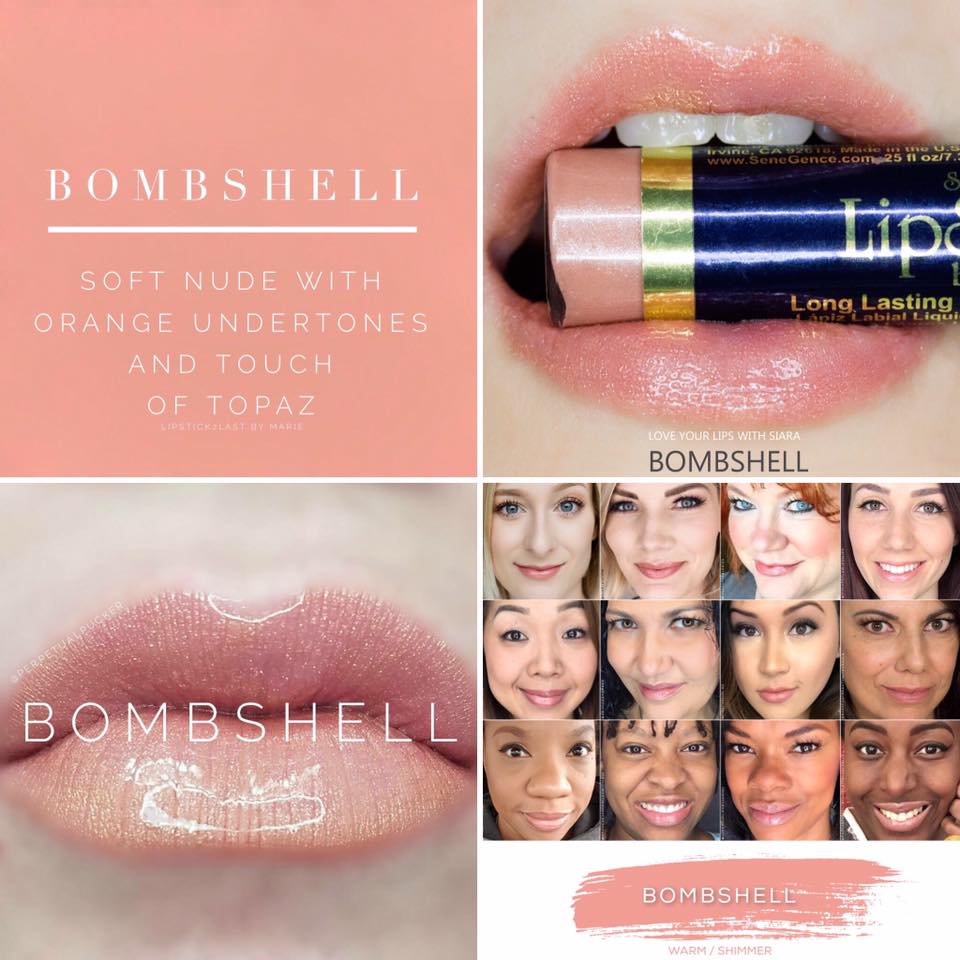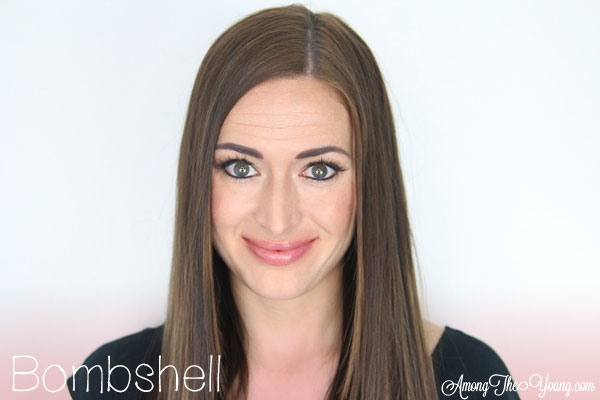 Bravo
Another light and lovely shade to wear on more "natural days" (aka: no make up days). Some ladies wear this as their everyday "neutral" and love it!!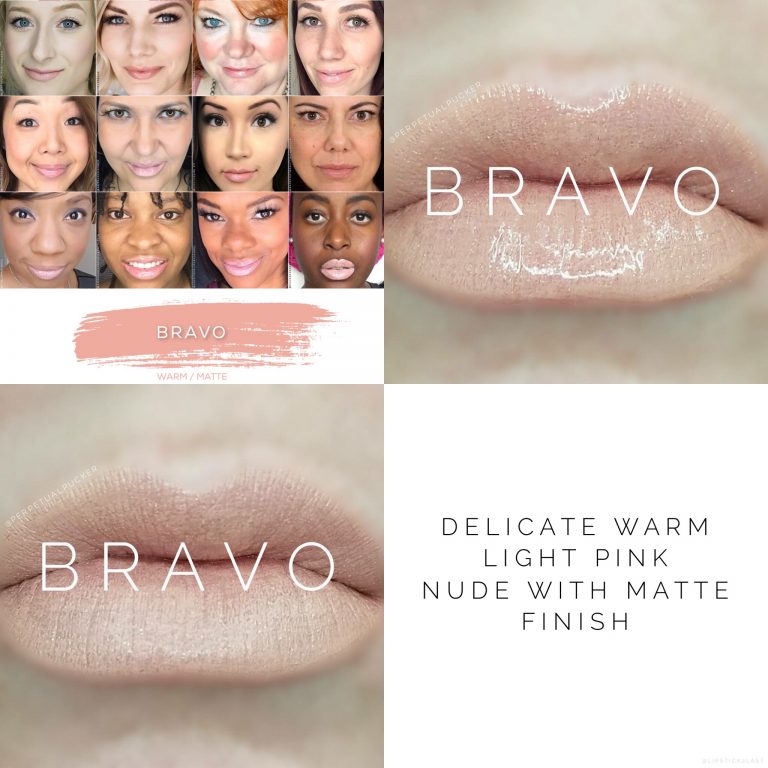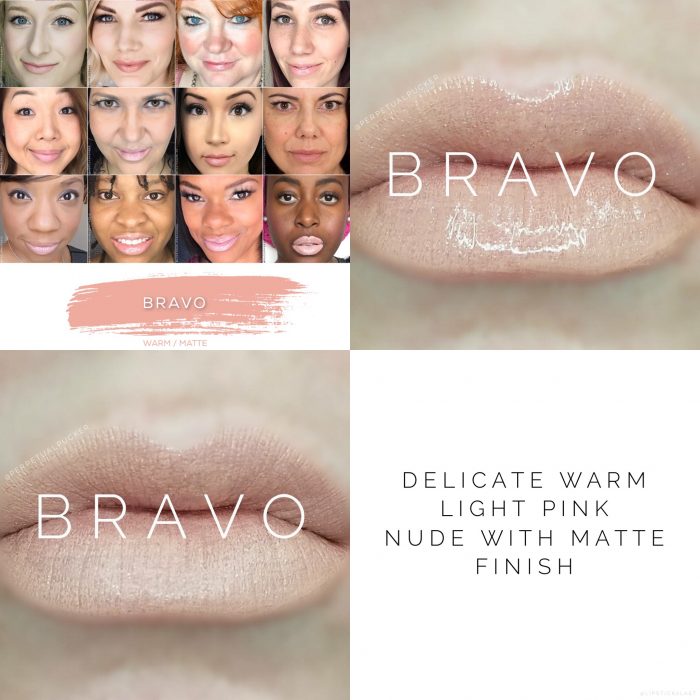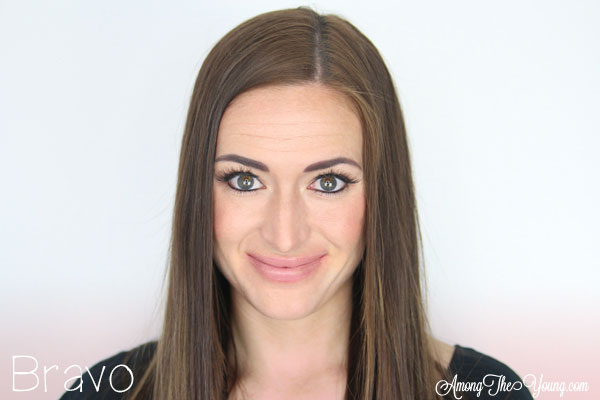 Brick
The red is similar to Fly Girl, but it has a little more brown to it. It's dark and beautiful for any time!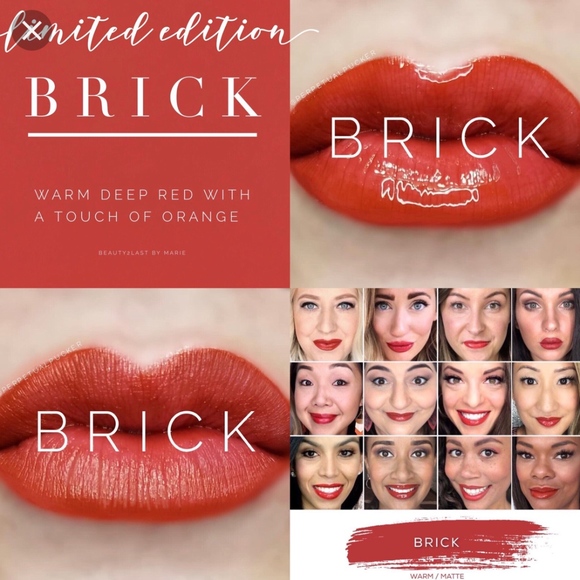 Bubblegum Glitter
Pink and glitter – I really don't have to explain why this one is fabulous. The title speaks for itself.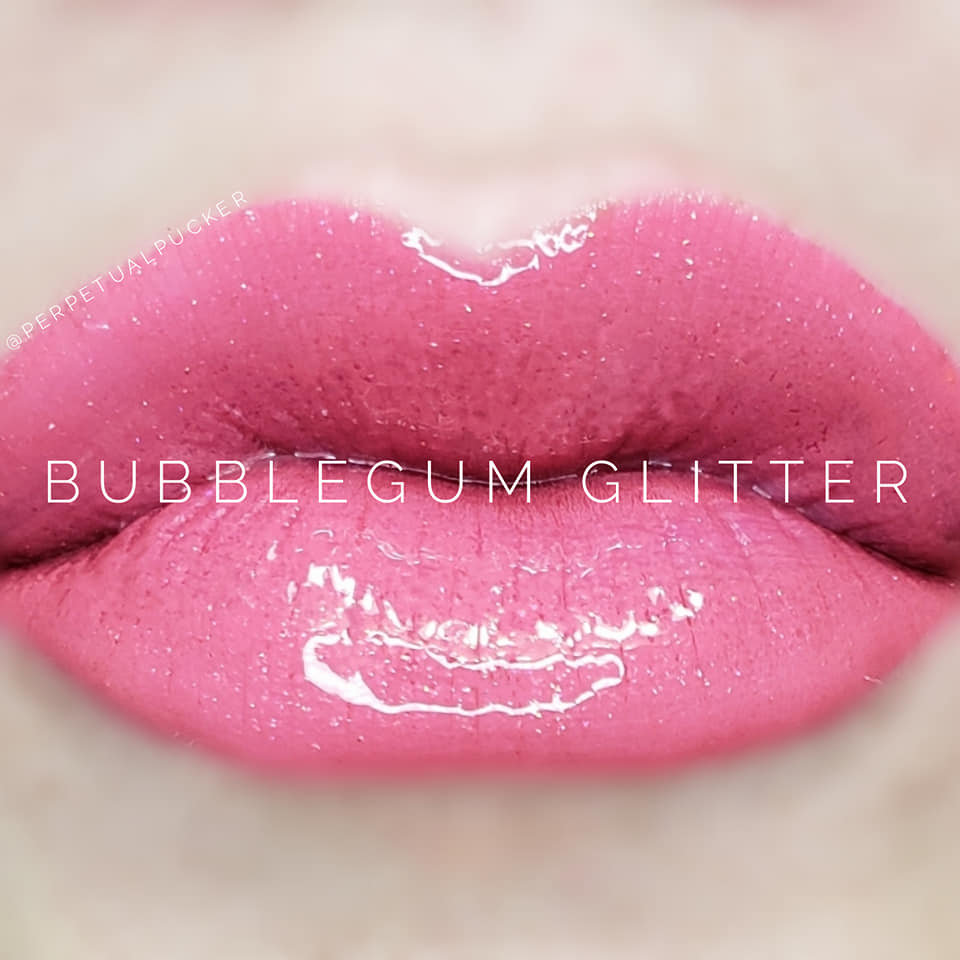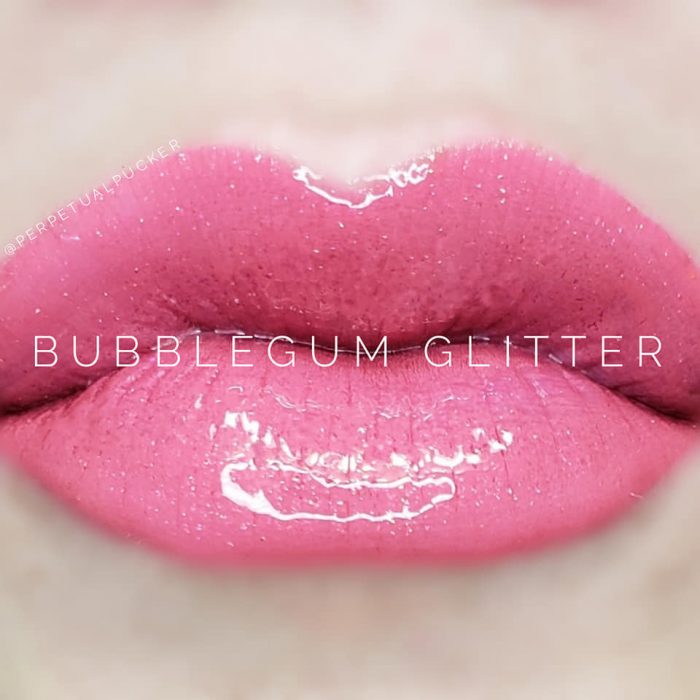 Candy Apple Green
When are you going to need a green lipstick? St. Patrick's Day, for starters! This color is super fun to wear on holidays, game-day, and any old day! It's a show-stopper!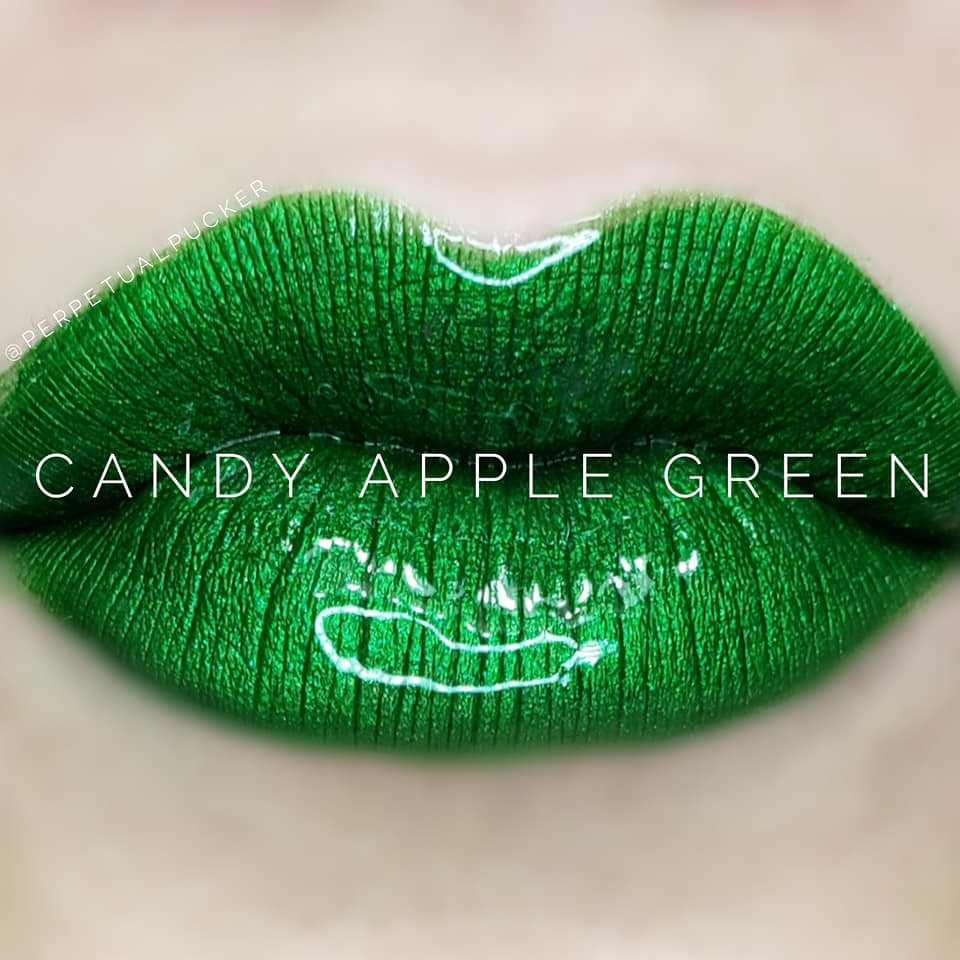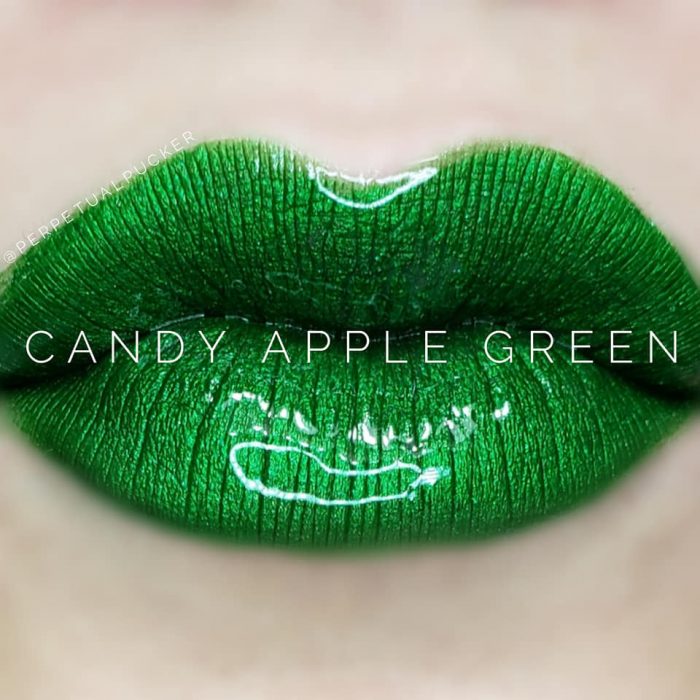 Candy Cane
This was one of our Christmas specials and I LOVE it. It's red with the perfect sparkle to it – so it's my go-to during the holiday season!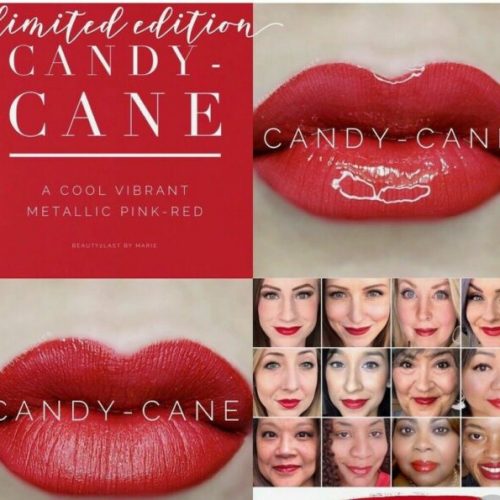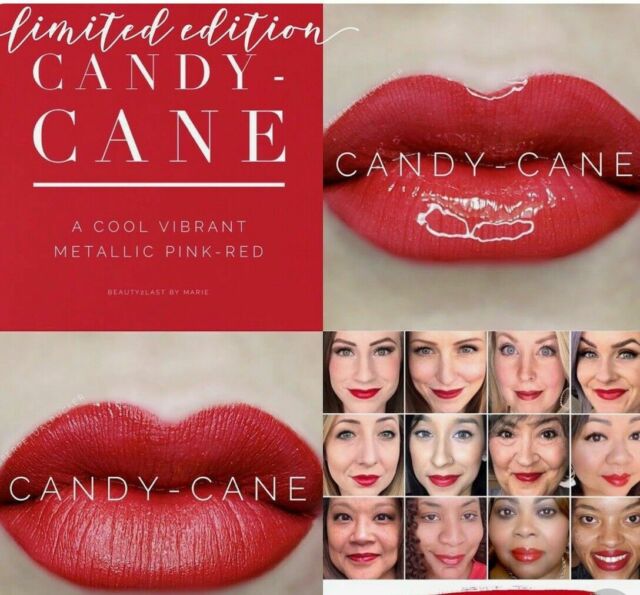 Cappuccino
This color is super similar to Bravo (at least on me). I know a lot of ladies LOVE this color for everyday. It mixes well and can tone down any color that may be "too much."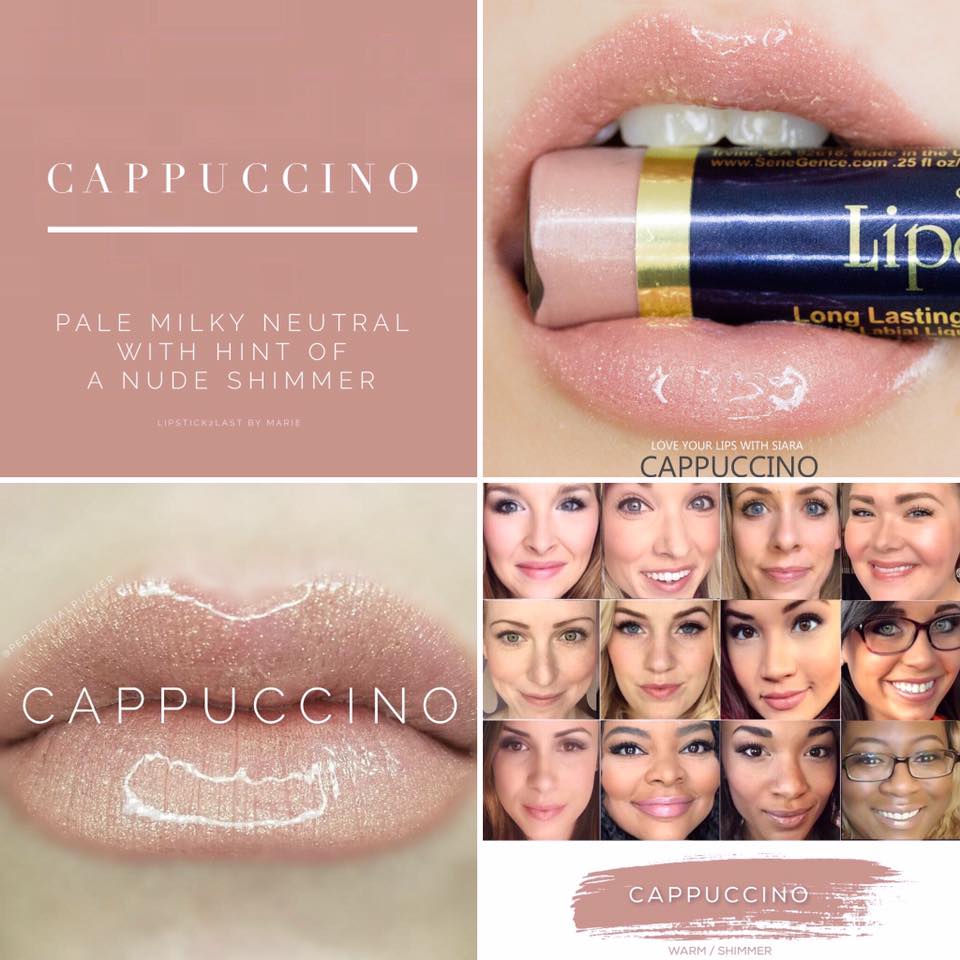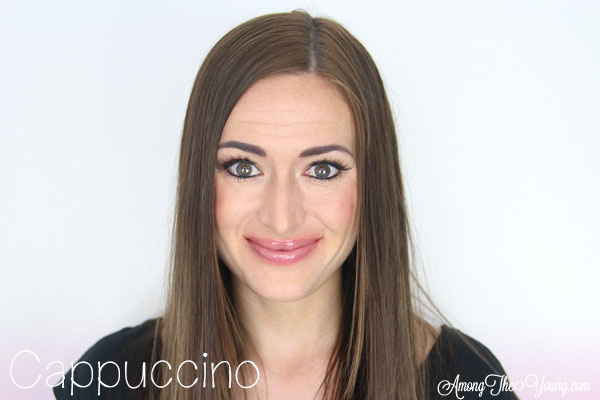 Caramel Apple
No lies, this is one of my all-time favorite colors. It is my perfect "neutral shade" with a little shimmer. It also mixes well with everything!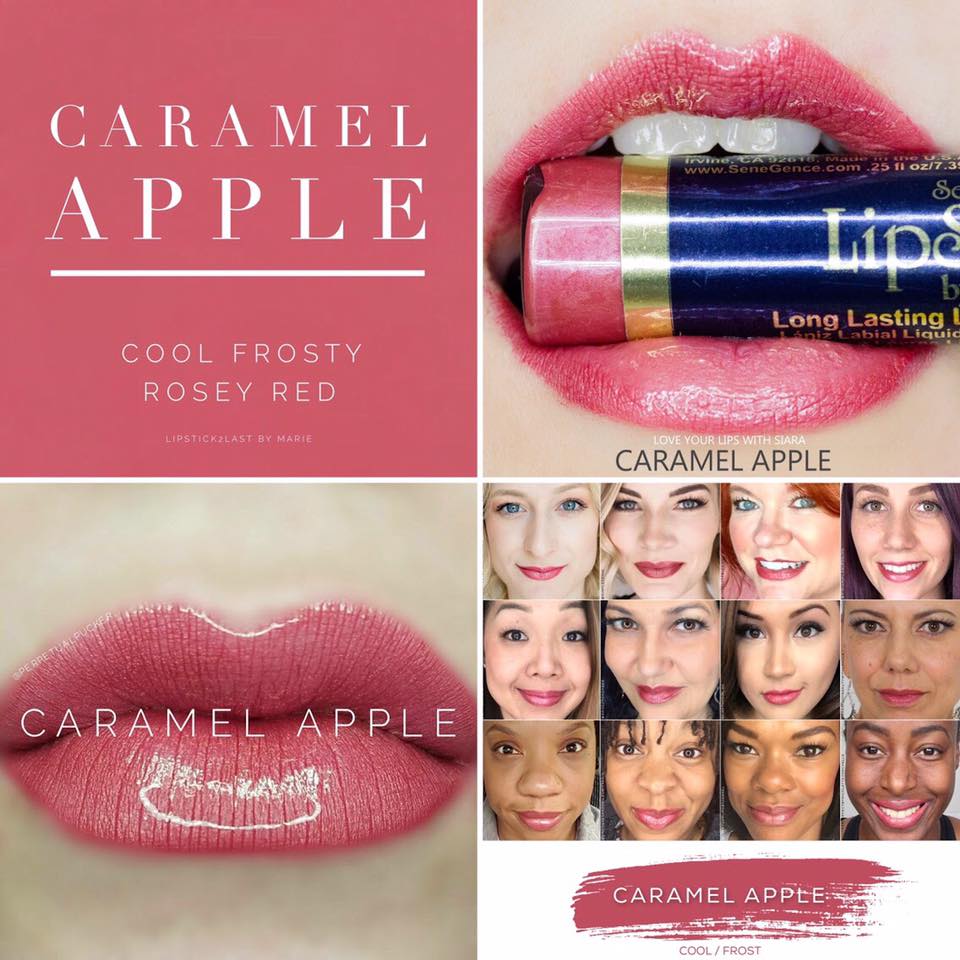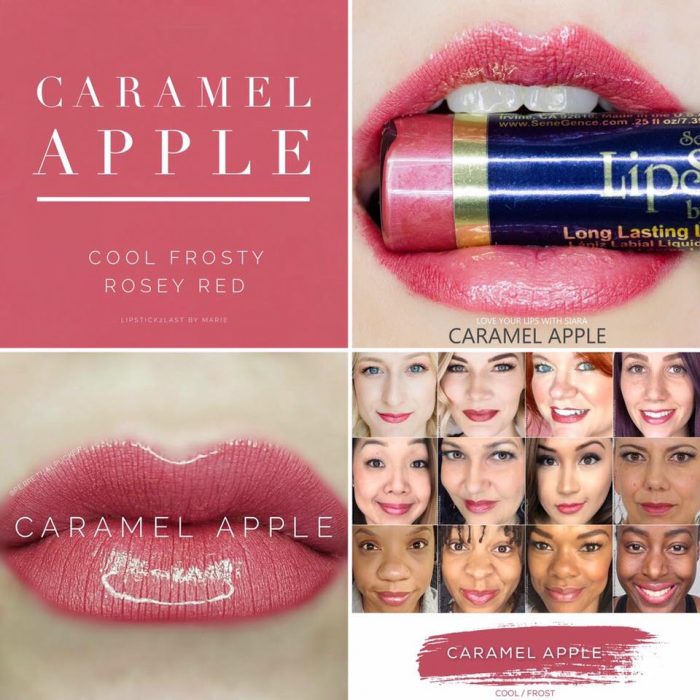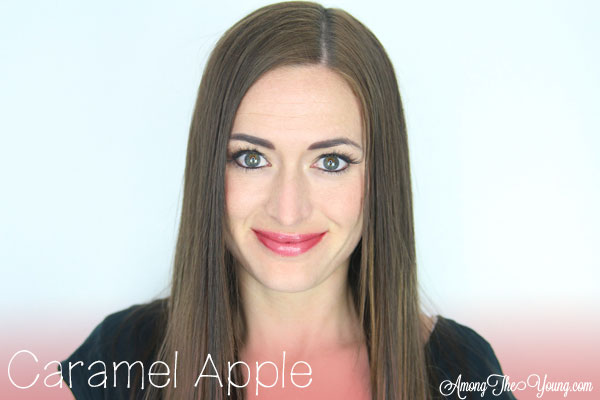 Caramel Latte
This color is lovely; it's the perfect shade to go with anything.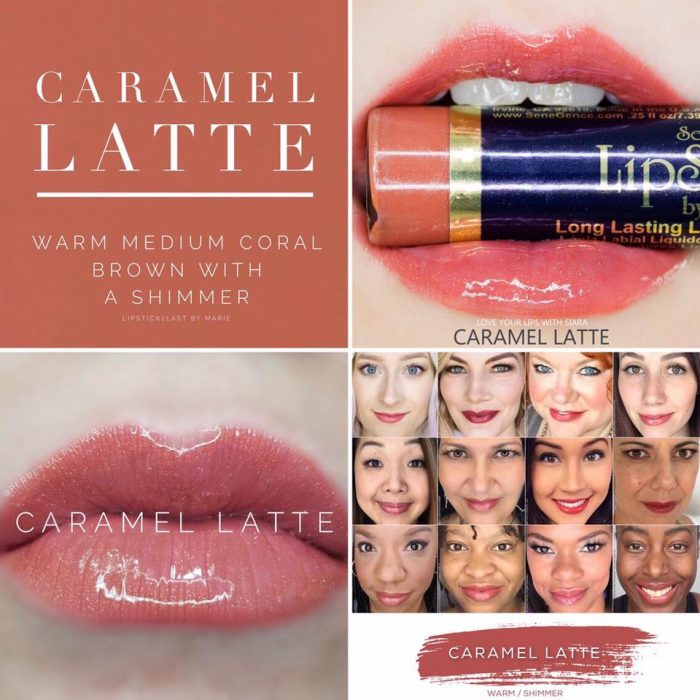 "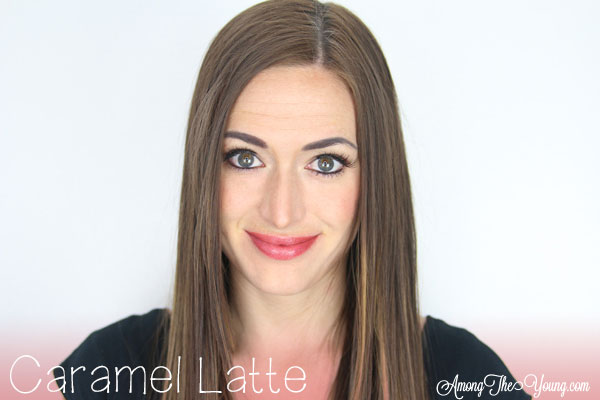 Cocoa
Initially, I didn't love Cocoa. Boy, was I wrong. This is one of my all-time favorite colors and it layers SO nicely. I love the sparkles and the depth of this beautiful brown!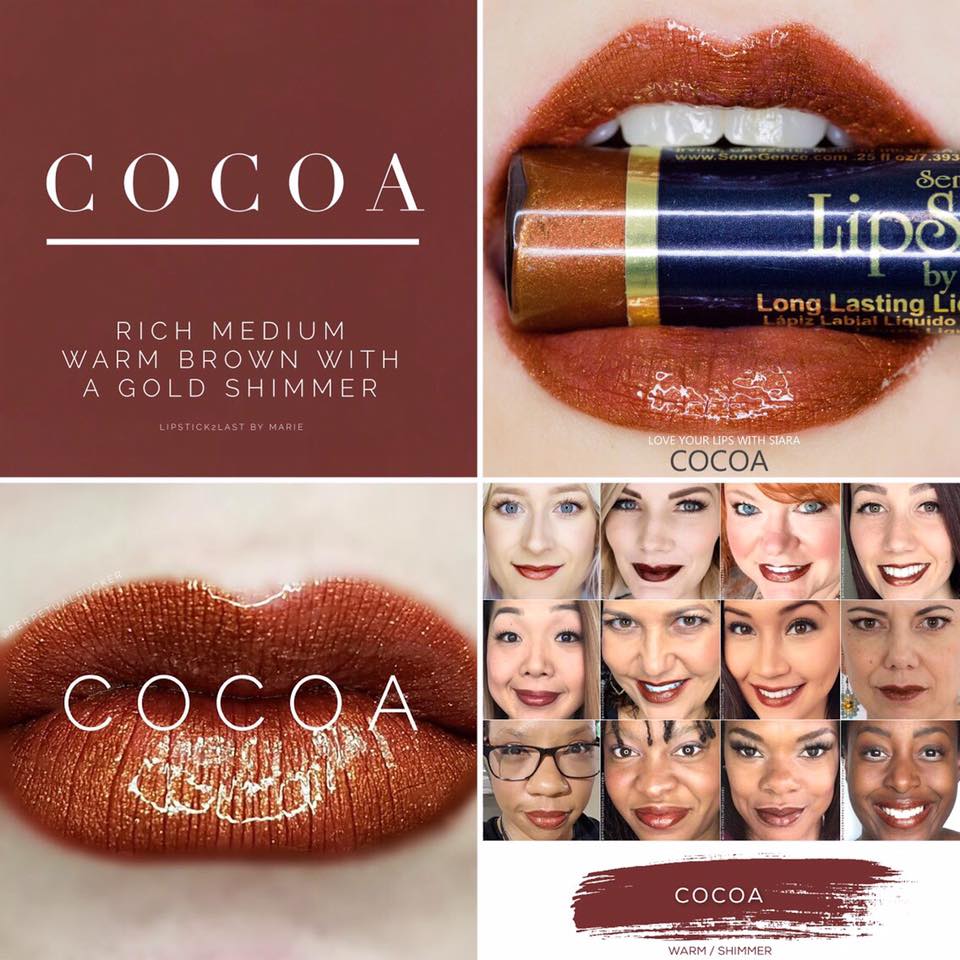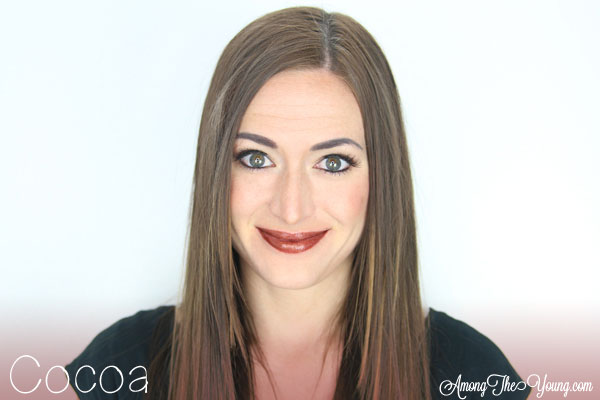 Coral-Lina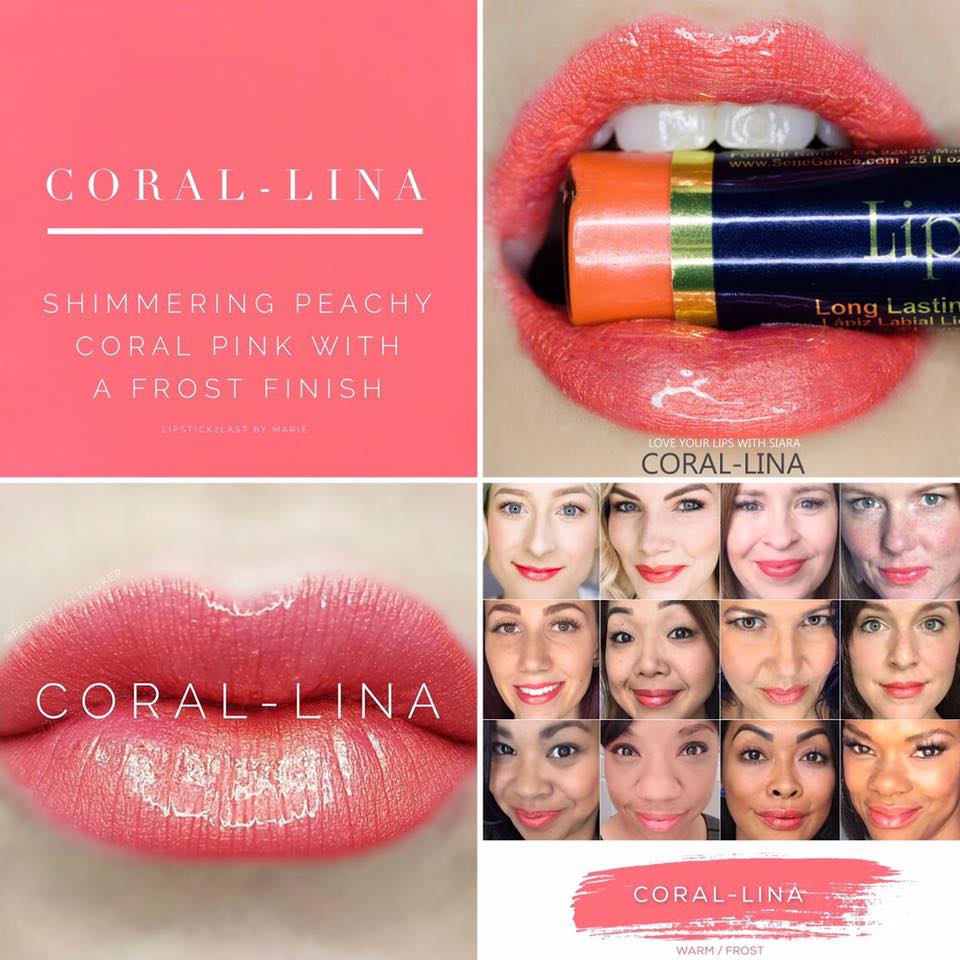 Crimson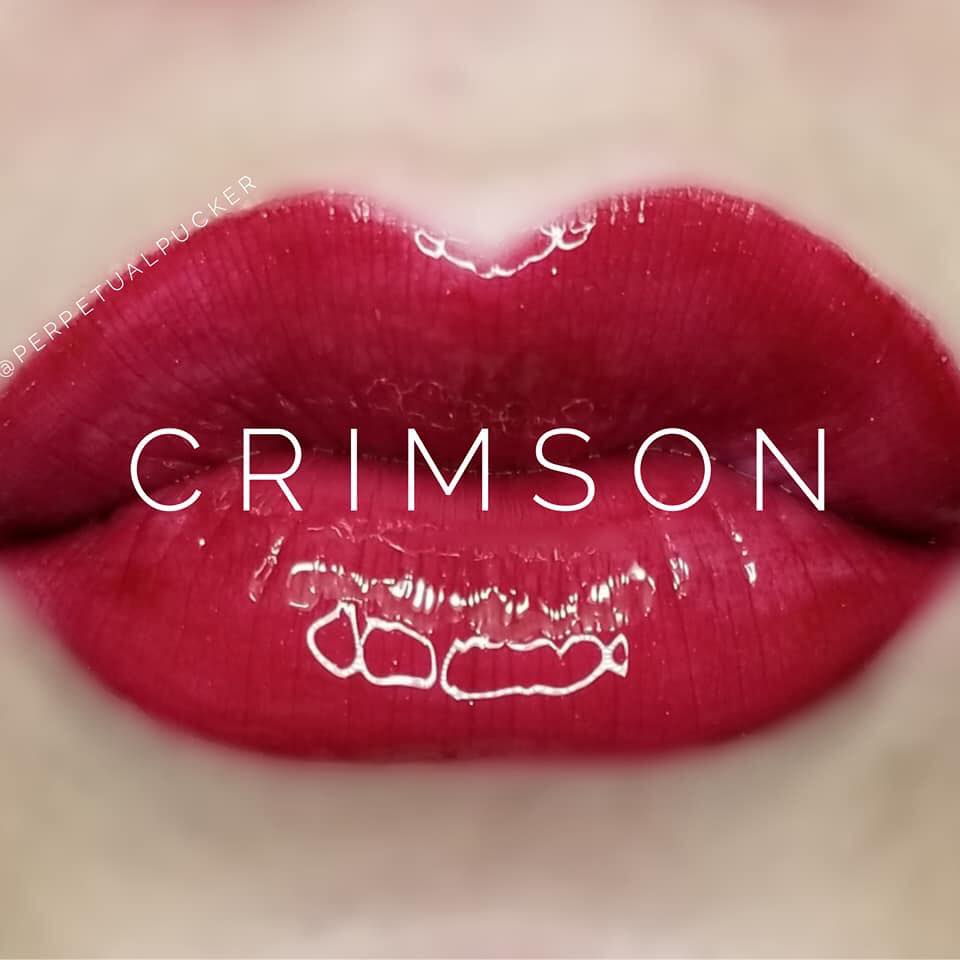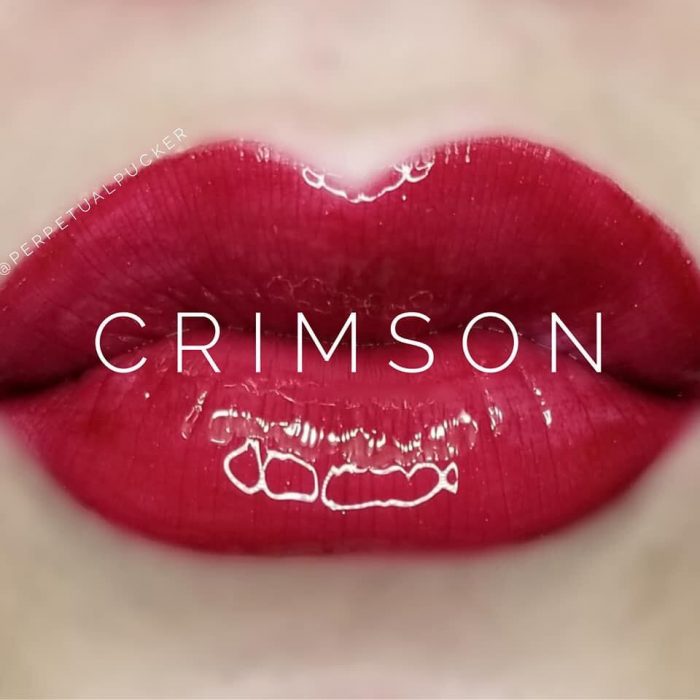 Currant
I love this color because it's not red, but it's not brown. It's the perfect combination and I love wearing it in the fall!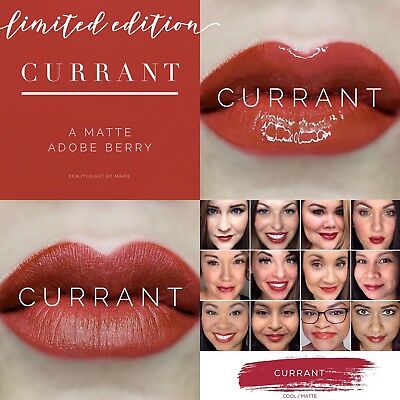 Dark Pink
This pink is the perfect matte pink – not too bright and great for all the time!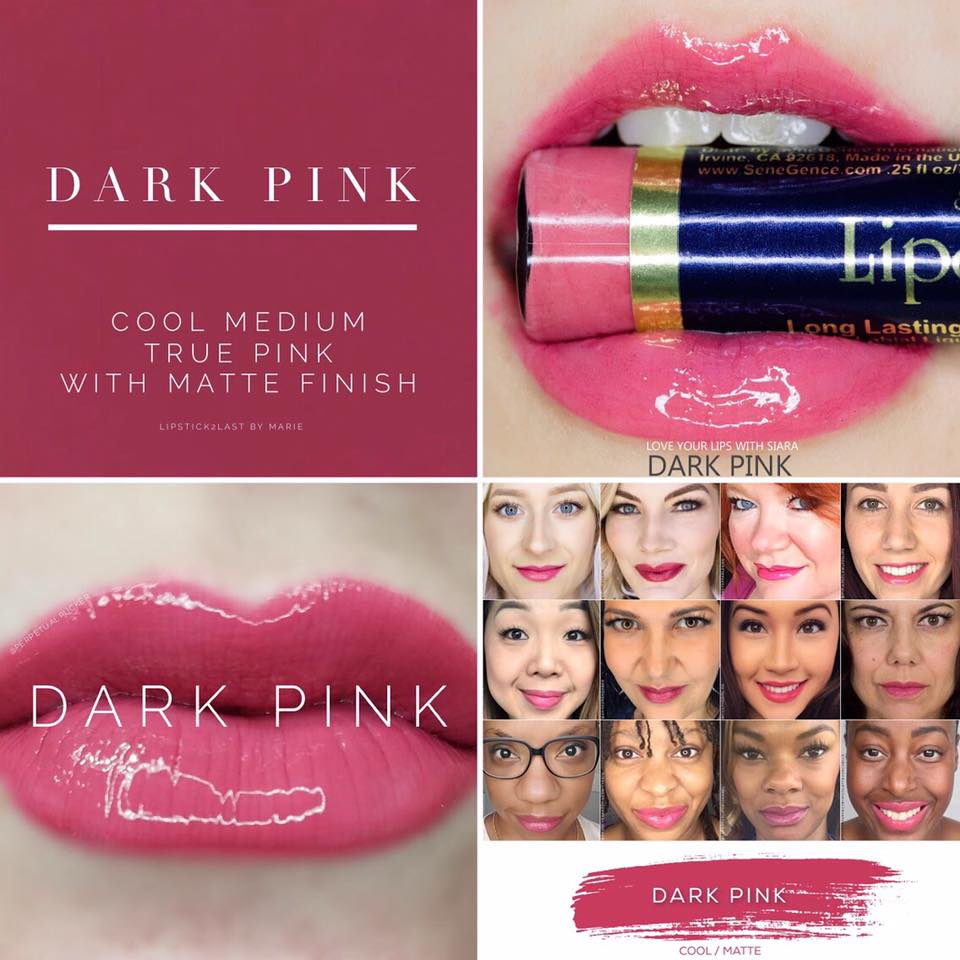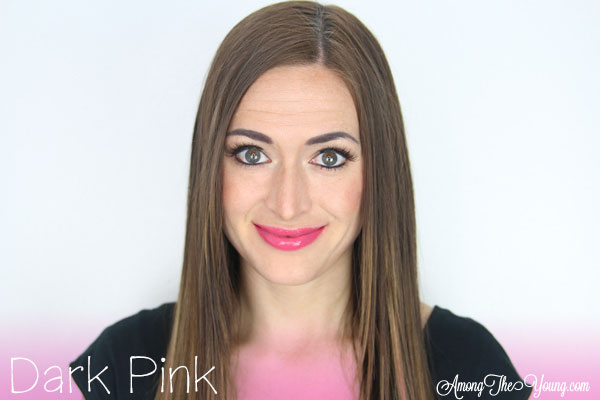 Dawn Rising
This brown is super warm and perfect for fall. I love the shimmer!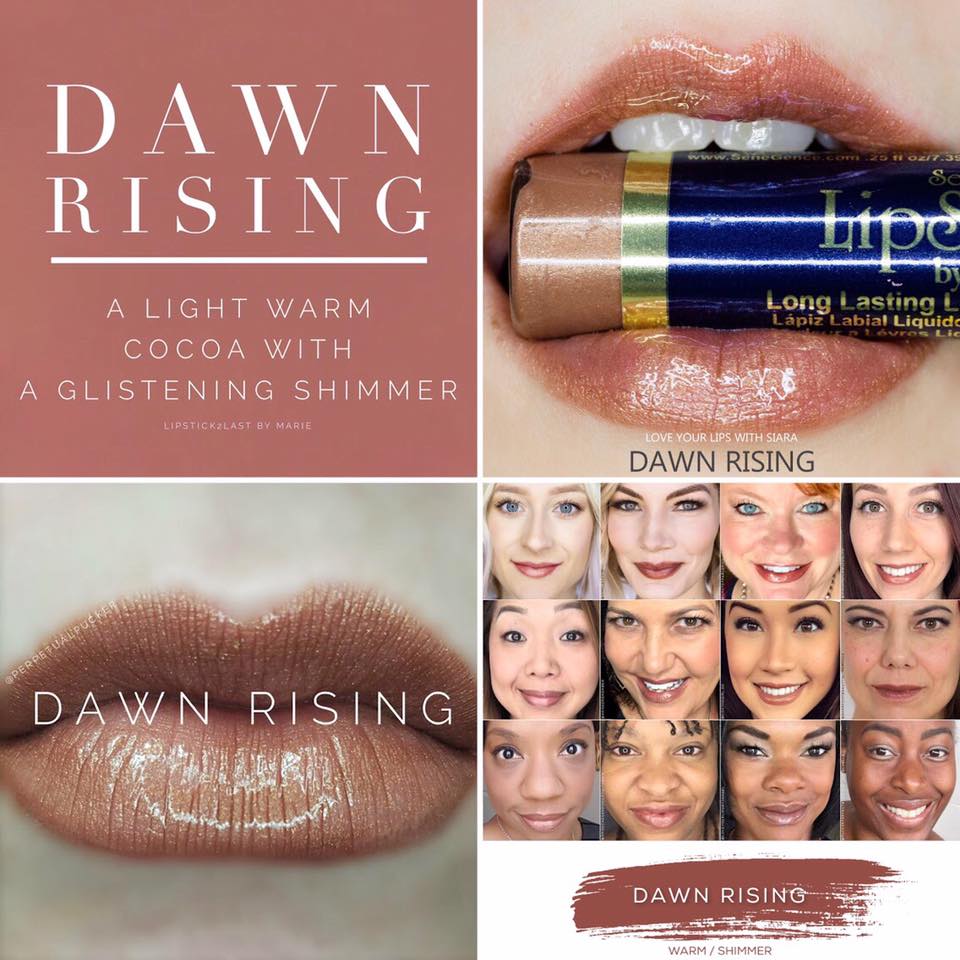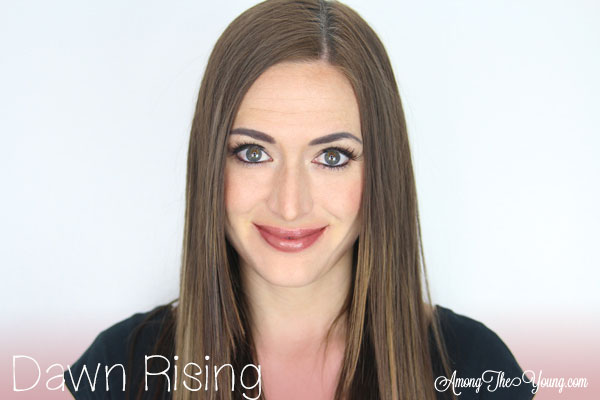 Fire N Ice
I adore this color – not red, not pink – just perfection. I sometimes forget about this color because of my love for Caramel Apple, but this sister (or cousin) to my favorite color is always a pleasant treat to put on!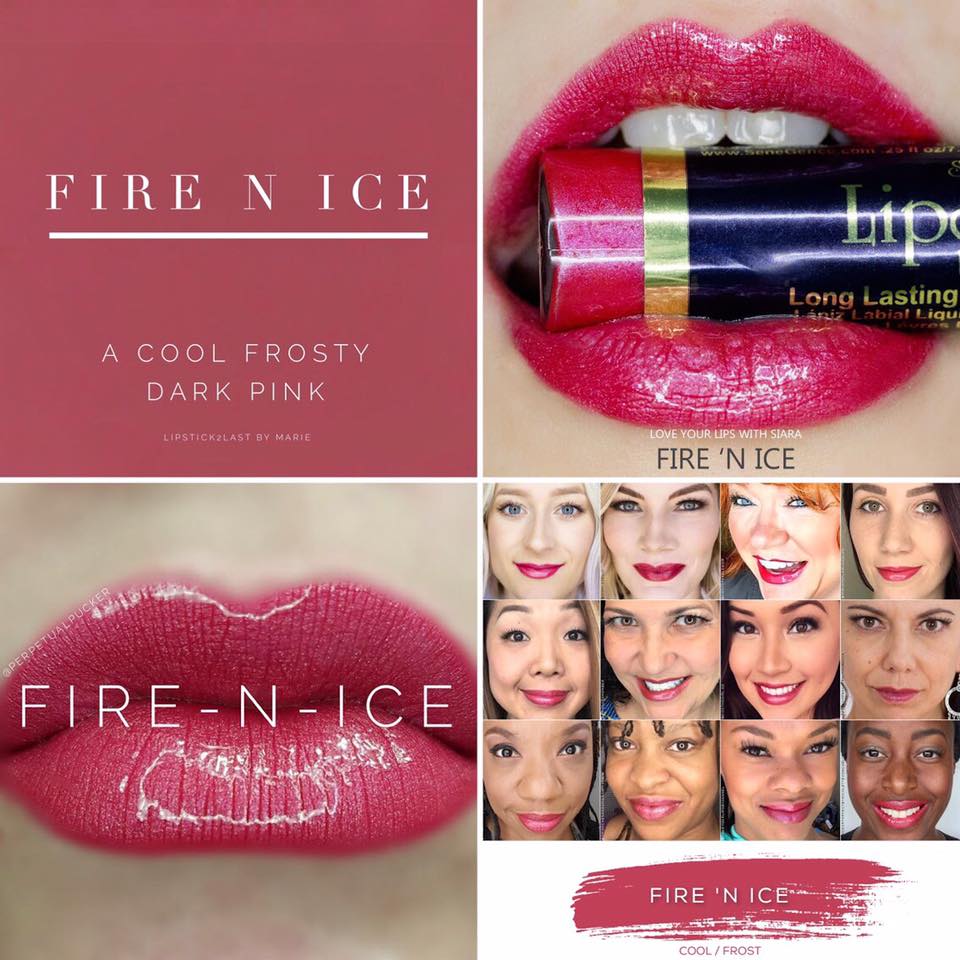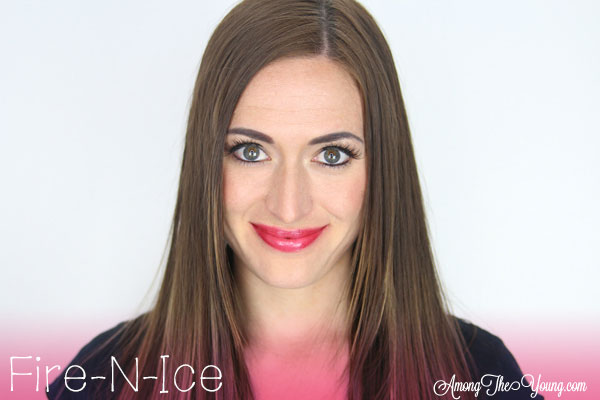 Fire Opal
This color is SUPER fun, but I don't typically wear it on its own. I love to mix it with other colors to make the lighter or give it a pretty sheen.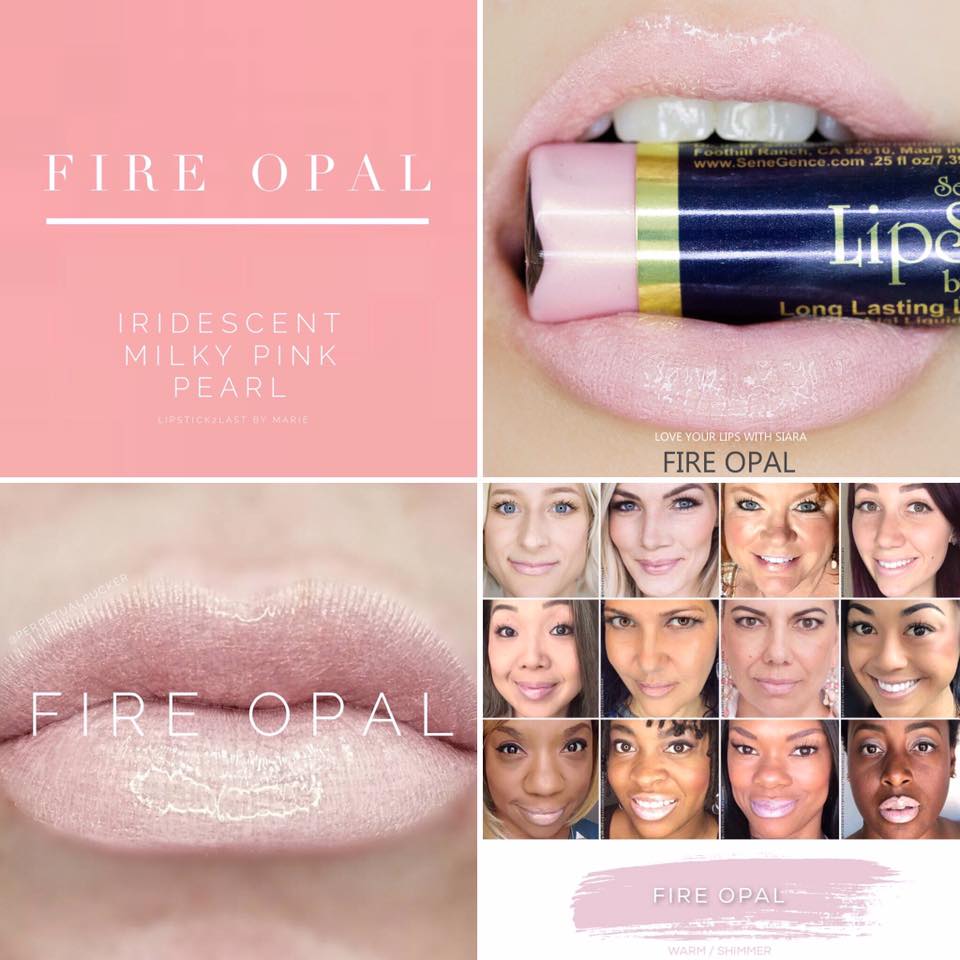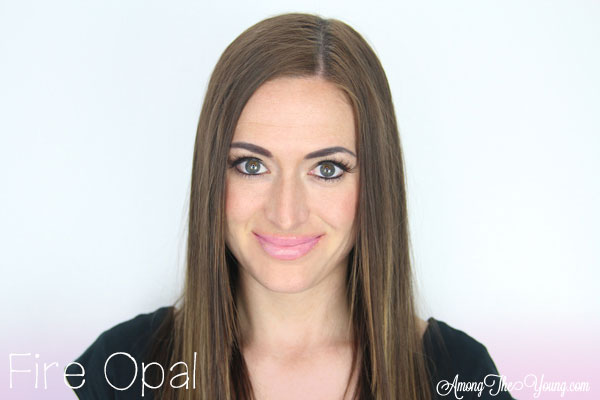 First Love
This color is one of our best-sellers, but it is a bit fickle. The color itself is thick, so I have tips and tricks to help make this color stay on and look fabulous.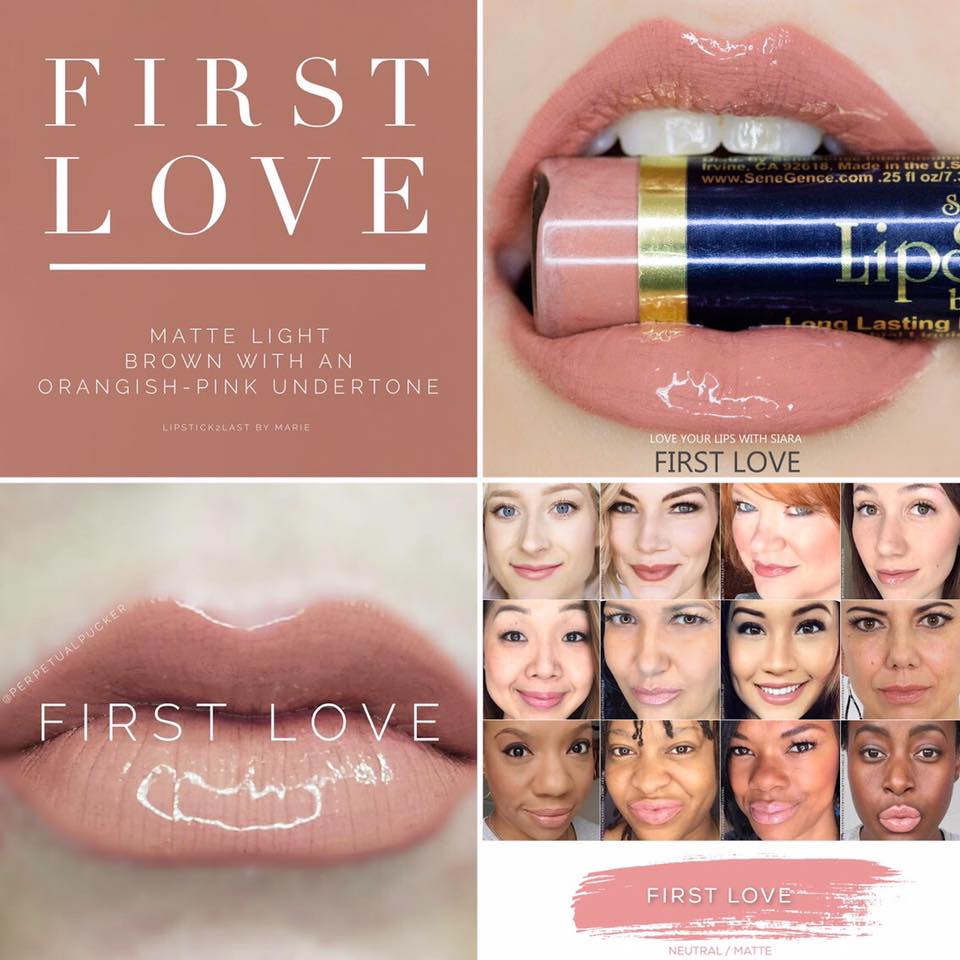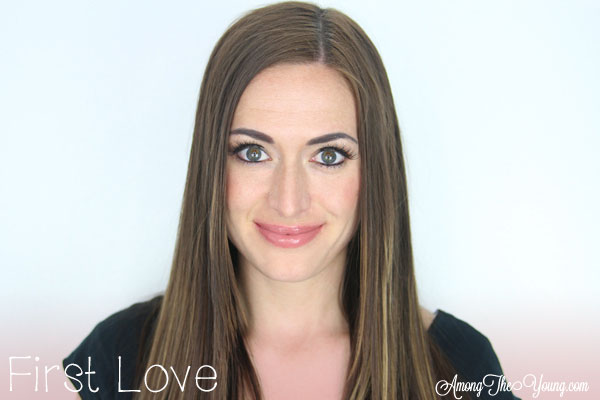 Fleur de Lisa
This was one of my first colors and I adore it. It's the perfect shade of pink and I love the way it shimmers!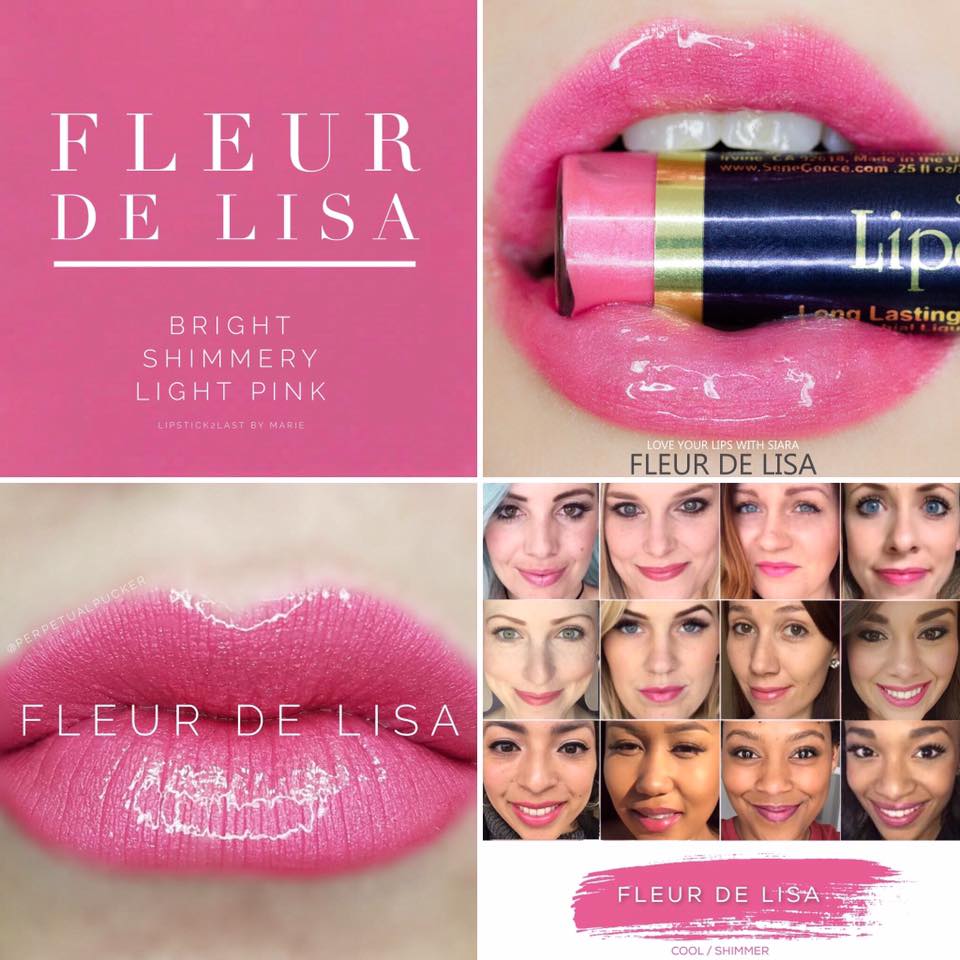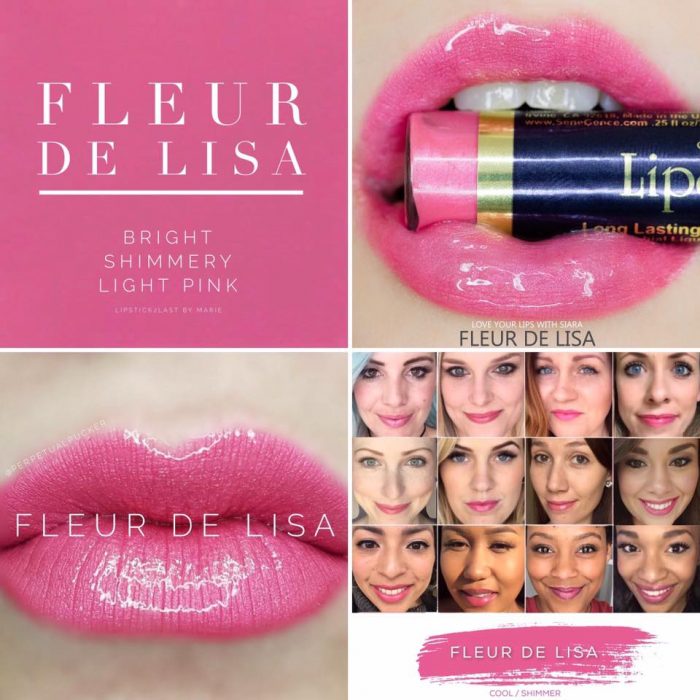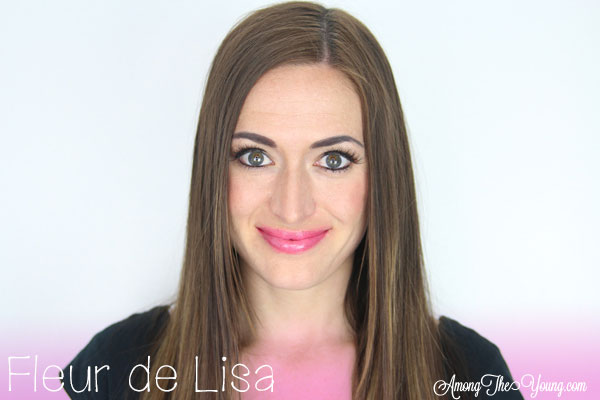 Fly Girl
This red feels more classic, vintage even. It's still bright, but unlike other reds, it's a little darker. It goes on easily and is one of my go-to colors!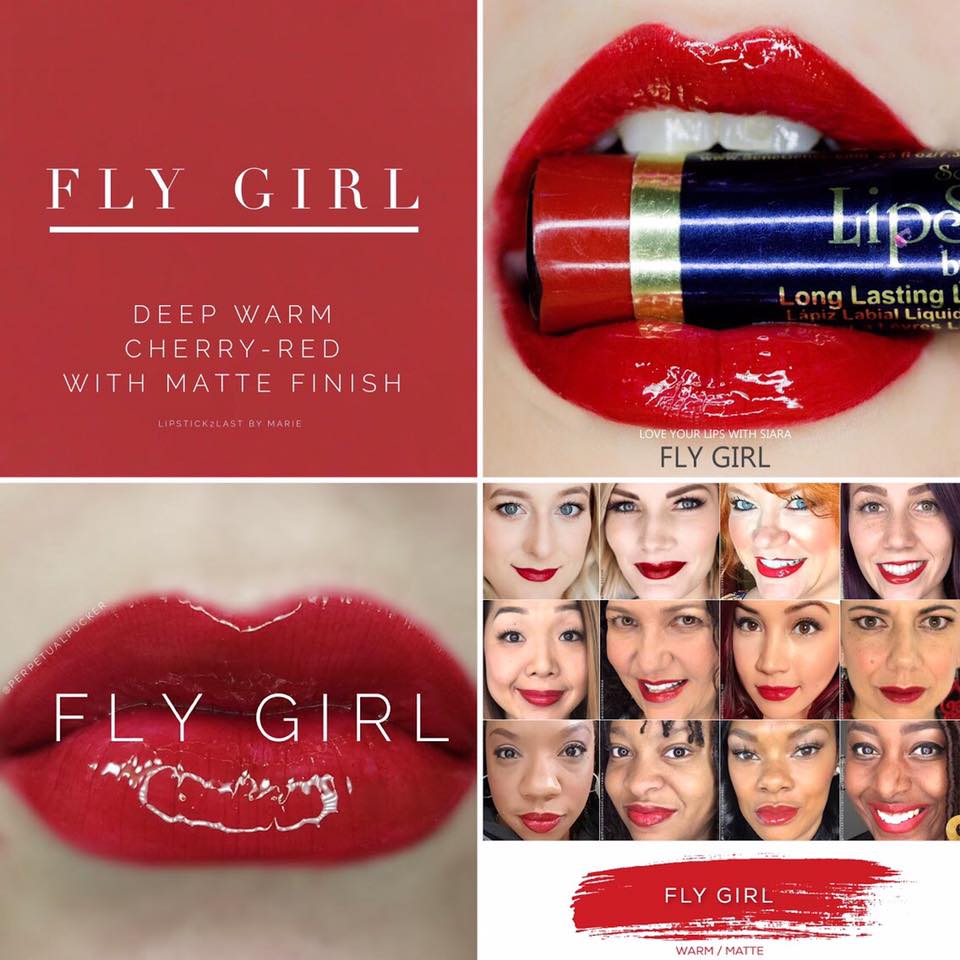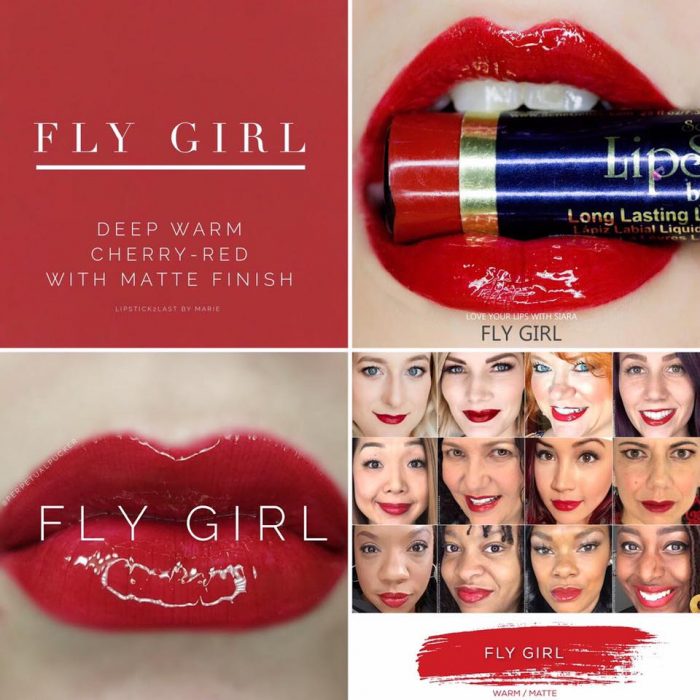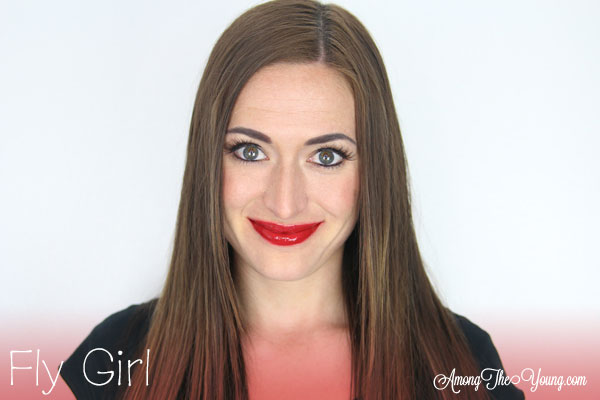 Giddy Up
Guys. PURPLE. This purple is a little more moody than the other shades of purple and it is SO fun to mix with lighter colors and sparkles!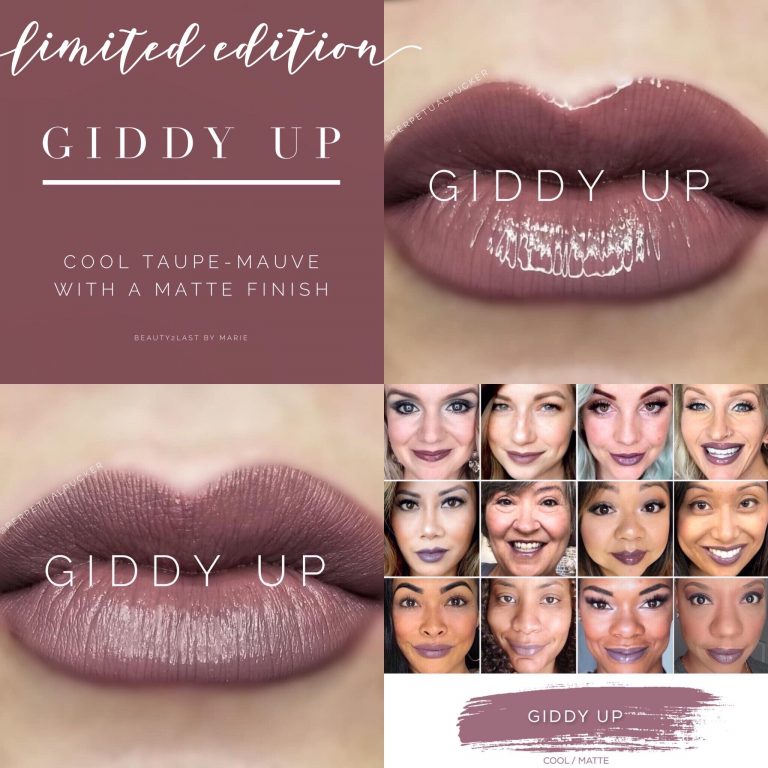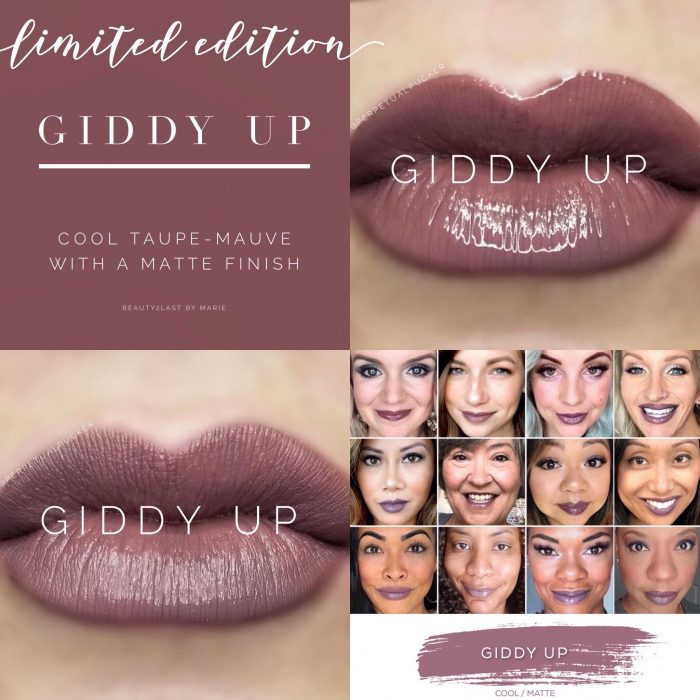 Girlfriend
This color is one of my top-selling lip shades! Everyone loves this "barely there" pink to wear everyday!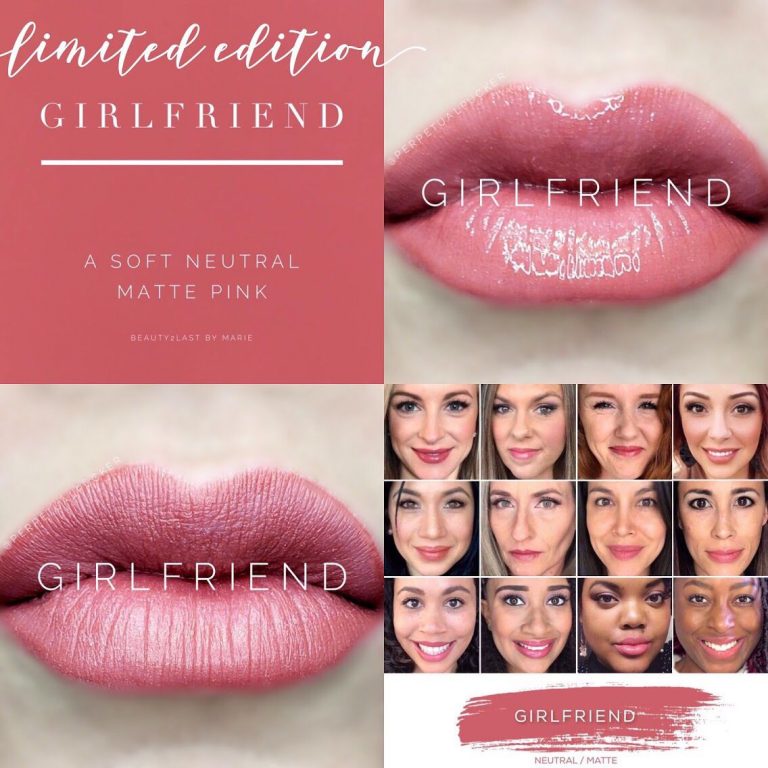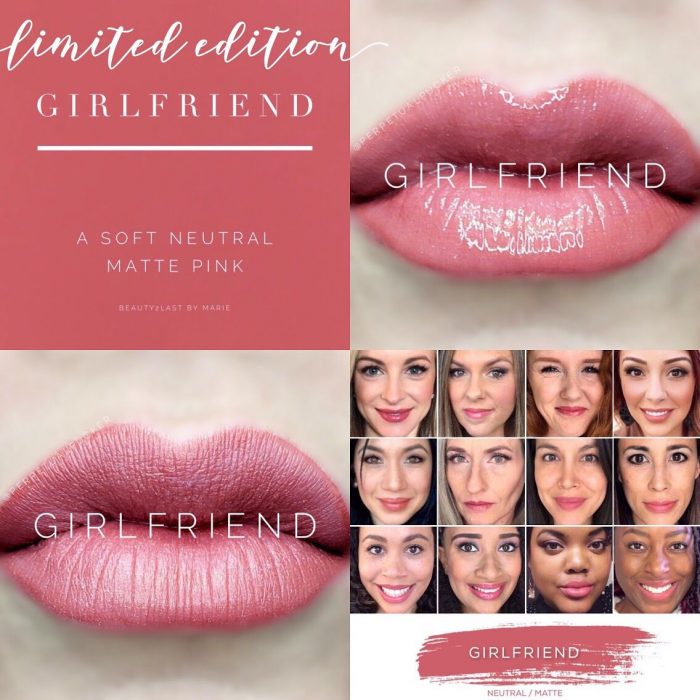 Glam Doll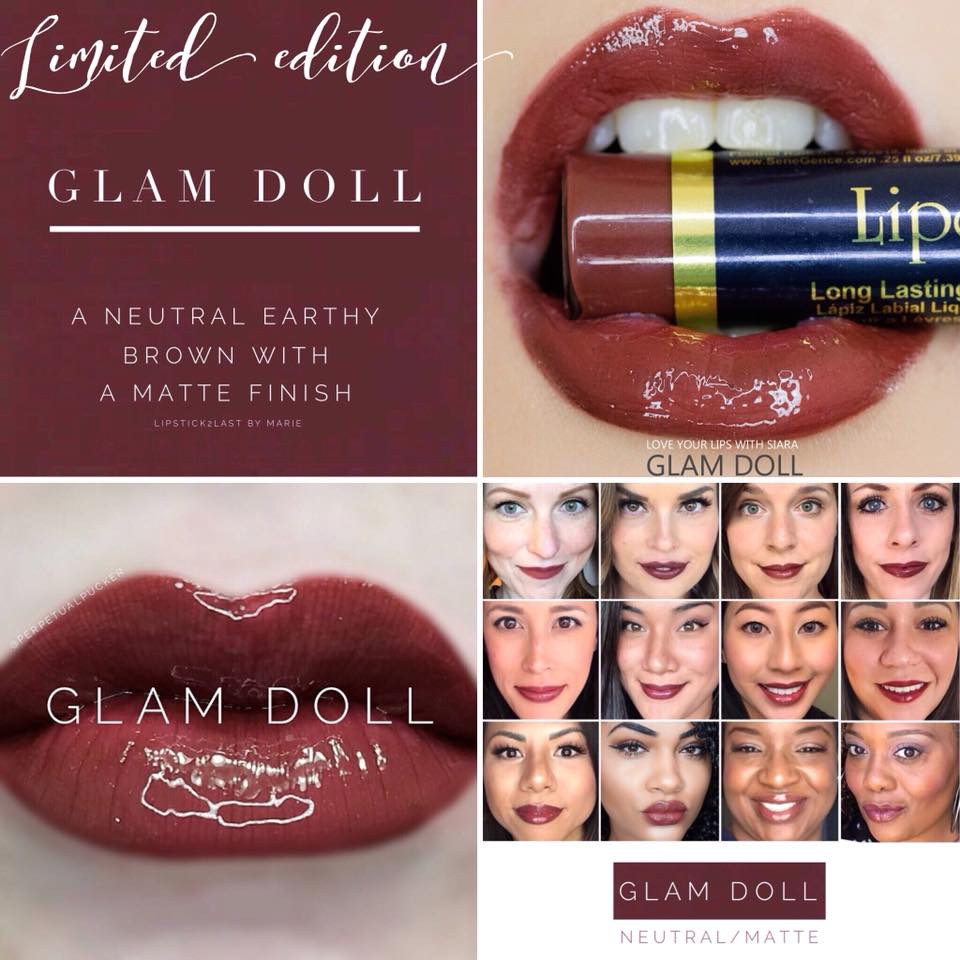 Goddess
Often referred to as "Bella's Sister," Goddess does not disappoint. It's a matte pink that looks amazing on everyone and I love wearing it on it's own or pairing it with a light shimmery gloss.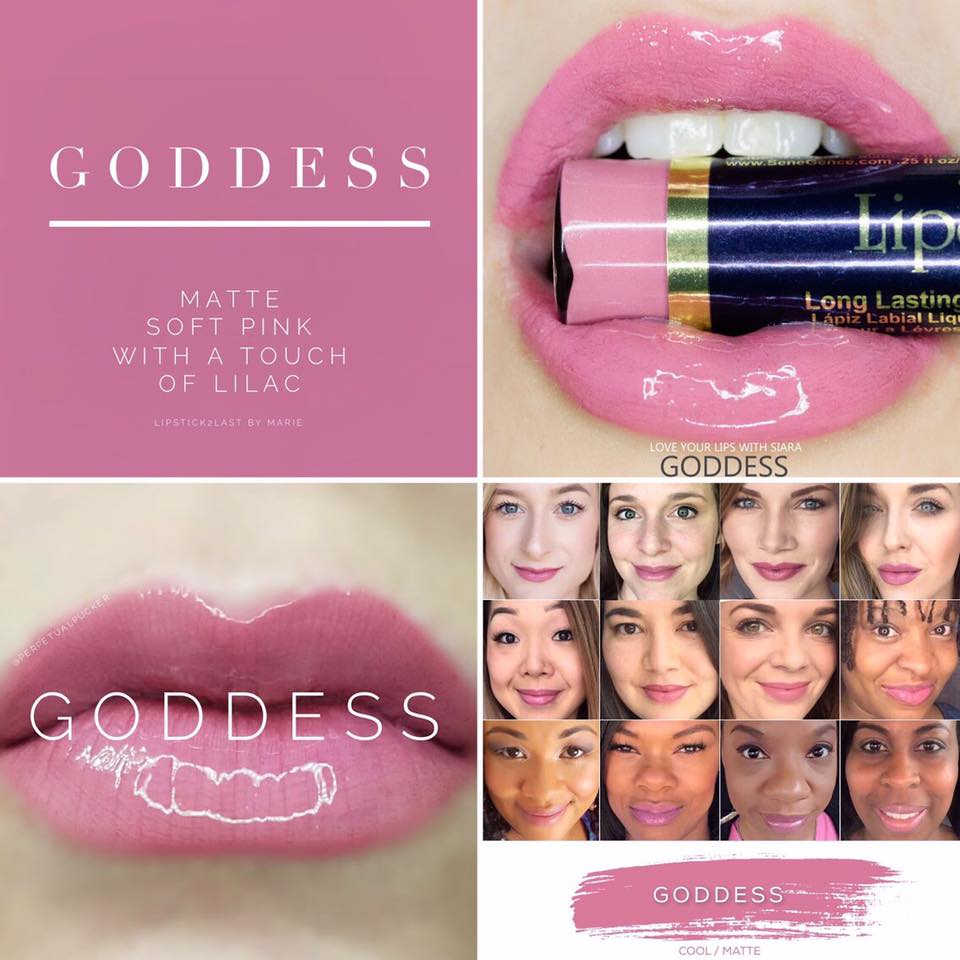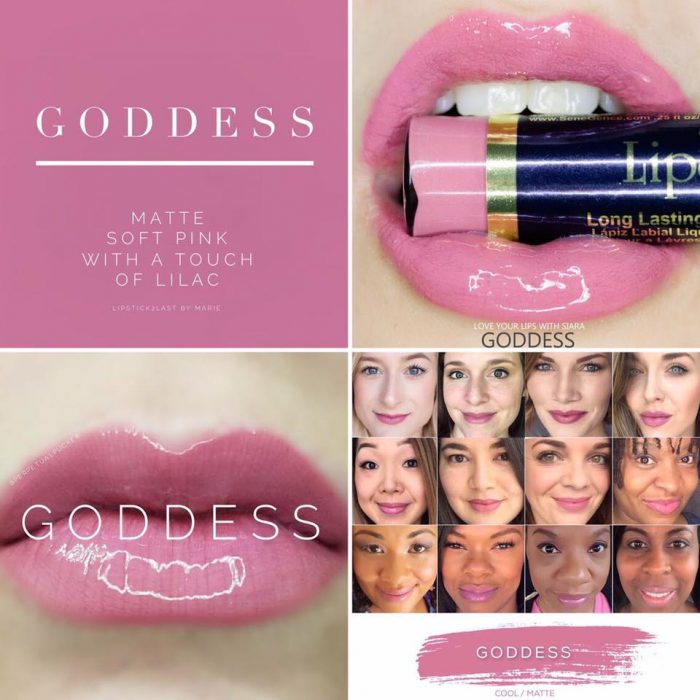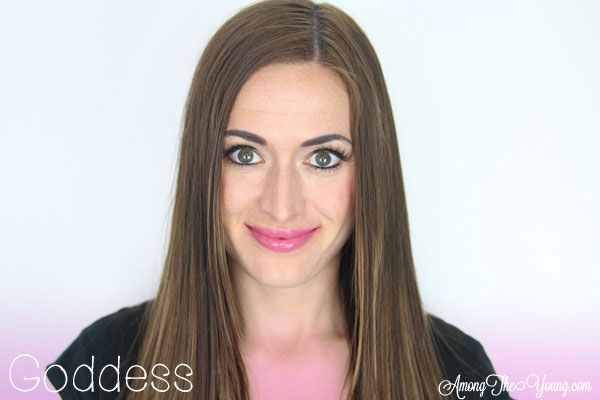 Golden Orchid
This pink has the most dazzling golden sparkle, plus it's the best shade of pink!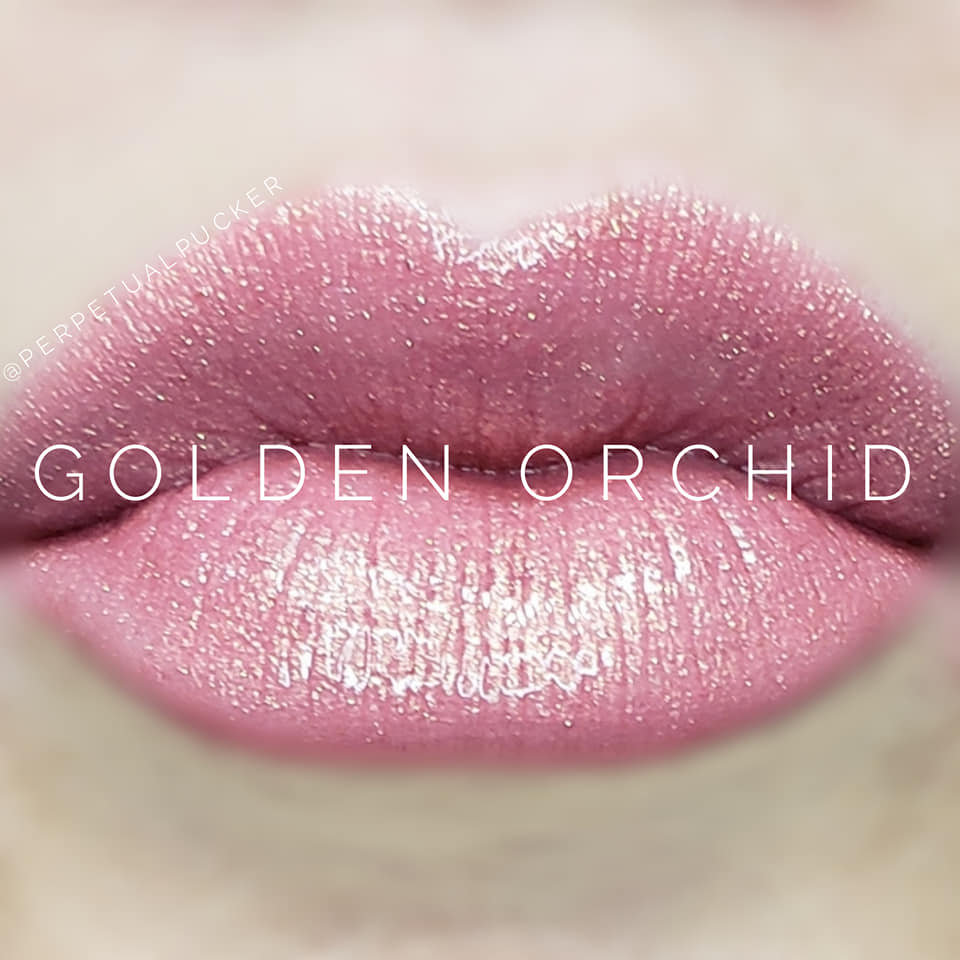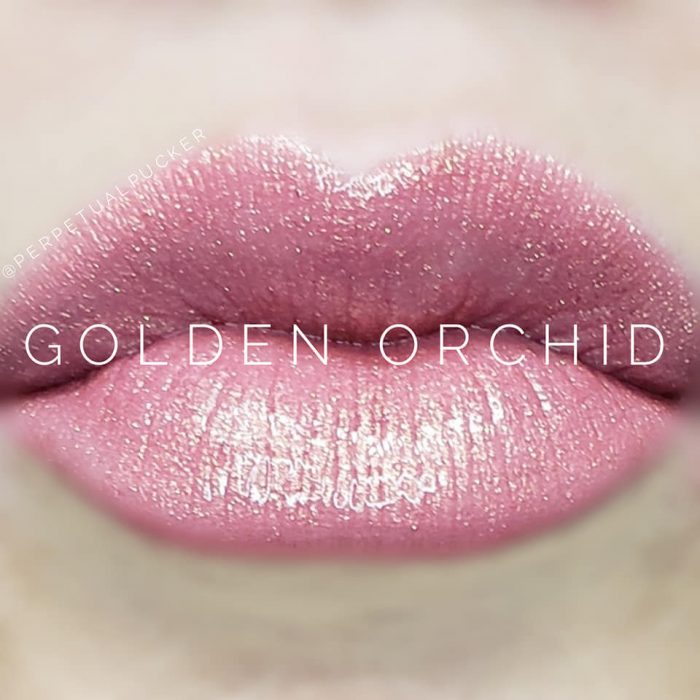 Hazelnut
I always forget about this color, but I don't usually remember to wear browns…. this color goes on evenly and looks amazing!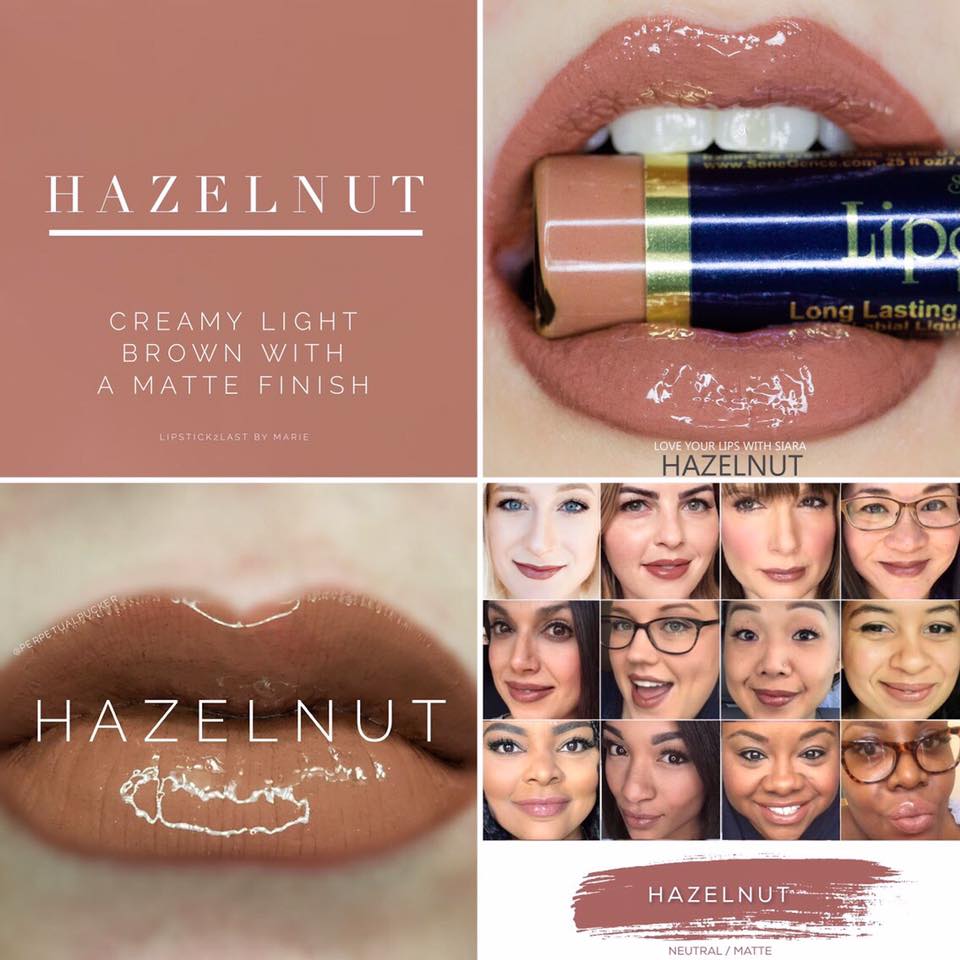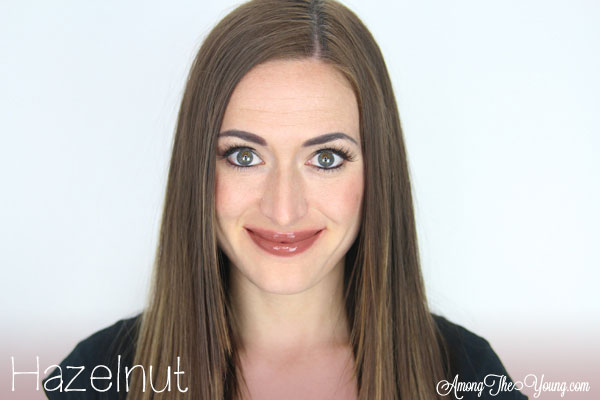 Heartbreaker
This color is coral perfection! I love wearing this color!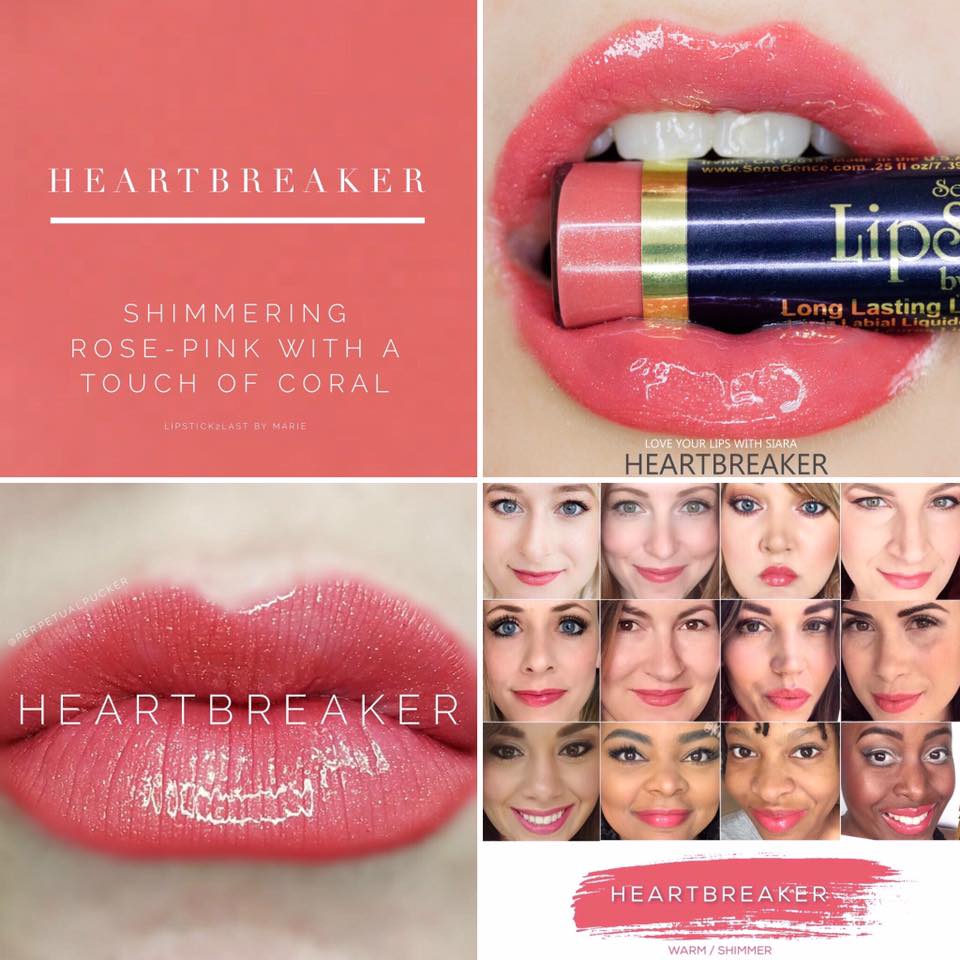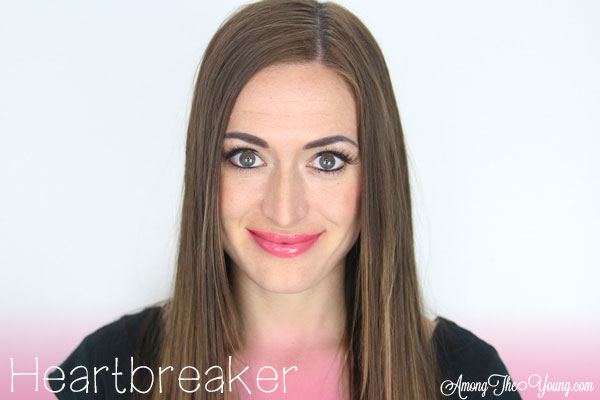 Honey Rose
Similar to Heartbreaker, I usually choose this color because it has a beautiful golden sheen (which is probably hard to tell in my picture)!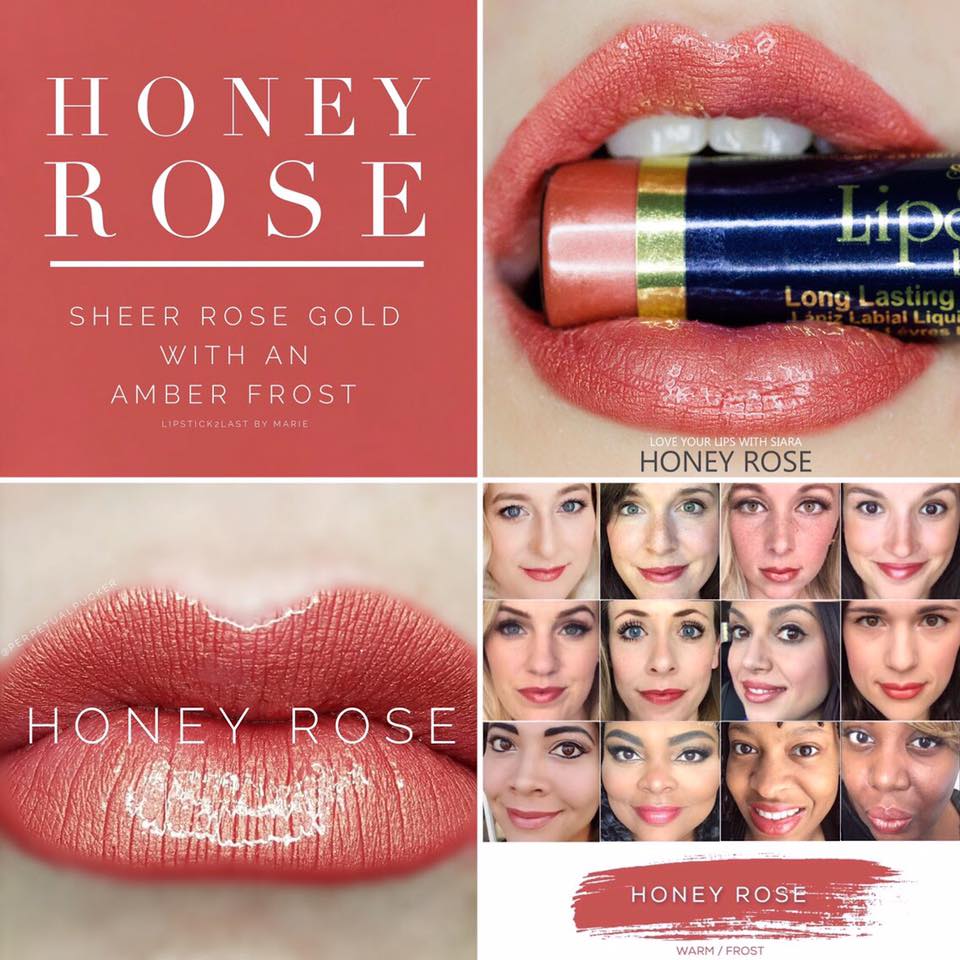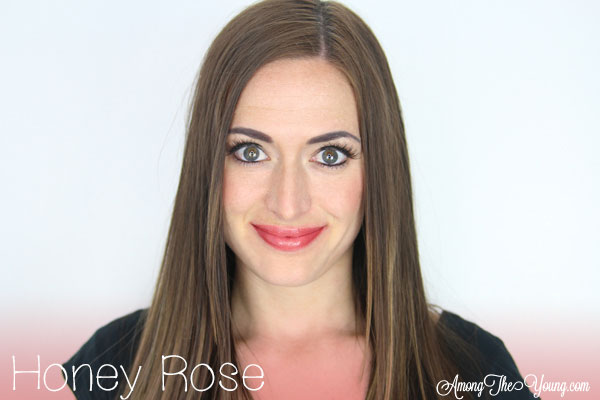 Icicle
Clear. YES – clear color. WHY on earth would a person need a clear lip color? You'd be surprised. I use this to layer colors that are tricky to put on (*ahem FIRST LOVE*). I also use it for lip art when I use Shadowsense as well as Lipsense to create fun looks. Finally, I use Icicle if I only want ONE layer of color and then I do two layers of Icicle.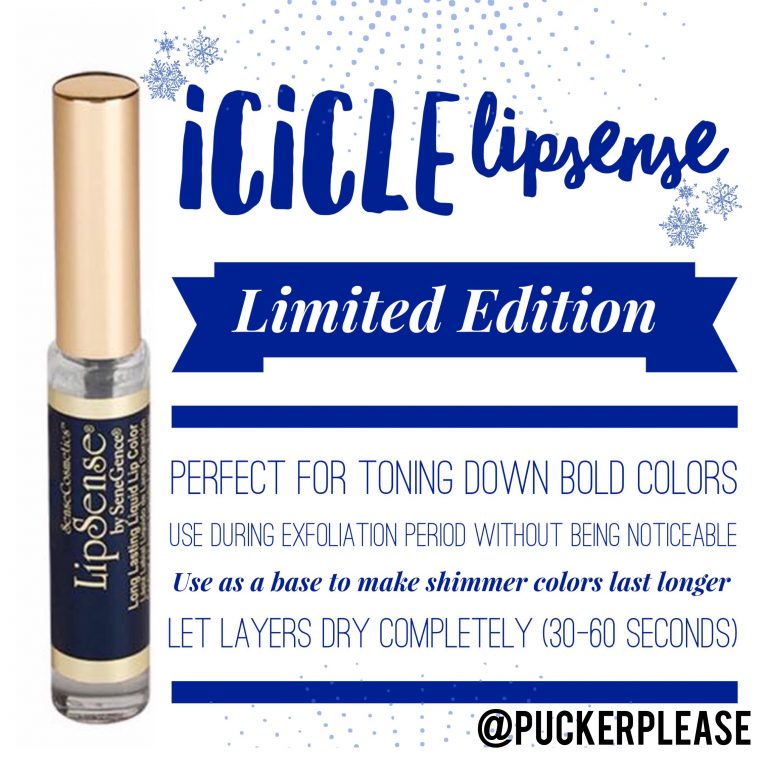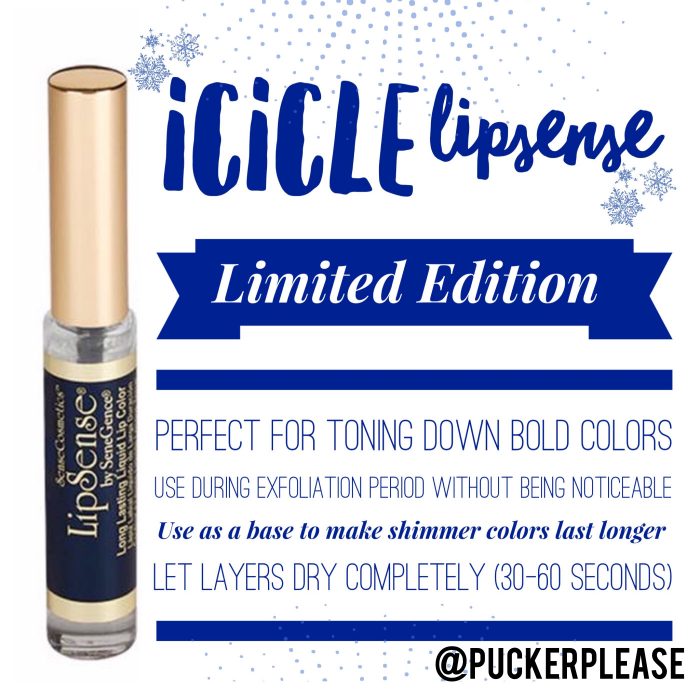 Kiss for a Cause
This pink is one of my faves because it has a purple-ish sheen to it. It's beautiful and nothing else even comes close to it. Pair it with Opal gloss and you enhance the purple sheen and are left with breathtaking color!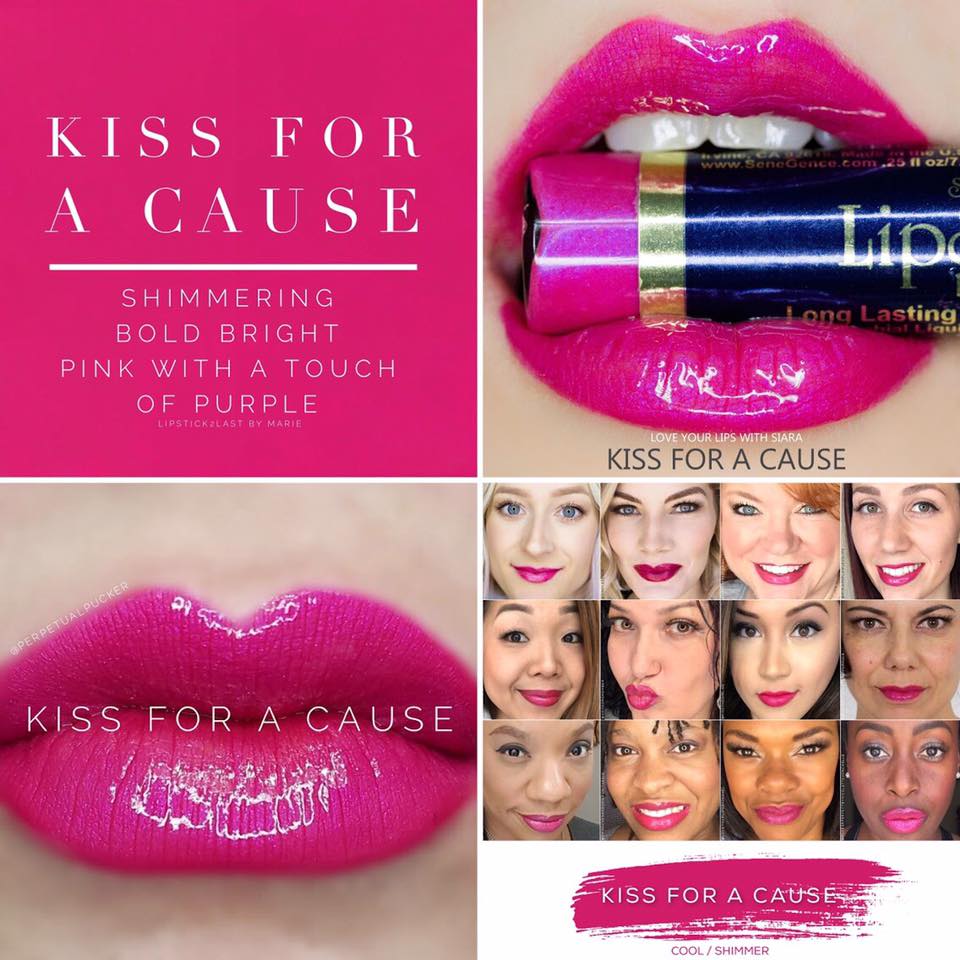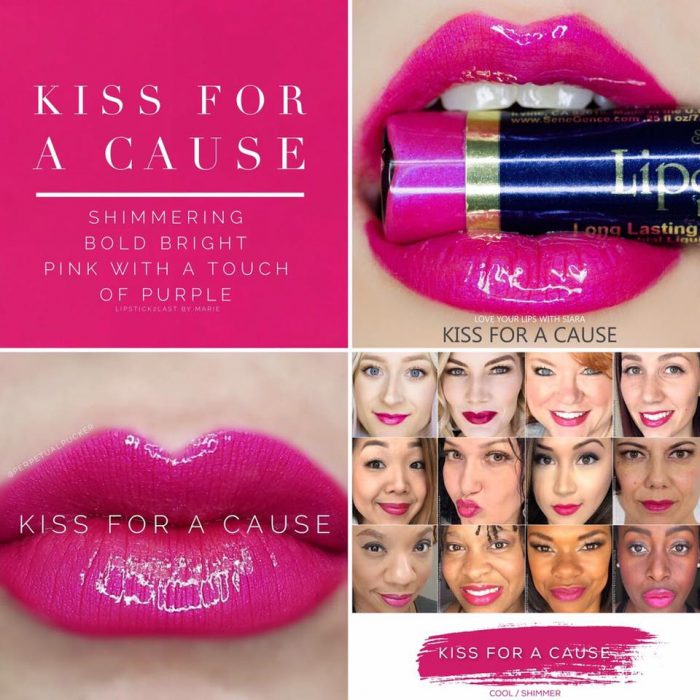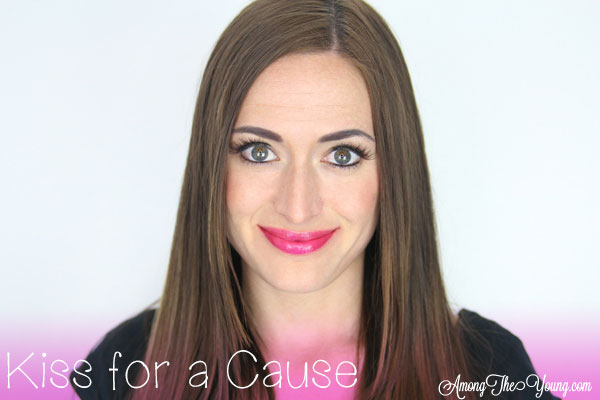 Kiss Me Katie
This pink is a joy – it's super light, so it looks amazing on brunettes and blondes. I prefer this pink to lighter colors like Bombshell and Bravo because there's still a bit of sparkle.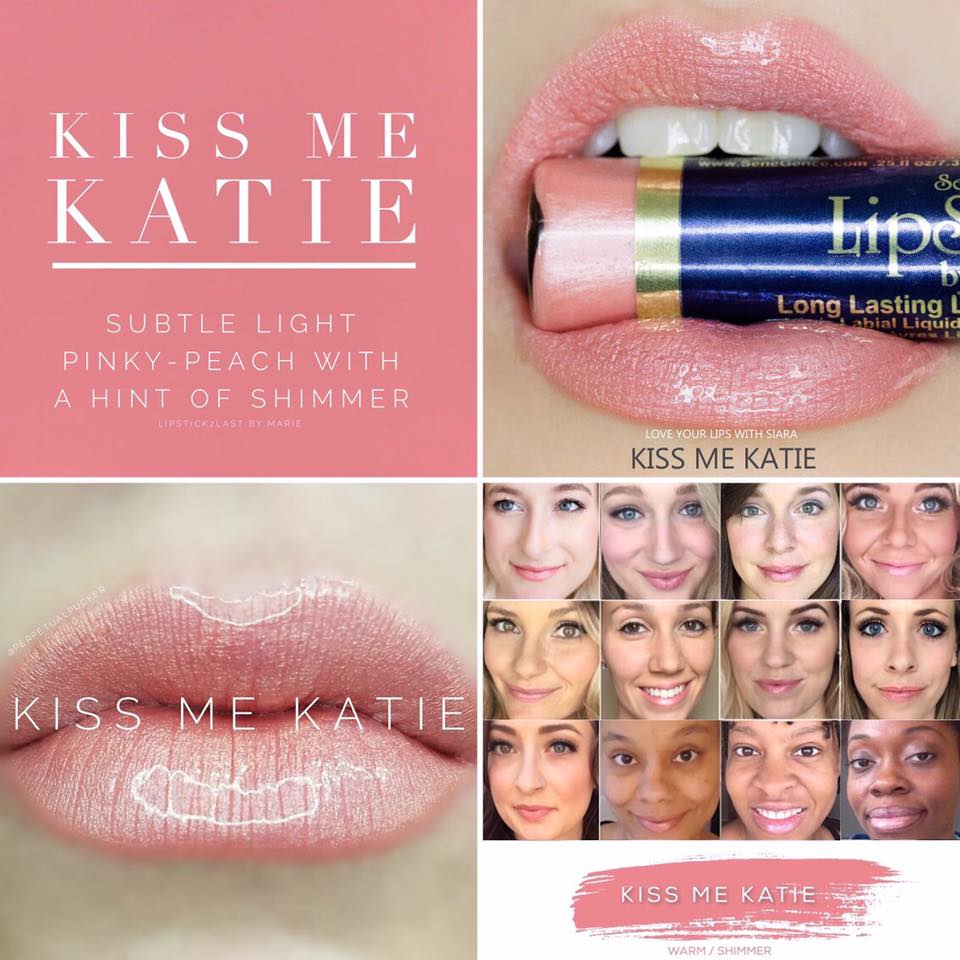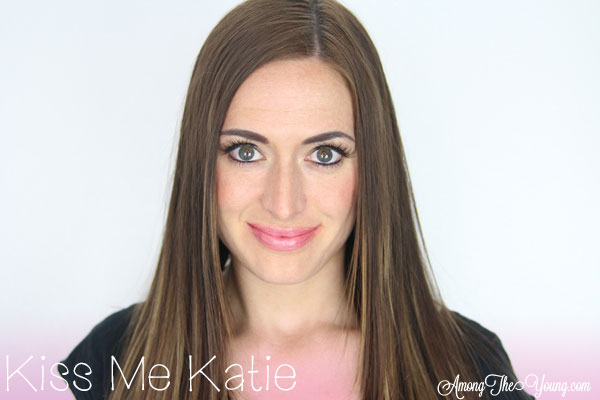 Lexie Beary
This color is another one of my go-to colors. It's the perfect combination of pink and purple. Plus, I adore the shimmer!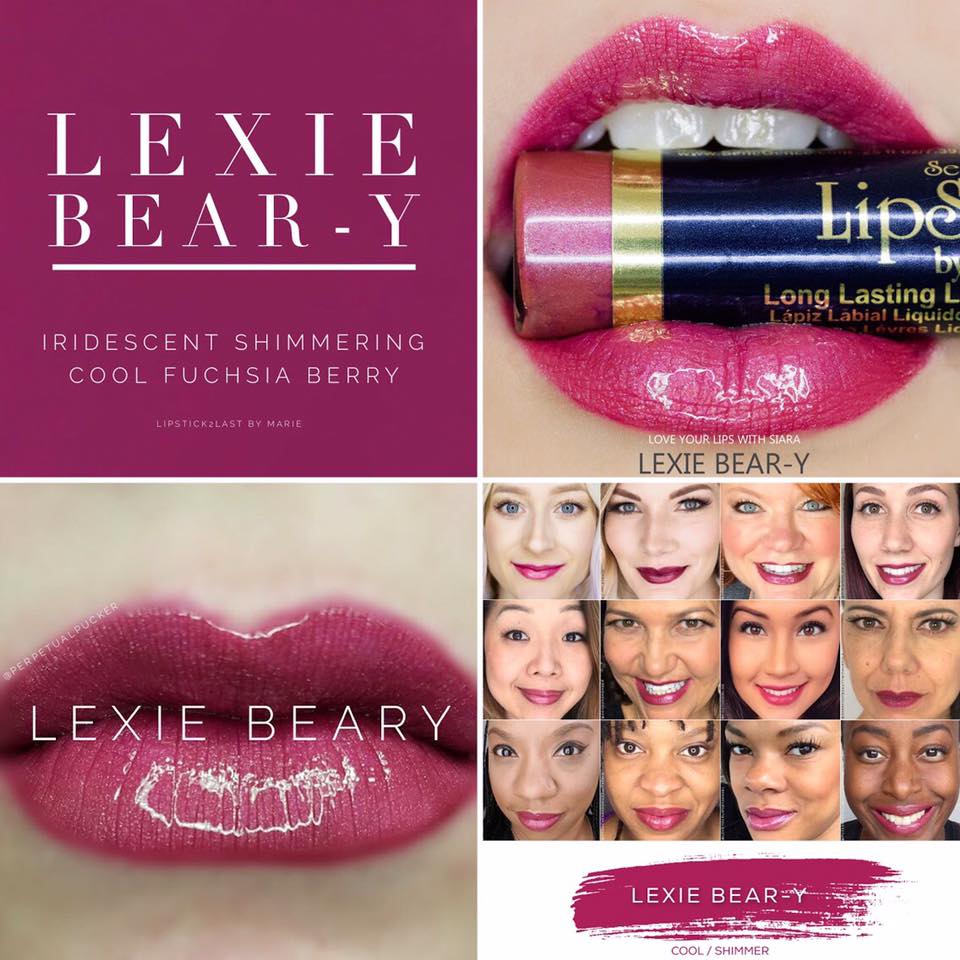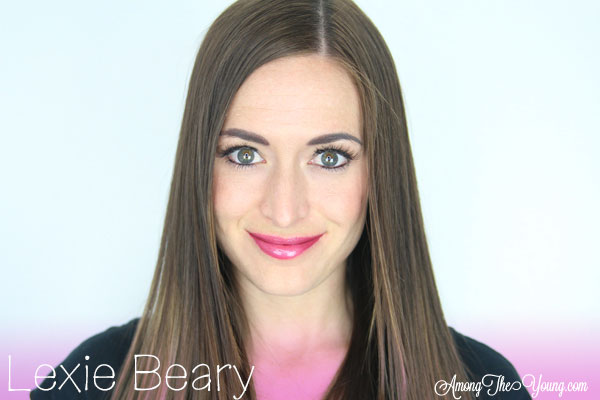 Lilac Laquer
This is the lighter version of Violet Volt and it is PERFECTION. I love to mix Violet Volt and Lilac Laquer to acheive the best color.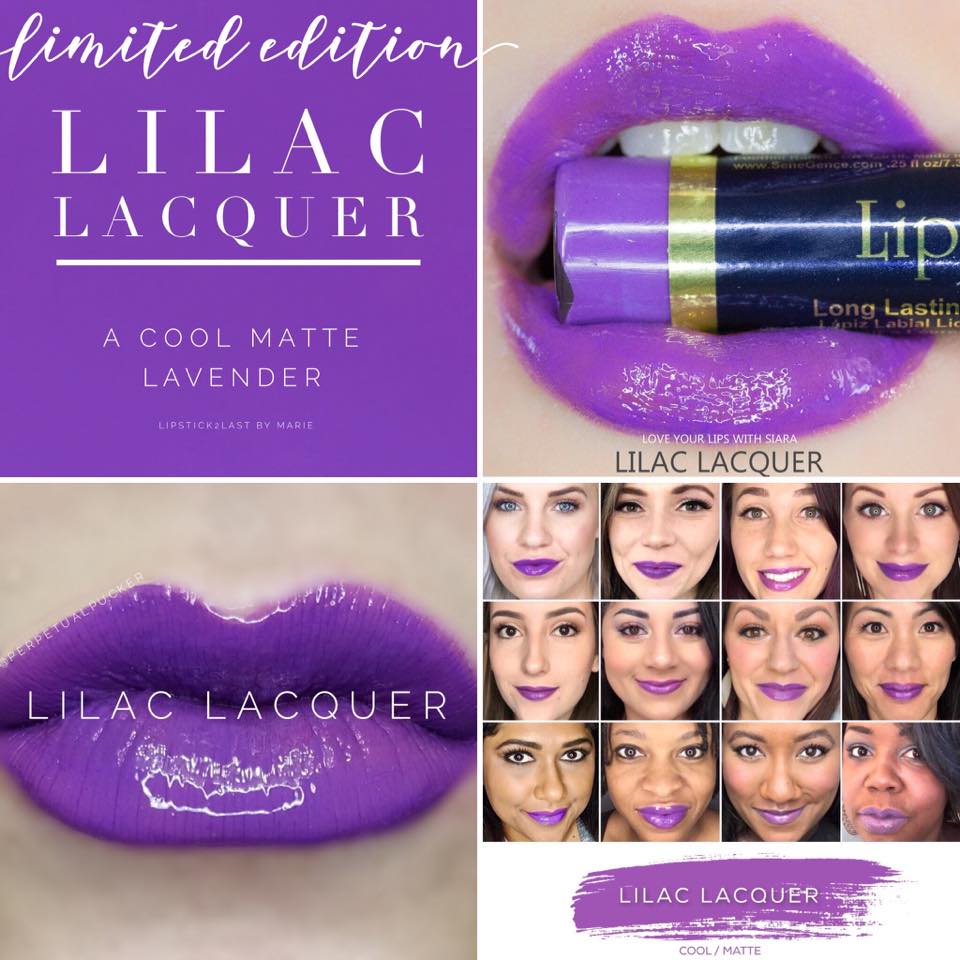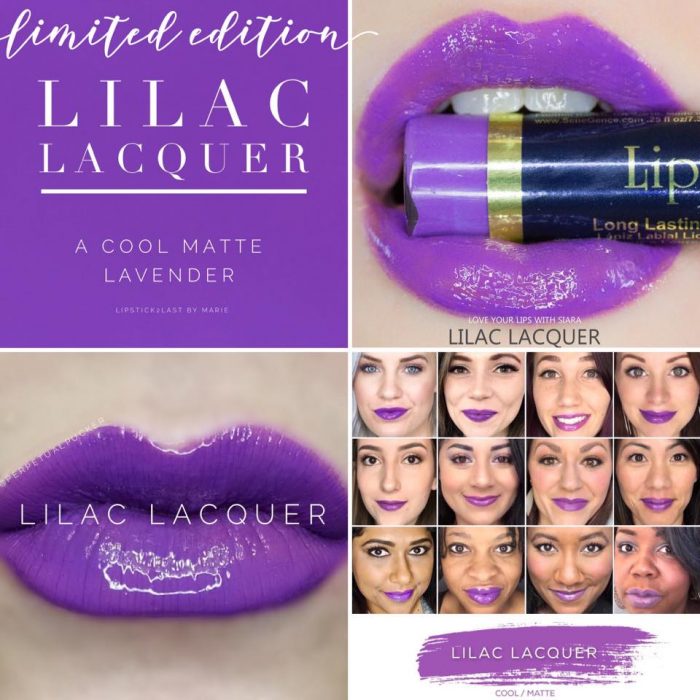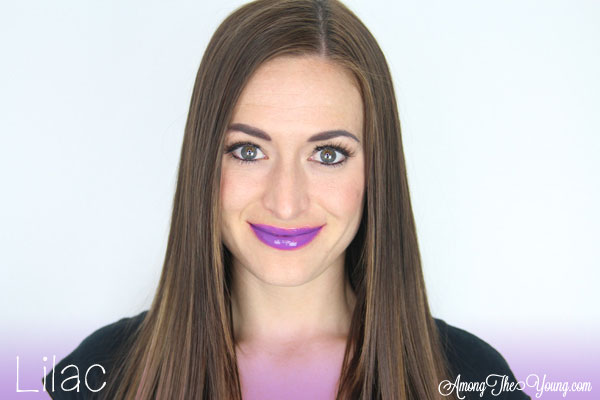 Luv it
I didn't come to discover this color for awhile and I was SAD I hadn't been using it all alone. It has a tiny bit more color than Kiss me Katie, but isn't as coral-y as Heartbreaker. It's a lovely light pink that looks amazing on all skin tones!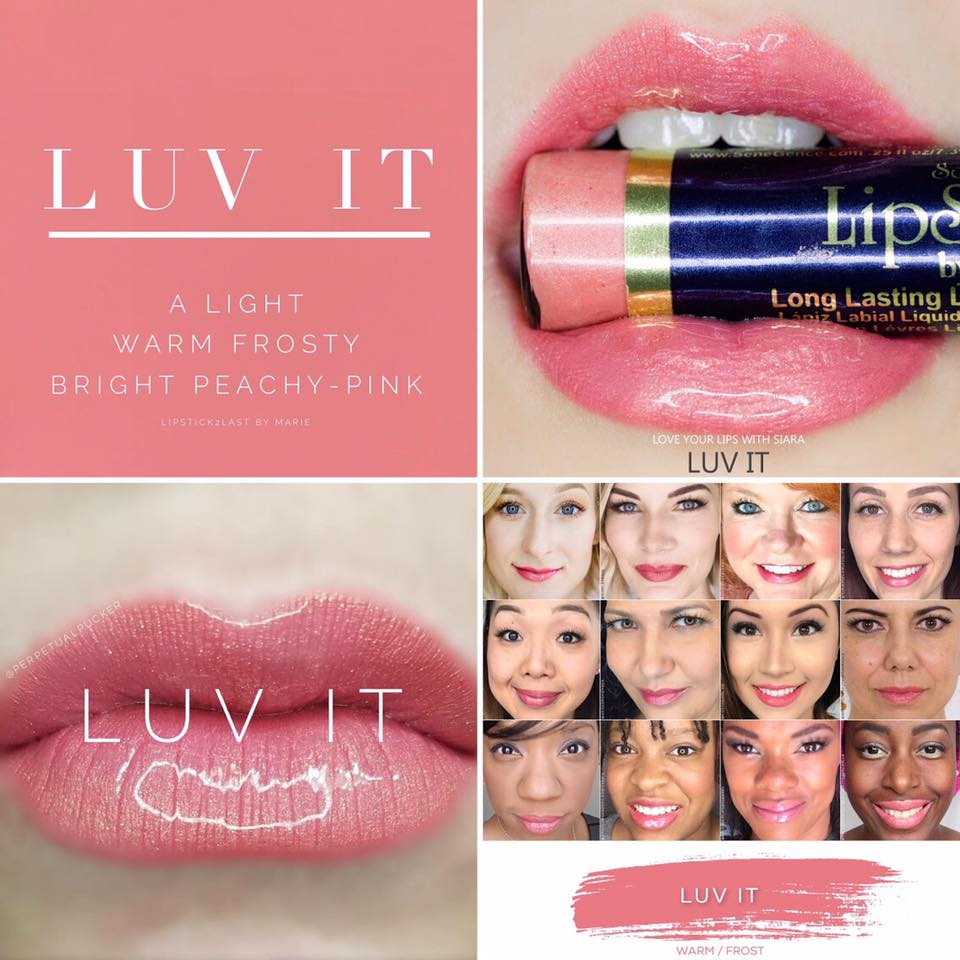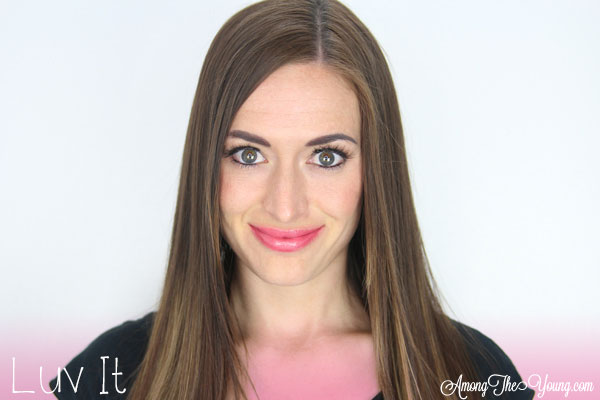 Mauve Ice
Funny story : When I first tried Lipsense, this color was SOLD OUT everywhere but I WANTED it. I was so excited to finally get my hands on it! I love pairing Mauve Ice with Lexie Beary to make a little lighter.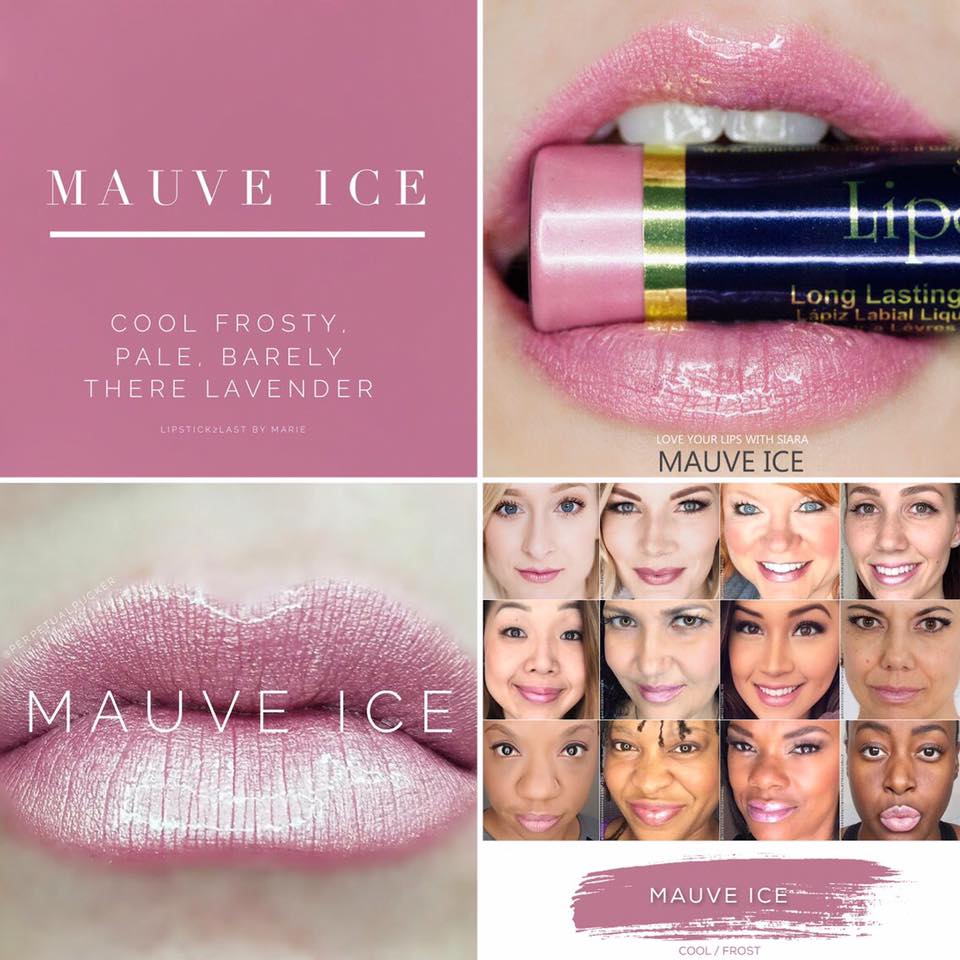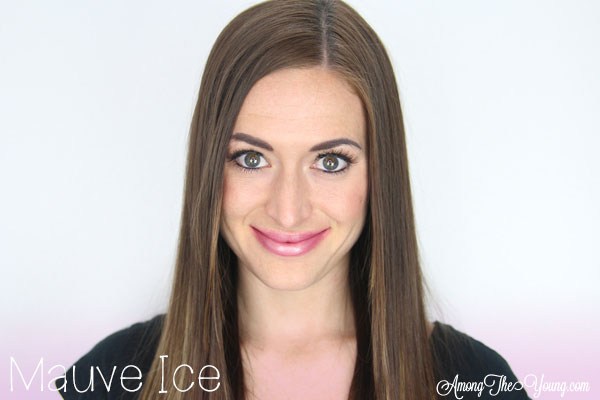 Metallic Plum
Like Plum but with sparkles! Be still my beating heart! I LOVE this purple!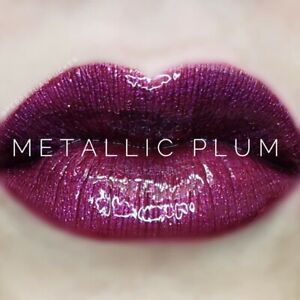 Midnight Muse
This blue is so darn fun – I love to mix this with Blu J to get a fabulous, vibrant blue.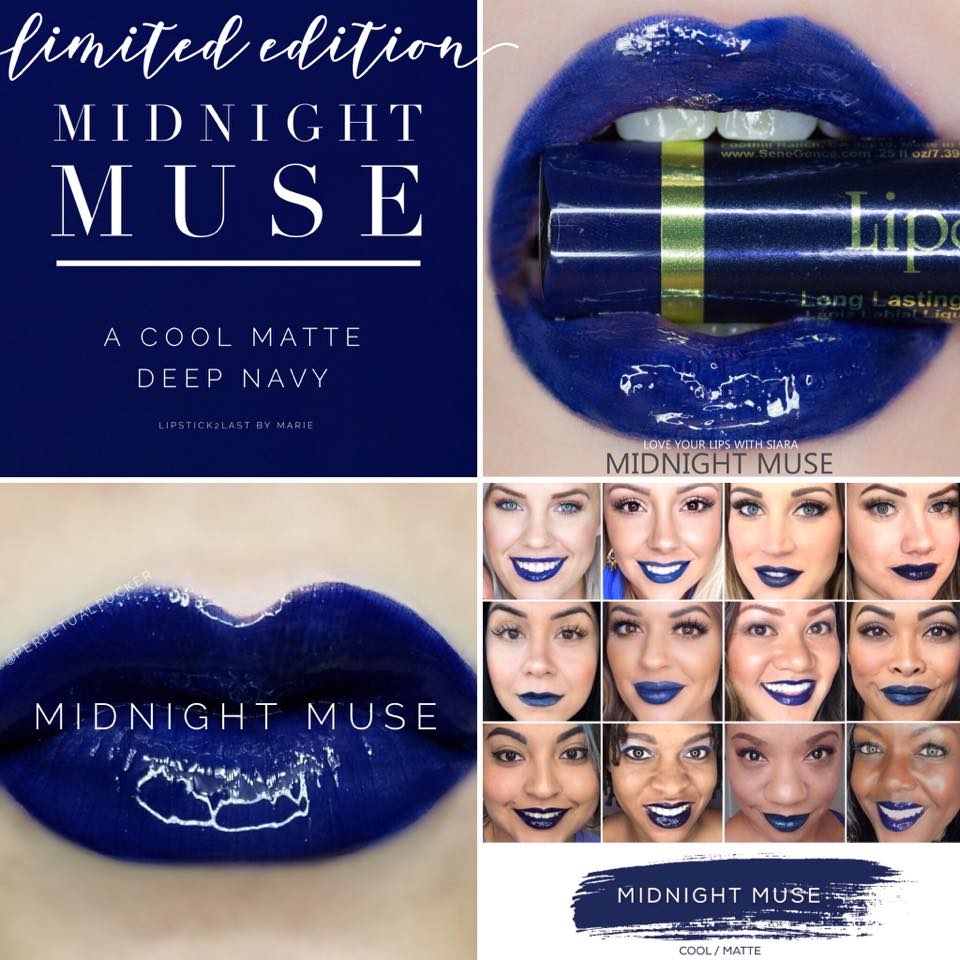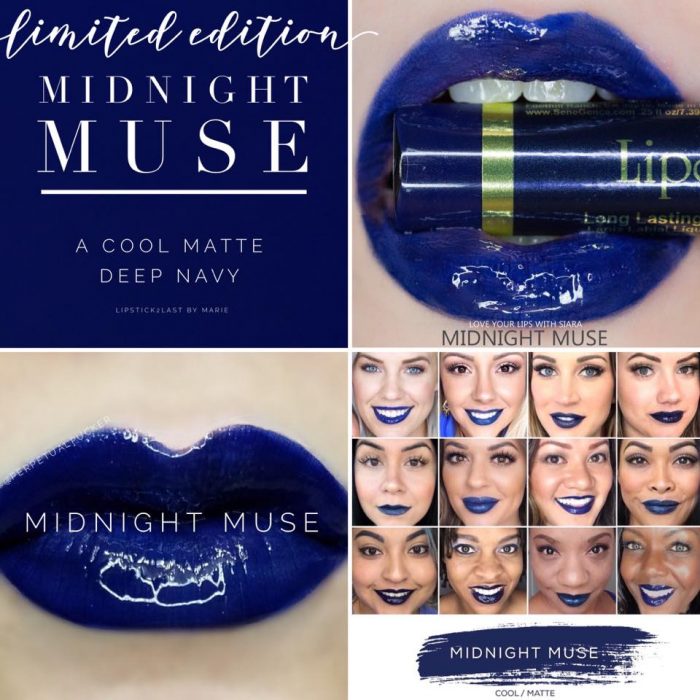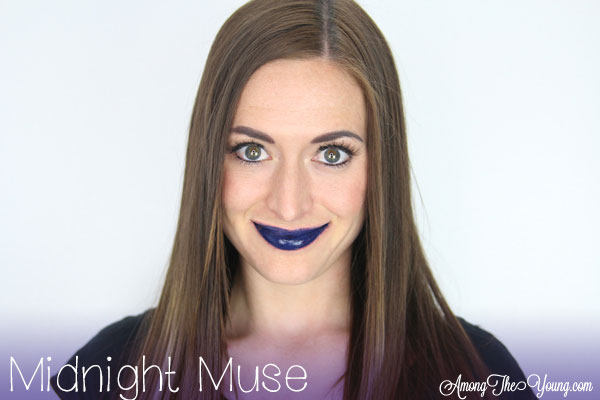 Mod Magenta
This shade of pink is stellar – it goes on smooth and looks amazing on everyone!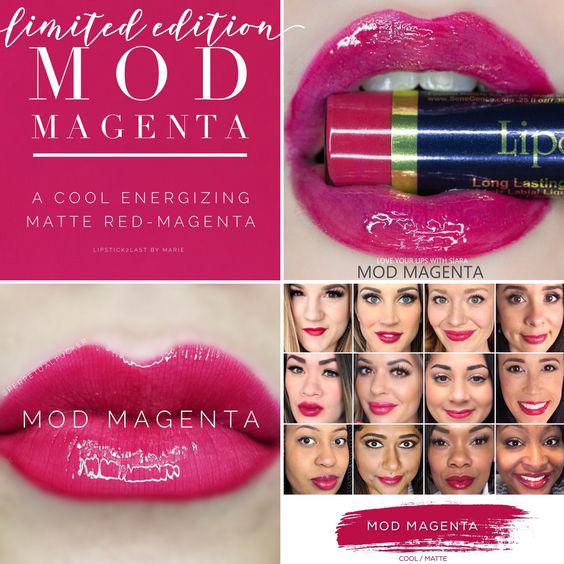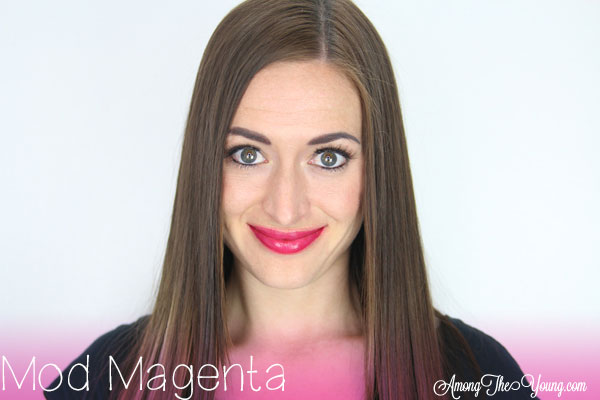 Mulled Wine
Mulled wine is the PERFECT red-ish purple color for fall. It CAN be tricky to apply, but I can share some tips and tricks to make it look good and last all day!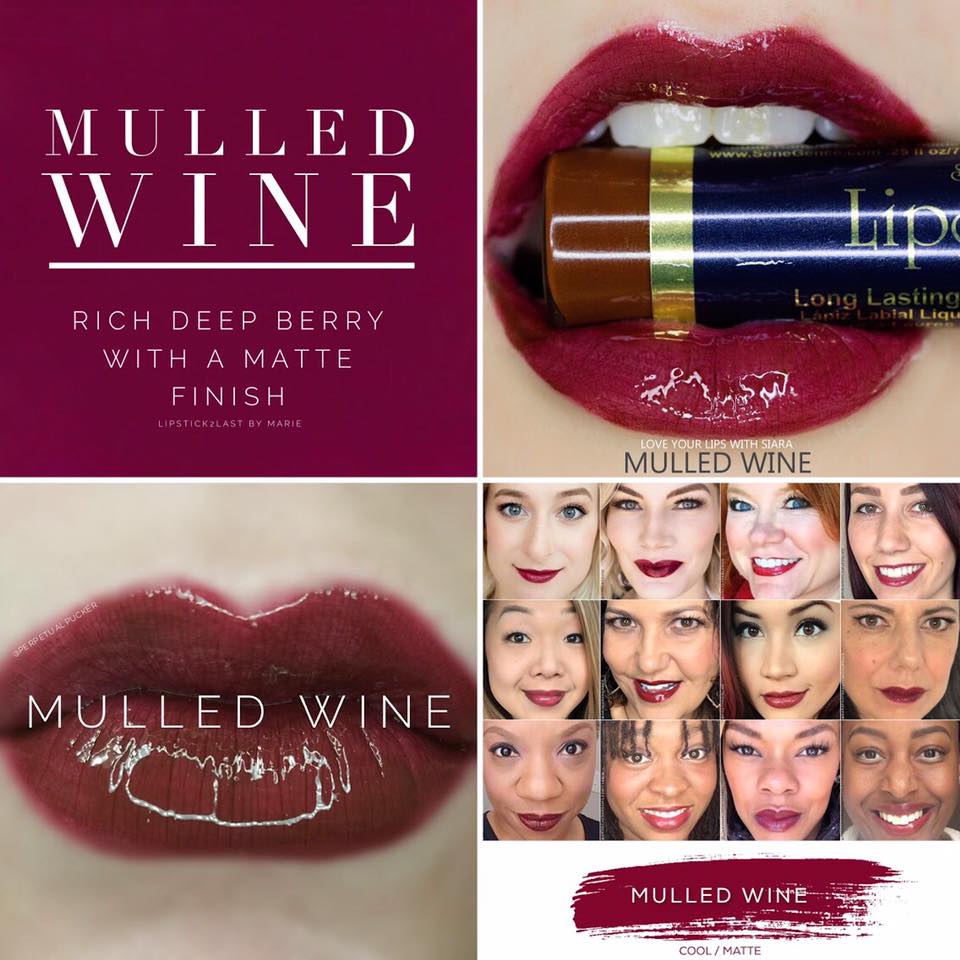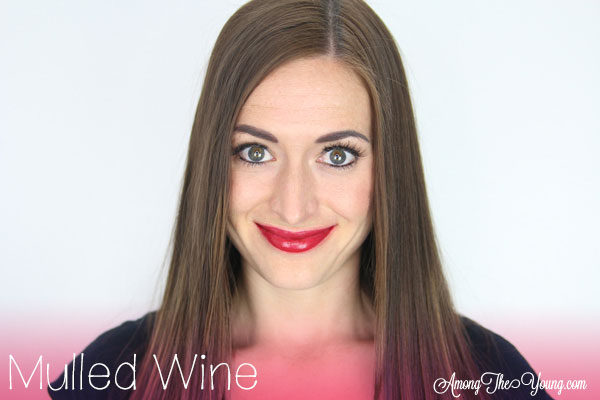 Napa
This color is a lovely red with a touch of purple and some shimmer. I love layering this with Mulled Wine to get that sparkle!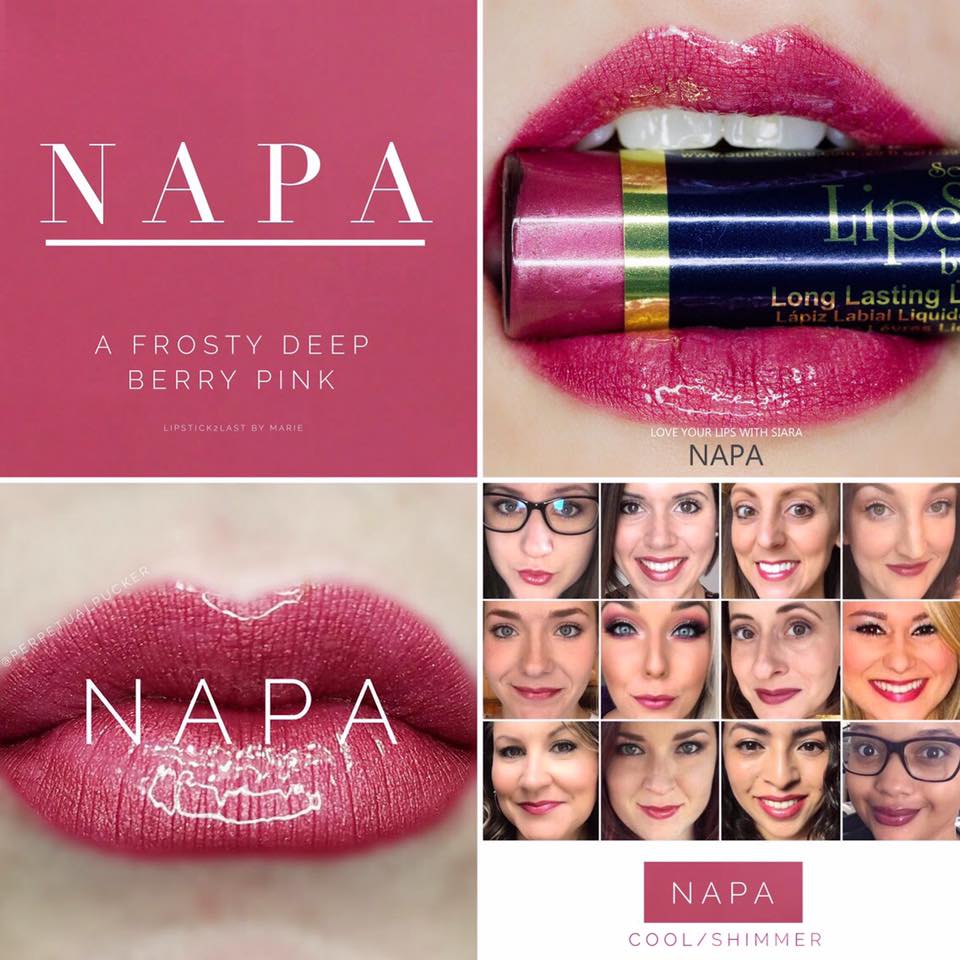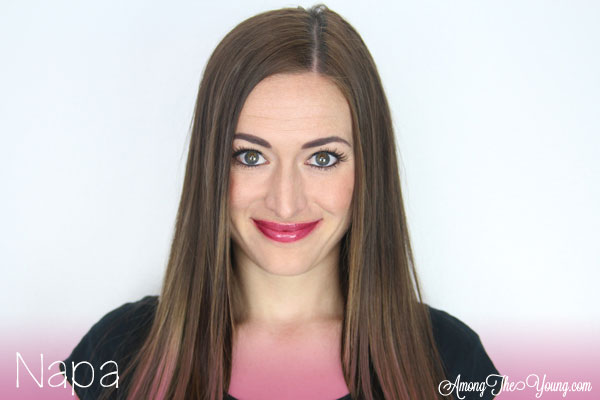 Nude
This color isn't my favorite to wear, but it's one of my go-to layering colors.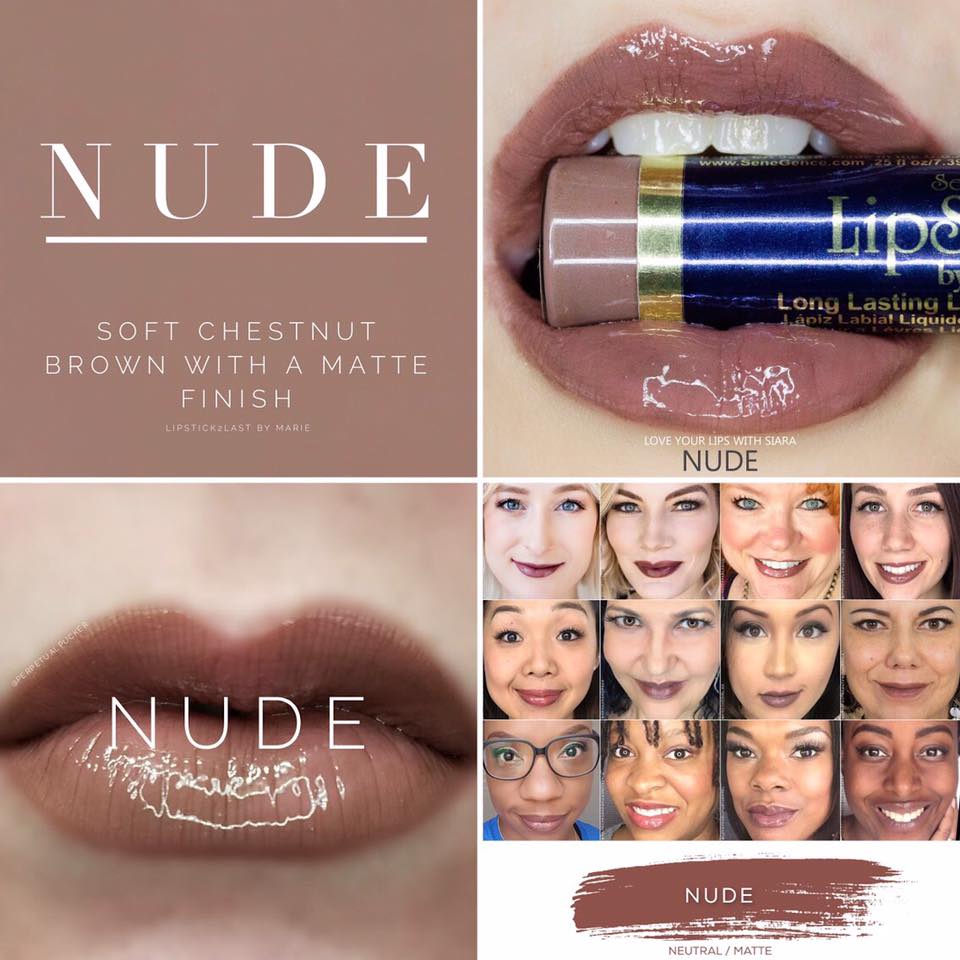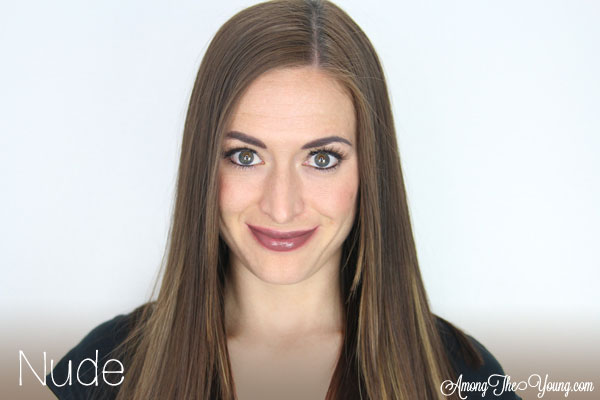 Nutmeg
Nutmeg has my WHOLE heart – it has a Rose Gold loveliness that shines so beautifully. It's one of my favorites for fall!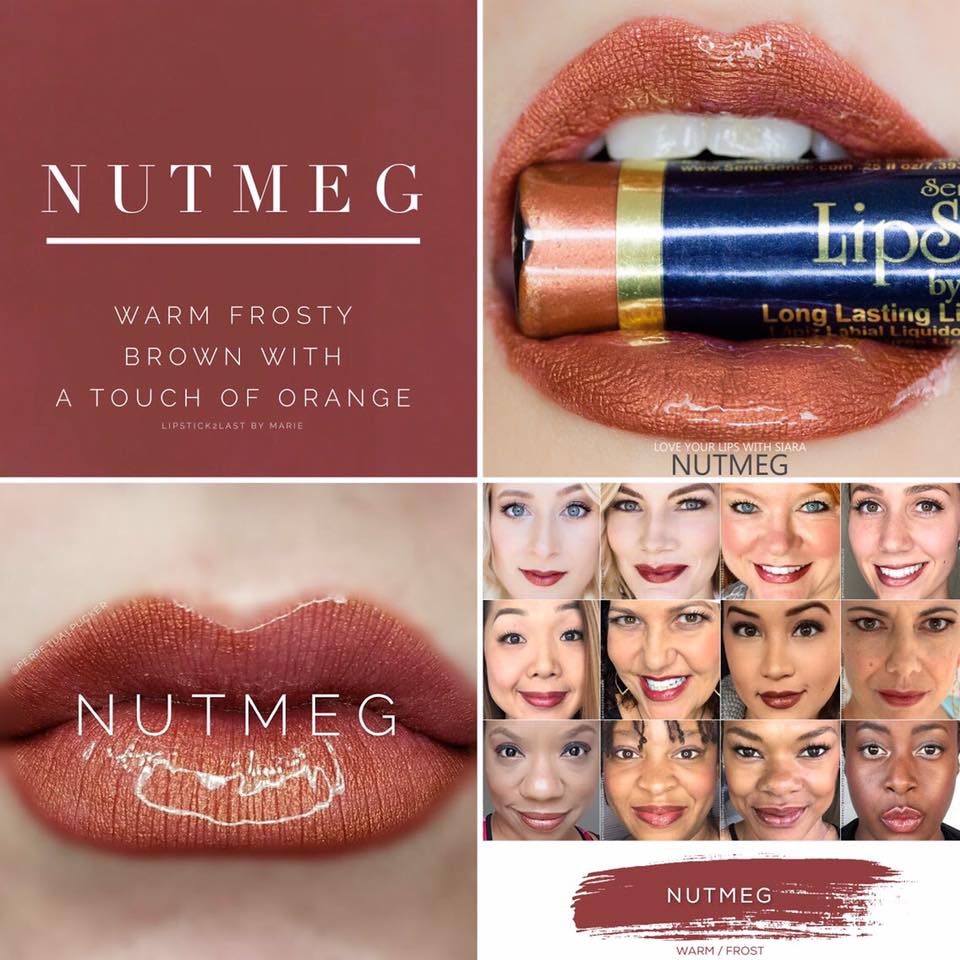 Orange Soda
This orange is so fun – the shimmer makes it a really great color for summer, Halloween, etc.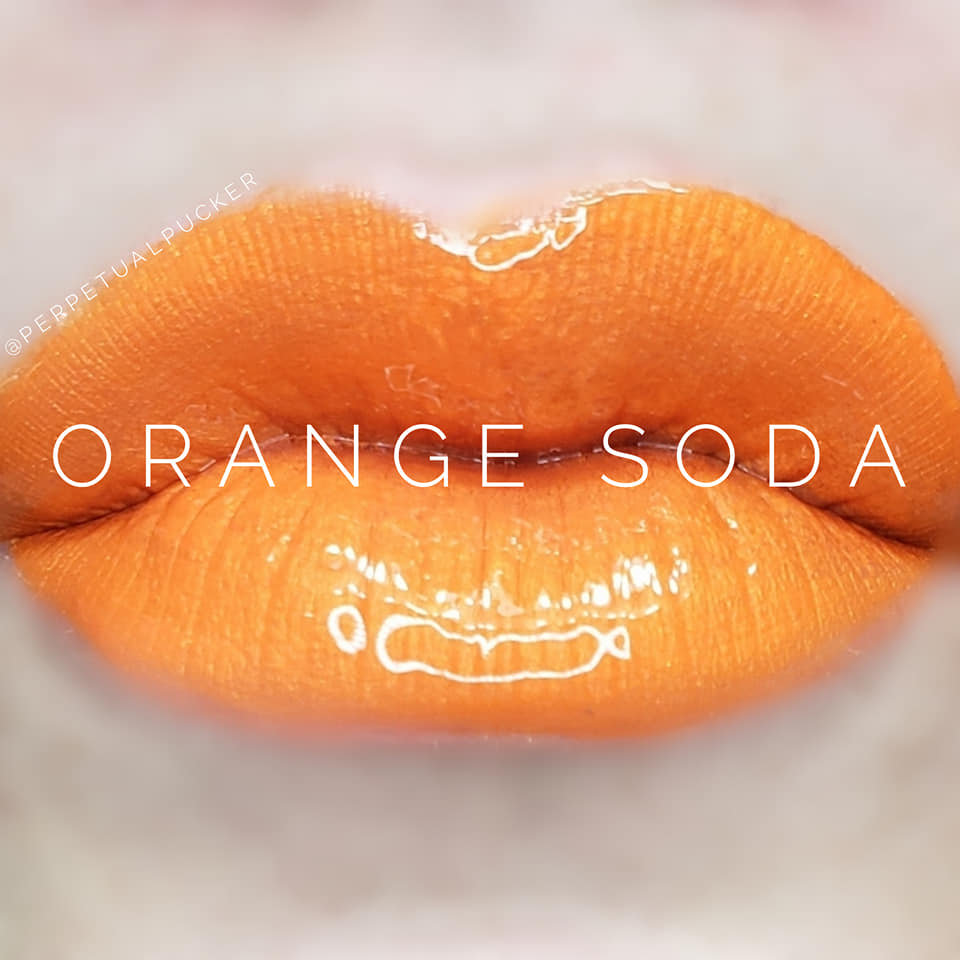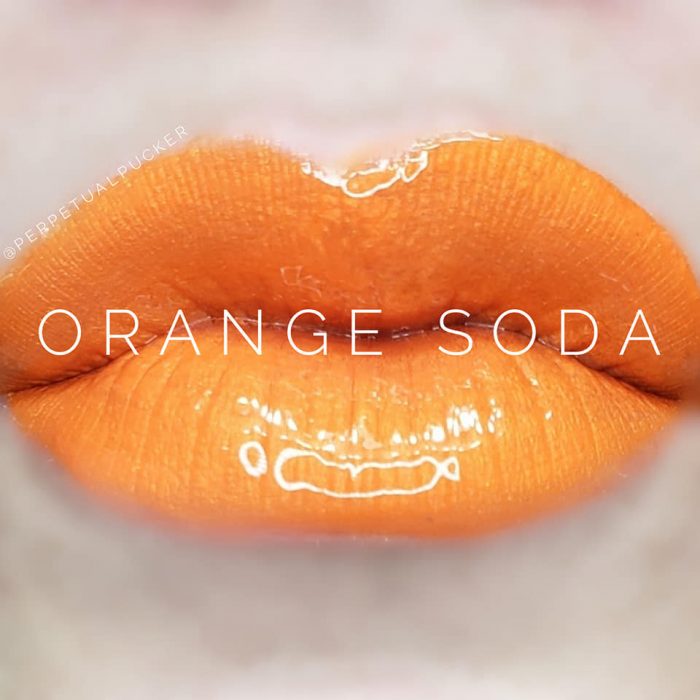 Party Pink
Another one of my first colors I ever bought – everyone needs a shockingly bright pink in their lipstick arsenal!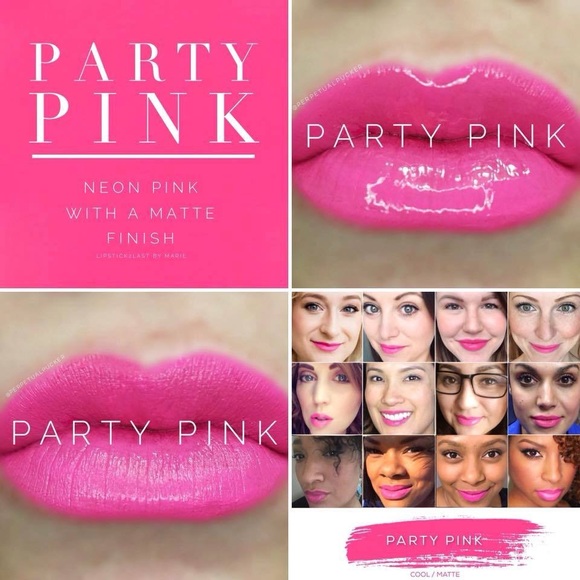 Persimmon
This color is a great combination of red and brown – super pretty!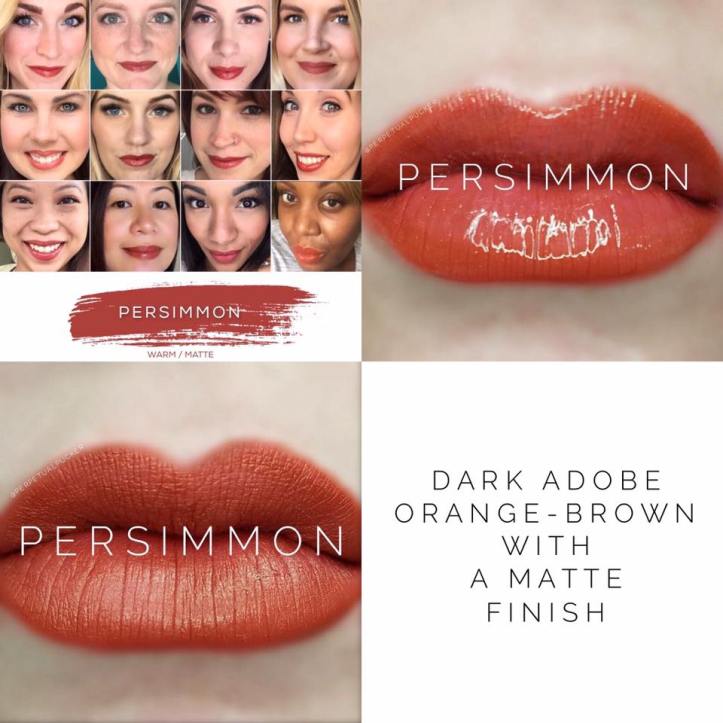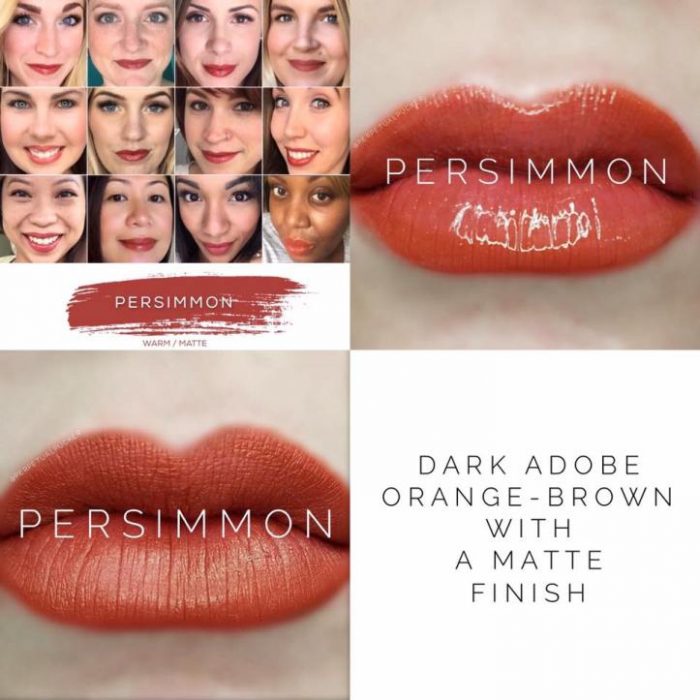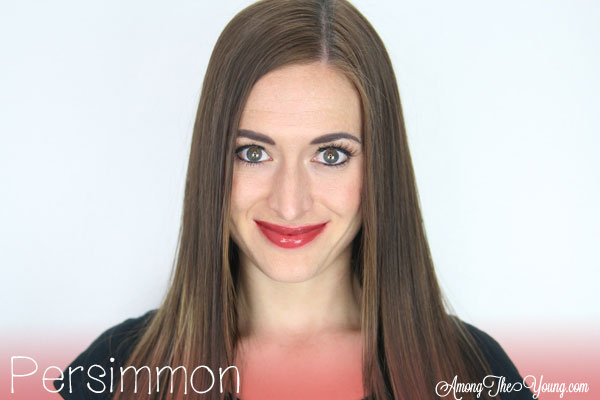 Pink Champagne
A lot of people love to wear this color on its own. I love to layer it with darker pinks to lighten it up and give it a pretty shimmer.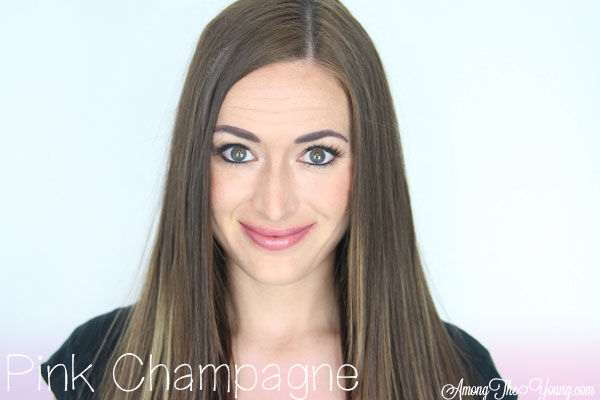 Plum
This color …. I love it and hate it. The plum color itself is PERFECTION, but the application is tricky because it's thin and very dark. I want to wear this color everyday, but I can honestly say I still haven't mastered it!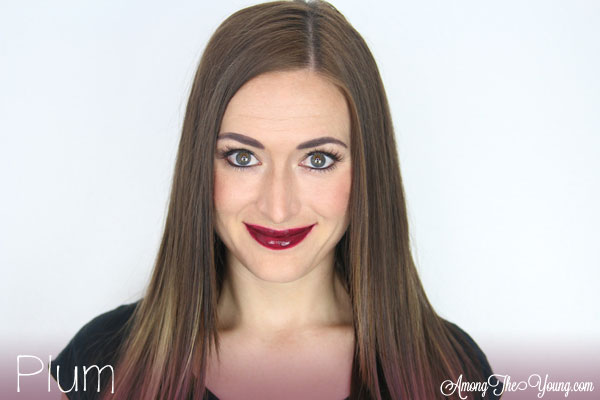 Plum Pretty
This color is similar to Nutmeg, but it has a tiny bit more pink to it. I usually grab this one (only because I can find it quickly) and it looks amazing with Rose Gold Shadowsense.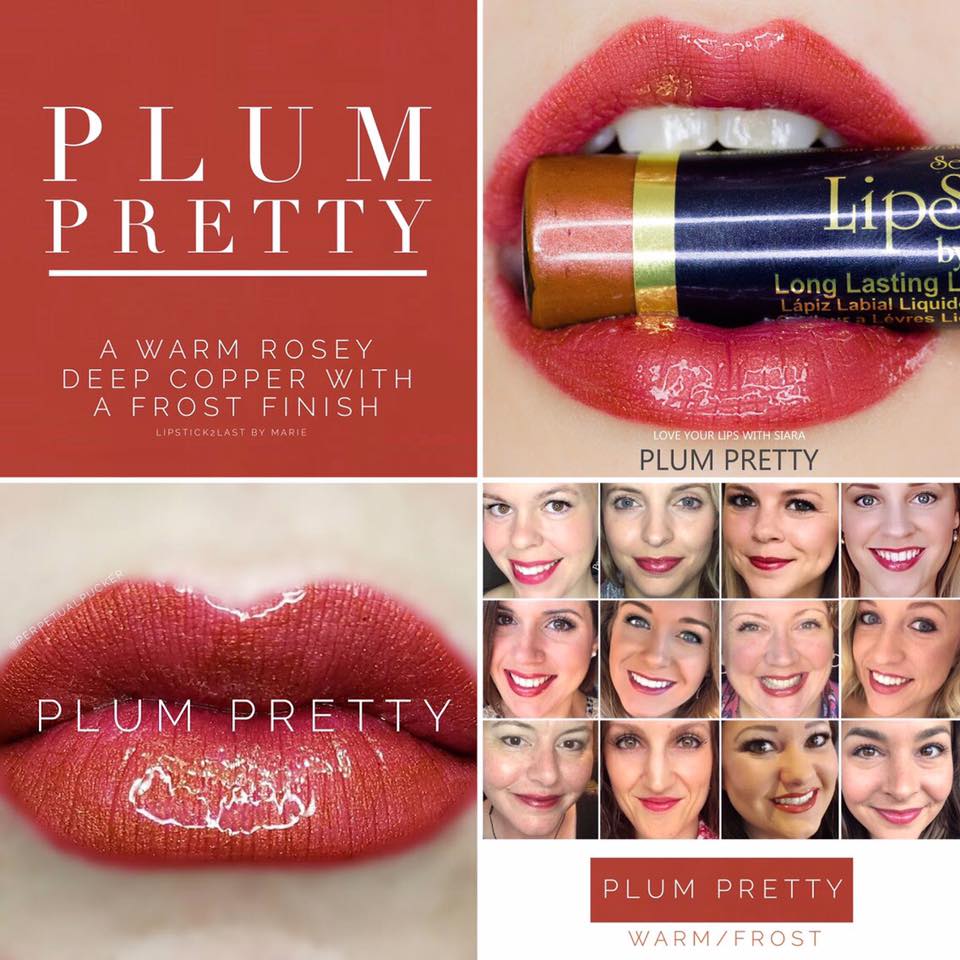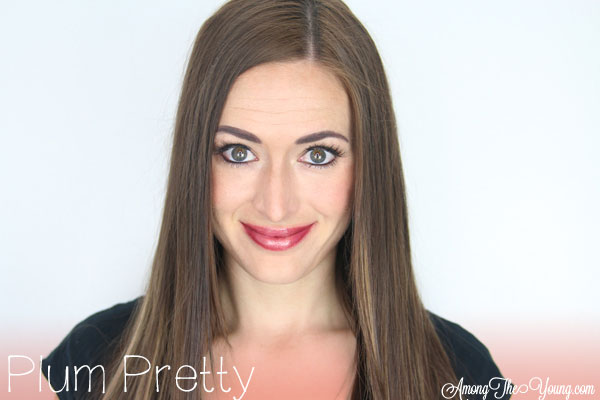 Plumeria
I usually can't decide between this color and Kiss for a Cause because they're pretty similar. However, this color has a sparkle that I adore and I sometimes use both pinks at the same time!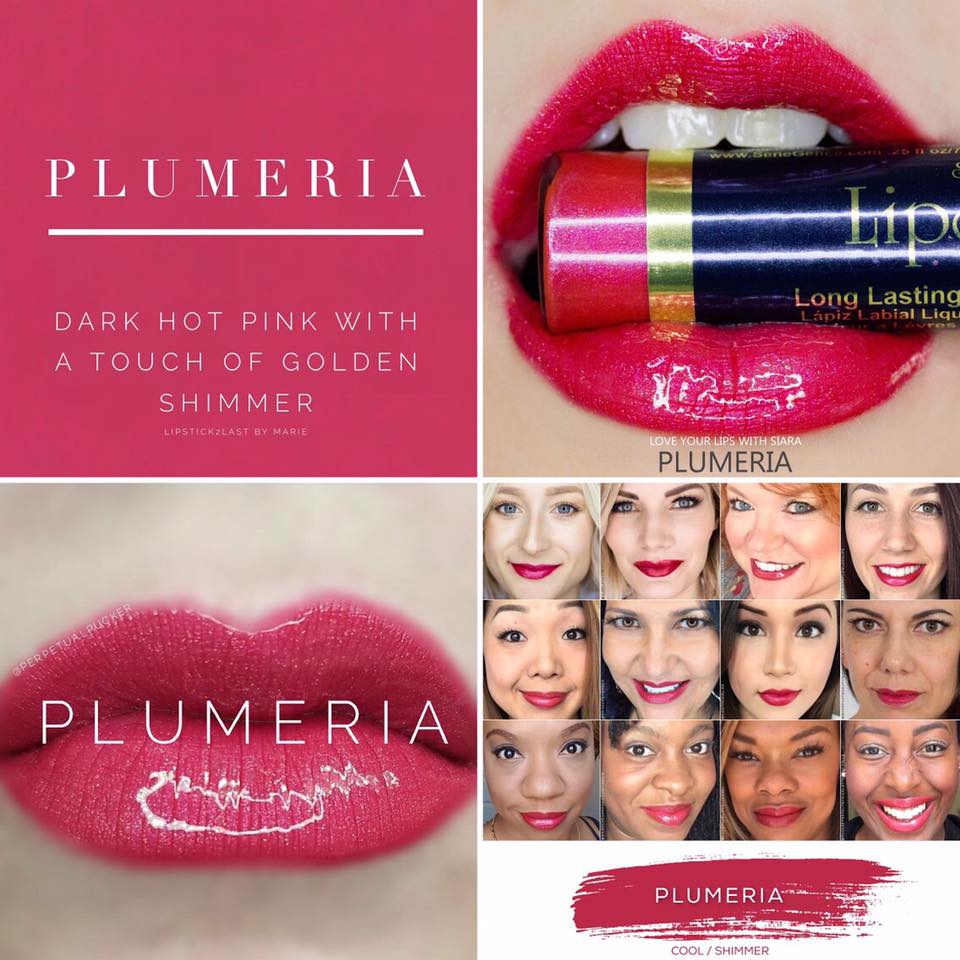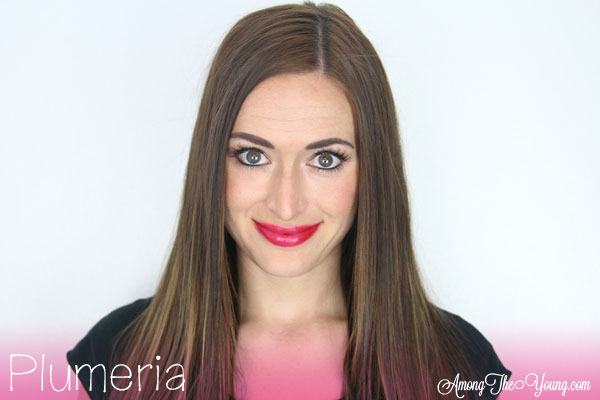 Pomegranate
I adore this color because the shimmer is so perfect!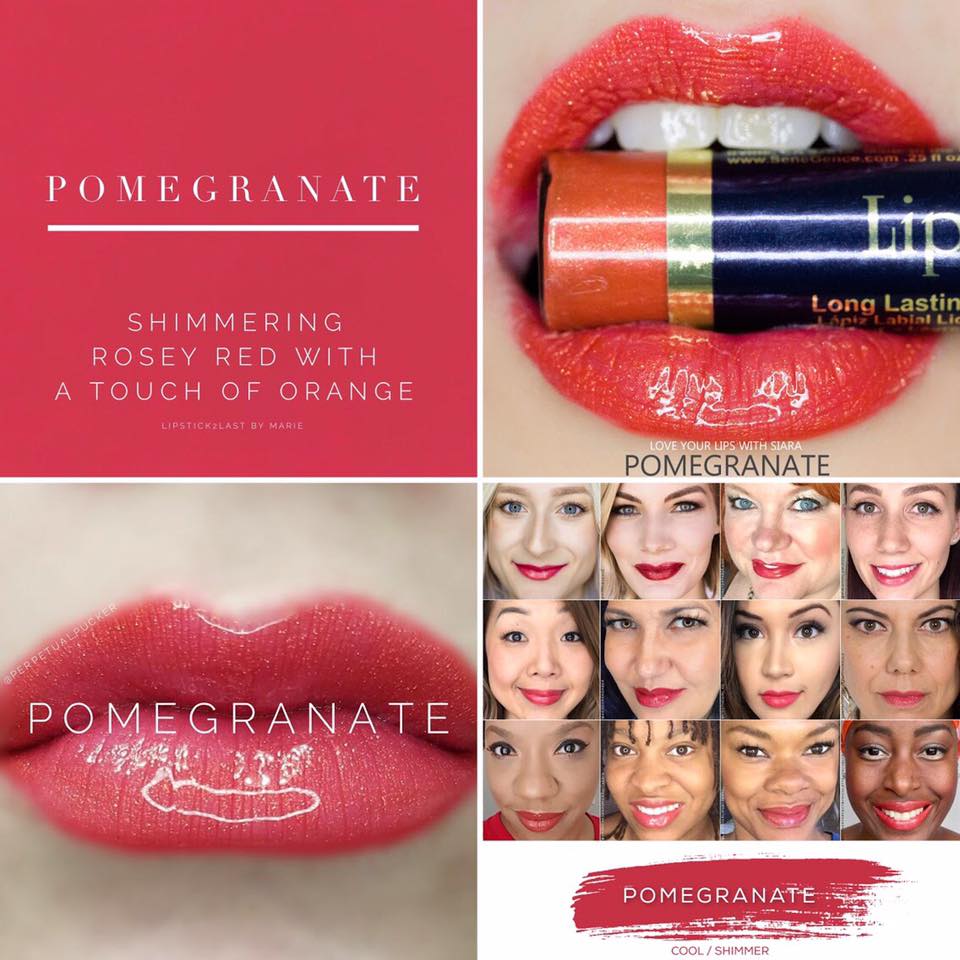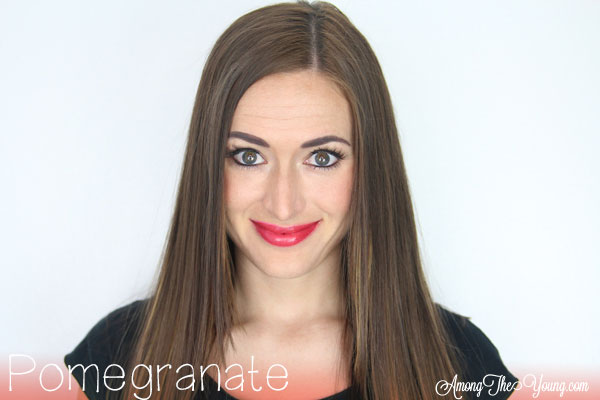 Pop Art Pink
This color has my whole heart – it's a matte pink that's the perfect for summer or your next 80's party!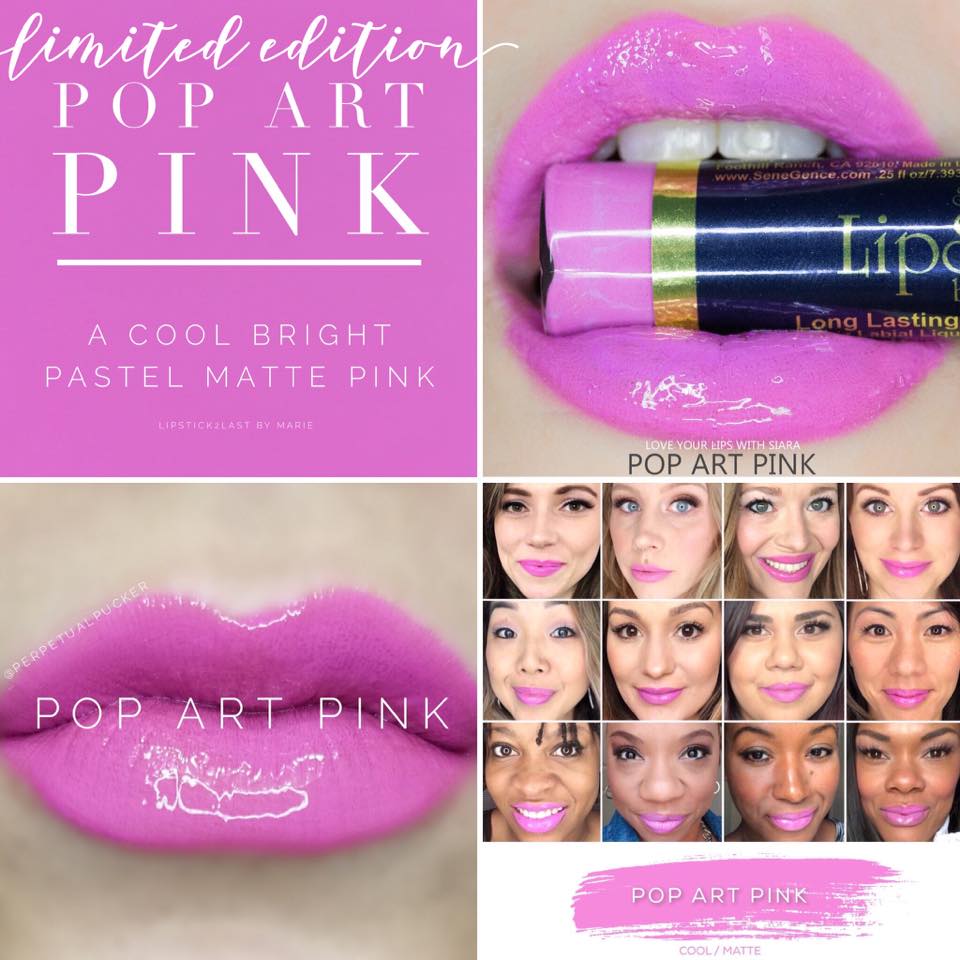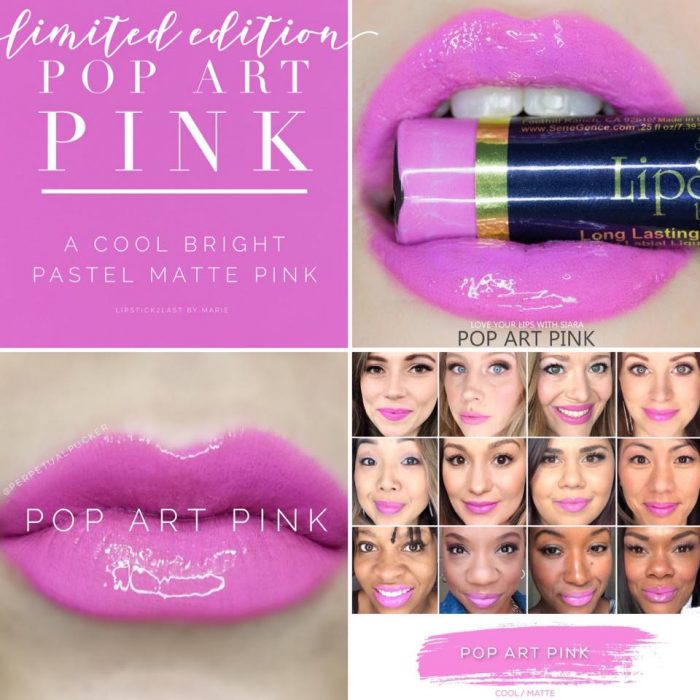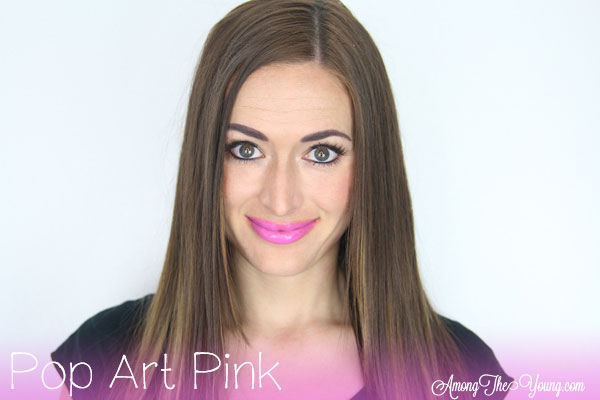 Praline Rose
This is one of the top colors ever! People love this color because it's not just plain brown – there's a purple sheen to it that looks gorgeous when worn!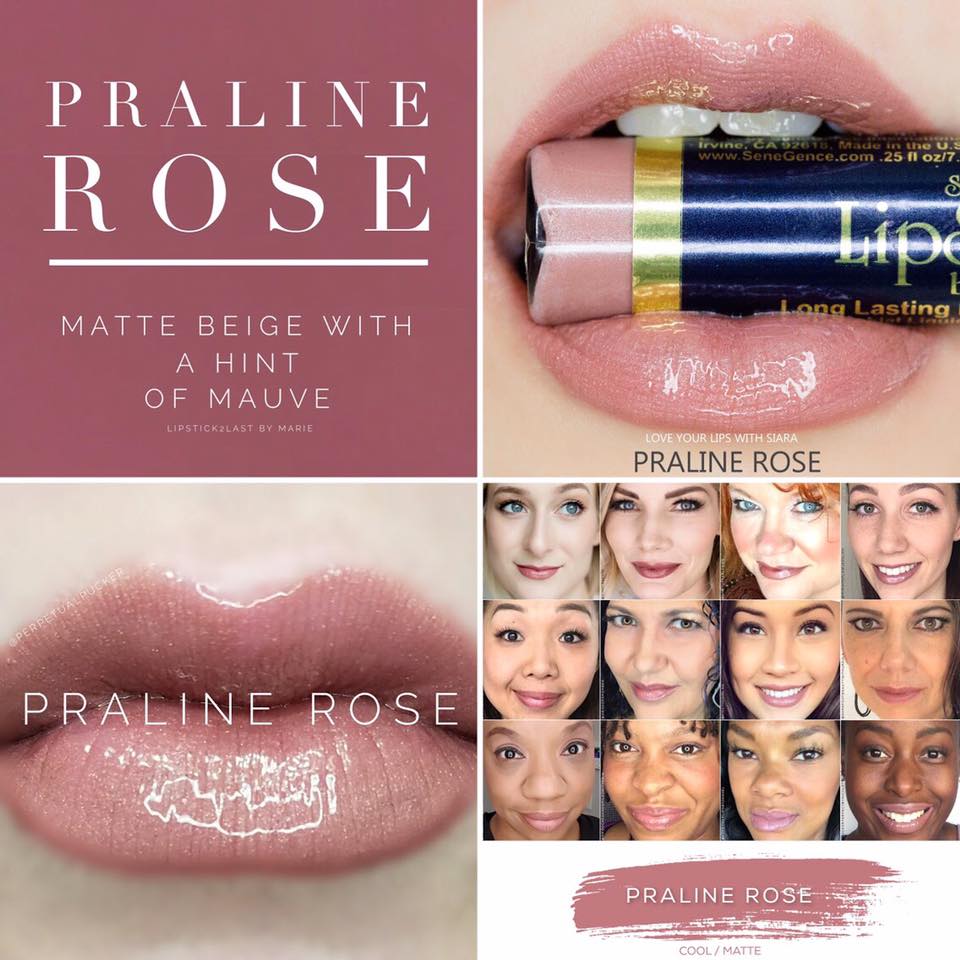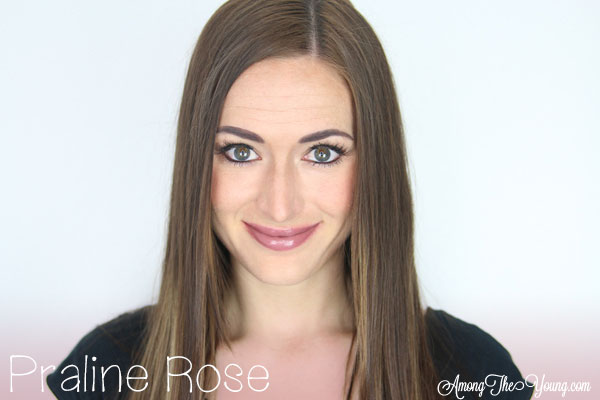 Precious Topaz
This color wasn't one of my original favorites, but I can honestly say I am obsessed with it now! One of my all-time favorite mixes uses Precious Topaz. I love the color and I ADORE the sparkle!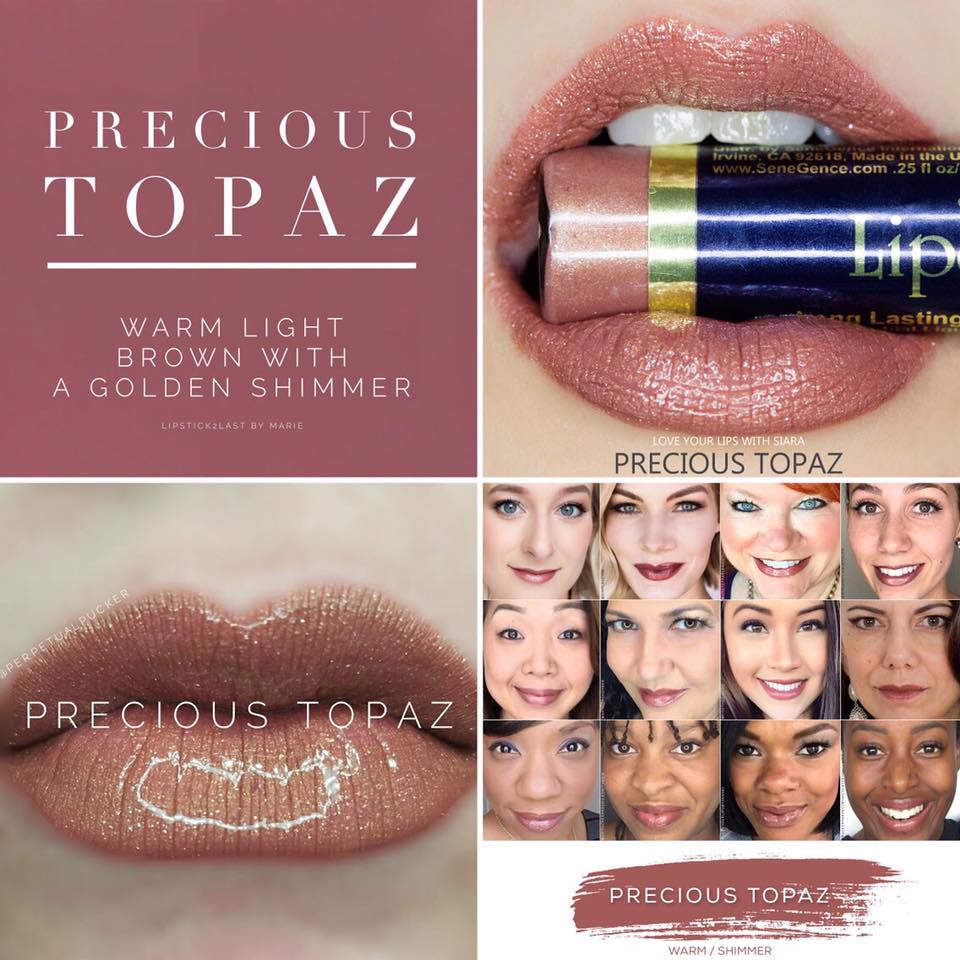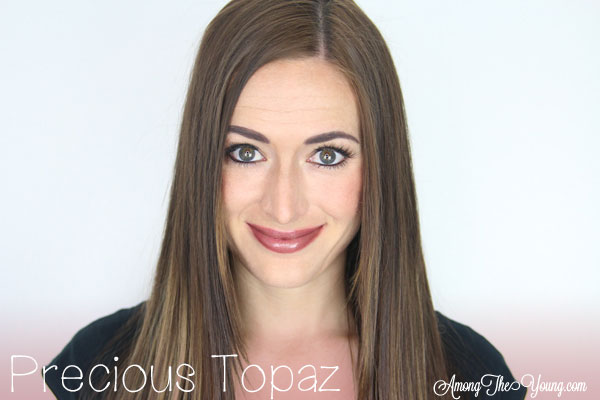 Purple Reign
This was one of the first colors I bought and it remains a favorite to this day. I love to wear it on its own or mix it with Caramel Apple for Kaylynn's perfect "neutral" look!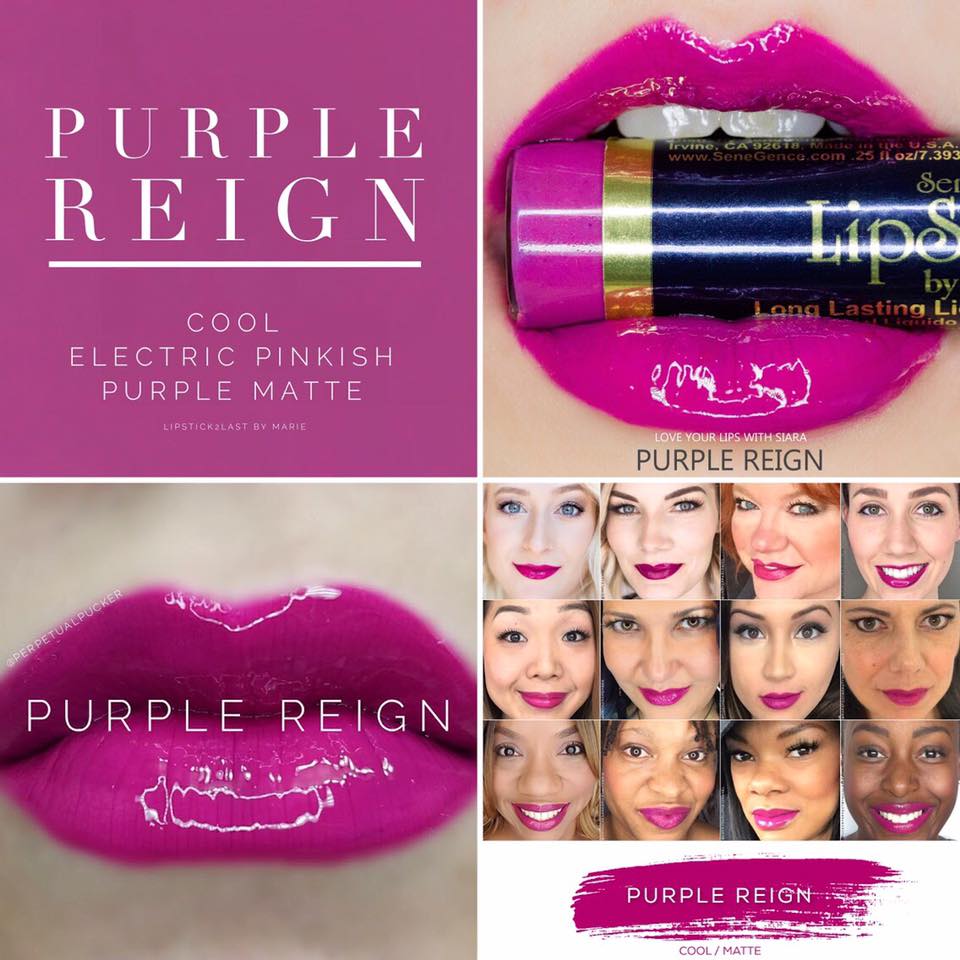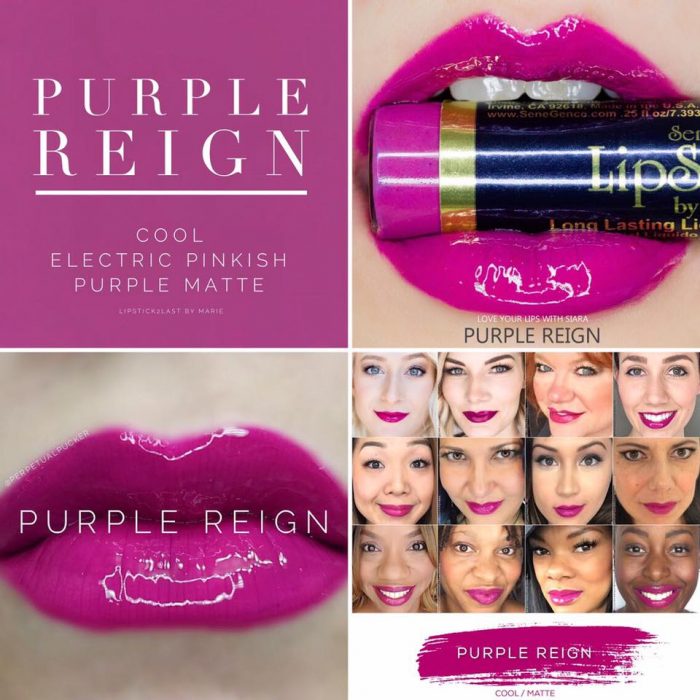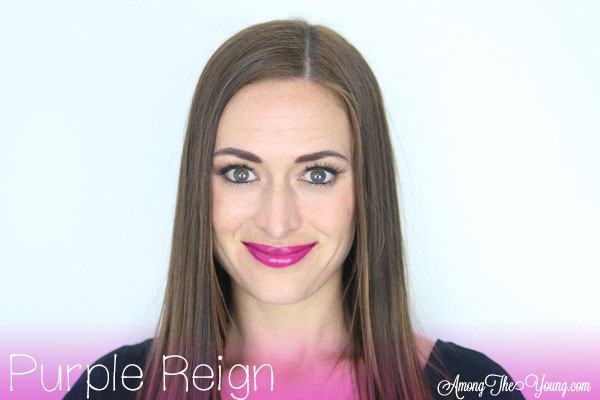 Razzberry
This is another one of the first colors I bought and it's unmatched. The pigment in this color is SO good – it goes on thick but smooth (unlike any other Lipsense color out there!). I love wearing this color on its own or mixing it with Caramel Apple or Kiss for a Cause.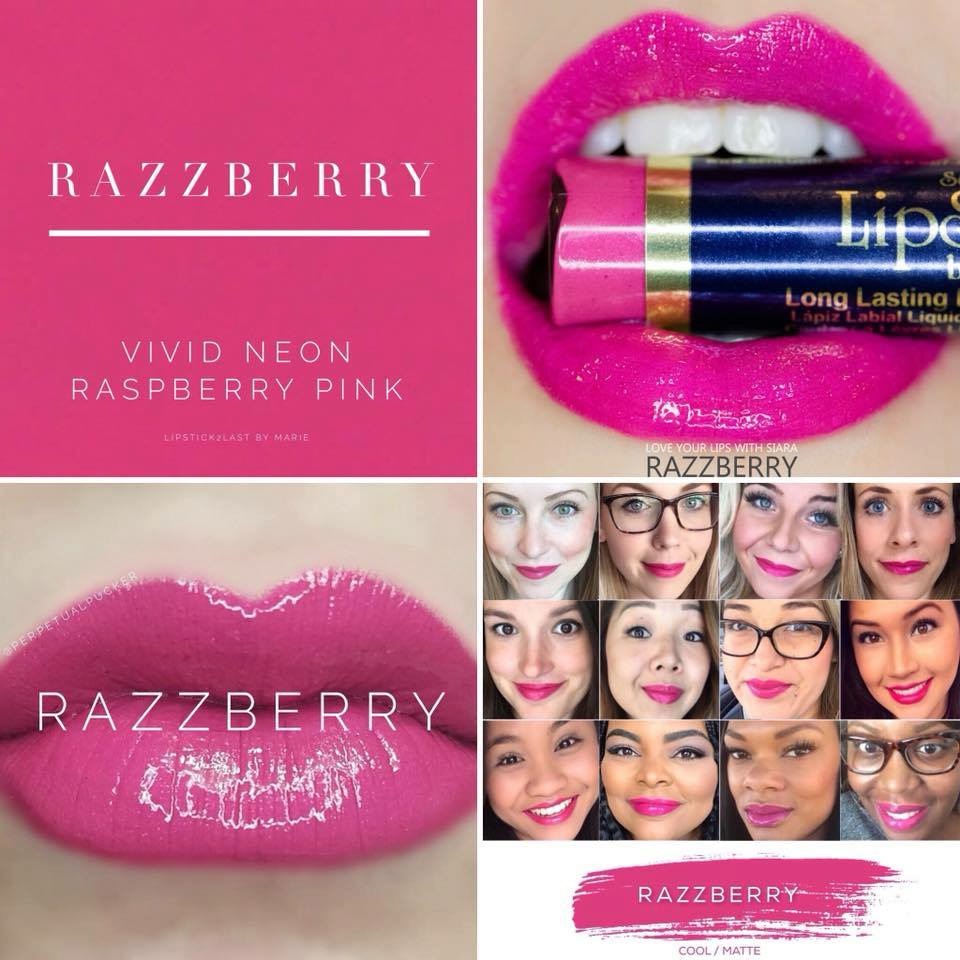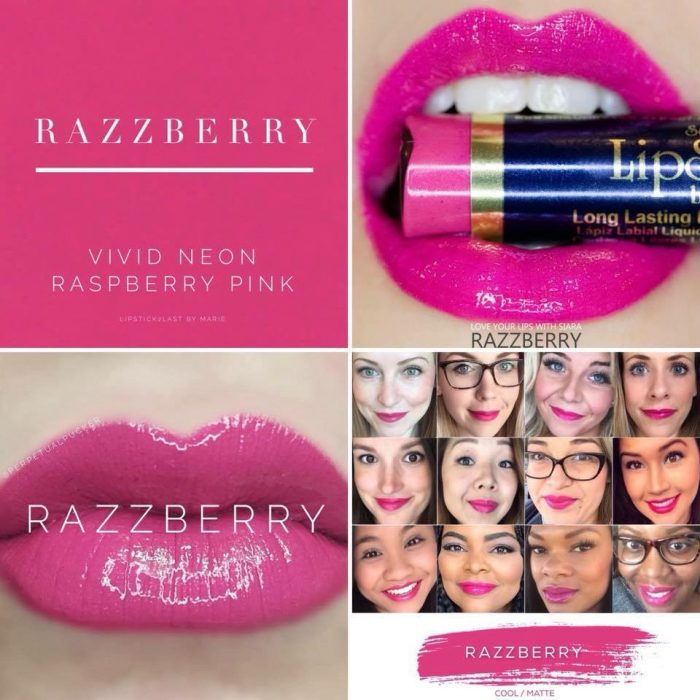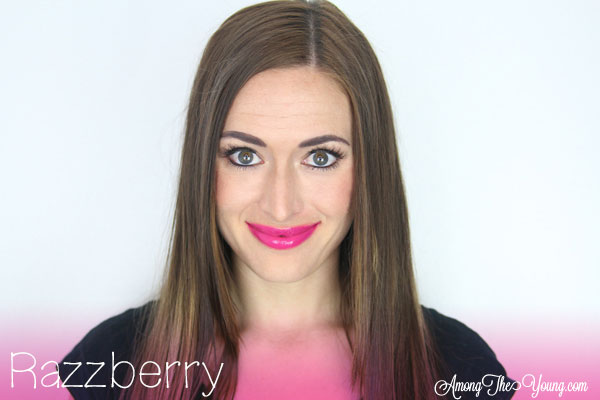 Red Cherry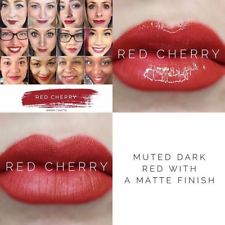 Rose All Day
This color is the perfect color – I love to wear it with the Rose Gold gloss and Rose Gold Glitter Shadowsense.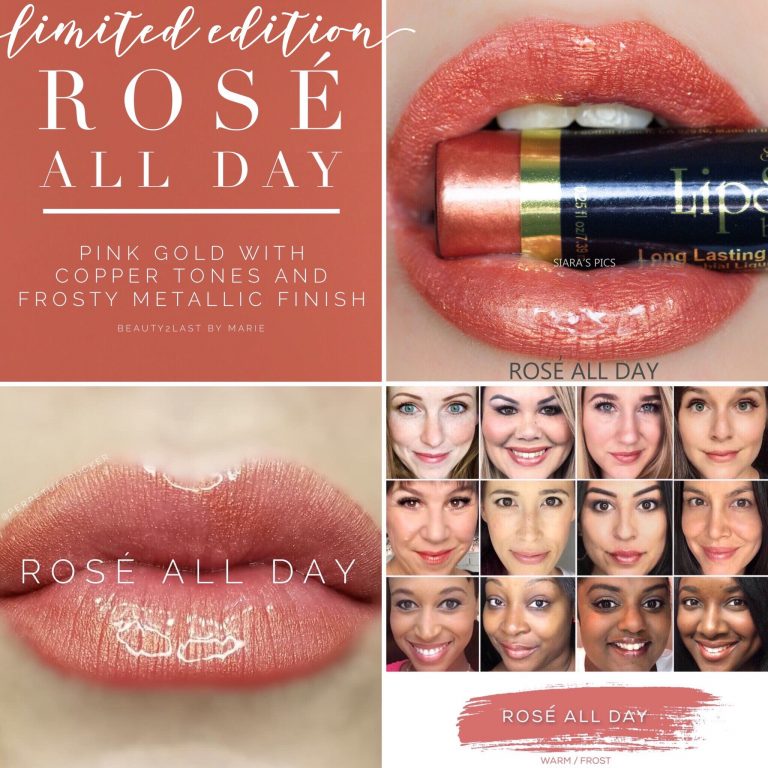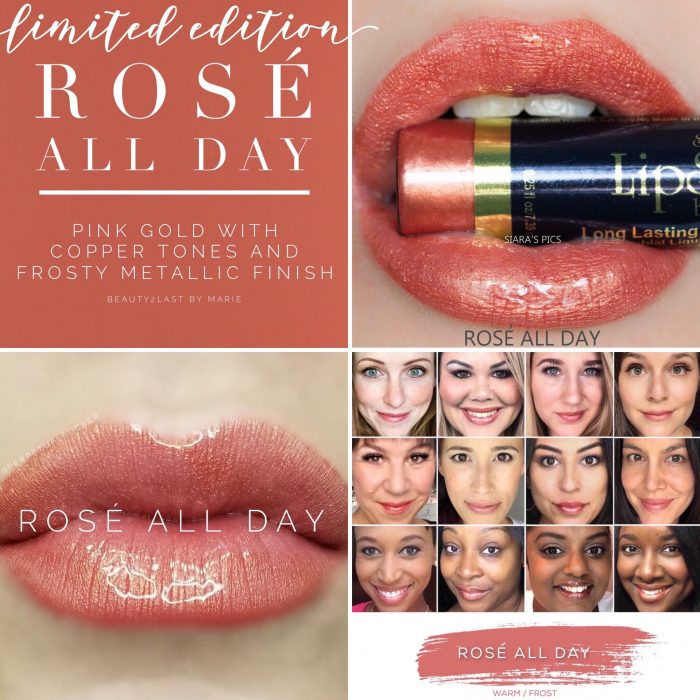 Roseberry
This pink is lovely. Similar to Dark Pink, it has a matte finish and goes on nice and smooth.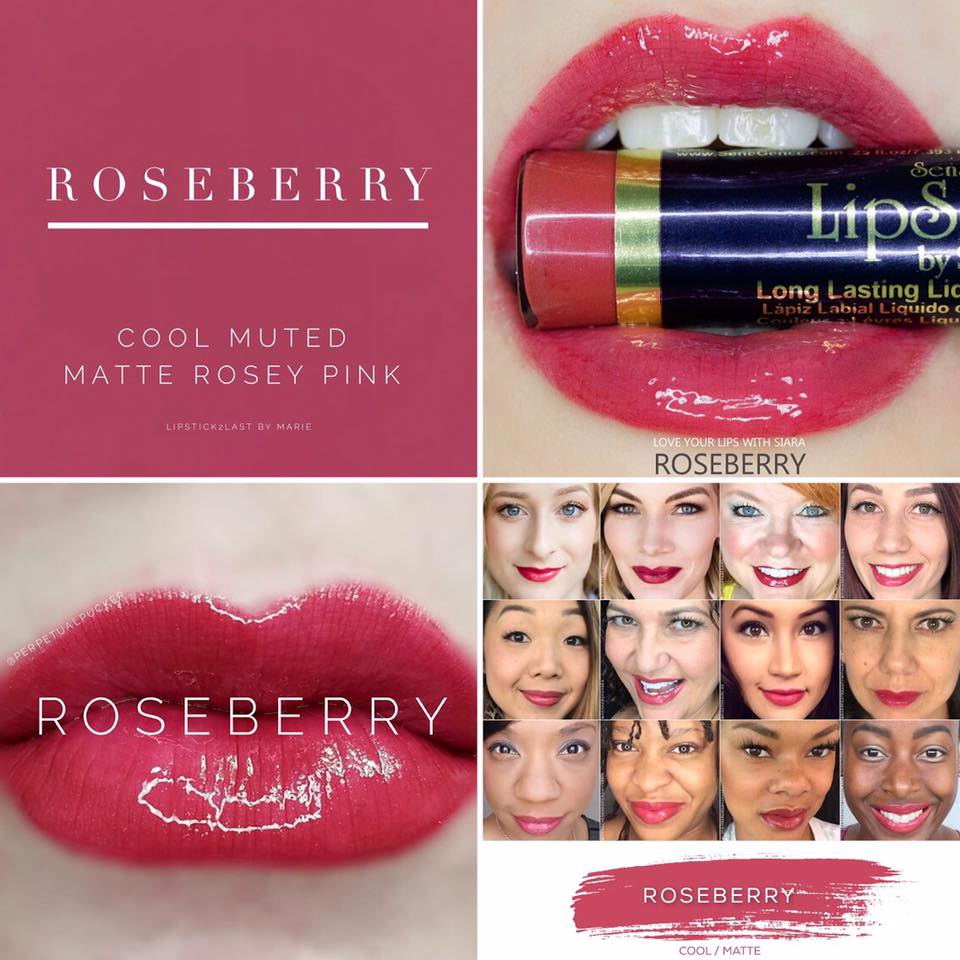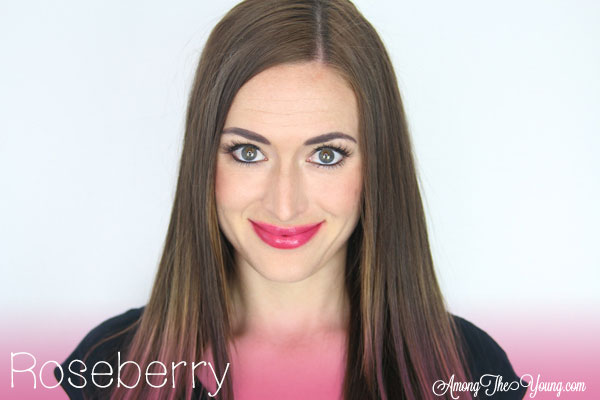 Samon
I LOVE this color. Initially I thought, "UGH – ORANGE?!" but seriously – this color is perfection. Yes, it's orange with a tint of pink. It applies easily and stays on so well.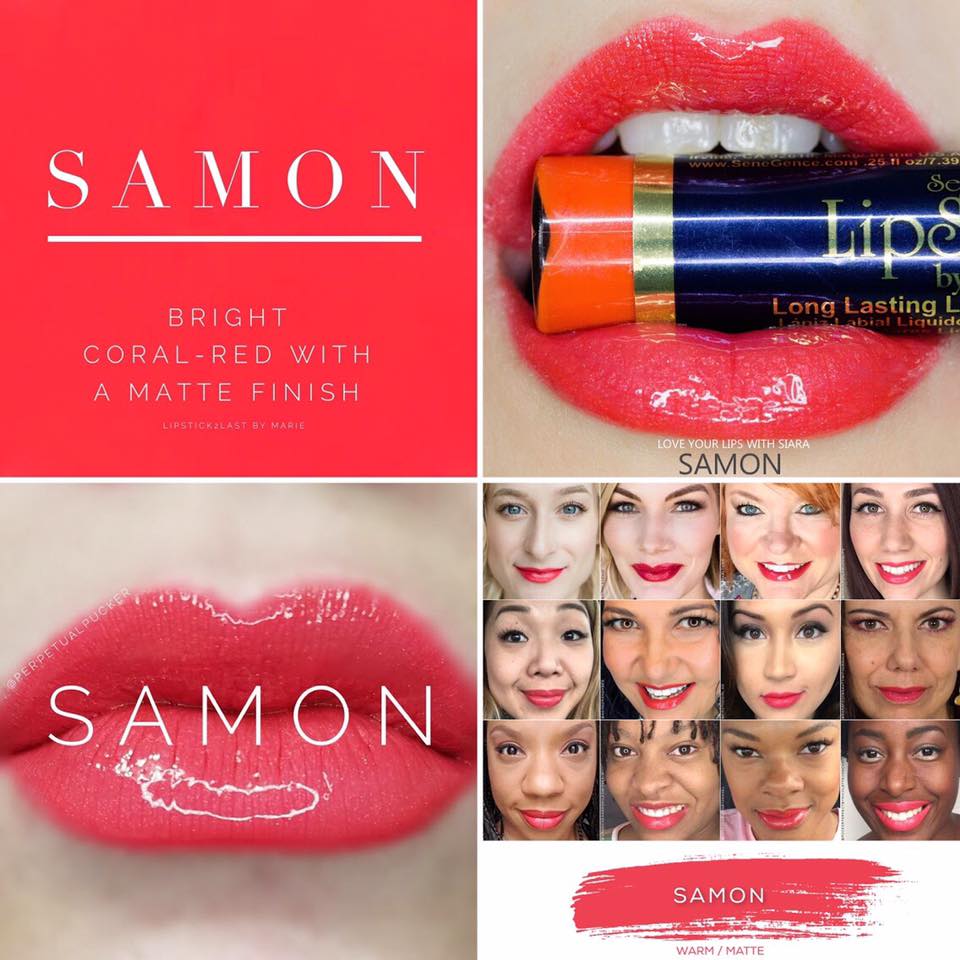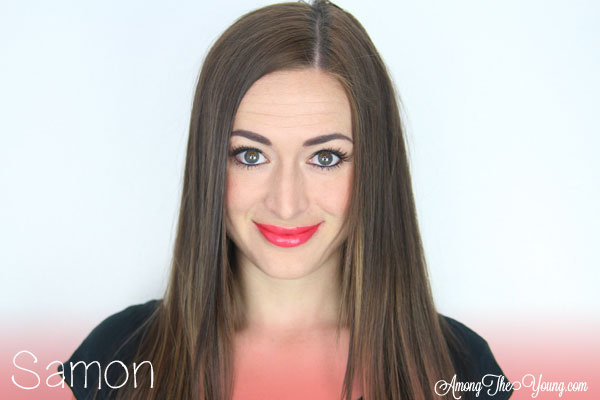 Sassy Z
This color is similar to Dark Pink and people love it! It's matte, so I'll usually add sparkle or shimmer to it!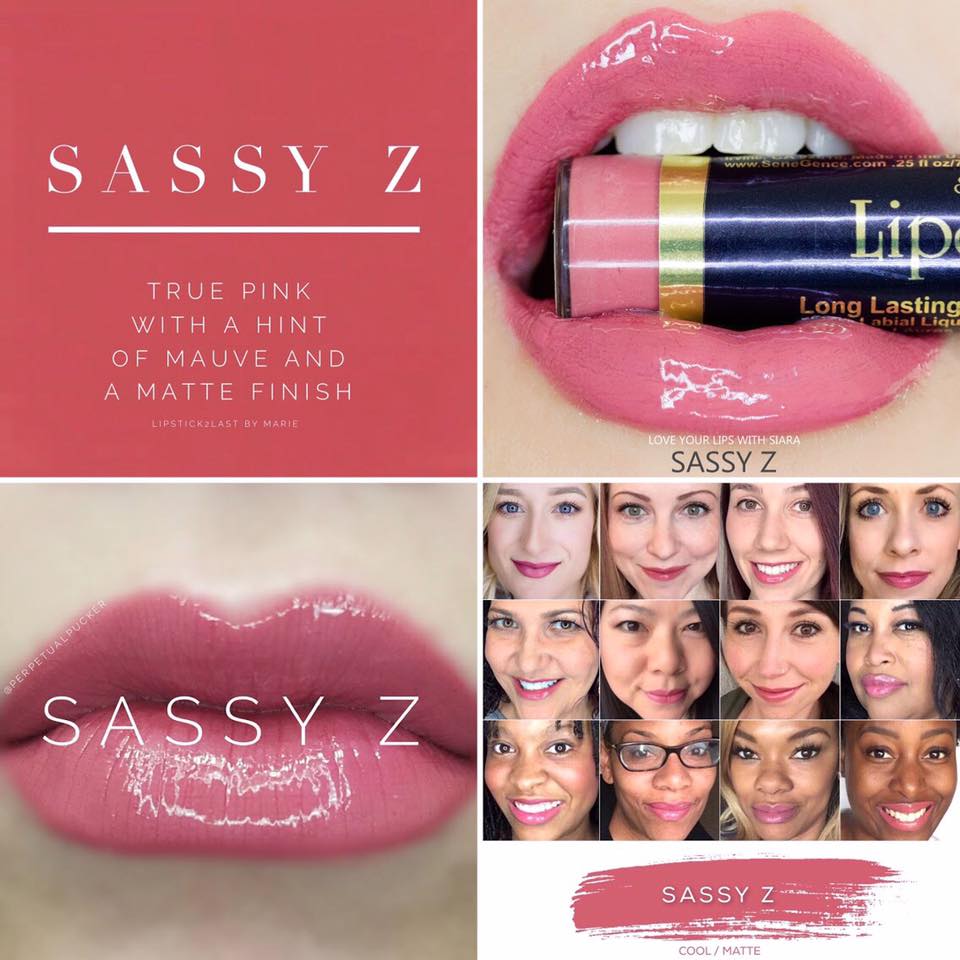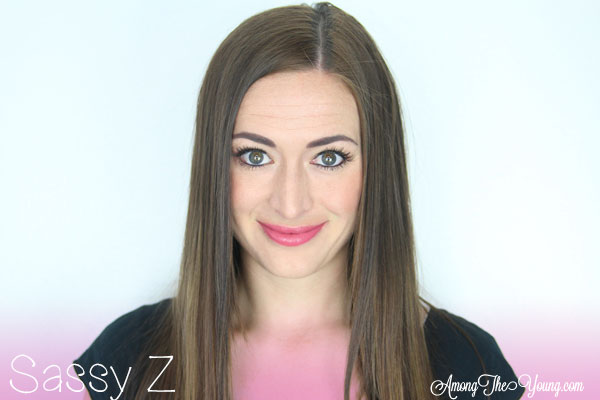 She's Apples
this color is similar to Samon, but it more ORANGE (no pink-ish sheen). I love wearing this color in the summer!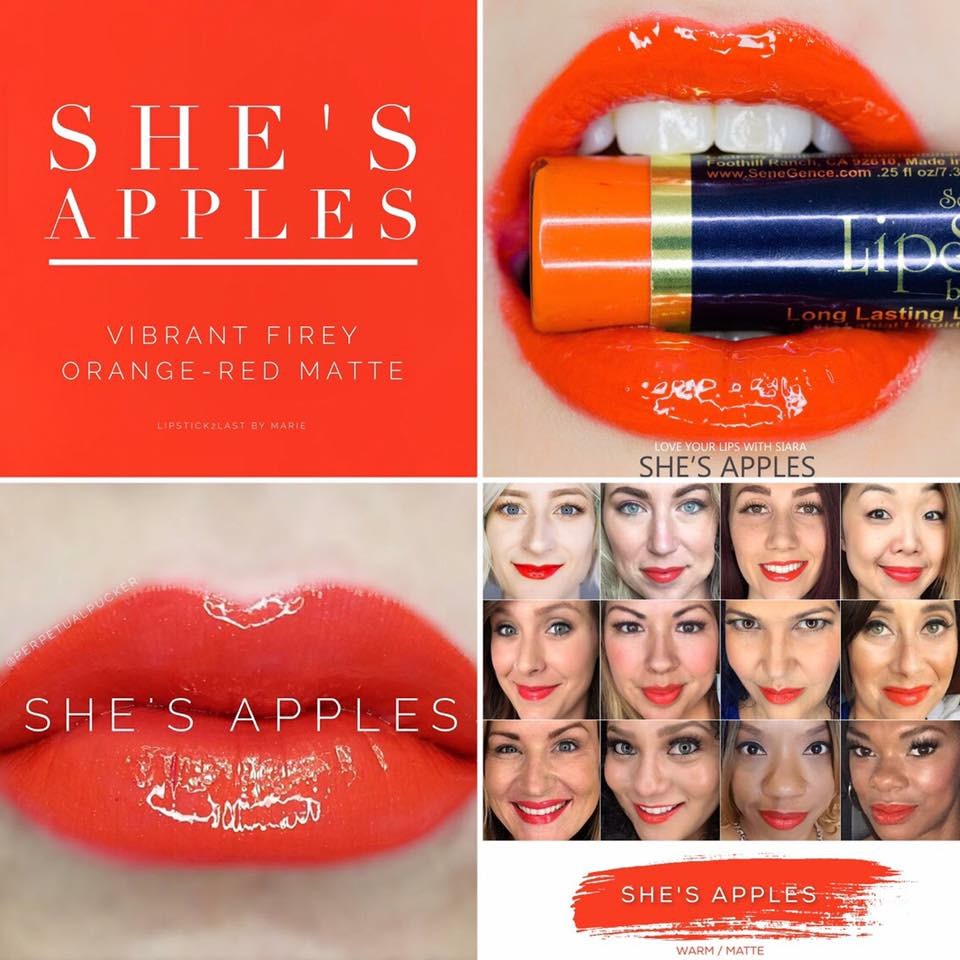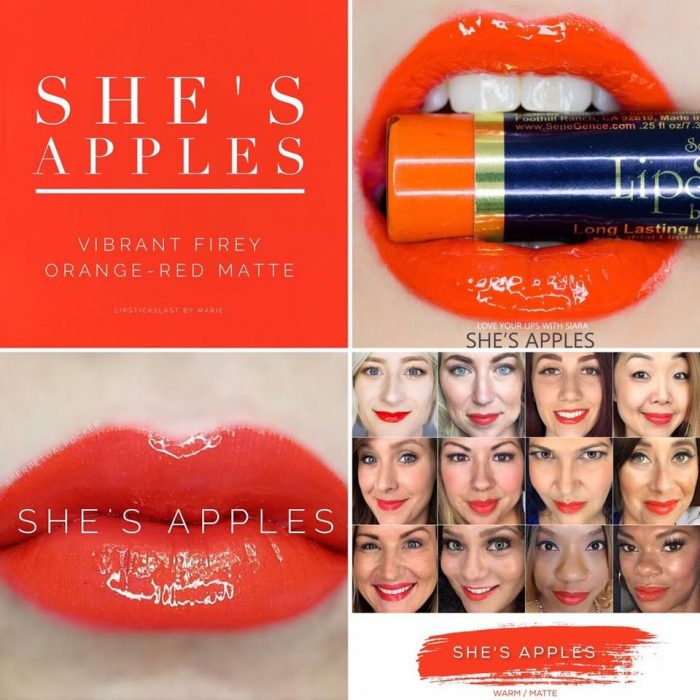 Sheer Berry
I adore this color because it's the perfect mixture of dark and purple, but it's not too dark or too purple.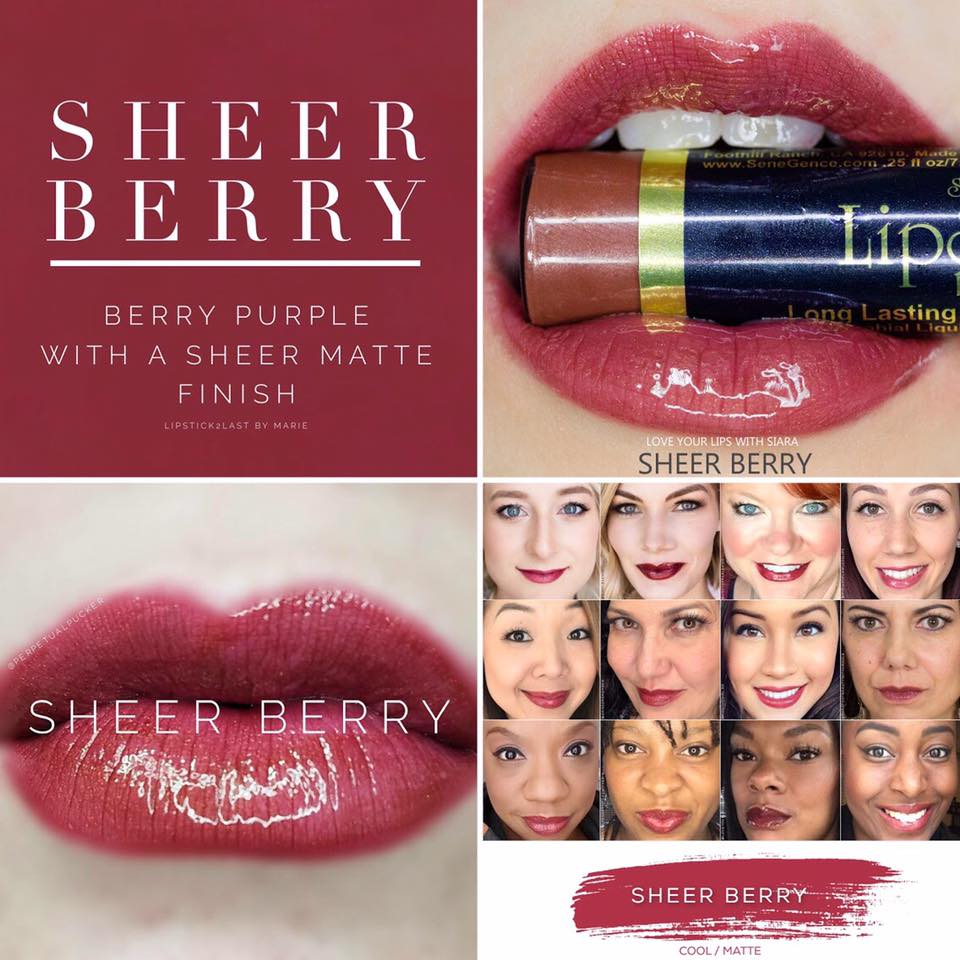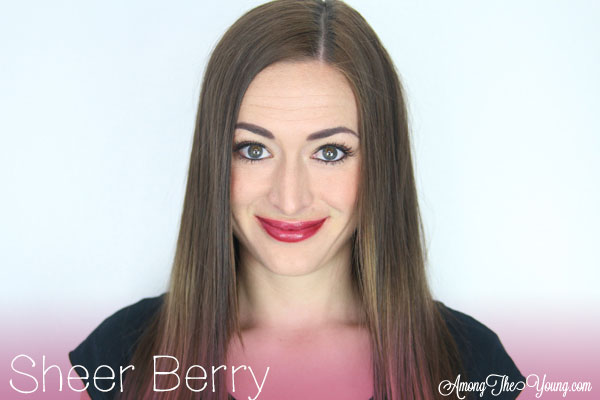 Skyline
This blue is such a fun addition to the blue lipstick family. I love mixing it with Midnight Muse and Blu J.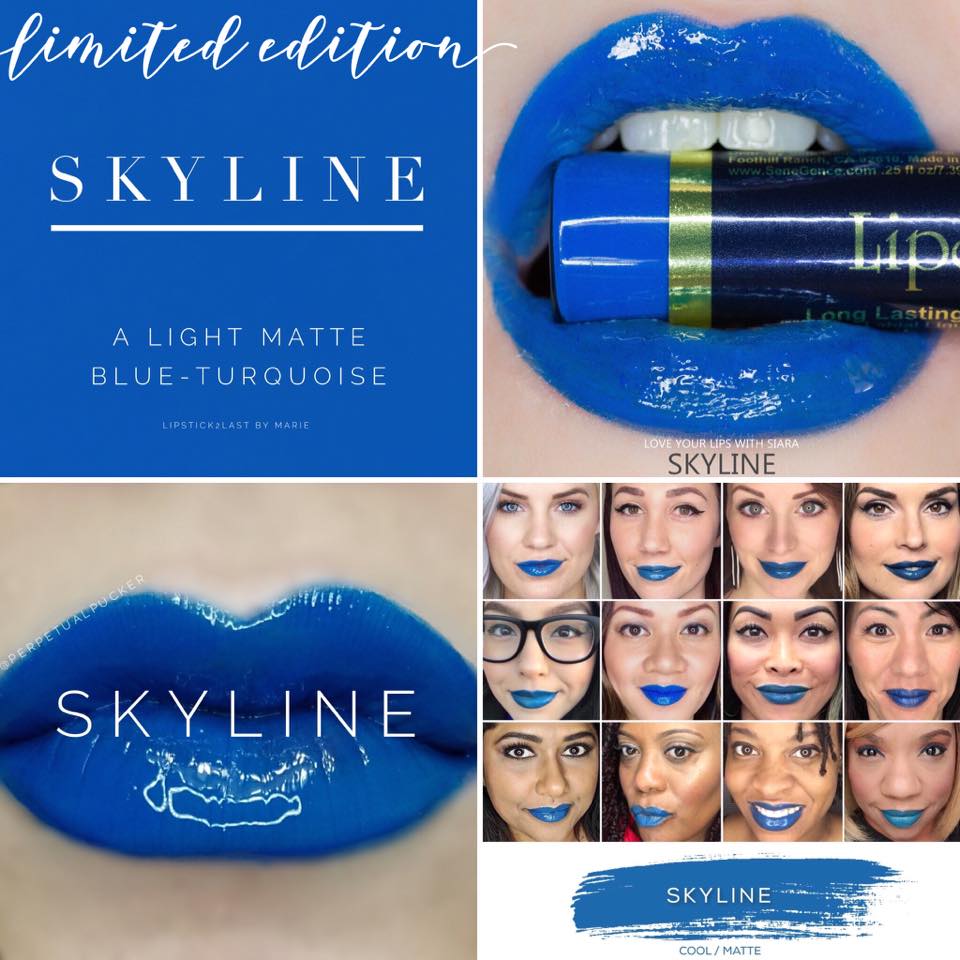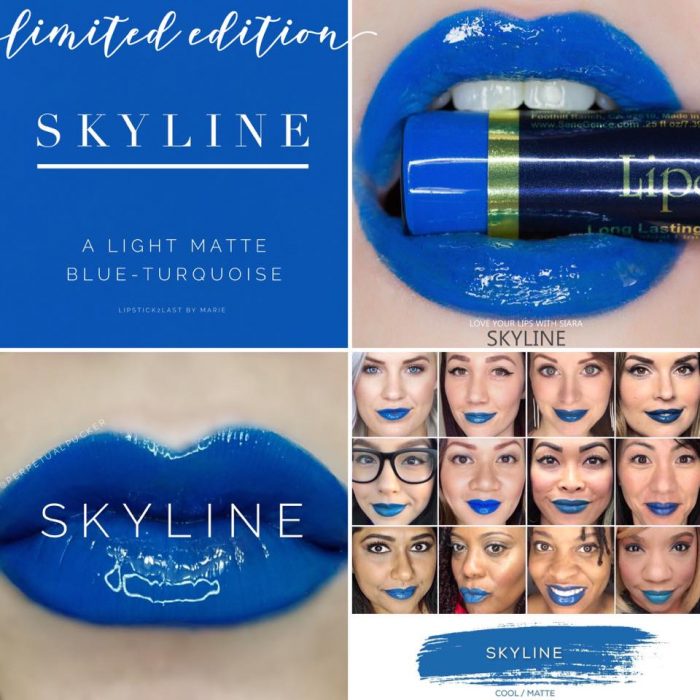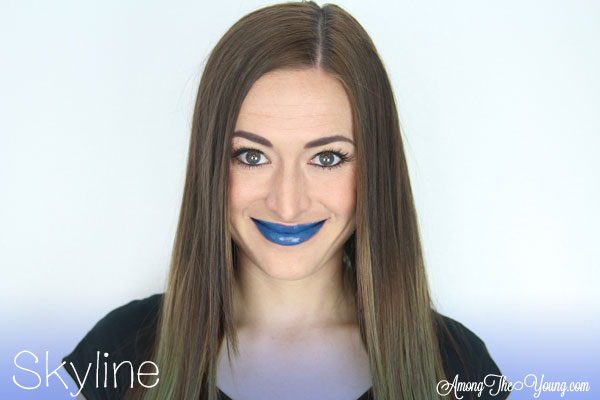 Snow Cone
This blue is FANTASTIC – an amazingly bright blue with the best shimmer!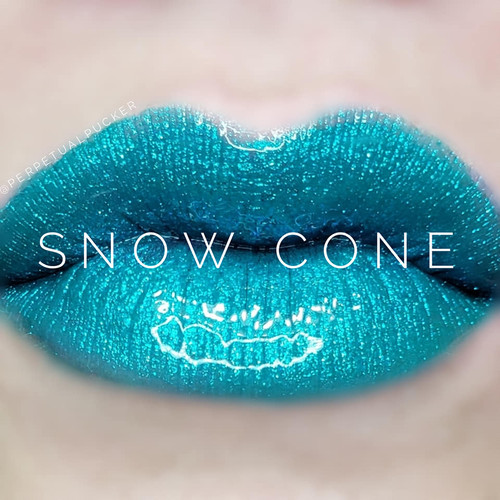 Strawberry Shortcake
This color is the perfect pink and it layers well with Kiss for a Cause!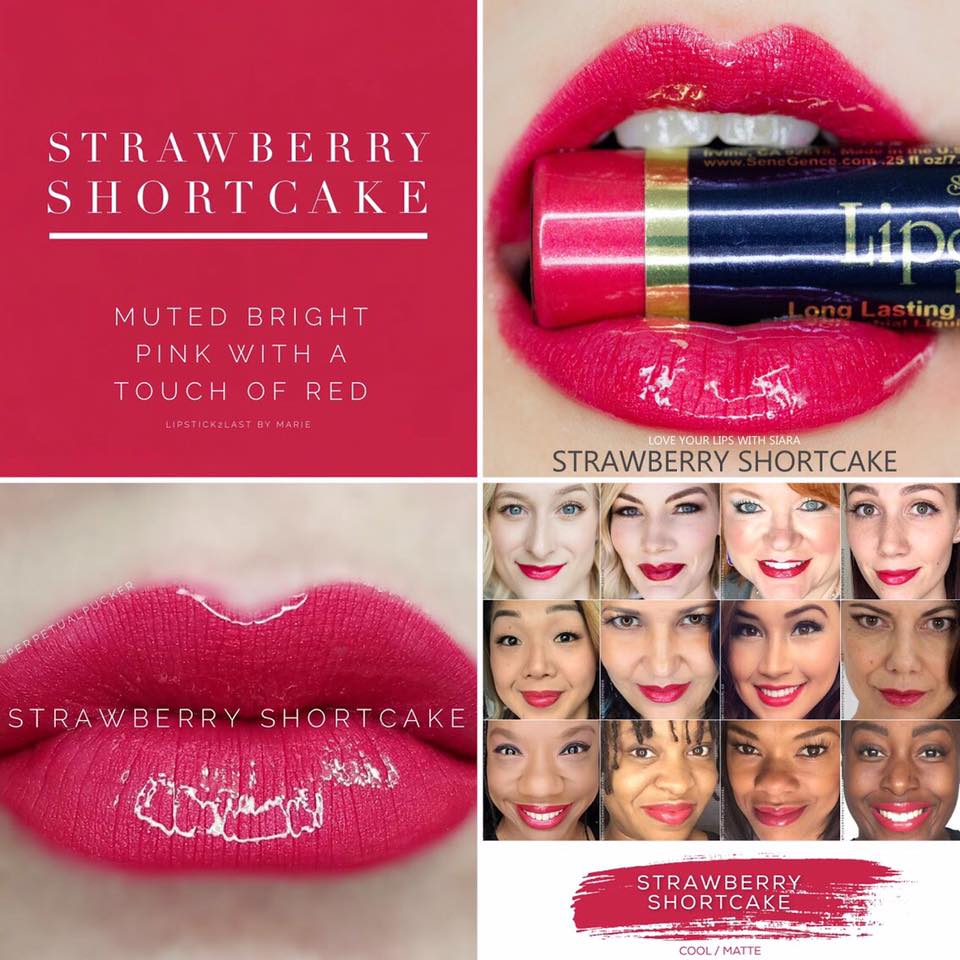 Sugar Plum
On it's own, this color is SUPER subtle and that's lovely for "barely there" lipstick days. I LOVE adding this as the last layer to any color to add an extra bit of sparkle without changing the color.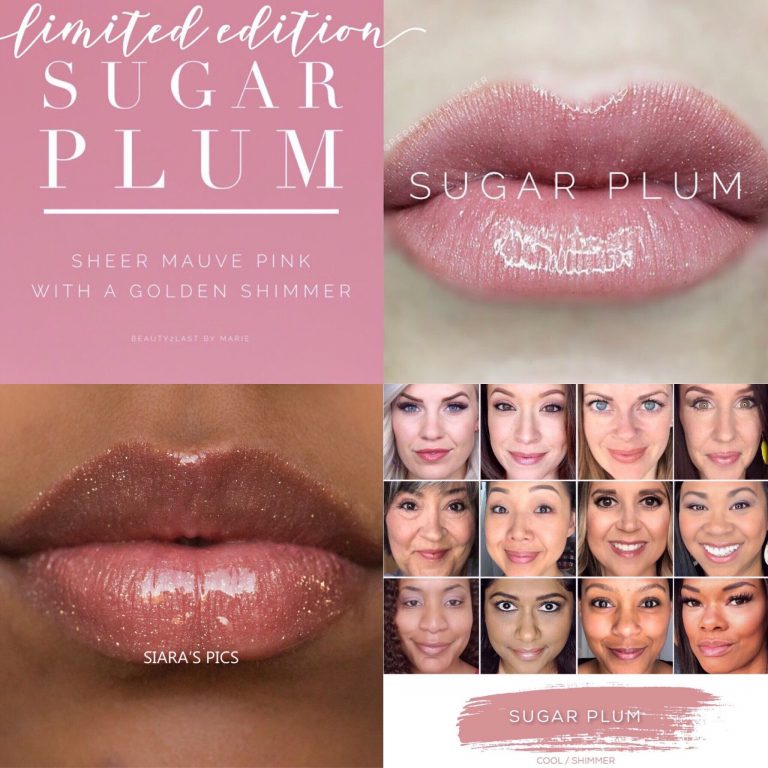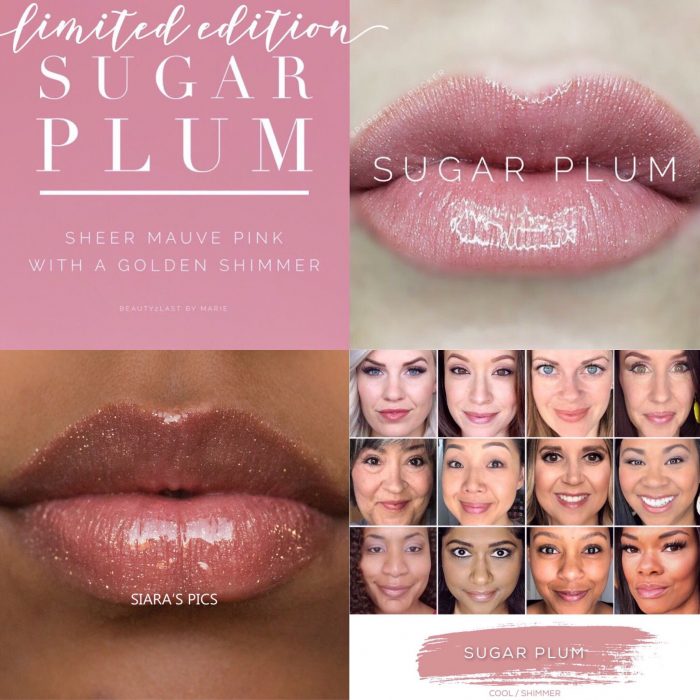 Summer Fun
This pink is so shimmery and beautiful!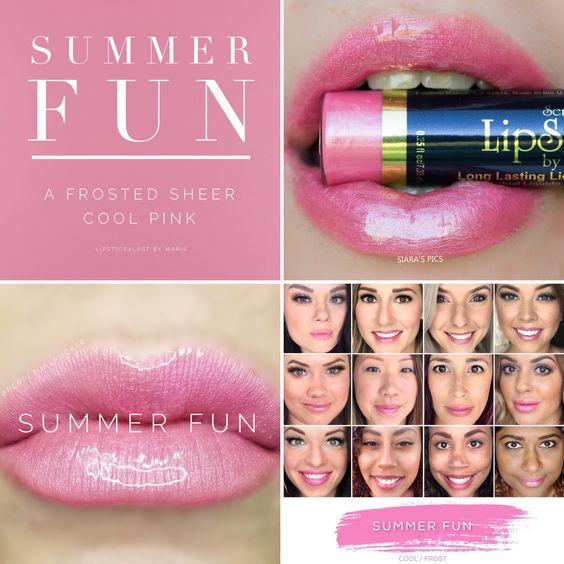 Summer Love
I adore wearing this color – and I love to mix it with Summer Fun!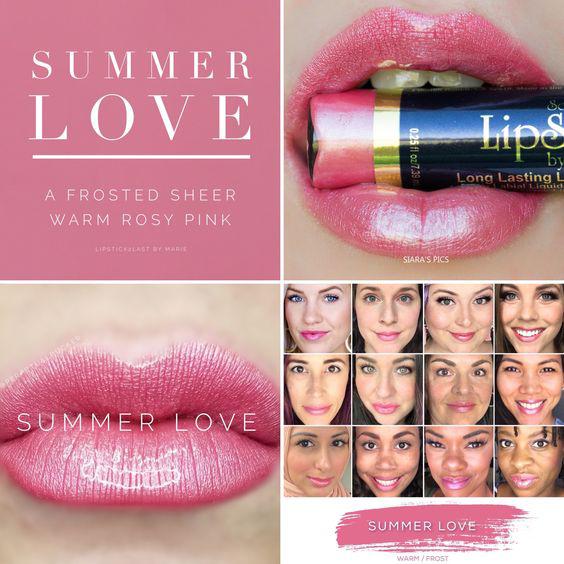 Summer Sunset
This pink-ish orange is the perfect combination for summer nights and a nice everyday neutral.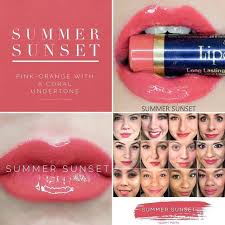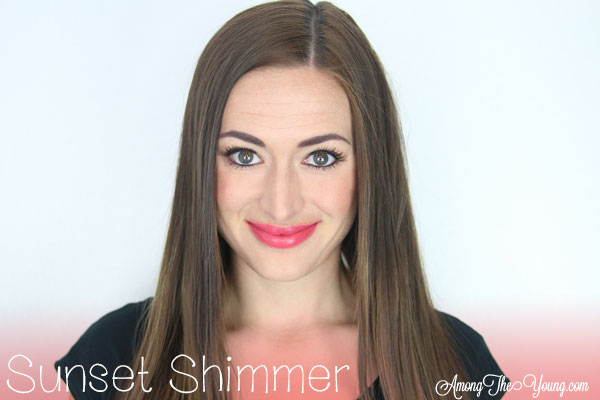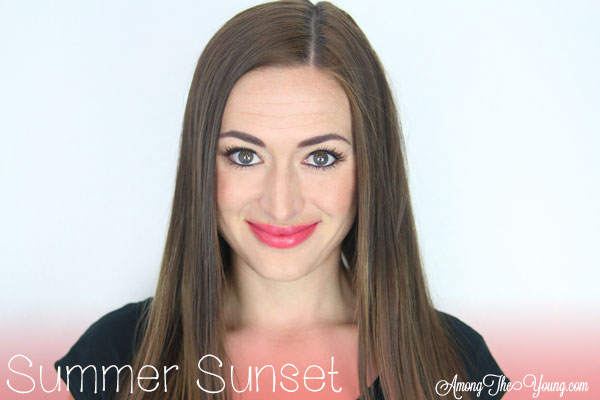 Summer Treat
This color really is a TREAT! I love the bright color – it's one of my faves!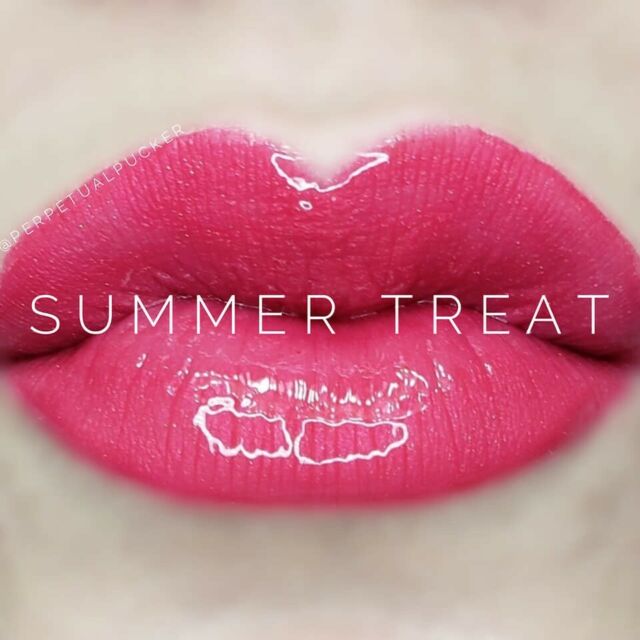 Sweetheart Pink
This was part of our Valentines Day collection and it is bright and fabulous! I love to mix Sweetheart Pink and Be Mine!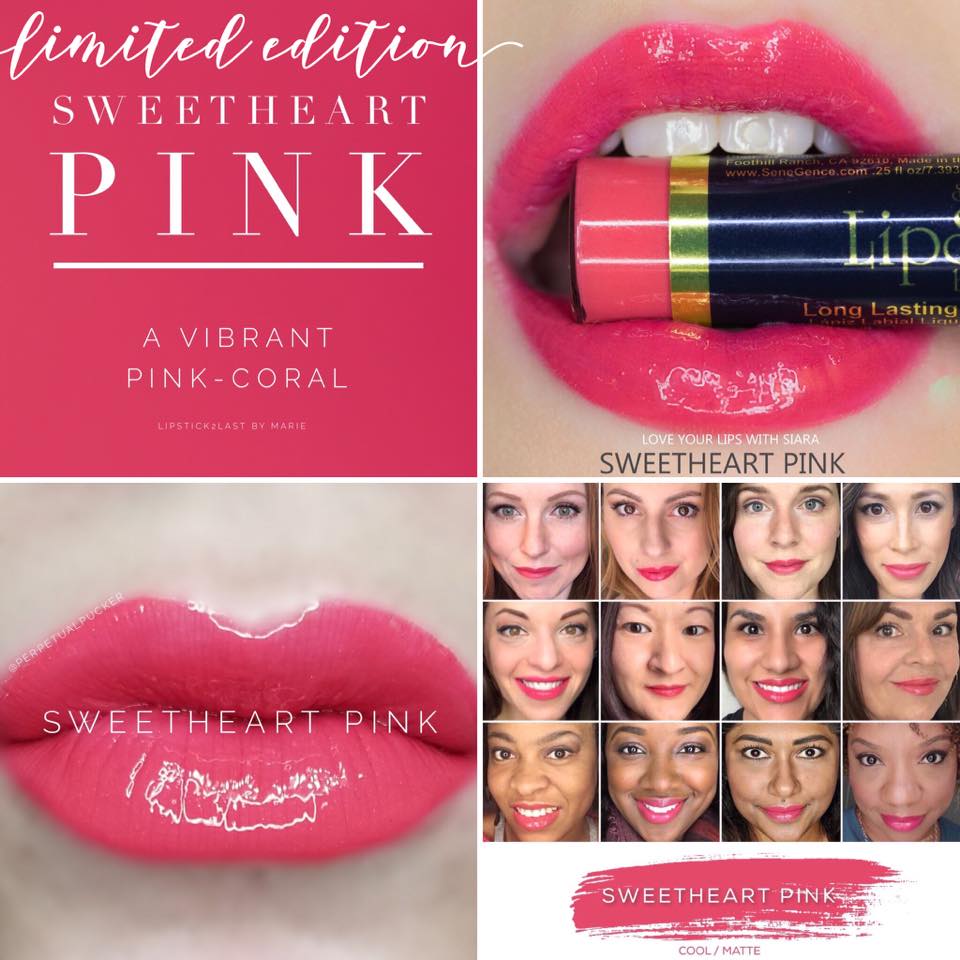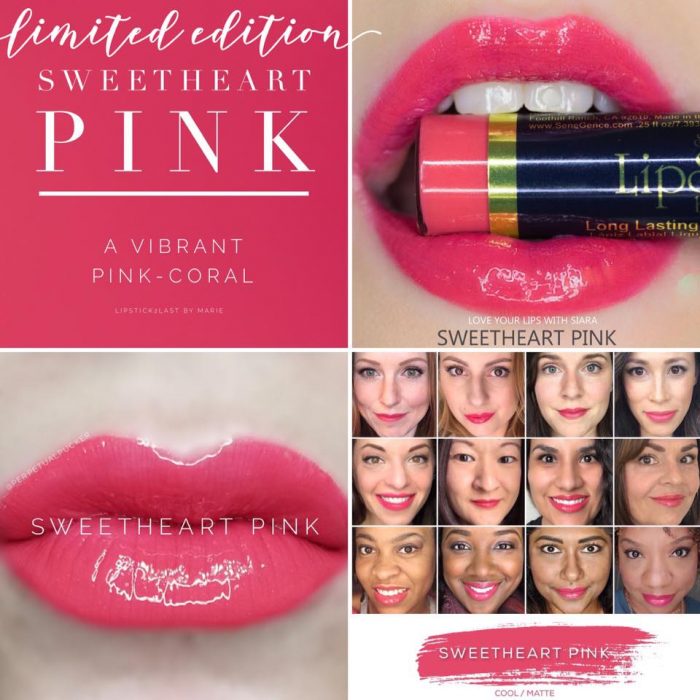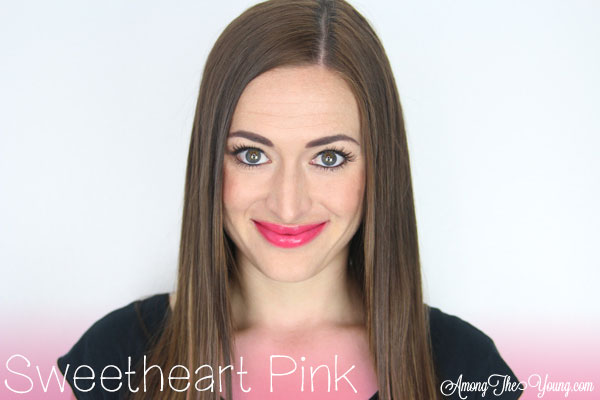 T.E.A.M. Wicked
This color may be a little out there, but it is SO fun! It's the perfect mixture of blue and purple AND there are sparkles!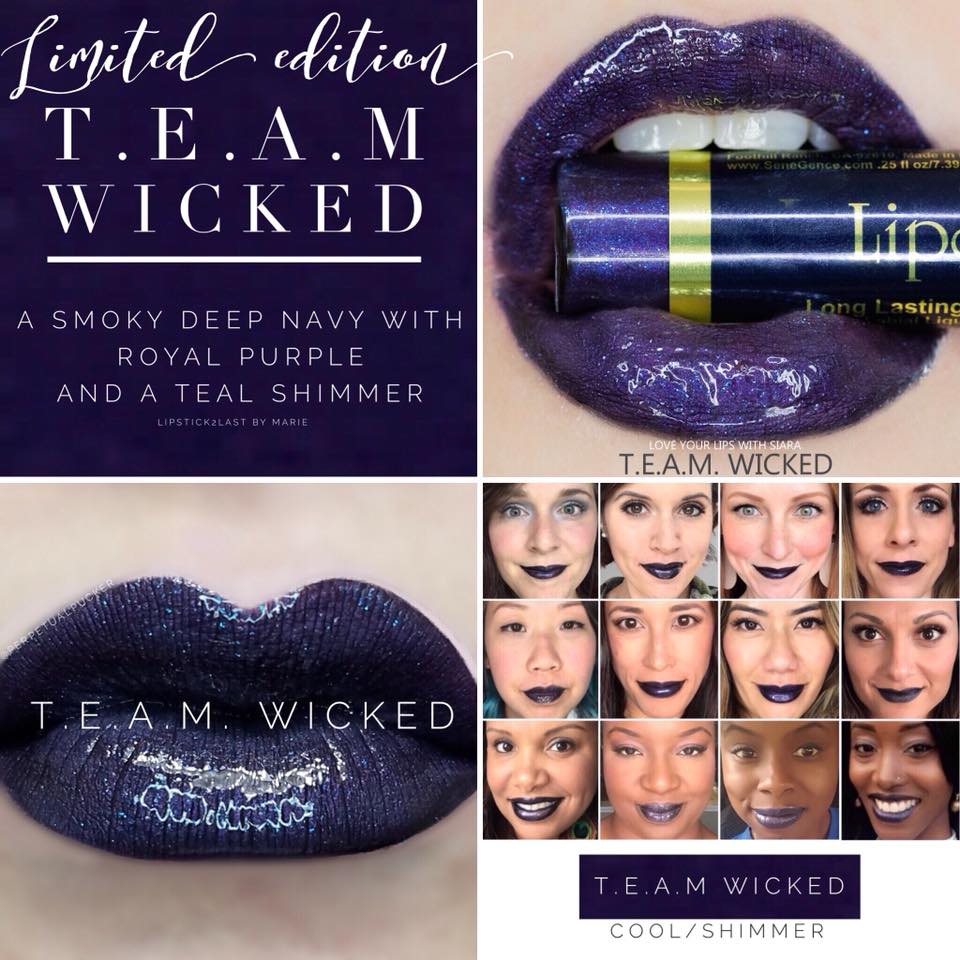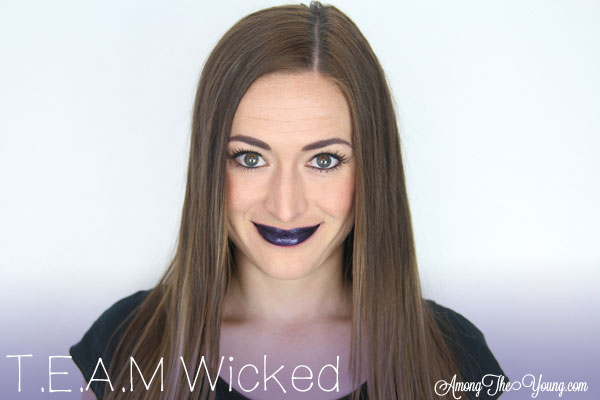 Violette
This color reminds me of Lexie Beary, but it's a little lighter. I forget about this color and I shouldn't because I LOVE it!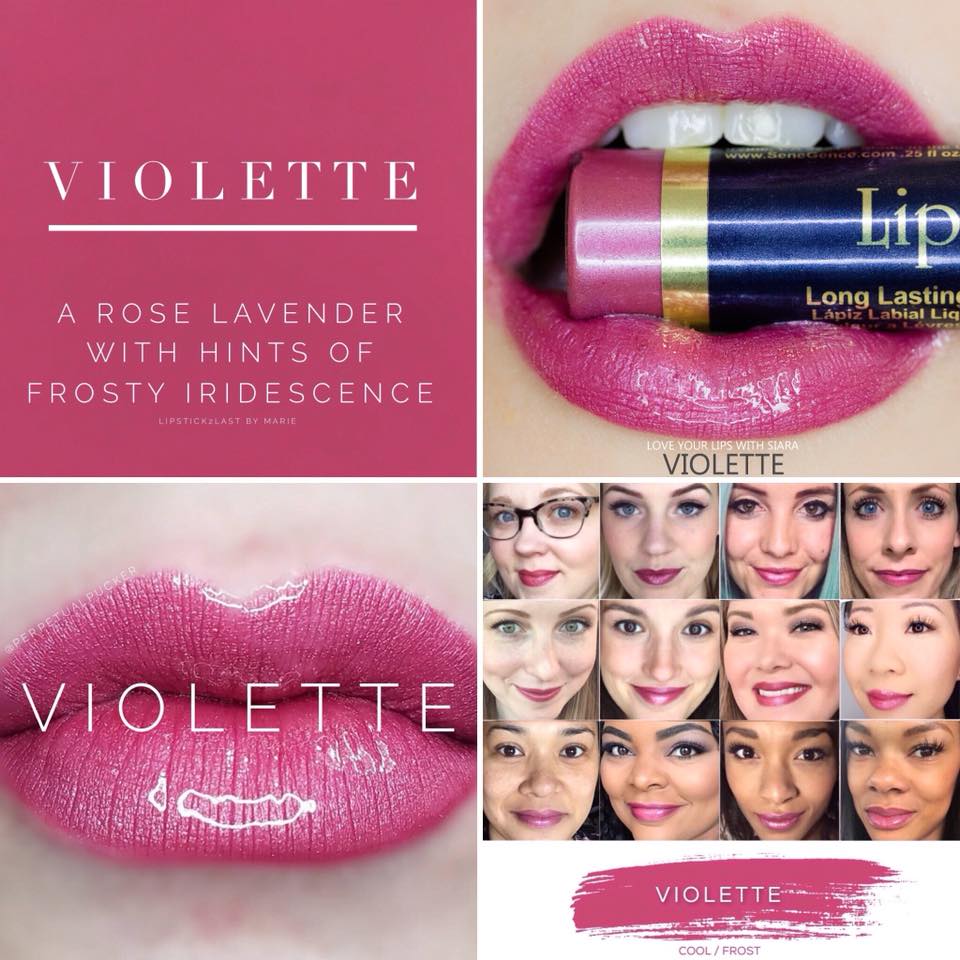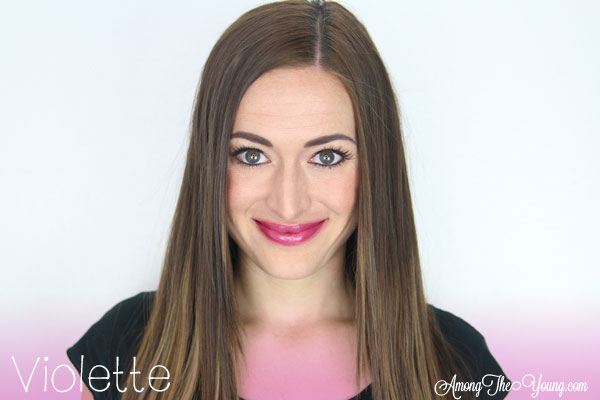 Violet Volt
This color though – it's the best. I mean, it's shockingly purple and I LOVE it!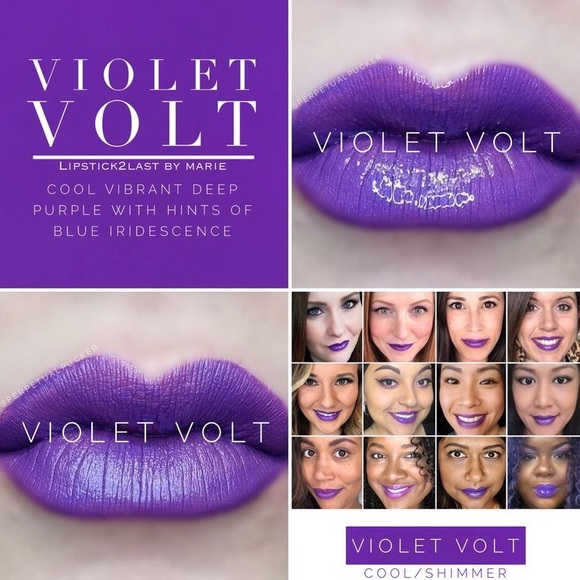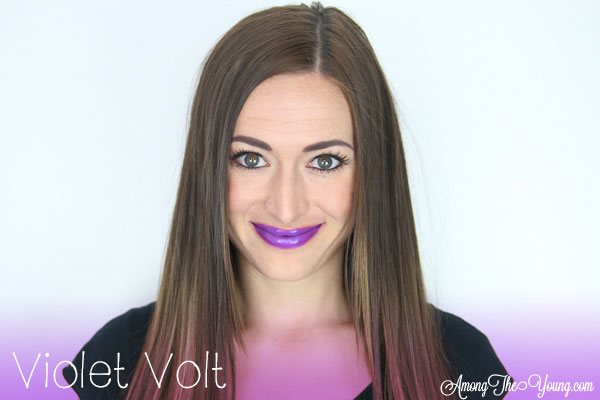 LIPSENSE GLOSSES:
These Lipsense glosses are my all-time faves. Some days I don't wear a color, I only wear gloss and my lips feel so smooth and healthy. I love that there's something for everyone too – matte, shimmer and sparkle!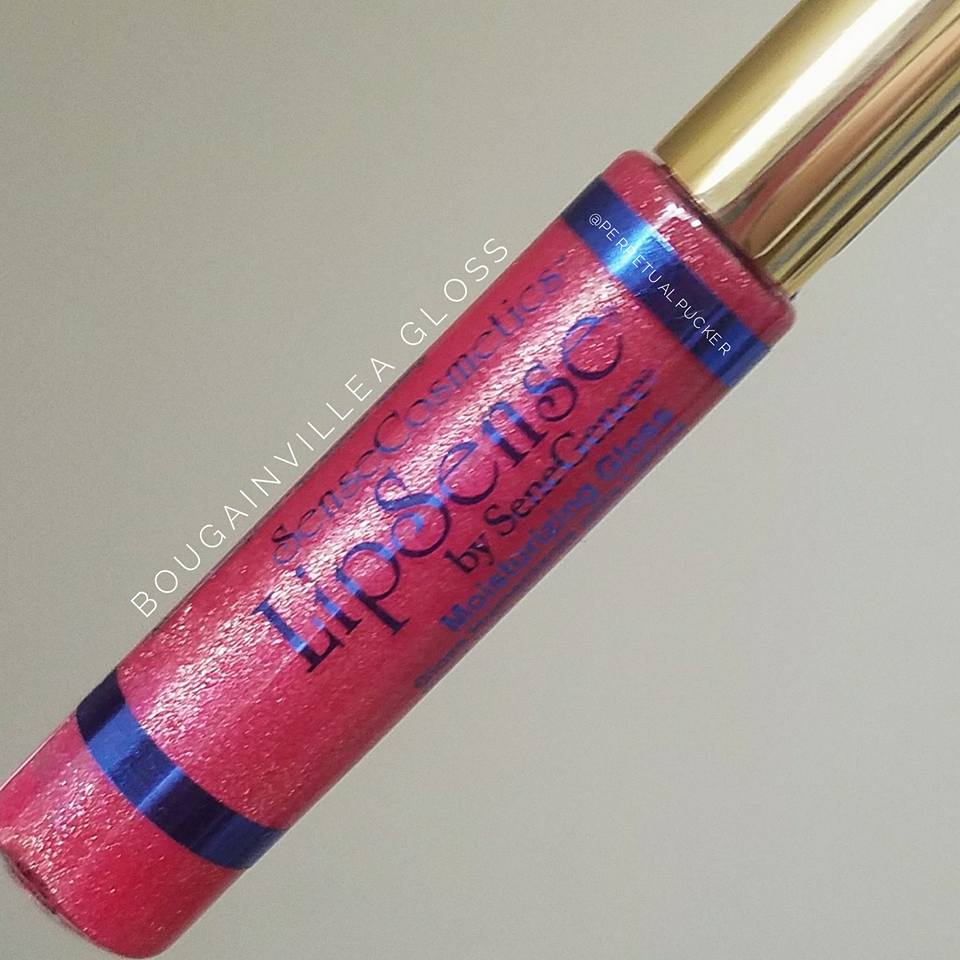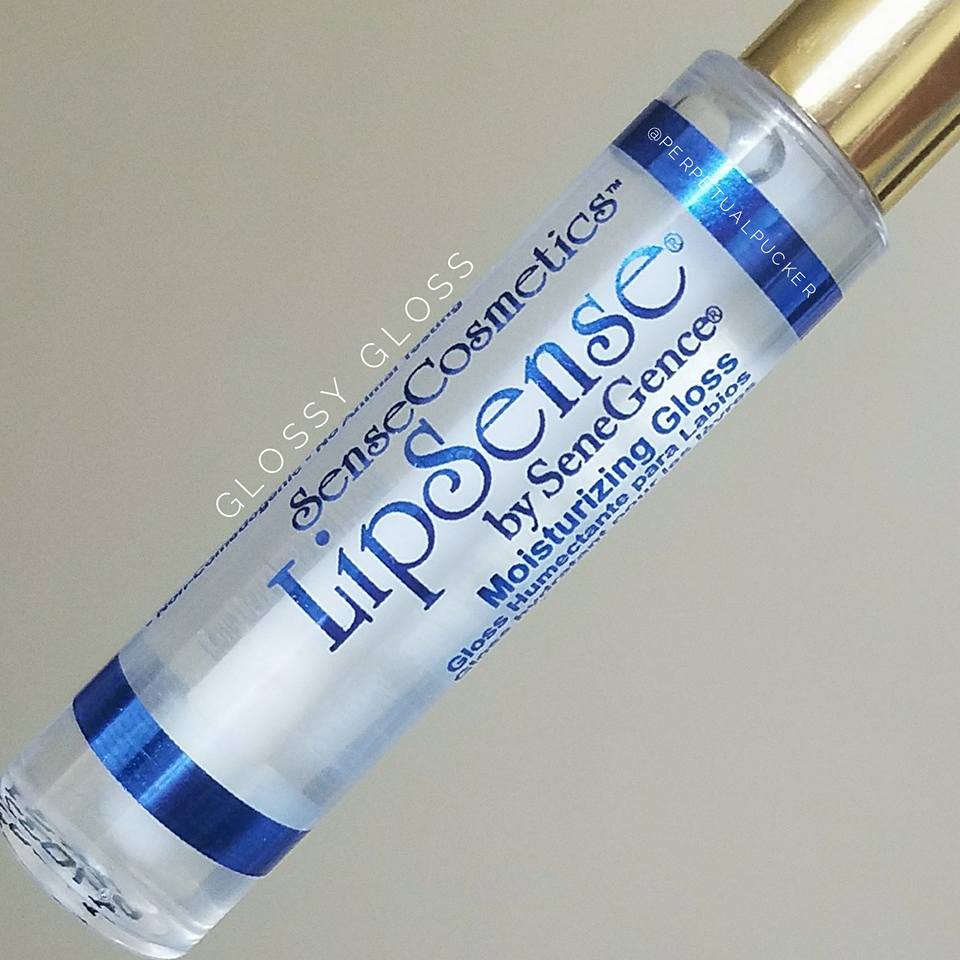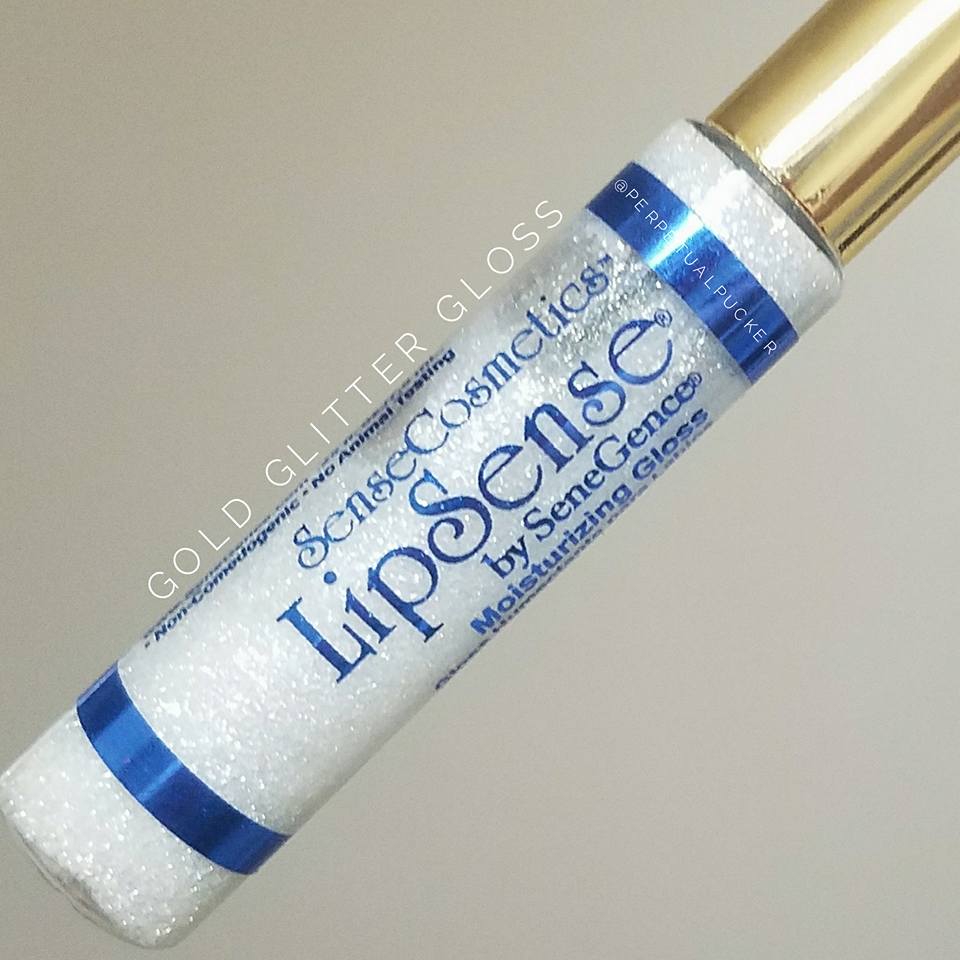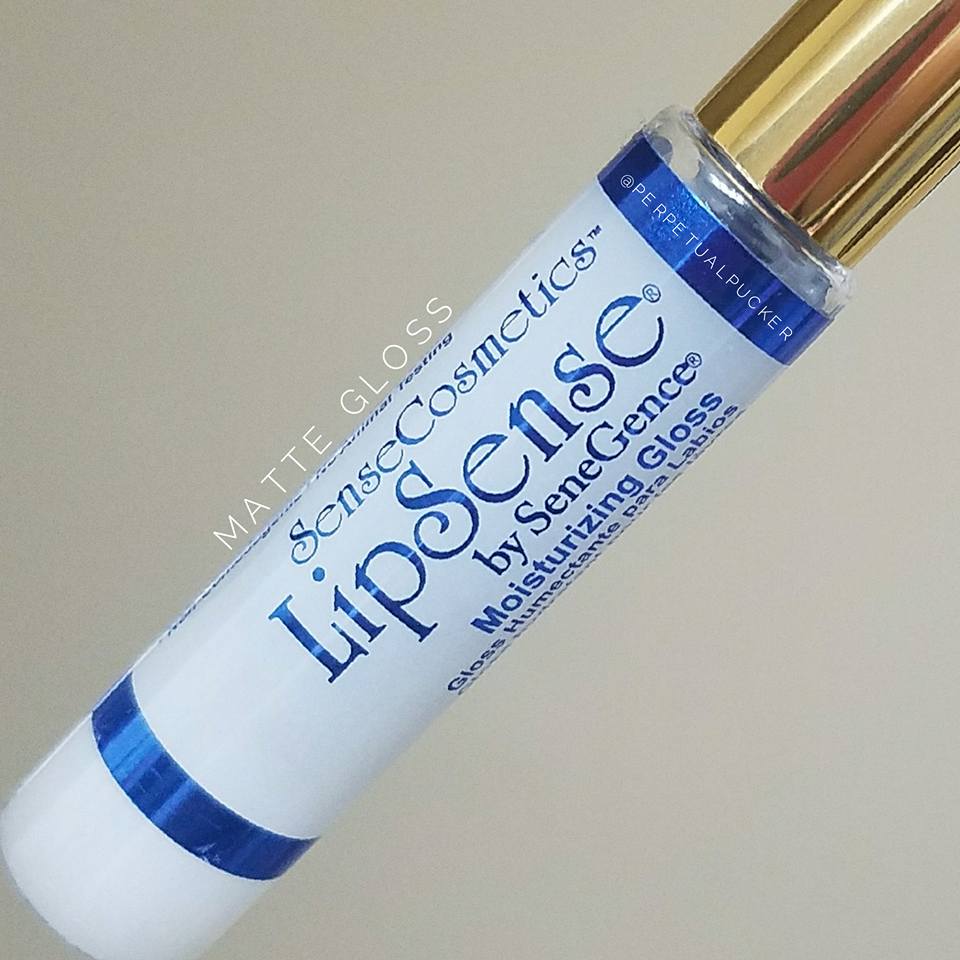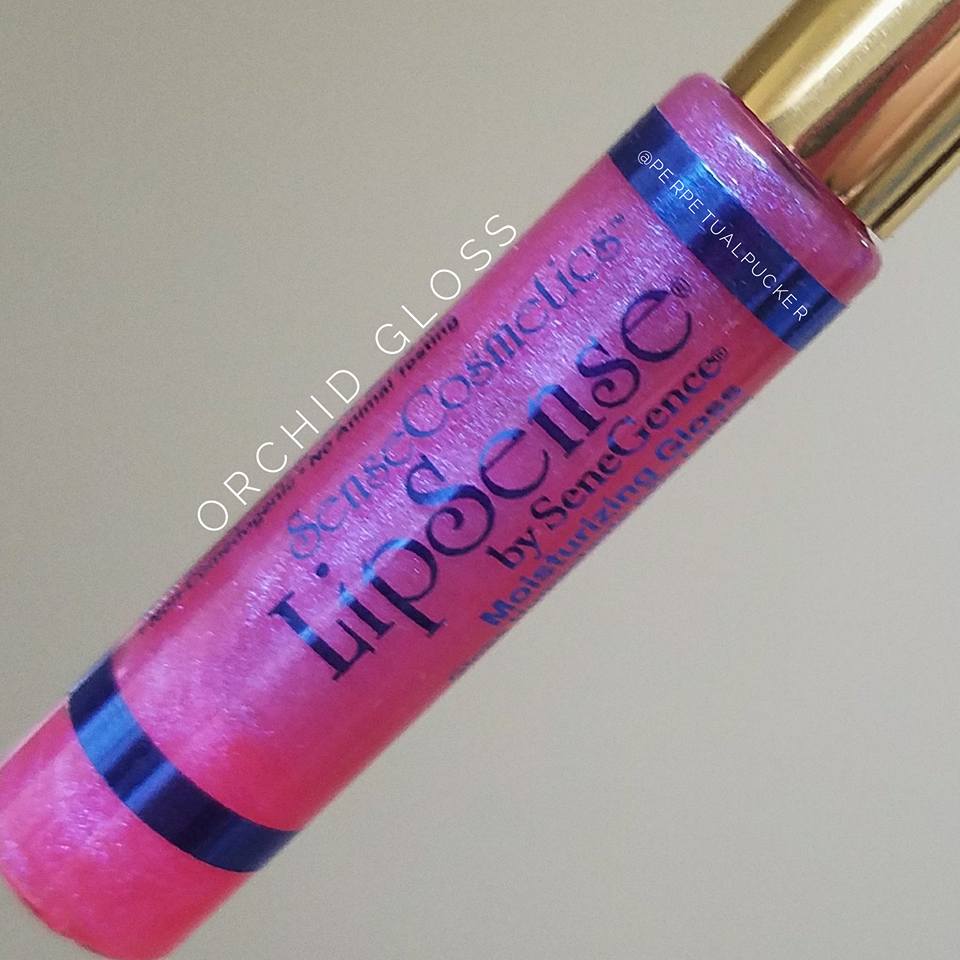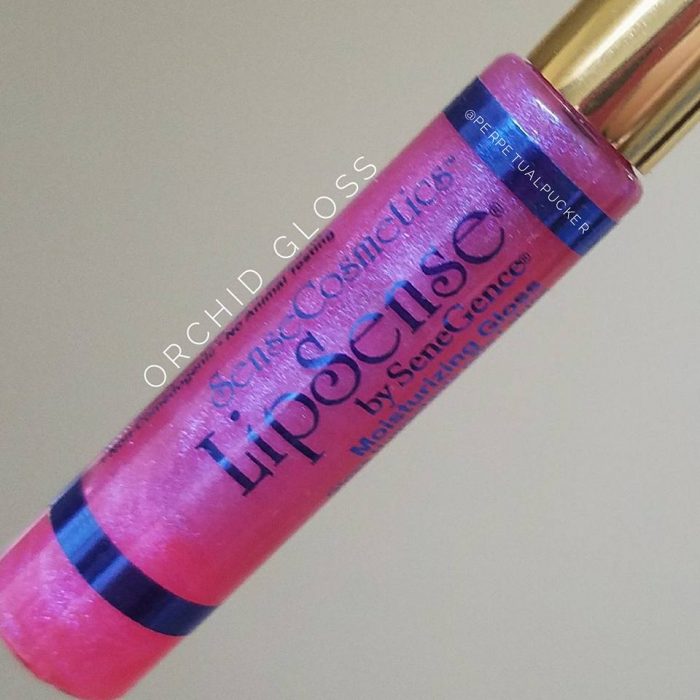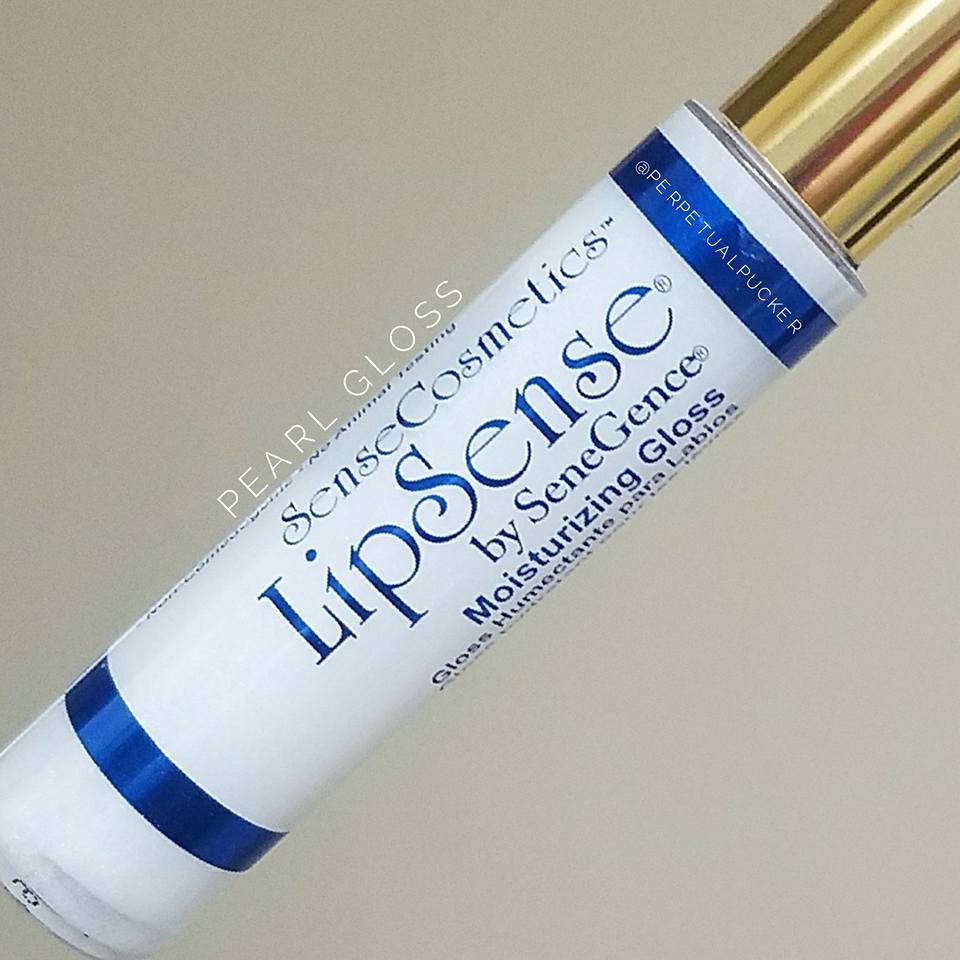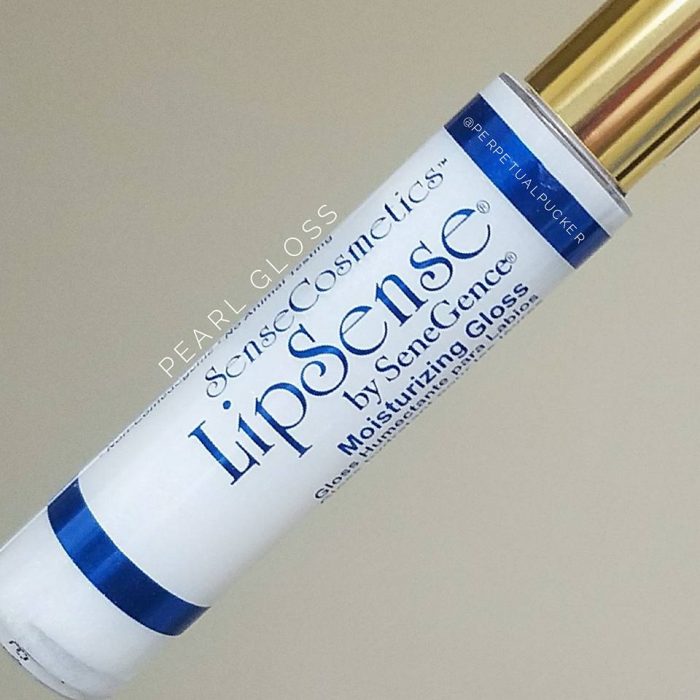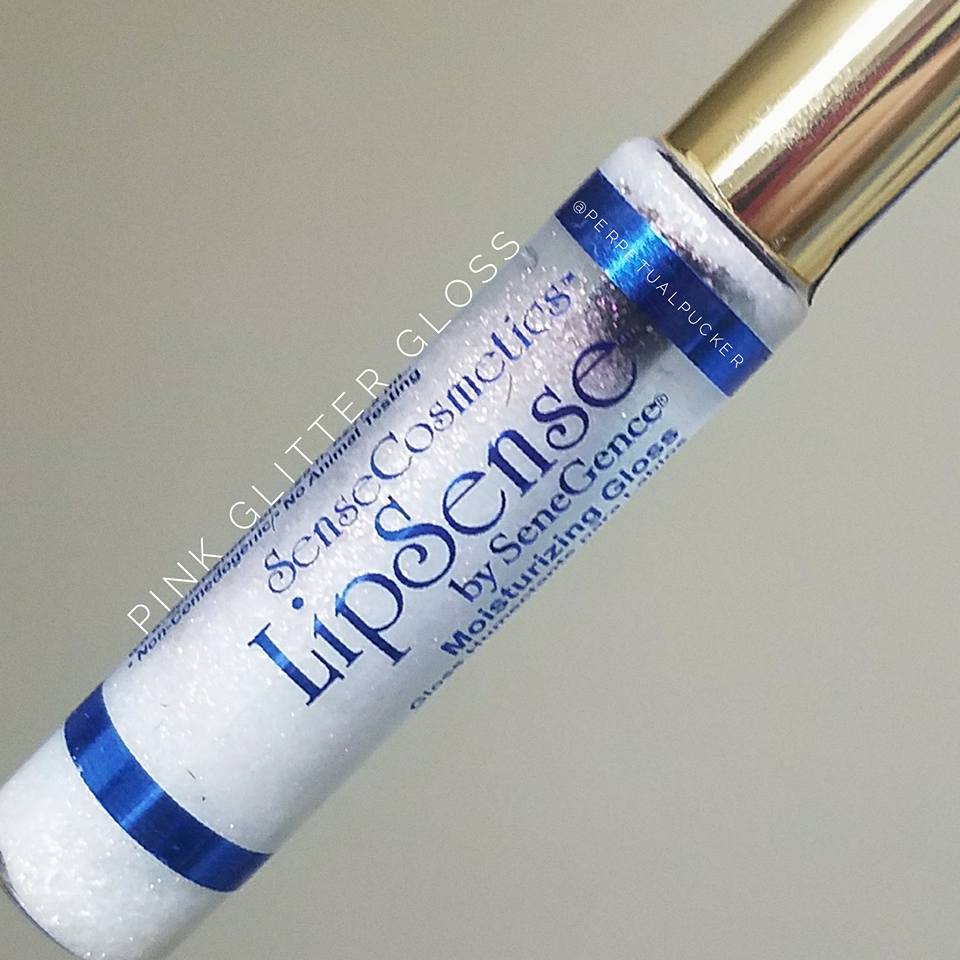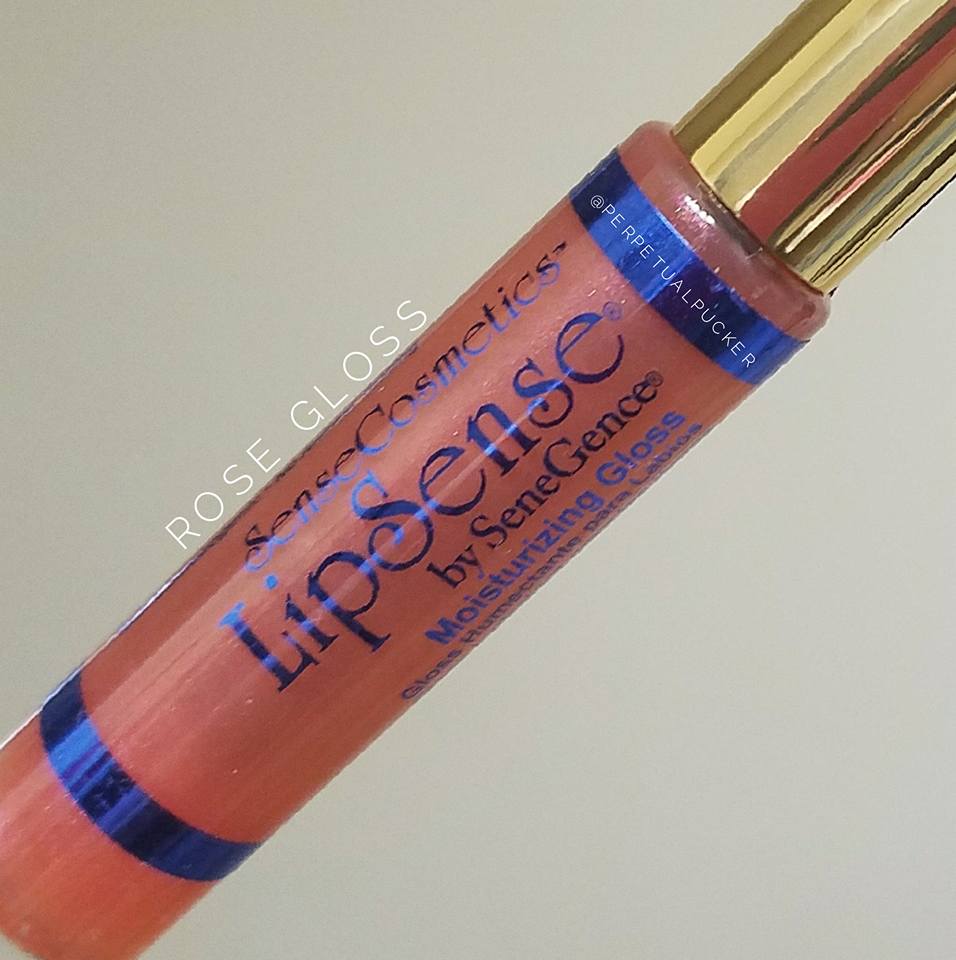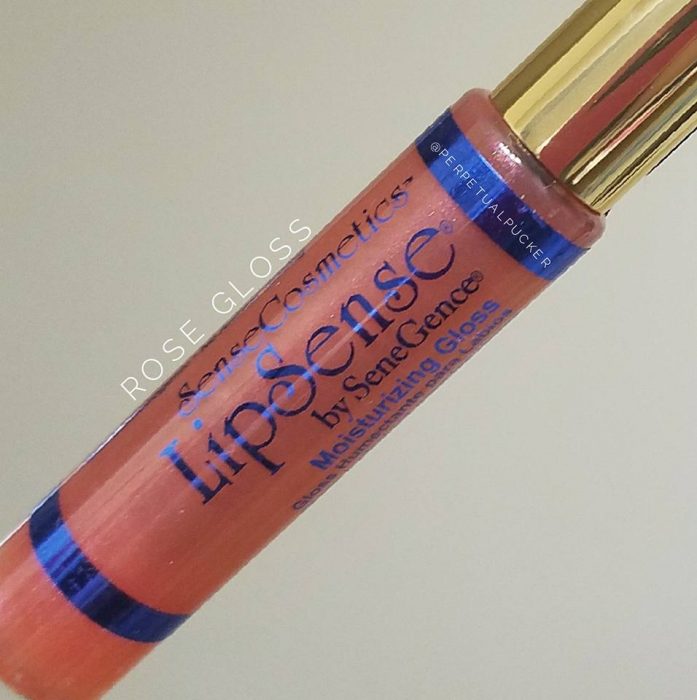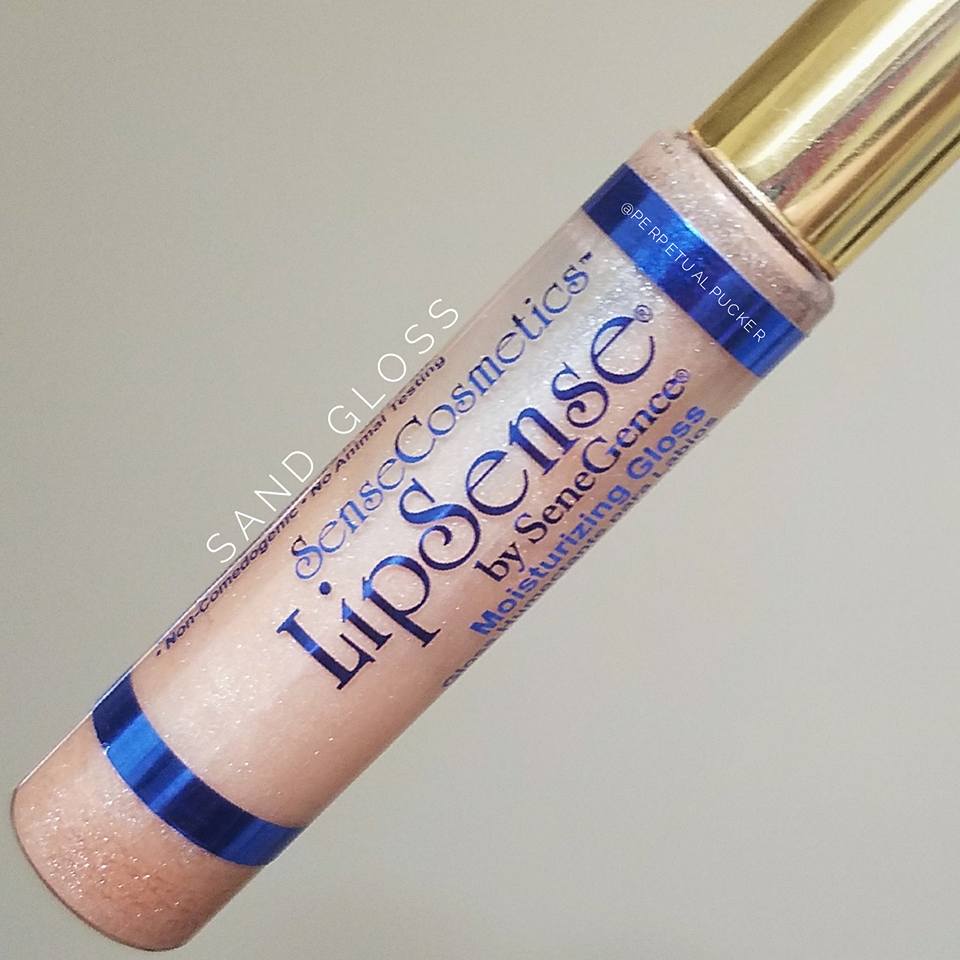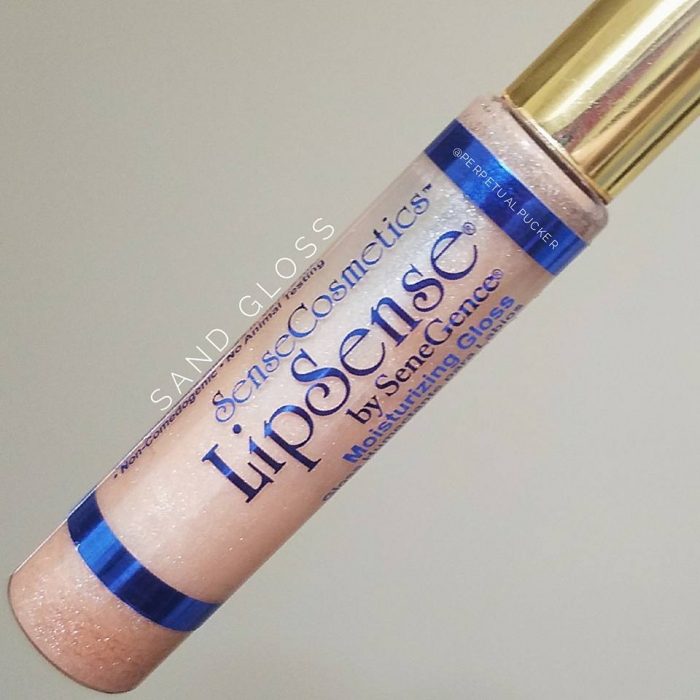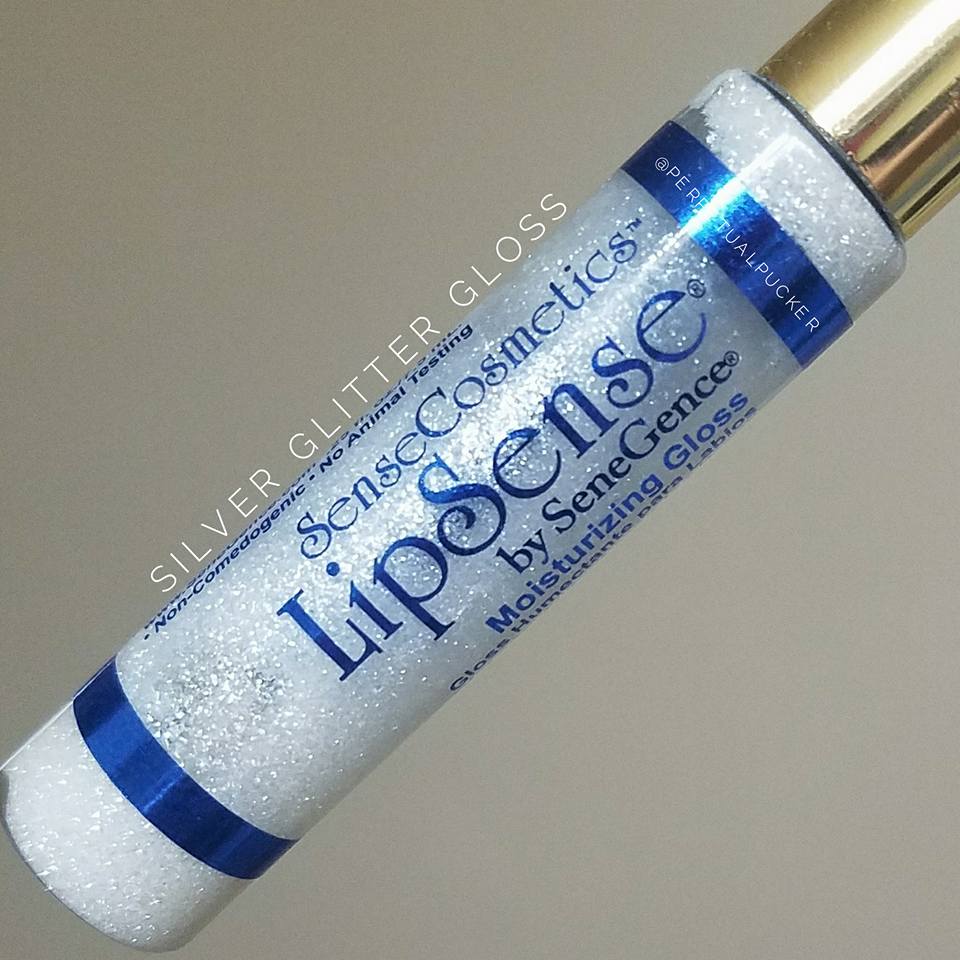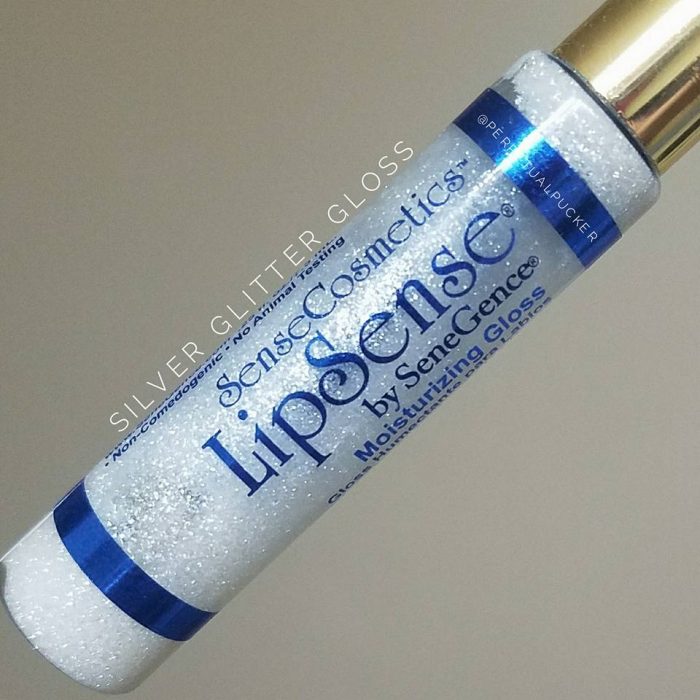 It's a little overwhelming, I know, but you got this! What are you drawn to? What do you wear most? I'd love to help you find or match your current color – it's one of my favorite things to do!