EasyTop Utah food blog, Among the Young, features the best easy Peanut Butter pie recipe! It is amazing! Keep reading for the recipe!!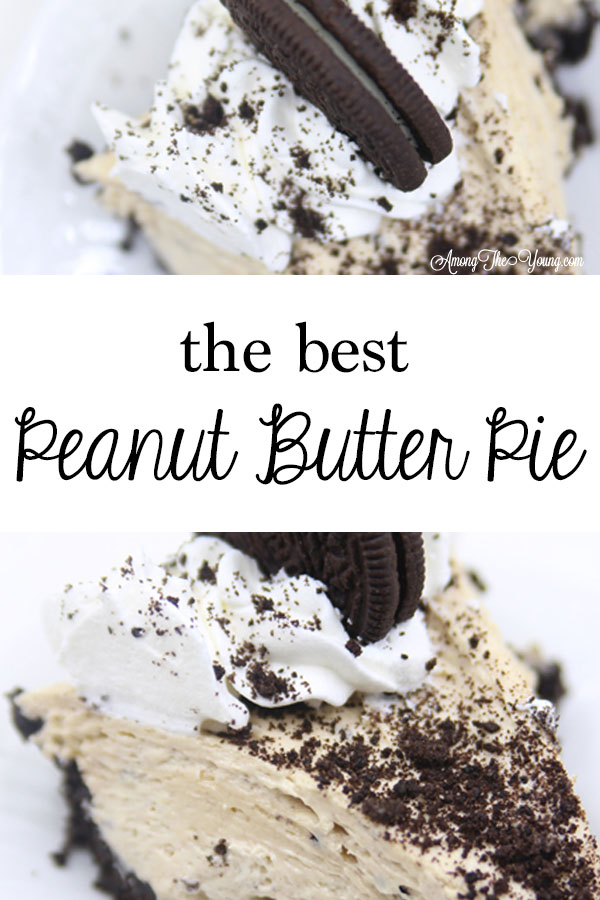 I have eaten a LOT of peanut butter in my days. I consider myself somewhat of a peanut butter connoisseur because I have exceptionally high standards for all things peanut butter. (If you're looking for more amazing peanut butter recipes I'd highly recommend my peanut butter fudge or peanut butter Snickers ice cream!)
Peanut butter pie is no exception to that rule. I'm going to be VERY honest with you right now: I've never had a peanut butter pie that was 100% perfection. It's either too thick and globby or it doesn't have enough peanut butter.
Heck – I'll tell you right now that I used my FAVORITE pie recipeand tried to turn it into a peanut butter pie. Full disclosure: it wasn't the best. It just didn't work!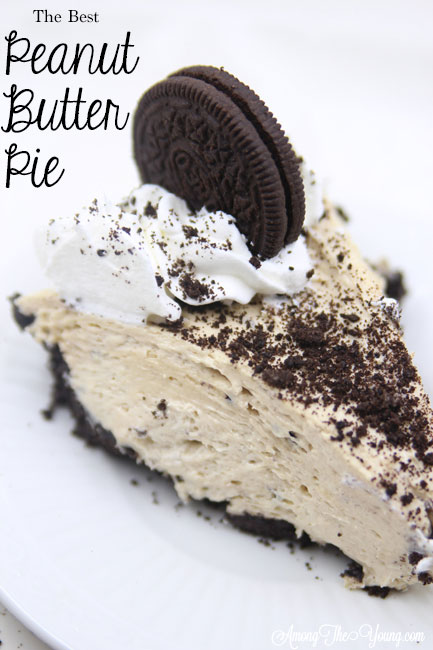 Easy Peanut Butter Pie Recipe
That's why this easy peanut butter pie recipe is PERFECT. It's got the perfect combination of heavy ingredients, like cream cheese, peanut butter, and light/fluffy ingredients, like pudding mix and whipped cream.
So you're left with a dense (but not TOO dense) flavorful peanut butter pie that's just perfect. Dense, yet fluffy – does that even make sense? Trust me here.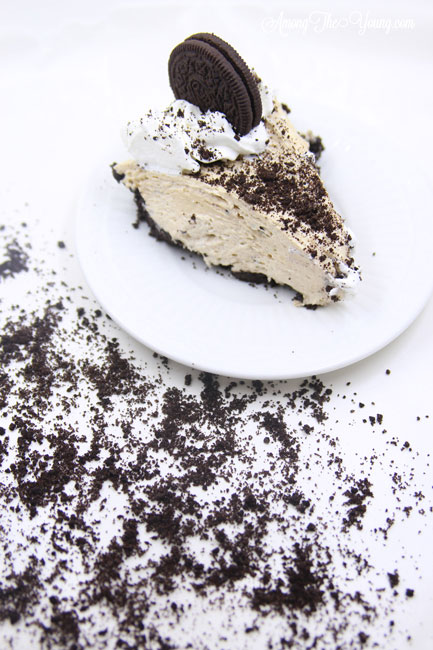 Don't believe me? Try it for yourself and see!
Better yet – come to my house and take a look through my recipes! I have three or four "peanut butter pie" recipes in there, but they were all lacking.
Thus, the experimenting began! I combined all of my favorite aspects from several different pies. Along the way, there were several sub-par versions of this pie – lucky for me, I'm no quitter and extra peanut butter pie (even "just ok" peanut butter pie) is a win in my book!
Then, finally, the most easy peanut butter pie recipe was born. It's amazing. It's glorious. It's SUPER easy and I have to remind myself I don't always NEED peanut butter pie in the fridge!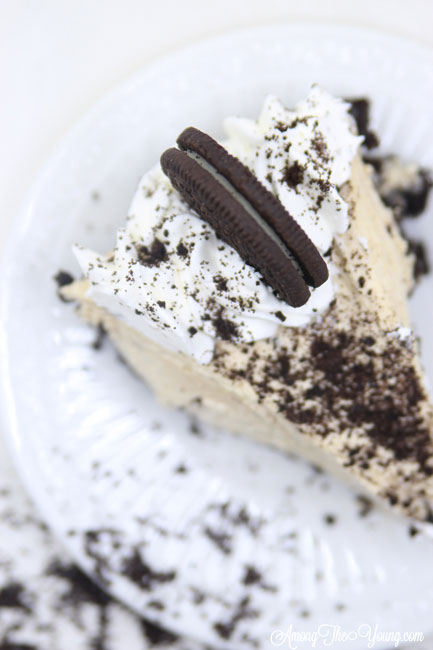 Easy as Pie
This pie is THAT easy. In fact, it's so easy I have my husband make it.
Funny story: I took this pie to a church function and I can't remember if I was sick or busy or what…. but I had my sweet husband make this pie. We arrived at the event and someone took one look at our pie and said, "Who's the fancy pants that brought the homemade pie?" I pointed to the husband and we had a good laugh.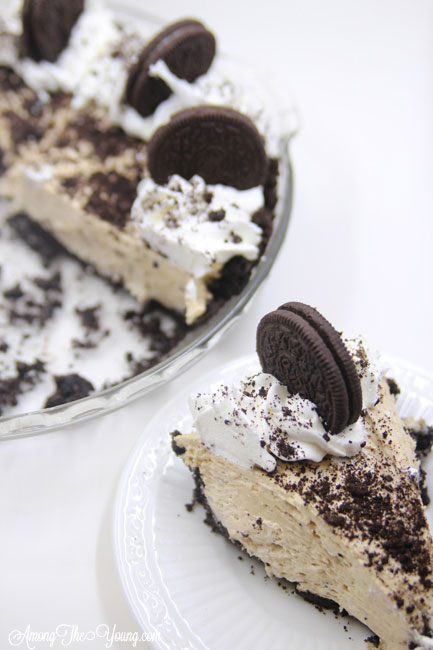 Another super win about this easy peanut butter pie recipe? It's no bake, which makes for an amazing summer treat. Sure, there are several components that need to be mixed or folded in, but when it's summer, your house is hot, and it's a zillion degrees outside, turning on the oven is the literal worst.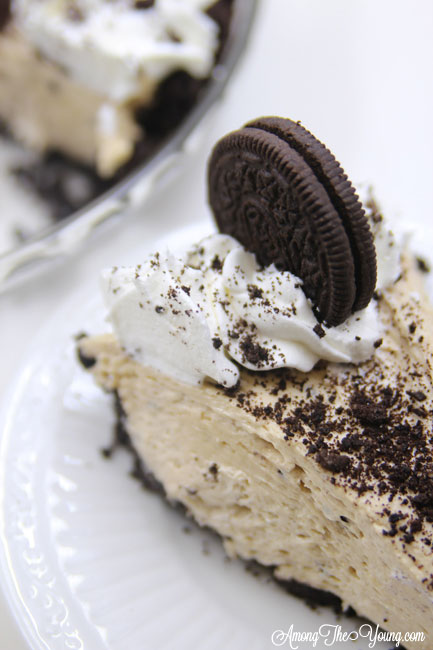 This easy peanut butter pie recipe calls for an Oreo crust because that is my all-time FAVORITE. But hey – you could easily switch it out for grahams or Nilla wafers. OR you could go totally peanut butter crazy and do Nutter Butter cookies. Call me over if you do that and we'll have a peanut butter pie girls party!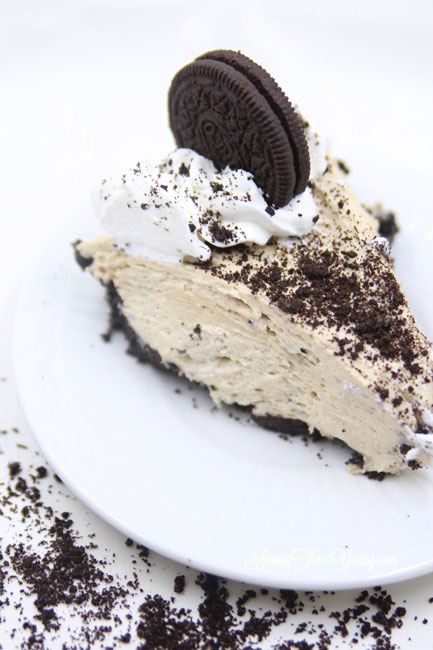 Also, I KNOW I'm going to take some serious heat for this recipe because …. *cough* COOLWHIP *cough*. Let the record show that I tried making this amazing peanut butter pie with regular whipping cream and it was NOT THE SAME. I repeat – it was NOT as good. Normally I'm a homemade whipped cream gal, but in this pie? You gotta buy the dang Cool Whip. Sorry. Just trust.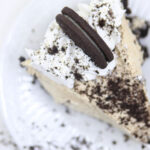 Peanut Butter Pie
Dense yet fluffy and light - this is the ONLY peanut butter pie you need in your life.
Ingredients
Oreo Crust
25

Oreo cookies

5

TB

butter
Pie Filling
8

oz

cream cheese

1/2

cup

creamy peanut butter

I've never tried crunchy, but I'm sure it wouldn't be bad!

1

3.4 oz box

vanilla pudding

1

cup

cold milk

3/4

cup

powdered sugar

2 1/2

cup

Cool Whip

Chocolate chips or chocolate syrup

for the topping

Whipped cream

for topping

Oreo cookies and Oreo crumbs

for topping
Instructions
Oreo Crust
Crust oreos in a blender, food processor, or a ziplock bag and rolling pin.

Press into pie plate with your fingers or a cup.
Pie filling
Beat cream cheese and peanut butter until smooth.

Slowly add milk, pudding mix, and powdered sugar.

If doing a topping, melt chocolate chips and drizzle. OR use chocolate syrup and drizzle.

Refrigerate 4 hours or overnight.

Serve with whipped cream and garnish with full Oreo cookies and cookie crumbs.
If you're looking for other AMAZING peanut butter desserts, I'd HIGHLY recommend testing out Ashlee Marie's peanut butter cake, Katie's Oreo Chocolate peanut butter dip, or Amber's peanut butter pretzel bites. WHOA YUM!
Do you have a easy peanut butter pie recipe that you love to make?  Let me know in a comment below!