Are you ready for the worlds best lemon bars? I've got you. These are the best lemon bars in the world. Our family loves these ooey gooey lemon bars – there is nothing that compares. They just are the BEST lemon bars. Don't even try to argue with me here, because I'm telling you…. NO WAY. The best lemon bars ever.

Best Lemon Bars Recipe in the World
It is NOT hard for me to tell you why these are the best and ONLY lemon bars you need in your life:
1. The thick, buttery crust. Pretty standard on a good lemon bar, right? (So why is it that SO FEW lemon bars actually have this?!)
2. Ooey, gooey lemony filling – not curdled or crunchy. This stuff literally oozes out with each bite you take. It's a mess and it's so worth it.
3. The powdered sugar topping – because extra sugar is not a bad thing … ever! This also makes a huge mess. Have you ever tried eating something without breathing? Because trying if you do accidentally breathe through your nose you spray the room with powdered sugar. It's a magical, messy treat.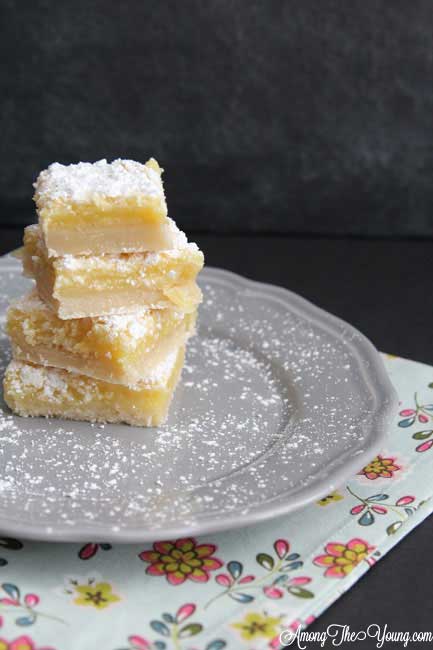 Combine all three of these components and you've got a masterpiece of lemon bars. I wish I was exaggerating, I really do. These lemon bars are some of my most favorite treats – and here's the kicker: I don't even love lemon stuff! In fact, I loathe most lemon treats. It's just not my thing.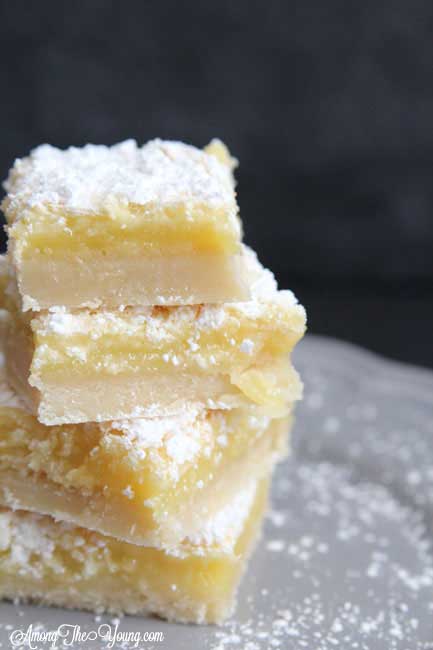 When I was pregnant
I would die for all things sour and lemony, but NOTHING was strong enough. Does that make sense? We tried making these lemon bars when I was expecting and added even EXTRA lemon juice. No luck. All I tasted was delicious shortbread and powdered sugar topping. Not bad, but I couldn't taste any lemon. Crazy, right?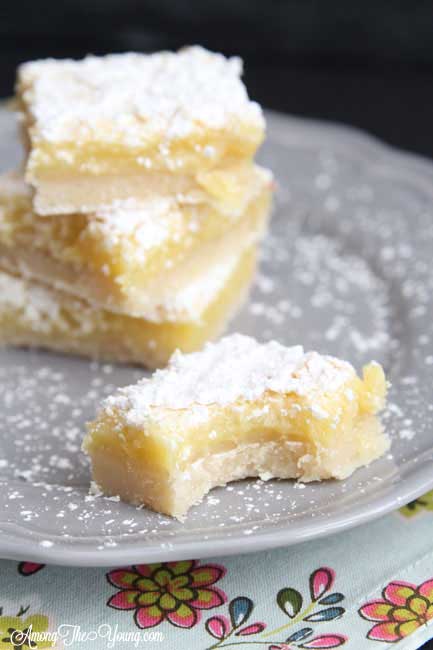 These best lemon bars are a staple at family events – my family knows how to make really really
REALLY good desserts
. And we always need them at family events, otherwise the event isn't complete. (Like my mom's
chex mix
and Lake Powell – I'm being so serious).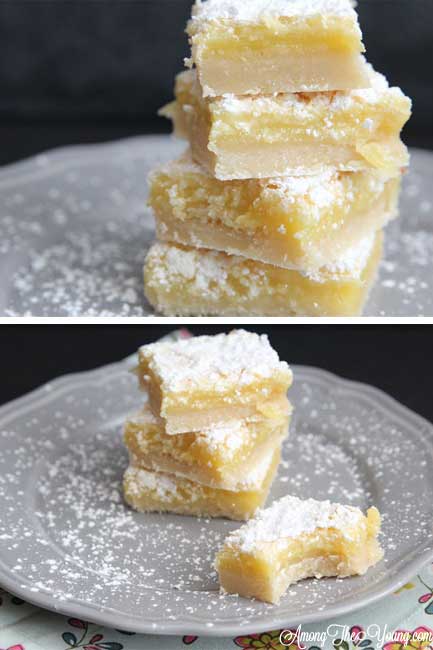 Ooey Gooey Lemon Bars Recipe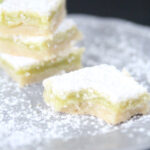 Print Recipe
The Best Key Lime Bars Recipe in the World
Ingredients
1

c.

butter

room temperature

1/2

c.

powdered sugar

2

c.

flour

1/2

tsp

salt

4

eggs

6-7

TB

lemon juice

1 3/4

c.

sugar

1/3

c.

flour

Powdered sugar

for topping
Instructions
Mix first four ingredients together (butter, powdered sugar, flour, salt) with a pastry cutter.

Grease a 9x13 pan.

Pat the flour mixture into the 9x13.

Bake at 350 for 20 minutes (DO NOT let it get brown, keep it light!)

Cool slightly (or don't! I've had great success pouring the lemon mixture right on top and throwing it back in the oven!)

In a blender, blend remaining ingredients (eggs, lemon juice, sugar, and flour) until frothy. (30 seconds or longer).

Pour over crust.

Bake your lemon bars at 350 for 20 minutes (Convection should be 325 for 20 min)

Remove from oven and top with powdered sugar. (bars MAY have large bumps in it - Totally normal!)
Troubleshooting:
If the middle is not baked all the way (aka - super jiggly) after the 20 minute baking time you may not have blended your egg mixture long enough.

Try baking for a few extra minutes. Your lemon bars may still be delicious but not gorgeous.

TRY AGAIN! Don't be afraid to give it another go! Sometimes - for no reason at all - these don't set up.
*This best lemon bars recipes post was originally posted in 2015 and has been updated