Top Utah lifestyle blog, Among the Young, features the most amazing Almond Roca bar recipe. Keep reading for the full recipe!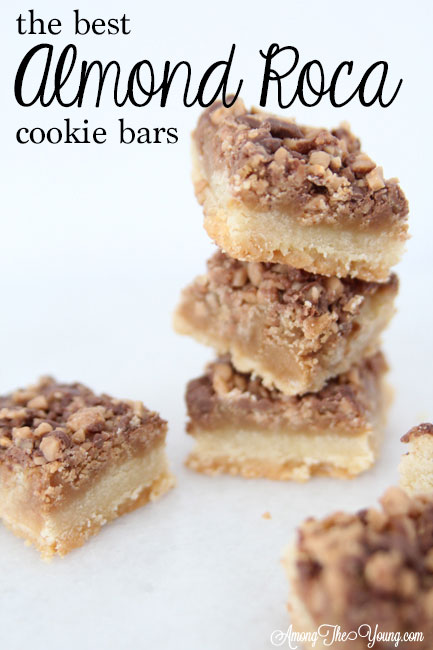 Let it be known that I have a gift. I have the extreme TALENT of finding something I LOVE and then I have the extreme misfortune of watching that item (whatever it may be) sell out, be back-ordered, or basically go extinct. I don't know how I do it, but I have a knack for loving the un-findable things.
Almond Roca Cookie Bar Mix
Once upon a time, you could buy this amazing Almond Roca Cookie bar mix from Costco. It was from the creators of the Almond Roca Bar, Brown and Haley, and it was INCREDIBLE. It was SO simple and it was amazingly delicious.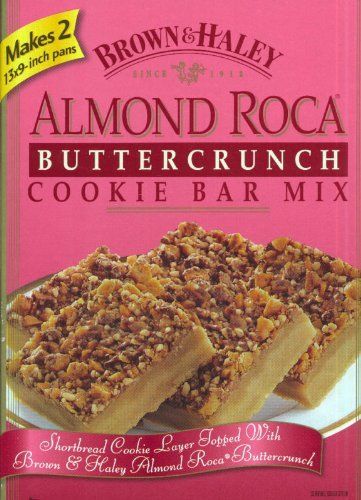 It was only available at Costco and it divine. I never tried to replicate it because it was SO easy and SO delicious.
THEN THE UNTHINKABLE HAPPENED.
The Almond Roca Cookie Bar Mixes were GONE. They never came out at Christmas, you couldn't find them in any store – not even AMAZON or EBAY! (I know, I looked – I was that desperate!)
What was the world coming to?!
I scoured the internet and Pinterest. I wasn't even looking for recipes – just that dang mix! It was THAT good!
Finally, I gave up and started looking for decent copycat recipes and I was STUNNED when my search pulled up very few options.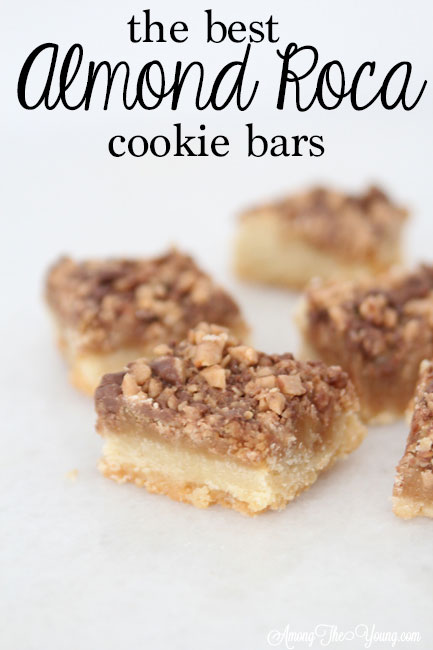 So the quest began. Create the best imitation Almond Roca Bar recipe – one that I could make from now on at Christmas (or anytime I had the hankering).
I'm not gonna lie: this was not easy. I had several failed attempts.
I was looking for a shortbread crust, a soft caramel center, and (of course) the signature Almond Roca topping chocolate and toffee topping.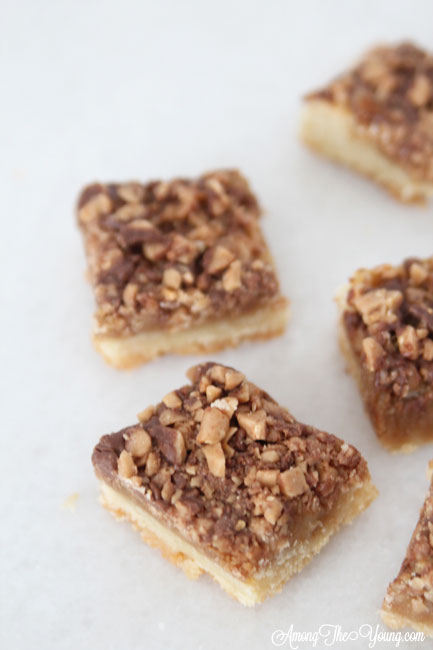 Each recipe fell short for some reason or another … UNTIL!
This one. I had tried several different options when this one took me by surprise! It's as good as I remember the Almond Roca cookie mix being. The only difference is that it was homemade and the box was … well, a box mix.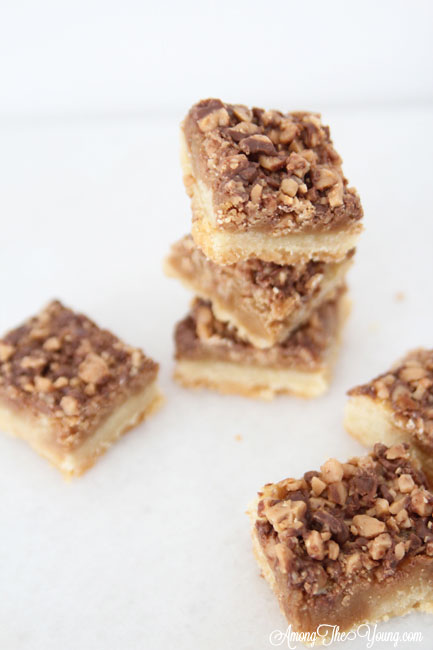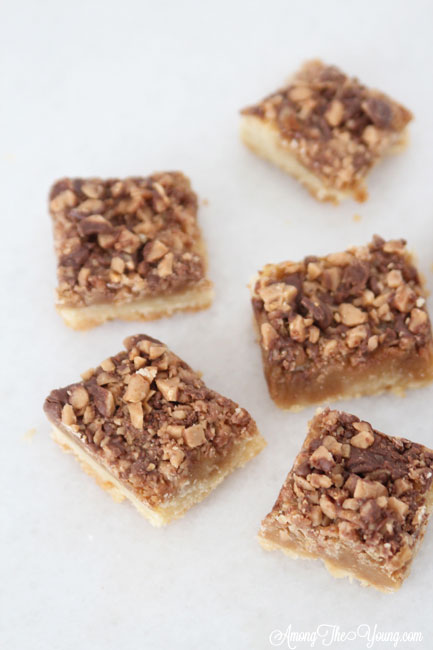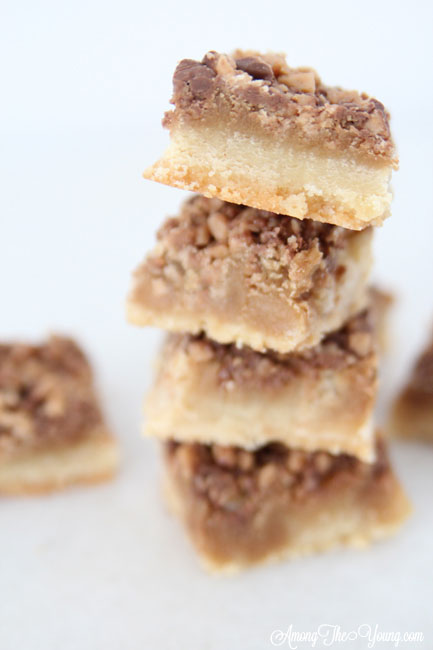 Recipe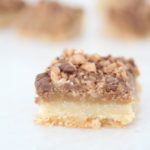 Almond Roca Cookie Bars
Buttery crust, sweet caramel, and a crunchy toffee topping - these cookie bars are to die for! 
Ingredients
For the Shortbread Crust
1

lb

butter

softened

1

cup

sugar

1 1/2

cup

powdered sugar

2

TB

vanilla

4

cups

flour
For the Caramel:
1

cup

brown sugar

1/2

cup

butter

1/4

cup

evaporated milk

1

tsp

vanilla

1

tsp

salt
For the topping
1

bag

Heath Bits 'o Brickle toffee bits OR Heath toffee bits
Instructions
For the shortbread:
In a mixer, beat butter and sugars until fluffy. 

Spray a 9x13 pan and spread the mixture out. 

Bake at 325 for 20-25 min (or until edges are slightly gold)
For the Caramel:
Combine all caramel ingredients in a saucepan. 

Bring to a boil for 1 minute and pour over crust. 

Bake at 325 for another 25-30 minutes. 

As soon as it's done baking, pour the bag of toffee on top.

Let cool completely before cutting into squares.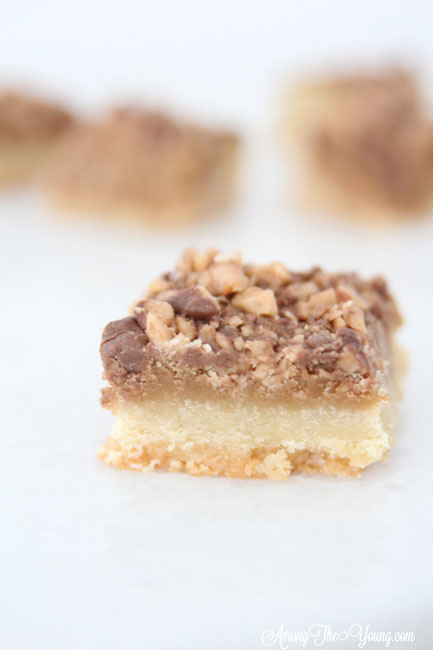 You'll have to let me know what you think of these Almond Roca cookie bars. They are some of my FAVORITE because it's a perfect combination of buttery shortbread, sweet caramel, and roca crunchies on top. My mouth is watering just thinking about it!
Also, to be clear, my recipe calls for either THESE toffee bits, or THESE toffee and chocolate bits instead. I've tried both and both are DELICIOUS. It's all about how you want your cookie bars to taste: More toffee-y or more chocolate-y?
Other recipes to try:
Lemon bars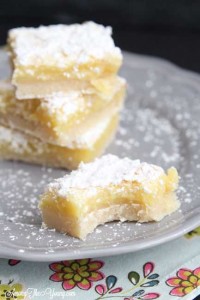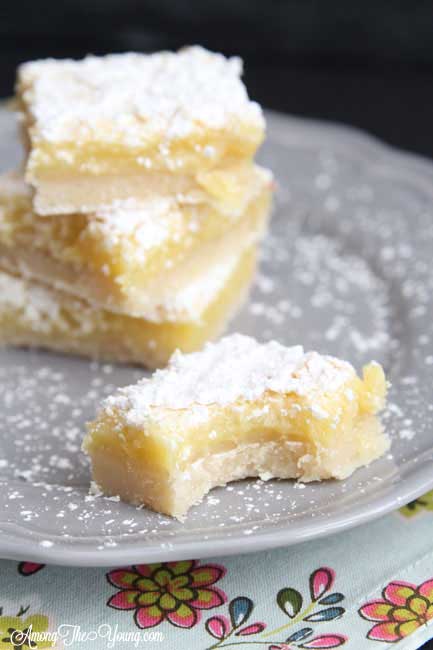 Salted Caramel Ooey-Gooey bars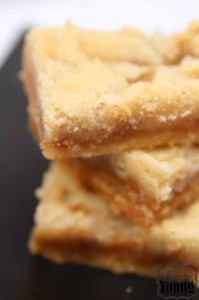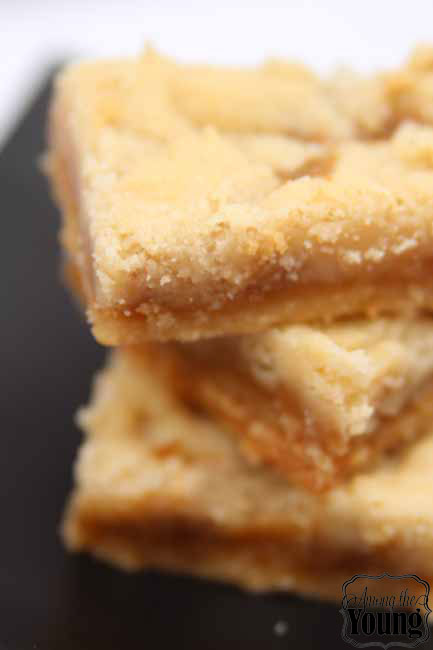 Egg nog cookie bar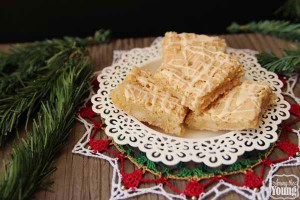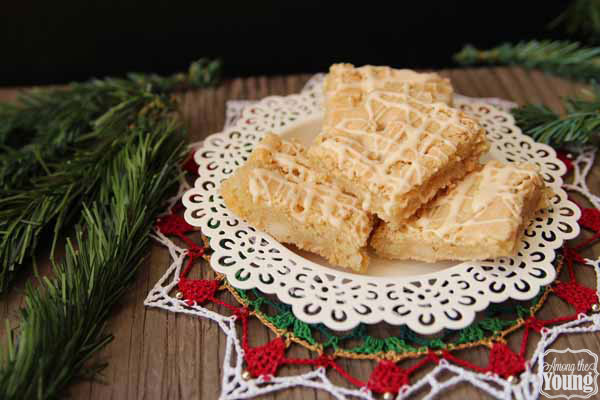 If you're looking for some other amazing almond roca recipes be sure to check out my girl Ashlee to post a recipe for HOMEMADE Almond Roca. WHOA YUM!.
If you want a amazing cashew toffee crunch, then you HAVE to head over to my friend Aimee's blog. She's amazing!!!
What's your current favorite dessert?  Let me know in a comment below!