Snickers has always been on the top of my list – as far as candy bars are concerned. When I was pregnant with T, I could have eaten one of these everyday – oh wait…I did. So when the peanut butter Snickers came out, I was in heaven. I don't know why it took me so long, but I was in an ice cream making mindset and, while I was standing in line to buy a potty seat for T, I saw these babies. Instantly, it clicked: Peanut Butter Snickers ice cream.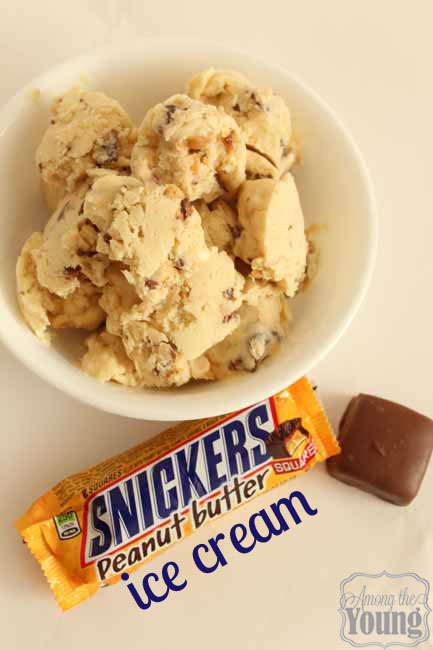 Chello? How has this not happened sooner? Let the choir of angels sing …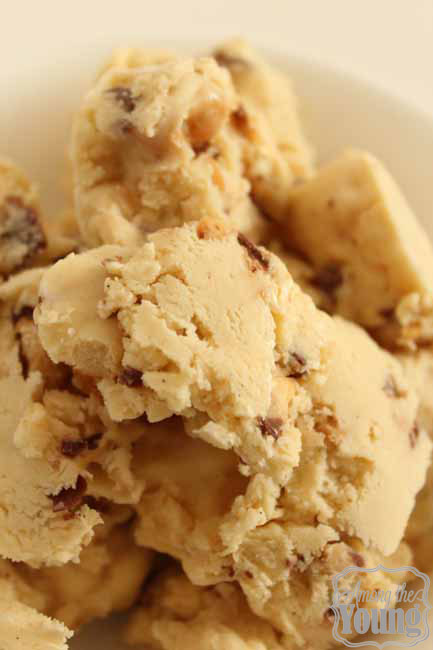 Look at the chunks of deliciousness here. All the goodness that is the Snickers combined with peanut butter. What could go wrong? I made my ice cream SUPER chunky – because I wanted to be overwhelmed with the Snickers flavor, but you could always add less, so you can actually taste the ice cream with a hint of Peanut Butter Snickers, instead of the other way around? Totally your call. I say go big or go away. Not home. Just away.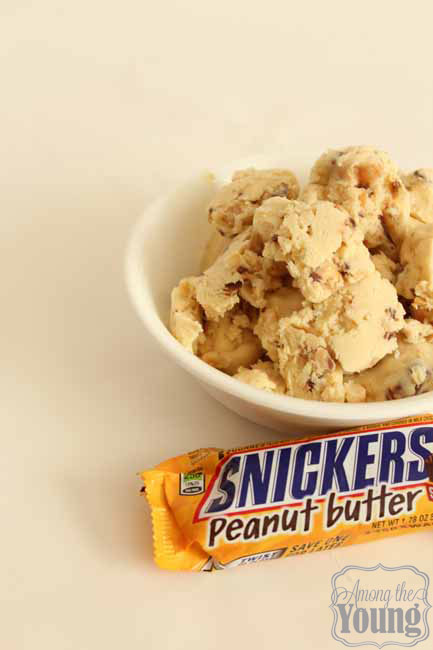 You really can't go wrong with my Vanilla Bean base – it's what I use for everything. Remember my Krispy Kreme ice cream a few weeks ago? YUP. Easy peasy, mix whatever you pleasey. Peanut Butter Snickers ice cream – here we come!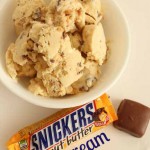 Print Recipe
Peanut Butter Snickers Ice Cream
Ingredients
1 1/2

C

Whole Milk

Again, Raw milk instead. SOO good

1 1/2

C

Heavy Cream

1

Vanilla bean

CHEATER! and used Vanilla bean paste!

2

large eggs

3

large egg yolks

3/4

C

sugar

2 - 4

Snickers Peanut Butter candy bars

depending on how chunky you want your consistency - I did 4
Instructions
Combine milk and cream in a medium saucepan.

Add your vanilla bean paste.

Bring the mixture to a slow boil over medium heat, reduce to low, and simmer for 30 minutes, stirring occasionally.

Combine eggs, egg yolks, and sugar in a medium bowl.

Mix with a hand mixer on medium, beat until mixture is thick, smooth, and pale yellow (about 1-2 minutes).

Add about 1 C. hot cream mixture to egg mixture slowly and beating constantly.

When thoroughly combined, pour egg mixture back into the saucepan and stir to combine.

Cook, stirring constantly until the mixture is thick enough to coat the back of a spoon.

Transfer to bowl, cover with a plastic sheet, and chill completely.

In the last 5 minutes of chilling, add your chopped Snickers and put it back in the fridge.

Turn your ice cream machine on, pour the chilled custard into the freezer bowl and let mix until thickened, 25-30 minutes.