One of my favorite things when I was a kid was an Abba Zabba. Now, if you're like most people, you have no idea what this candy bar is or WHY an Abba Zabba cupcake would be the most amazing thing to put in your mouth. Let me explain….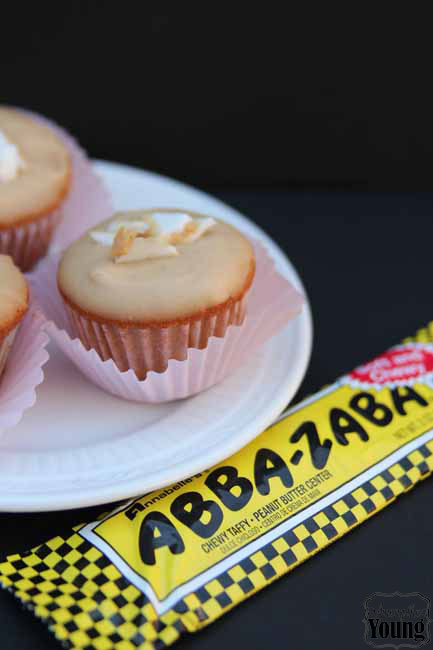 An Abba Zabba is a white taffy candy 'bar' with a creamy peanut butter filling. They're delicious, and growing up, they were pretty hard to come by.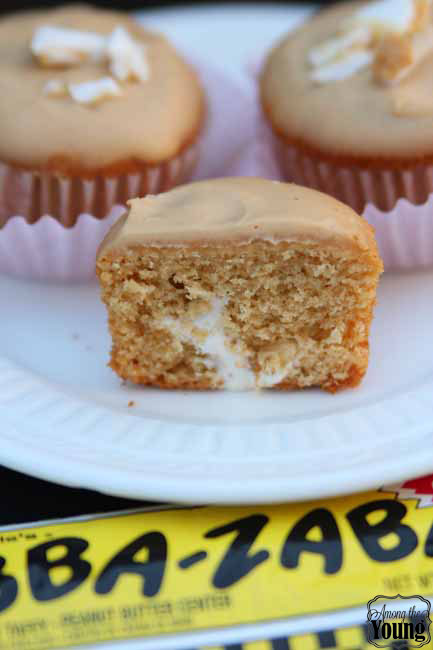 Then Blickenstaff's literally saved the day and I discovered this "vintage" candy. Of course I had to try and capture this delicious flavor and harness it into a
cupcake
… but HOW? Again, it took me awhile to figure out which way to go, because the options were limitless. I finally decided on a direction and I was NOT disappointed.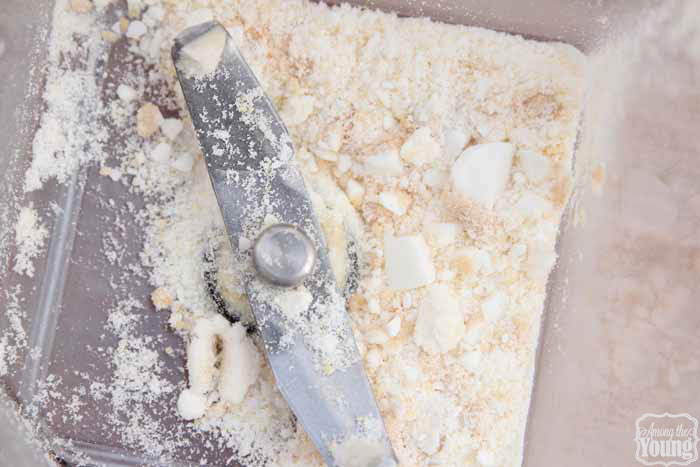 The hardest part of this Abba Zabba cupcake recipe? Blending the Abba Zabbas into powder.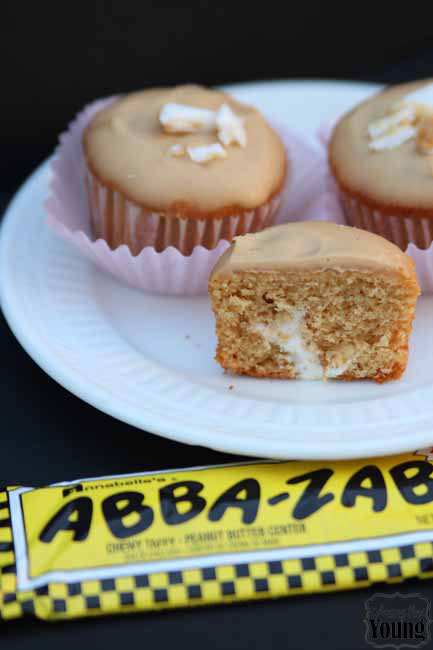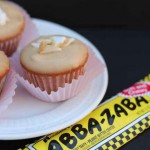 Abba Zabba Cupcake
Ingredients
Cake:
1/2

C.

Creamy Peanut Butter

1/2

C.

butter

softened

4

eggs

1

pkg butter cake mix

2/3

C.

water
Filling:
2

tsp

hot water

1/4

tsp

salt

1

7 oz jar

marshmallow creme

1

bar

Abba Zabba

blended into dust

1/2

c.

shortening

1/3

c.

powdered sugar

1/2

tsp

vanilla extract
Ganache:
1

c.

peanut butter chips

3/4

c.

heavy whipping cream
Instructions
Cake
Preheat the oven to 325.

Combine peanut butter and butter until fluffy.

Add eggs, one at a time, mixing well after each one.

Add cake mix slowly, alternating between water and mix.

Stir until combined.

Pour into pans.

Bake for 20-25 minutes.

DO NOT OVERBAKE!
Filling:
In a small bowl, combine water and salt until salt is dissolved; Cool.

In a small bowl, beat remaining ingredients until light at fluffy.

Add salt mixture.

Put marshmallow mixture in a ziplock (or pastry bag) and insert a pastry tip.

Frost.
Ganache:
Melt chips (in a saucepan or the microwave).

Mix chips with cream and stir until smooth.
Assembly:
After cupcakes are assembled, cut a small hole in the bottom. Fill the cupcake with the marshmallow creme, immediately follow by dipping in peanut butter, and place in a second cupcake liner to contain all the goodness. Put in refrigerator until set-
Trust me. Peanut Butter plus marshmallow, plus more peanut butter equals happily ever after. The end.