*This post may contain affiliate links to support my donut eating habit*
I've had a lot of people ask me about how we cloth diaper – if you missed my post on WHY you should consider using cloth then you should definitely check it out. I wrote it, but I have to say it's a good read.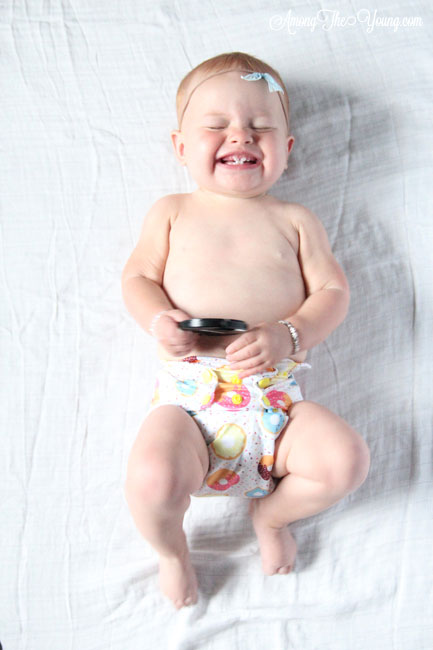 So, I went to write this blog post on cloth diapering and QUICKLY realized I am NO expert. This is a whole new world of terms and acronyms that I honestly know very little about. What I DO know is how I cloth diaper and it works great for me and my little one's bottom.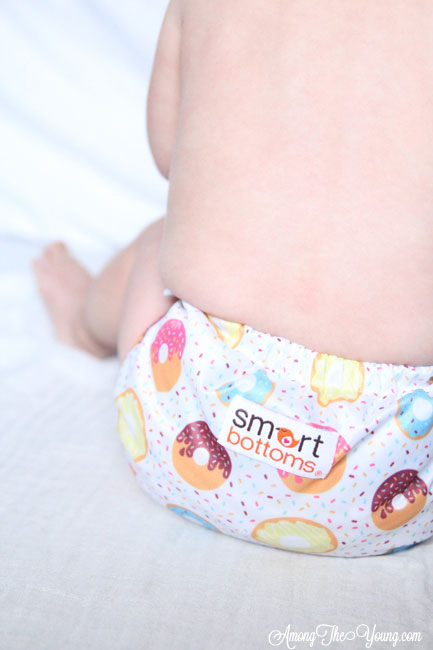 The hardest part of cloth diapering is flat GETTING STARTED. You need to know what to expect, what you need, and how crappy (see what I did there?) it's actually going to be. Take a deep breath, it's not that bad! Once you have a list of items you need and you can see the daily routine of cloth, you will see how un-crappy it is!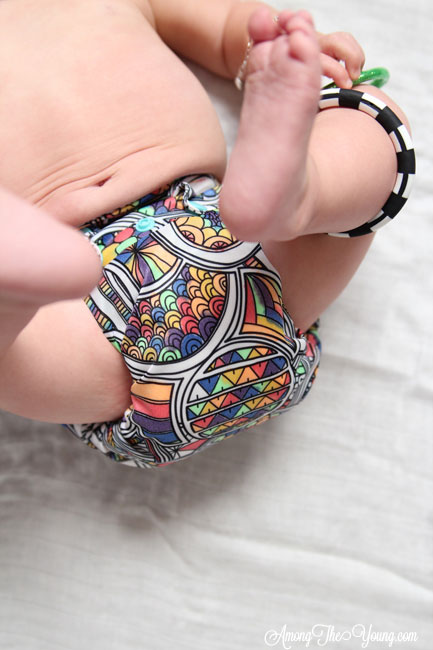 First things first, you'll need to decide which type of cloth diaper you want to try. I knew I wanted zero folding and super easy, so I opted for the All-in-One (AIO) or pocket diapers (there are also Prefolds, AI2s, & Fitteds) as well as the One Size (OS) because I have no time to be dealing with sizes. PUH-LEASE.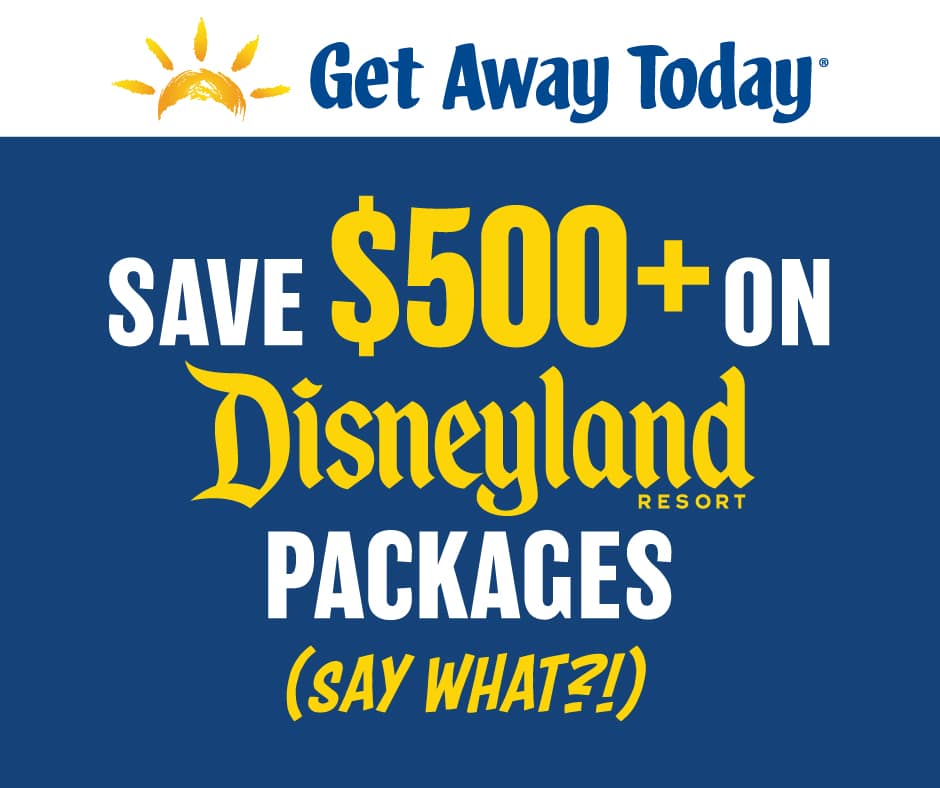 It's recommended that you buy a few cloth diapers to see what works, but it's also recommended to have 20-30 in your stash … a little contradictory if you ask me. So we researched and found what we HOPED would work. Fingers crossed. We got lucky. We loved the ones we went with! Our favorite diapers are the Charlie Banana OS and the BumGenius AIO.
(Also, don't be confused by all the acronyms! Cloth diapering parents love a good acronym – just Google it (JGI). You'll be fine.)
So if you're using cloth diapers, you probably need cloth wipes, right? Bless my heart, that totally didn't even cross my mind until it was too late and I had no wipes. Knee deep in a diaper change and … OOPS no wipes! Let that image marinate in your mind for a minute. DUH me. But let me tell you, cloth wipes are THE BOMB. Disposable wipes are nice when you're out and about, but they smear mess everywhere instead of cleaning it up. Cloth grips and cleans. Hopefully you get what I'm saying without being too graphic. HA!
As soon as people find out I'm using cloth they ask, "So do you dunk your dirty diapers in the toilet?" EW. So gross. Those were the OLDEN days my friend. In this day and age, a spayer is a must. Trust me, this is a NECESSITY. Ain't no way I'm dunking my diaper in the toilet or cleaning it with my bare hands. NO. FREAKING. WAY. (Not-so-funny story : I actually did clean a diaper with my bare hands once. It was slimy and so gross. NEVER AGAIN!) The Spray Pal has saved our butts (see what I did there) over and over again. Through every stage of poop, it's sprayed it away. The shield is a godsend and the sprayer is amazing.
I mean seriously – I never have to touch poop, just spray it off and put it in a wet bag. I actually leave mine out, but hey – to each their own. There are several tutorials on how to use the Spray Pal on YouTube. That's how I learned and it's genius.
Which brings us to wet bags! Confession: I had a hard time getting rid of my diaper genie. They are gross and they smell, but I couldn't imagine just leaving my diapers in a bag! Alas, the wet bag doesn't stink and there's no taking out the tube of old poopy diapers to the trash can. EW. It's a total win.
I have a few wet bags in various shapes and sizes. I've found I need big ones for everyday and small ones to keep in the diaper bag. Also, I love using either of those for pool days, because no one likes a soggy mess after swimming.
Here's where we stray a bit from the true cloth diapering families: creams. In order to cloth diaper, you cannot use regular creams like Desitin and A&D because of the zinc. These creams will end up coating the cloth diapers and render them useless. So gross, right? So we tried all the natural creams – seriously. ALL of them: Grovia Magic Stick, Earth Mama Angel Baby , CJ's BuTTer Spritz to name a few.
What we found was that our little one (LO – yes, that actually is a cloth acronym!) had super sensitive skin – I mean, it IS a sensitive area! After months of rashes, doctor's appointments, and antibiotic creams, I was SO done. Give me the DESITIN! But how could I use the rad power of desitin and not ruin my cloth diapers? The answer: Fleece inserts.
That's right. FLEECE is my lifesaver. It wicks moisture away, protects the cloth diaper, and allows me to use Desitin. In my mind, fleece liners are king. You can buy them on Amazon, or you can go to the craft store, buy a yard of fleece, and cut it to size. Cheap, easy, done.
Here's another area we splurge: disposable liners. Yes, we have a sprayer. Yes we have the means to get the poop off the diaper, but sometimes a flushable liner is just too easy! Maybe we have become lazy in our old age, or maybe it's just too dang easy.
I have to throw this last thing in because it includes all things cloth and you get almost everything I mentioned above – but in a bundle. Boo. Ya! This cloth diaper starter kit would be the way to go if I were to start again. It give you a great way to try a little bit at a time and see what you like.
After that, you're good to go!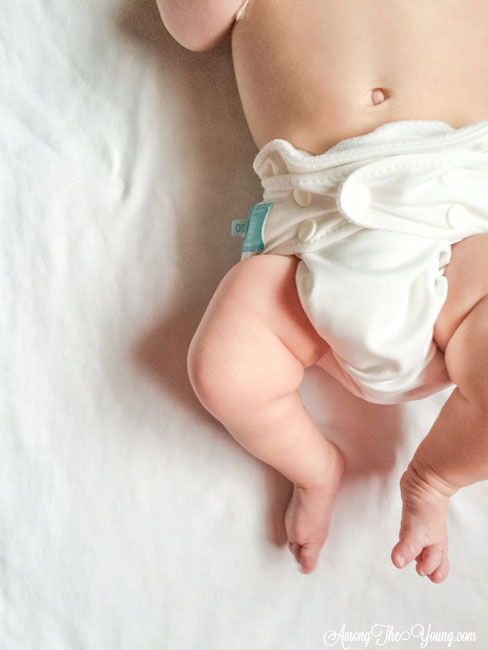 Washing is a breeze. I use Tide Free and Gentle and a little bit of bleach for my washing routine. I followed the washing cycle on Fluff Love University – living proof that I am NO expert! They have a washing machine breakdown that is EXTENSIVE, as in by the machine, what detergent to use, what if you have hard water, this is how you wash your cloth diapers, etc. It's amazing.
There you go – so tell me, what's stopping you from trying cloth diapers? The hardest part is getting started, but after that you're dealing with poo no matter what!