Your mission: Halloween. And it has to be a Halloween DIY. And it has to be a family costume. Ideas? I've got a few family costume ideas for you! (Pictures courtesy of Roxana B Photography)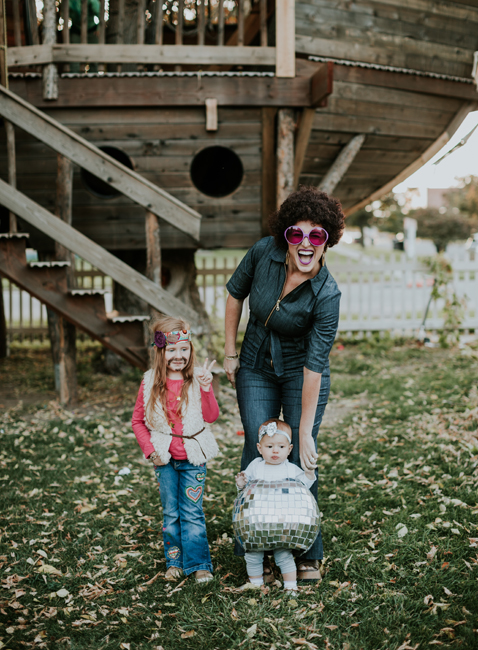 If you're like me, chances are you've put off doing a Halloween DIY (do it yourself) costume until now… or maybe a few days before Halloween. No judgement! We're all human and busy and crazy. I get you mama.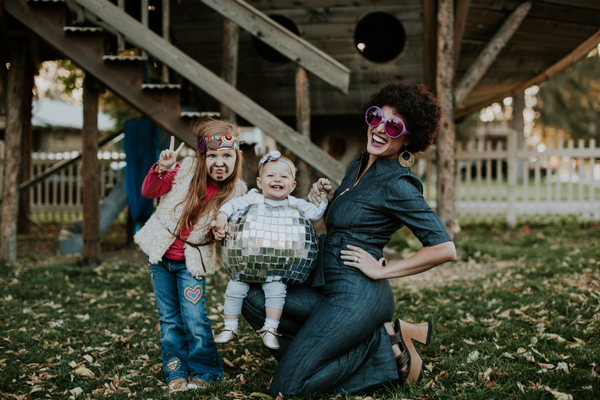 So my friends and I decided to team up and show you our best family costume ideas… and most are super easy for the last-minute-mamas (like myself). Boom.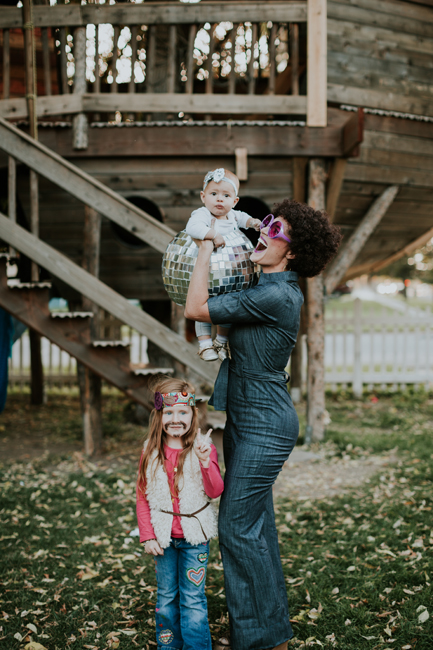 When I saw this denim jumpsuit on Shabby Apple – I died a little. I mean – why not have a denim jumpsuit in the closet? It felt so very vintage and 70's to me. I knew I had to have it. Screw the post-baby body, I wanted it.
I found my London Undergrounds that I'd hoarded for years (no joke – check out Ebay, you're bound to find some!), bought a wig ($8) and a wig cap ($1), cheap sunnies ($3) and matching lips (I used Lipsense Violet Volt and Purple Reign). DONE.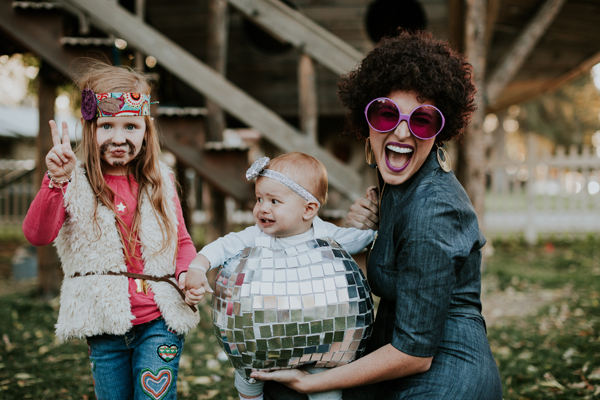 My costume was easy. Now for the rest of my family costume ideas!
Confession: We found the 5 year old's costume straight out of her closet. Yup. She really does wear those things – maybe not the mustache, but you know what I mean.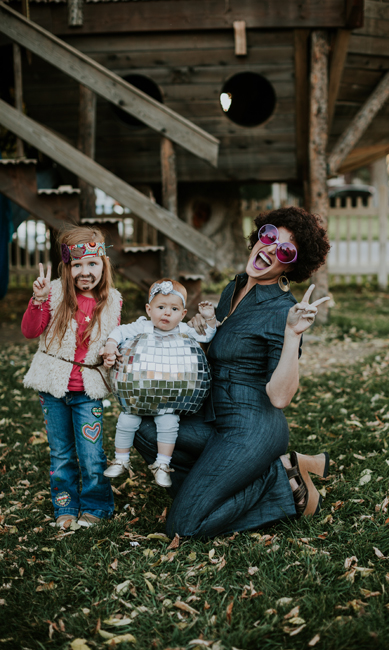 The baby costume was a little harder to make. And by hard it took a few days to make. I followed the tutorial on Oh Happy Day for the Disco ball . And the hardest part was WAITING for the pinata to be dry enough to add more layers, or spray paint, or add the little pieces of mirror paper. Not hard. Just time consuming.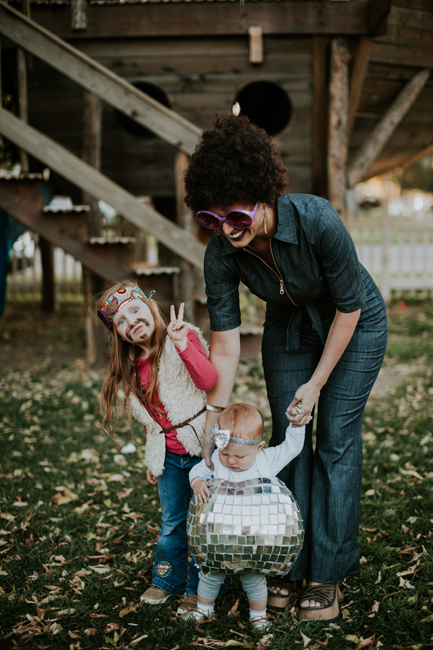 If I could change anything, I'd switch the baby and the kid costume. I could easily put some bell-bottoms and a mustache on my baby and the 5 year old would be a much better sport in a fragile disco ball.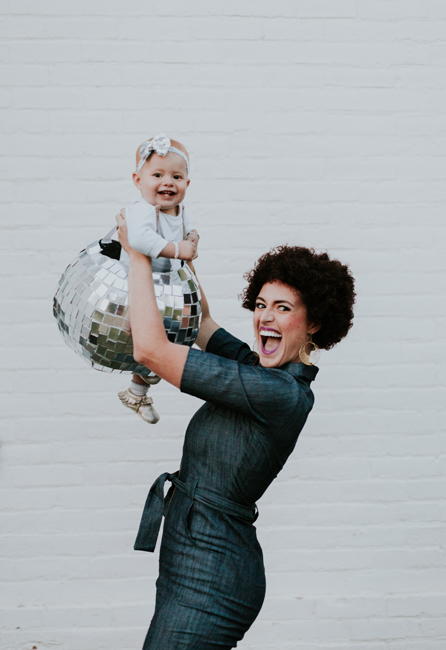 No matter what your family costume ideas include, I knew mine HAD to include Freshly Picked. Obviously they are darling and match everything, but I wanted something that would be good for trick-or-treating, going door-to-door for hours on end. Baby is wearing Platinum and my little girl (slash mustache boy) is wearing Weathered Brown (the Next Step).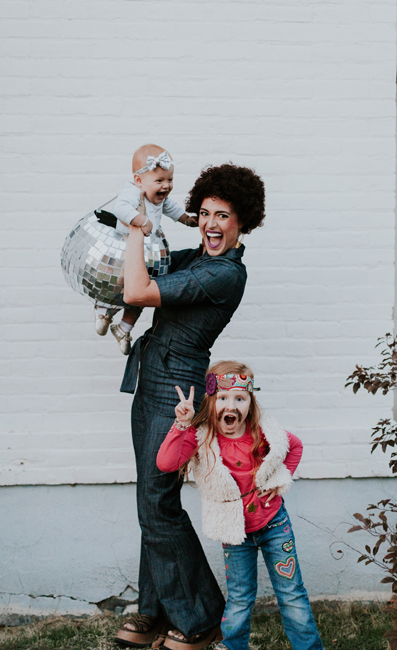 Look at all these cute mamas and their littles! Be sure to check out some other family costume ideas from these babes!
(From Left to Right)
Me , the disco babe (obviously)
Jen Jurca – Little Red Riding Hood and the wolf
Jen Springer – Mary Poppins and Jane
Roxana Baker – Scarecrow and cat
Whitney Johnson – Witch and cat
Makelle Ahlin – Circus ringleader and monkey and lion
Michelle Peterson – Wendy, Crocodile, Tink, Peter Pan, Captain Hook and John/Michael (I'm not sure which!)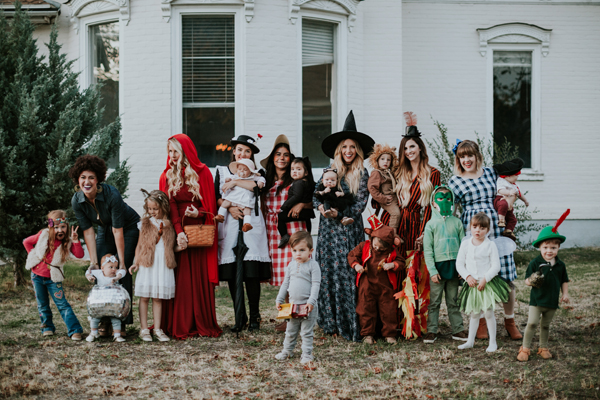 All pictures courtesy of Roxanna Baker, Shoes provided by Freshly Picked, Outfit provided by Shabby Apple
If you liked these family costume ideas, be sure to check out some of my amazing friends ideas! I LOVE Halloween!!
Where the Wild Things are themed: