*This post may contain affiliate links to support my cookie / donut / all-things-pastry eating habits*
If it isn't apparent yet, I LOVE to make DIY iron on tee shirts. It's kind of my kryptonite. I see a cute shirt (or hear a cute song lyric, etc etc) and I think, "I can make that!" What's bad is, it's not just "I can make that" anymore…. but I can make that CUTER than that. It's horrible, yet oh-so-fun at the same time.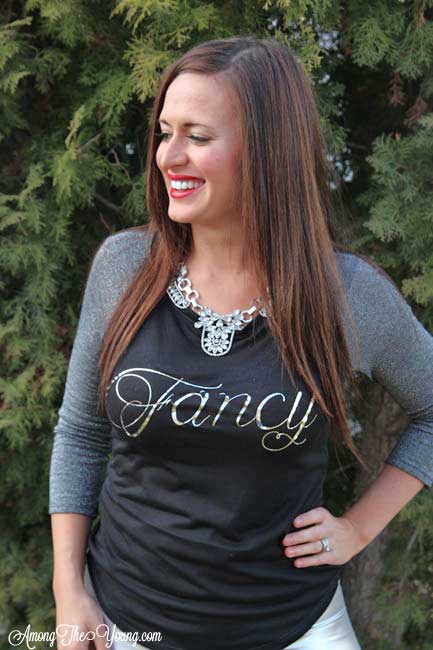 I know I've said it a million times before, but GUYS…. Expressions Vinyl is the BOMB. It is seriously the ONLY place I go to buy my vinyl because it's so well priced and they have the BEST selection. What you're looking for is the "heat transfer vinyl." From there you'll be given a TON of options. They have everything from solid colors, to glitter (obviously my real weakness), to gold and silver.
I have to admit, this gold and silver vinyl took a little bit of understanding on my part… it was a little more tricky that the vinyl I usually work with, but it is SO worth it for any DIY iron on tee you may be doing. (I simply set my Cricut blade a little deeper to ensure that it cuts through the vinyl – better to cut deeper instead of trying to coax letters that aren't cut out all the way. Been there, done that. Many curse words later…. Learn from my mistakes!)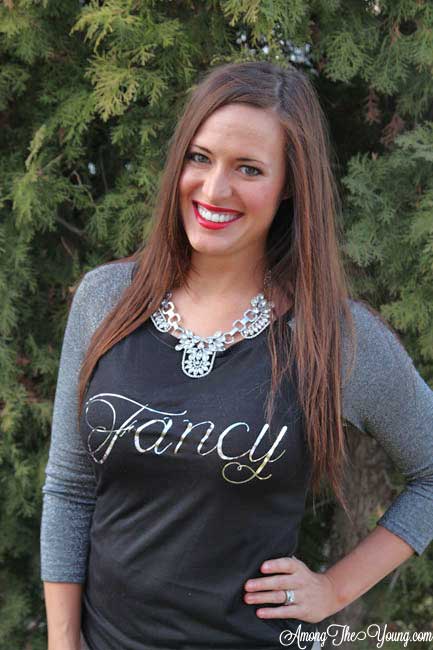 But I ramble – enough about Expressions Vinyl and my obvious love for them. This shirt has all the heart eyes. I found the shirt at American Eagle ages and fell in love with the sparkly sleeves. I'm so predictable, right? However, it was SLIGHTLY see-through and a little low cut. I never felt comfortable wearing it.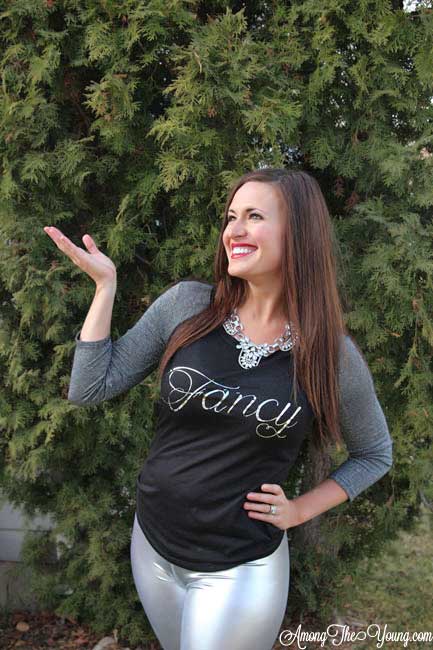 As soon as I added the words I was in love. Like I mentioned, it was a long time coming. Remember that "Fancy" song by Iggy Azalea? We loved that song in our house – I mean EVERYONE did (Handsome included). But my favorite was when my little T would sing it. She was still so little, yet could sing the chorus so perfectly. I fell in love. No, the song isn't the most amazing thing ever invented, but I'll always hear my little one belting "I'm SO Fancy…. you a'ready know!" It was just the cutest.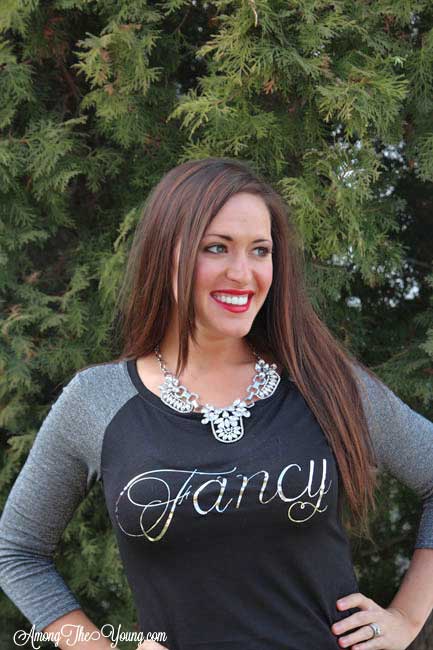 As for my silver leggings….. what are your thoughts? I found them on Jane and have LOVED them, but I do feel the tiniest bit silly when I wear them. I just wish they were a little more loud and obnoxious, right?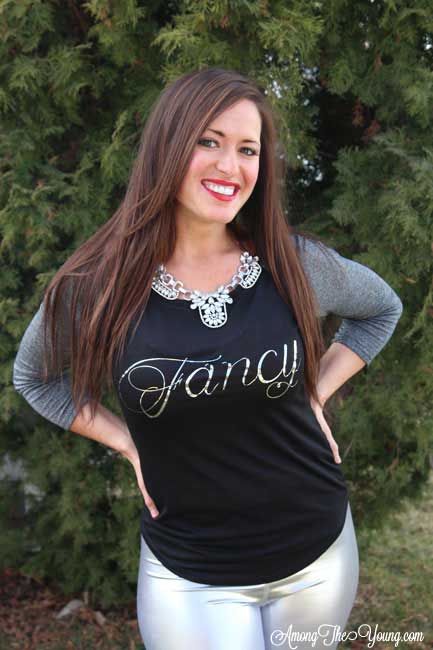 If you could make any DIY iron on tee – what would it be? The possibilities are endless!!