*This post is sponsored by Gerber Lil Beanies but the content and opinions expressed here are my own.*
School has hit us hard. School + Dance + Soccer + breastfeeding baby + Baby Nap Schedule = CRAZY mama. I constantly feel like I'm trying to run in fifteen different directions – all the while getting nothing accomplished, and my schedule is NOT that difficult yet! Send help!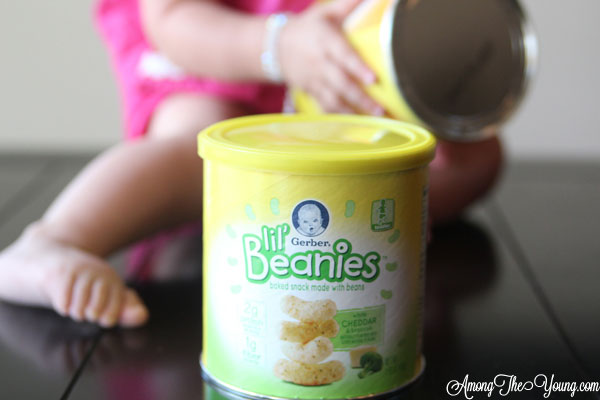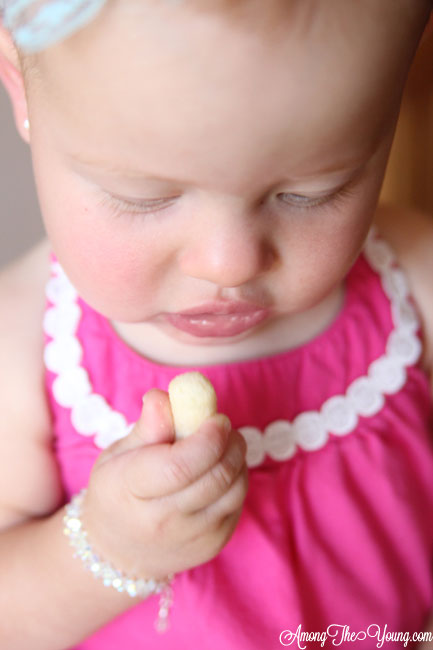 Intro the control freak: I am pretty strict with food. I like to make sure my 5 year old has some healthy food options to balance out her other unhealthy food options. Example: I'm always up for Mac and Cheese for lunch when paired with a protein (like hummus or freshly sliced salami) and veggies (peas, carrots are her faves), and fruit. YES, I'm the control freak mom that wants her kid to eat balanced. It might not be CLEAN, but I'm not going to deprive her childhood of neon orange mac and cheese.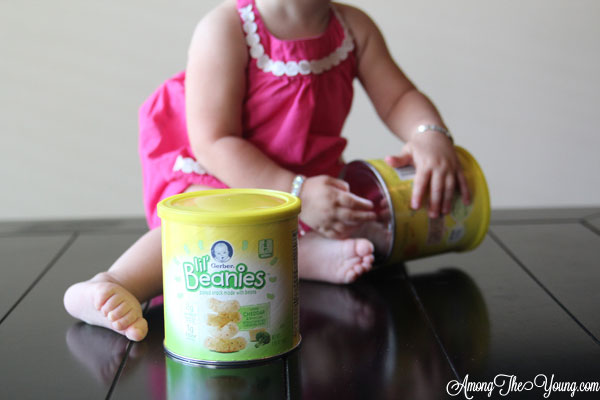 However, now that we are going full swing with solids for baby, my brain can't balance the 5 year old's meal while blending, mashing, and cutting into ridiculous little squares for a babe. (If you've seen any of my Snaps or Insta-stories, you know that this girl can POUND food and she gets mad when it's not handed to her QUICKLY. It's pretty hilarious.)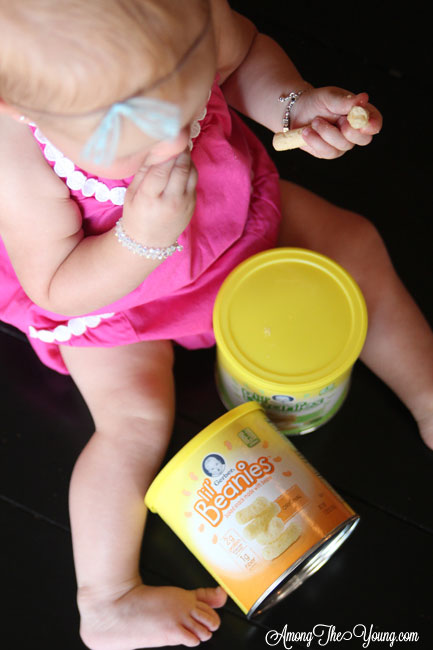 Intro Gerber Lil Beanies. This new baked snack is made with the goodness of navy beans. There are 2g of protein and 1g of fiber in every serving, which helps my control freak heart know that both of my kids are getting a delicious and nutritious lunch at the same time.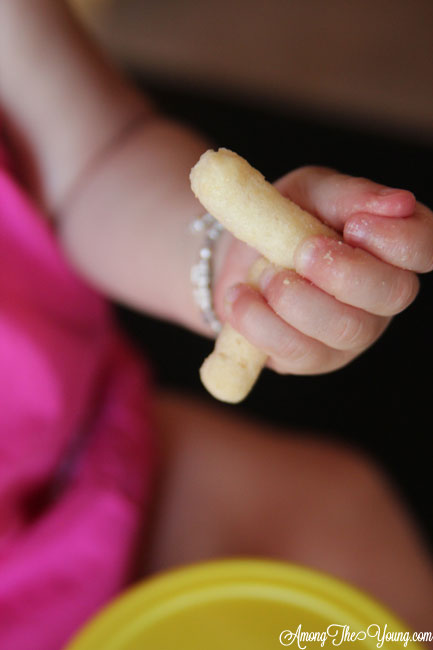 I found these little golden gems when I was at Target (praises be to Target, right?). I came for one thing (it was Bordeaux's butt paste if you must know!) and as I was perusing the baby aisles I was intrigued by these Gerber Lil Beanies. (Spoiler alert: Coupon here. You're welcome)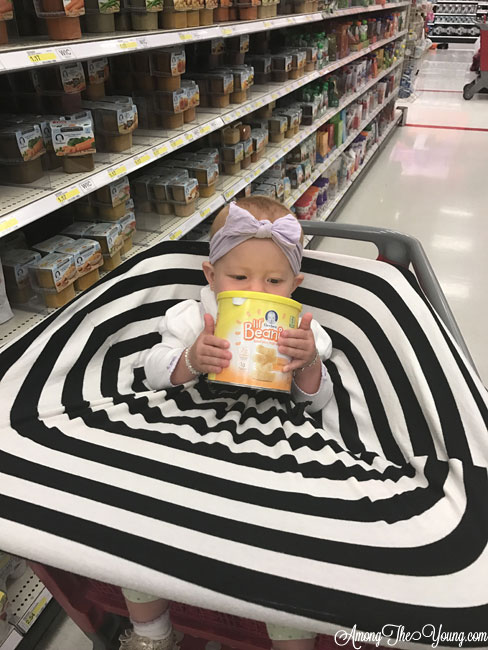 (I don't know why this needs to be "downloaded" but it's worth it. Trust me.)
I was skeptical, but tried to hide it. I came home with these Gerber Lil Beanies and started calling them "Baby Cheeto's." That got the 5 year old's attention! And, of course, if someone else is eating something, baby wants it too. LIL BEANIES SUCCESS!! (I consider myself a food guru in case you were wondering.) I had to hold both of them back – the 5 year old wanted more (I kept explaining, "It's BABY food and we need to save it for the BABY.") and the baby couldn't get it into her mouth fast enough (as seen from the picture below … SLOW DOWN TURBO!).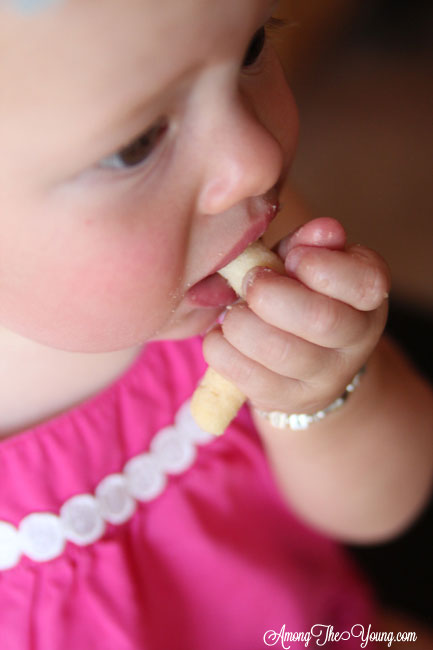 I was brave and tried them. Think Pirate's Booty and you're pretty spot on. I prefer the Original Lil Beanies flavor myself, but I'm not too picky about my baby Cheetos.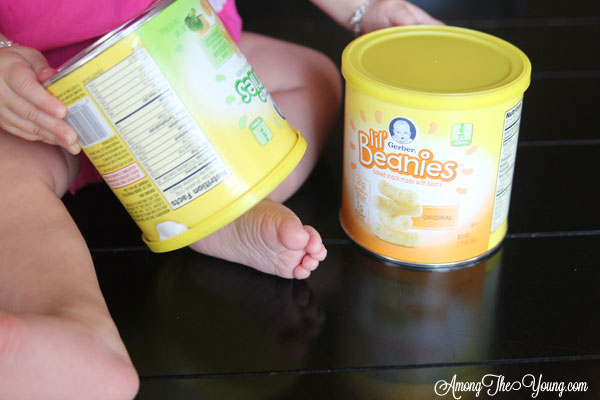 Guys. Do yourself (and the control freak inside of you) a favor. Make a box of Macaroni and cheese (no guilt, right?), share some of it with you kid. Load up their plate with apples, salami, string cheese, peas, and carrots because heaven knows there's no more Mac and cheese…mom ate it all. Head to your local Target and try Lil Beanies for yourself. Best news yet? I have a coupon for you!! BOOM SHAKKA LAKKA!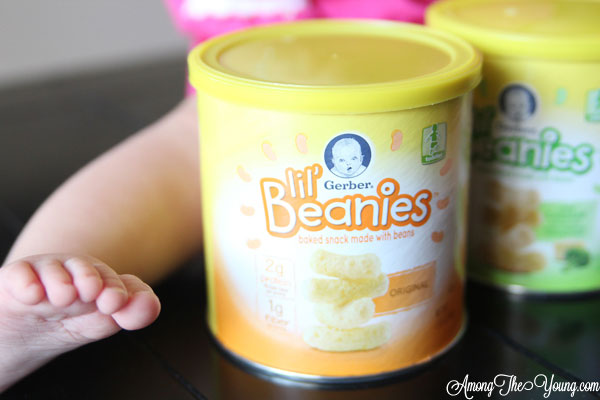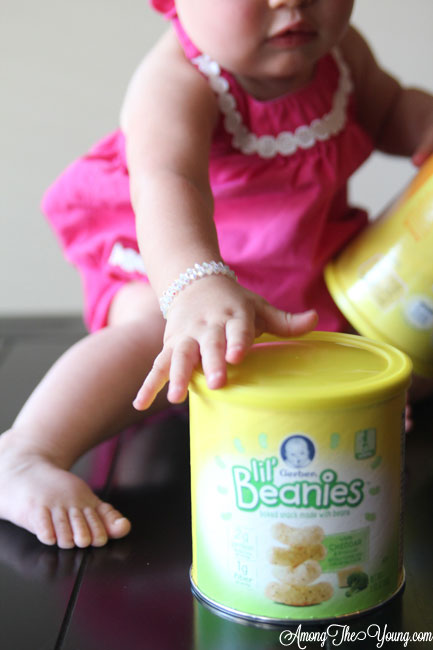 You wanna know the absolute BEST part about Gerber Lil Beanies? They're totally shareable and go with everything – especially neon orange Macaroni and Cheese. (FYI: those Lil Beanies were shared by the baby but eaten by the 5 year old.) Snag some. Be brave – EAT IT. Let me know what you think and don't forget the coupon!