There are several reasons I love this Girl on Fire shirt: Let me 'splain (Classic Princess Bride quote)
1. The Alicia Keys song: Girl on Fire. This so is SO powerful. It reminds me to be confident, to be awesome, and to just be…. on fire!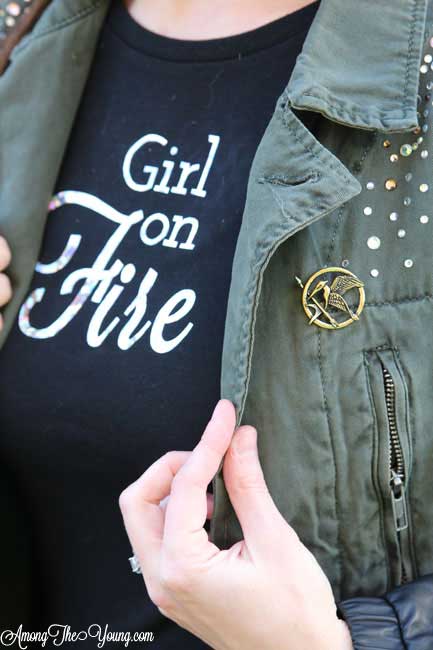 2. When I think of the phrase, "Girl on Fire" I immediately think of the Shakespeare quote, "Though she be but little, she is FIERCE." Yes, it's plastered everywhere and overdone, but I LOVE it. And obviously other people love it too. Again, for me it goes back to feeling strong, confident, and basically unstoppable.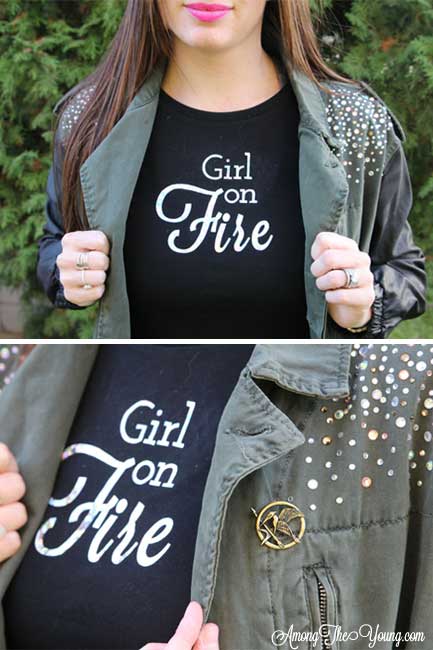 3. The most obvious of them all: The Hunger Games. Freak. Katniss is a Bad A. Sure, she has her moments of angst and teenage drama, but overall she's pretty awesome. She kicks butt. She makes things happen. She means business. Again, confidence. Power. Get it done.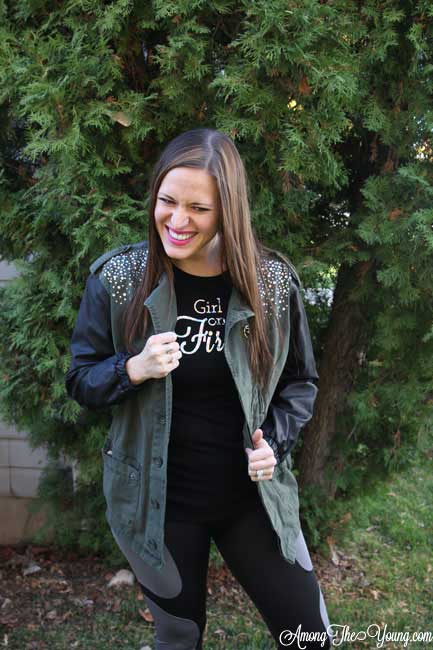 There have been times in my life when I've felt out of control and these three things (song, quote, and movie) have kept me going. I would sing the song when I was feeling a little taken advantage of, and then I'd be like, "Oh yeah, I'm awesome and don't have to put up with this!" I'd wear my necklace with the Shakespeare quote and literally feel fierce. I'd wanted to make a Katniss shirt but had never gotten around to it. Time to make time for that stuff.
Overall, this shirt completes my trifecta of awesome-ness. Sing the song. Wear the necklace. Wear the shirt. All at the same time? My world might get rocked – in a good way.
I'm a little bummed that the awesome vinyl didn't really show up in pictures. I wanted it to look like FIRE….get it… girl on fire? I'm awesome like that. It's holographic, so in person it looks pretty epic. Expressions Vinyl has the BEST vinyl around and it cut PERFECTLY! I finally figured this vinyl out – if you own the Cricut Explore, set your dial to "light cardstock" or "light cardstock +" and you'll get the perfect cut on this vinyl.
And BY THE WAY, there's a pretty awesome prize package of Hunger Games goodies…you should definitely check this stuff out. Seriously? I want to win – let my inner Hunger Games nerd shine!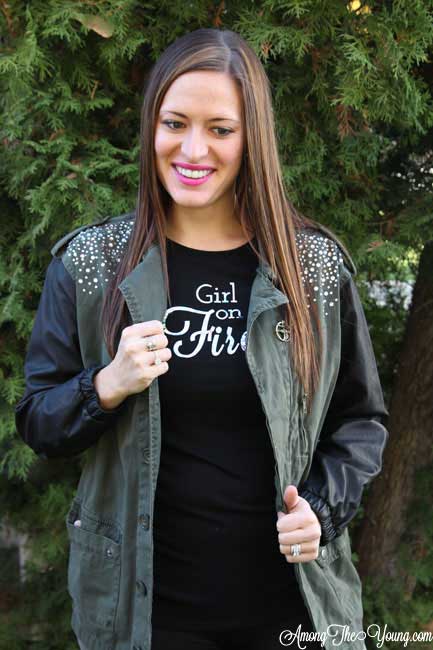 The prize pack includes:
25$ Amazon Gift Card
I Shop the Hob Tote
Mellark Bakery Apron
Mockingjay Christmas Ornament from Pieces by Polly
Winner's Choice of any pattern from Paisely Roots Designs
Hunger Games Shirt
Dandelion Hunger Games Quote Embroidery Hoop by Funky Polkadot Giraffe
Katniss Doodle Brooch by Flavor Pink
And some more surprise goodies!