Easter is just around the corner … actually I lie – why the F is Easter at so late in the month this year? Anyway, Easter means too many delicious candies are out and for the taking. My personal favorite is the Reeses egg. YUM. But for some reason people LOVE Peeps. Can anyone explain this to me? Thus, the Peeps printable was born.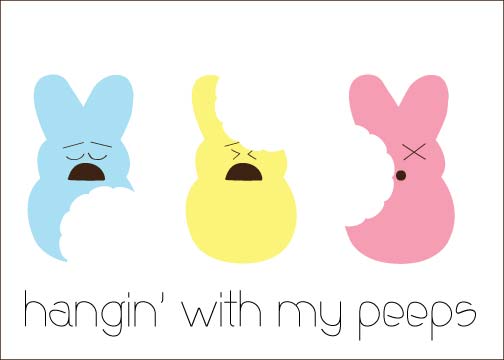 My good friend Ashlee says, "I still can't believe you don't like Peeps – what's not to love about marshmallows covered in sugar and in adorable shapes and colors?"
My thoughts? I really don't understand how a fake marshmallow, rolled in neon sugar, and plastered with fake facial features can be delicious.
Growing up, my mom would collect and HOARD Peeps like it was her job. She'd wait for them to be ROCK hard and then devour them in secret. Maybe that's where my dislike for them comes?
Or it could be the fact that they're disgusting….?
Either way. Peeps printable win. NO – I won't / can't ever put one in my mouth, but I LOVED the morbidity of them being eaten as they "hang out." Such a sad way to die.
Do you have a favorite Easter candy? Don't tell me it's Peeps…. We might not be friends anymore. Ok ok, but for reals – what's your go-to candy this time of year?
Get the 5×7 printable HERE. Happy April and Happy Easter!