I told you – I'm obsessed with this glitter vinyl from Expressions Vinyl and I MEANT it! I just can't get over all the cute colors of glitter they have – so in love. You should definitely check it out because I am pretty sure your mind will be blown. Ready, go.
Since we call our little one "Tab" I have always wanted to make her a "TAB" shirt … as in the Cola TAB. Anyone??? Come on guys, I'm NOT that old (late 20's!) and I remember what this pop is. How is it that some people don't know what TAB cola is? It was a popular drink in the 80's. Handsome even said you could even buy it at our high school in some of the select vending machines. Who knew? I actually think it is kind of nasty, but to each their own.
Anyway, the saying "Tab's Got Sass" rings true for our little T as well. She's got some serious pizzazz. I had wanted to do a screen print shirt and have come pretty close to having one custom made several times, but I've never gone through with it.
Intro glitter vinyl…. YES!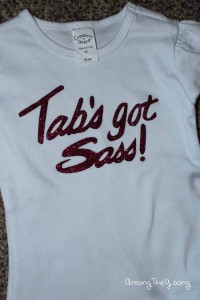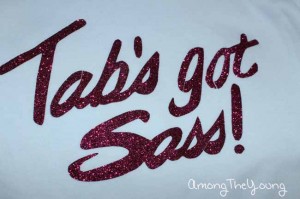 It would've been SOOOOO much easier to cut this out using my beloved Cricut, but, being the over-achiever that I am, I had to make life difficult and use the actual slogan (which was a serious pain in the rear to find). Nevertheless, I persevered and cut the blasted saying out by hand. Thus, the imperfections are obvious, but I don't care. The glitter vinyl hides a lot of my mistakes, and unless you know where you're looking (or you're super critical like me) you can't see where it connects.
Honestly. Look at how stinking cute!! Again with the modeling pose – I've gotta hook this girl up with some of my fashion blogging friends – she's got some fashion skills. (Cue everyone saying, "I wonder where she gets it…" har har har. Hilarious.)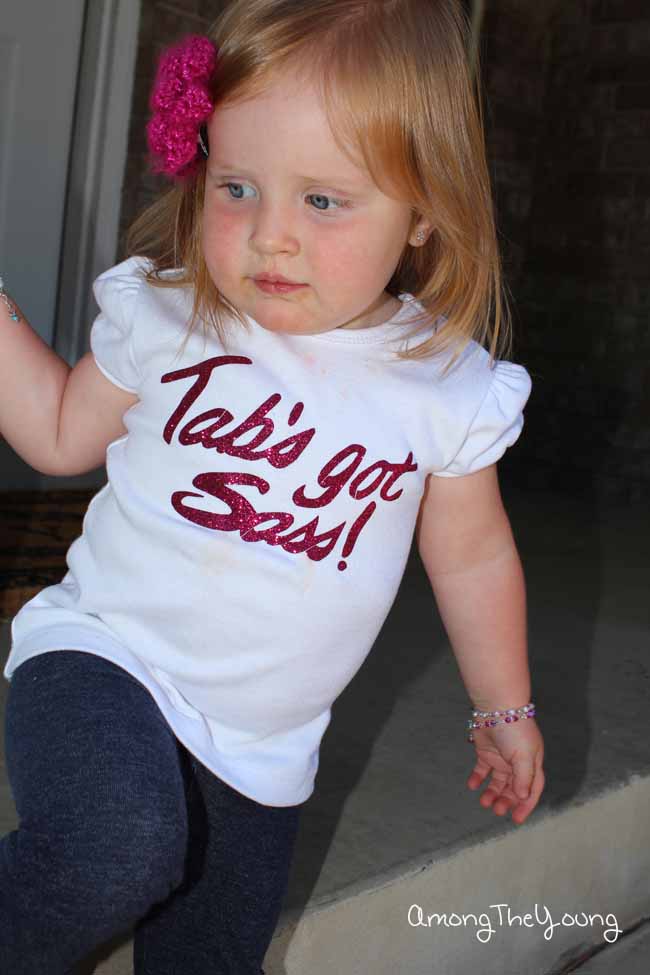 These don't show her shirt off very well, but I couldn't resist that face. Smiling and everything.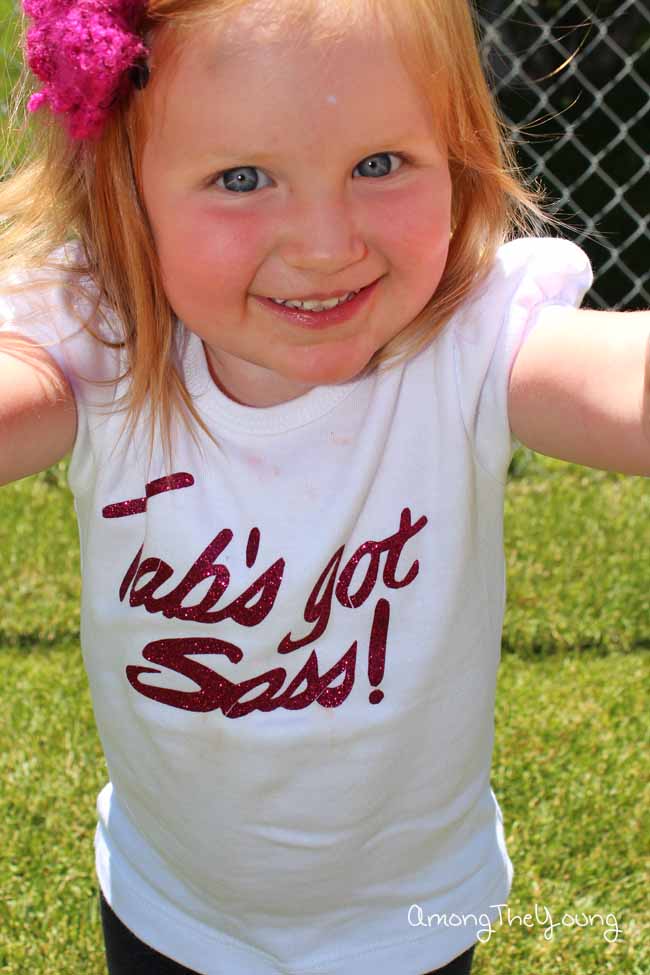 She's in this phase where she loves to pull out grass and throw it everywhere or place it on me. Silly Tab.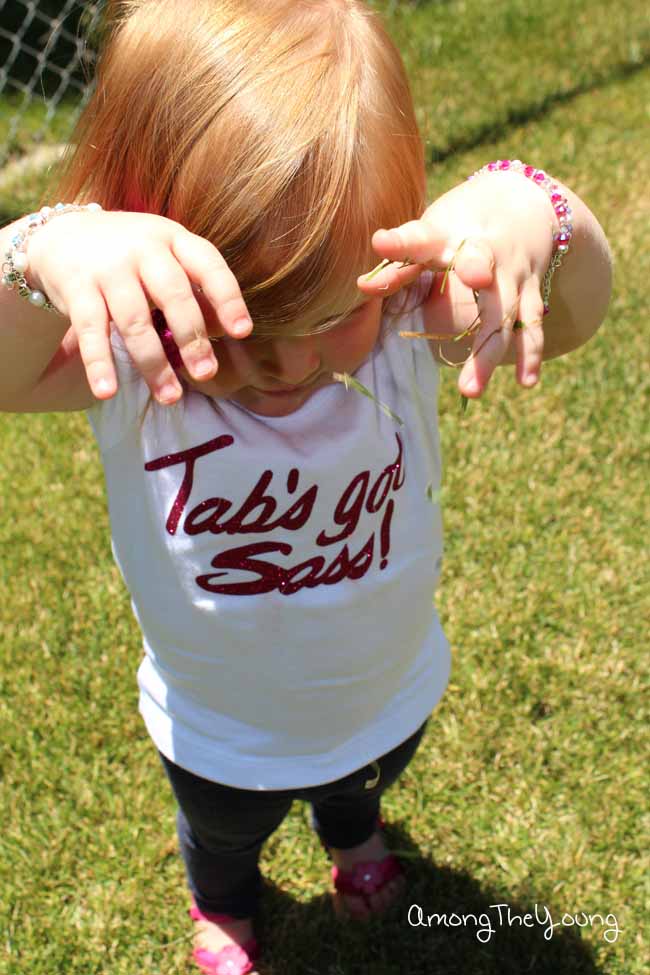 And again with the running. The child never stops, but we love her. Bless people who take pictures of toddlers for a living – it is a serious challenge!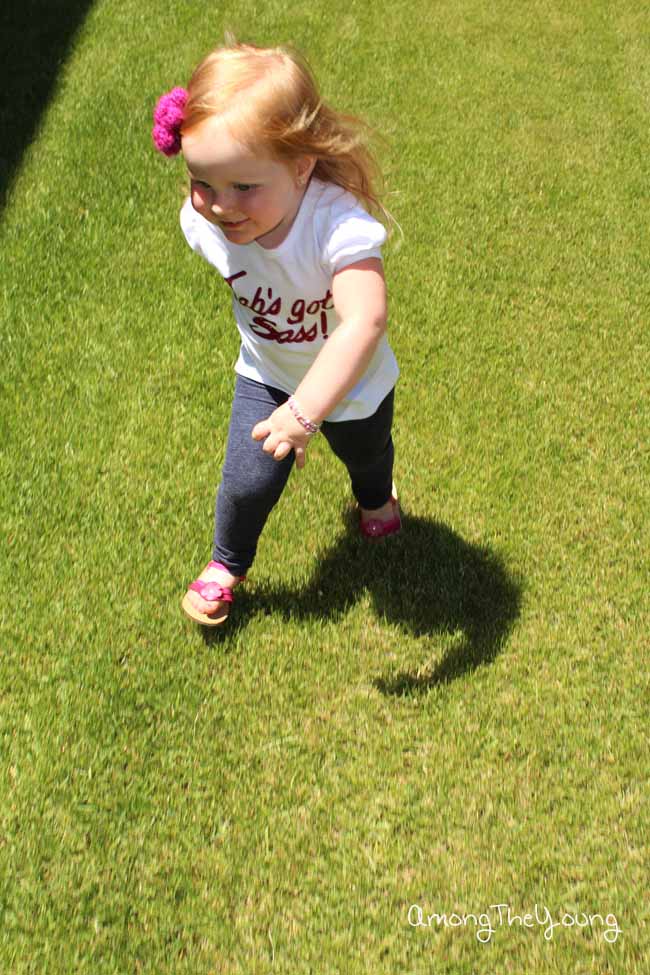 Dear Tab, you've definitely got way more sass than your little body can handle – stay strong my little babe. You're awesome.