I've never been a huge meat lover, especially roast, but this batch from Jones Creek Beef is SO DANG YUMMERS. I had never heard of JCB before and I was excited to try this Jones Creek Beef chuck roast.

Growing up, whenever I heard we were having Sunday roast I was not happy. It was always SO fatty and SO disgusting. (Love you mom, but blech!) I was curious and hopeful …. maybe this meat would be more flavorful and less fatty than a typical roast because it's 100% grass fed. That makes for happier cows and tastier meat, right? Right.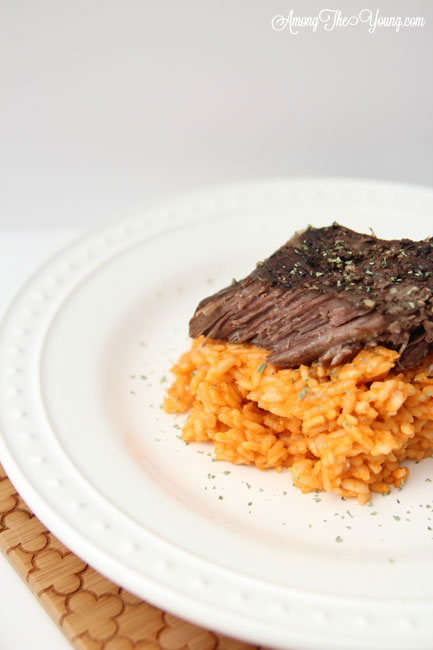 We were NOT disappointed. I told the husband he was on meat detail because I'm a total meat head … see what I did there? No, but for reals, I'm an idiot when it comes to meat. Luckily, this recipe is easy enough for ME to pull off and the slow cooker saved our butts.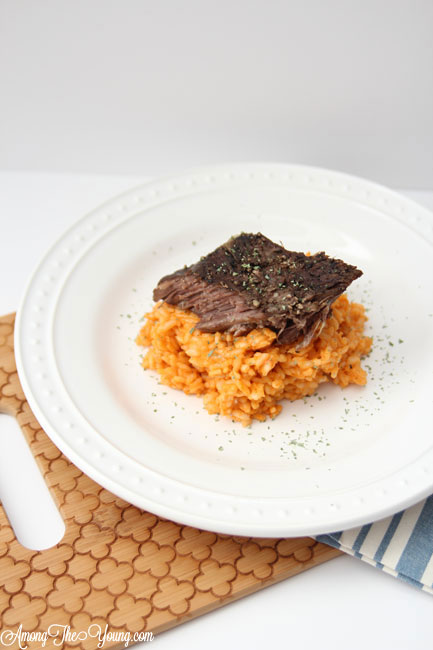 Plus, this risotto? TO DIE FOR.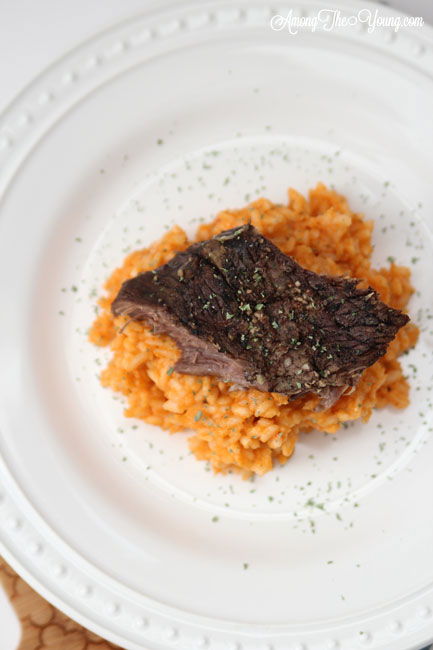 So my husband is cursed. Let me explain: Whenever we go to a restaurant he always finds something on the menu that is SO perfect for him and unique to that specific place. The next time we go back, the dish has been removed from the menu. No joke – it's happened SEVERAL times. First it was Cheesecake Factory (ode to the Crispy Beef!) and then it was Carrabba's (Beef risotto).
center>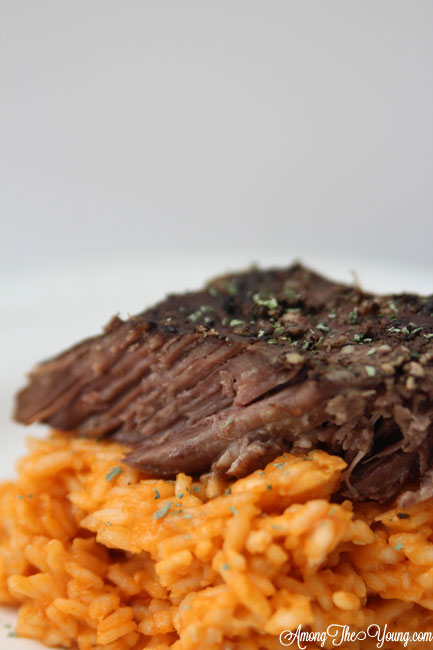 Thus, our mission was to recreate this amazing beef risotto – the meat was fall-apart-amazing and the risotto was sublte, but creamy and garlicy. In my opinion, we nailed it.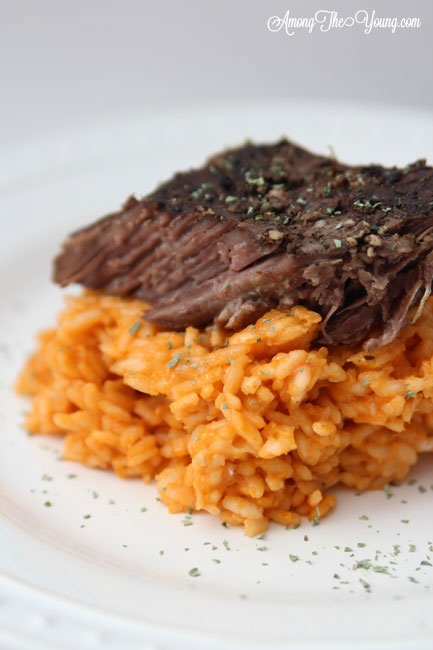 What's better for dinner than a creamy rosa sauce topped with melty Jones creek beef chuck roast? Enjoy babes! YUMMMM!!
*Note to self: Do not put the slow cooker out to cook in the morning and try to work out in the evening. It's torture!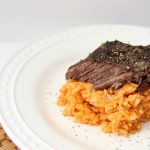 Rosa Risotto Jones Creek
Ingredients
Risotto
1

small onion

diced

3

TB

olive oil

1/2

cup

alfredo sauce

1/2

cup

tomato sauce

I used Prego

1

46 oz can chicken broth

1

box

17.6 oz risotto rice

3

oz

pamesan cheese

salt

pepper
Beef Chuck Roast
2

lbs

Jones Creek Beef Chuck Roast

3

strips thick cut bacon

1

TB

minced garlic

2-3

tsp

salt

2-3

tsp

pepper

half an onion

chopped

parsley to garnish

optional
Instructions
Risotto:
Saute chopped ontion in olive oil until tender.

Add both sauces and stir until combined.

Add rice; stir until coated evenly.

Add 1/3 cup of the chicken broth and maintain a slow boil.

Stir continuously.

When the broth absorbs completely, slowly add more, 1 cup at a time.

Stir in parmesan cheese salt, and pepper.

The rice is done when it's al dente (firm to bite) but tender.
Beef Chuck Roast:
Line bottom of the slow cooker with bacon

Sprinkle garlic

Place roast on top

Coat in salt and pepper

Top with onion

Cook on low for 6-8 hours

(If your slow cooker has a "simmer option do hours 7 and 8 on simmer)