GUYS. After MONTHS and MONTHS of waiting, the kitchen is FINALLY done! Bring on the full kitchen reveal!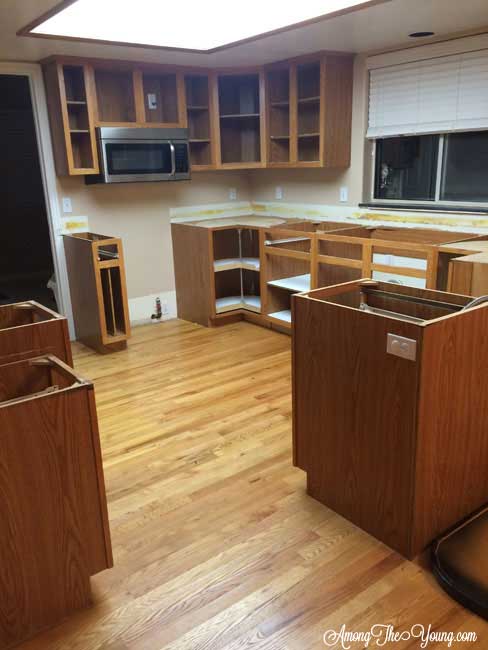 FACT: Back when I was married (in 2007) I wanted a white kitchen (before it was COOL and before Pinterest existed).
FACT: Never, in a million years, would I think that I would get my white kitchen in this current house.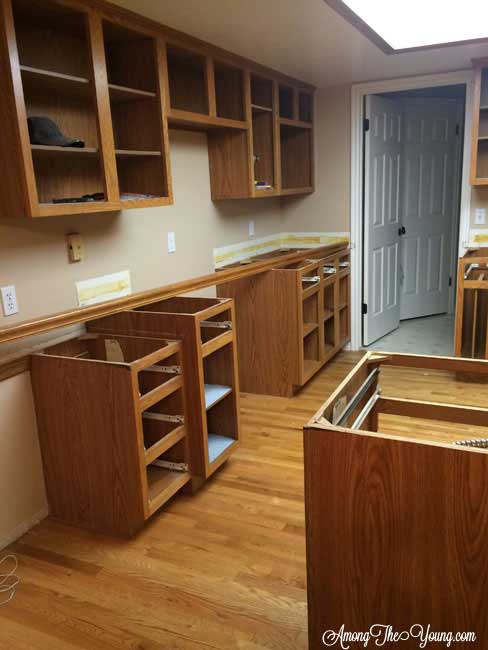 I know how much work or money goes into re-doing a kitchen. It adds up quick. I had fully accepted that and was happy with my oak-ey yellow kitchen. My dishwasher had other plans. About a month before I was due with Rainbow baby B, the dishwasher flooded. It wouldn't have been so bad, but we had been upstairs getting T ready for bed and then read our scriptures. We came downstairs to several inches of water. AGH!
We mopped up what we could, but in the midst of this our basement walls were bubbling – full of water. Have you ever popped a huge ceiling zit full of dishwasher water? BLECH. Super nasty.
(This was a very stressful time for the cat. Everything was changing, people were in and out of the house, and there were lots of loud noises. Poor thing almost pulled all of her fur out. No exaggerations.)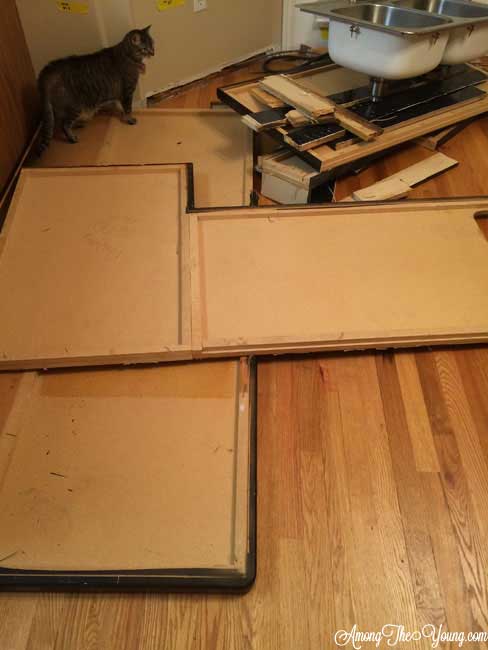 After waiting a few days for everything to "dry out" we decided to have the professionals take a look to check for mold and permanent damage. Wouldn't you know it? We had both. Lucky us.
In that instant we went from saving to re-do our kitchen "someday" to a mandatory revamp NOW. We had always planned on doing our cabinets by ourselves – you know, DIY style, but being 8 months pregnant and winter time? That wasn't going to happen. We hired out. BOOM.
The tricky part was the wood floor guy was booked out until December. Baby was due early November. It was bound to be a rad couple of months. The saddest part for me was being out of my kitchen for the holidays – no baking. It really was tragic.
The new wood floor came and had to be "acclimated" to our house – I had no idea wood was such a fickle thing but it totally makes sense.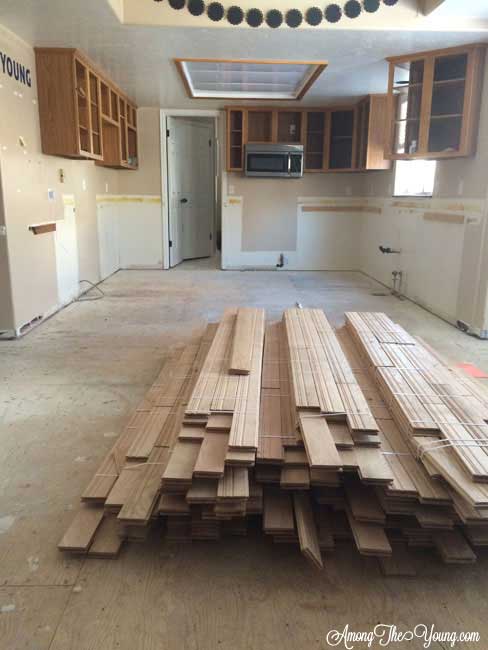 PROGRESS!!! We chose a dark (but not the darkest) wood stain. It was so fun to see the dark wood against the white banisters and kitchen cabinets.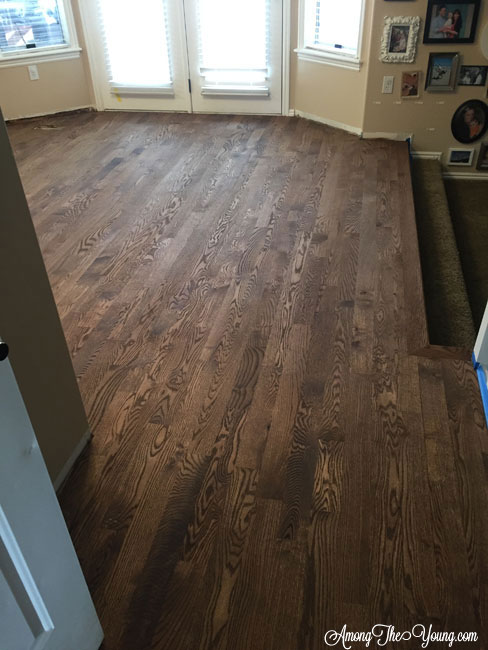 When they brought the cabinets back in I was dying. SO HAPPY.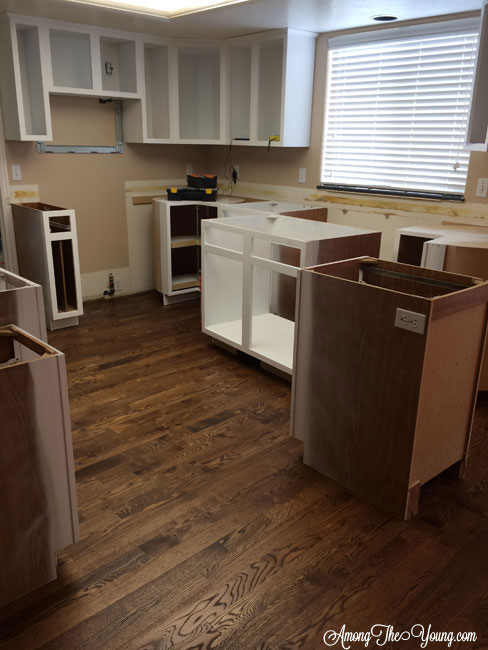 Set backs happen. It's annoying, but it's life. We found the sink we wanted online – white granite, two compartments, and gorgeous. When it showed up at our house it was cracked down the middle. FAIL. The company sent us a new one. Same thing – it was cracked right down the middle. We were waiting on this dang sink to finish up! We couldn't put the granite on until the sink was IN!
Luckily our cabinet man pulled some strings and randomly found the EXACT sink we wanted for a similar price and it wasn't broken. On Christmas Eve we had running water, a sink, and counter tops. It was (no joke) a Christmas miracle.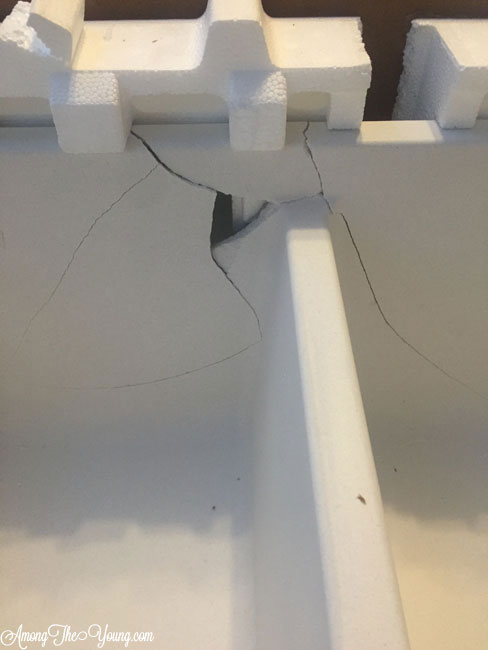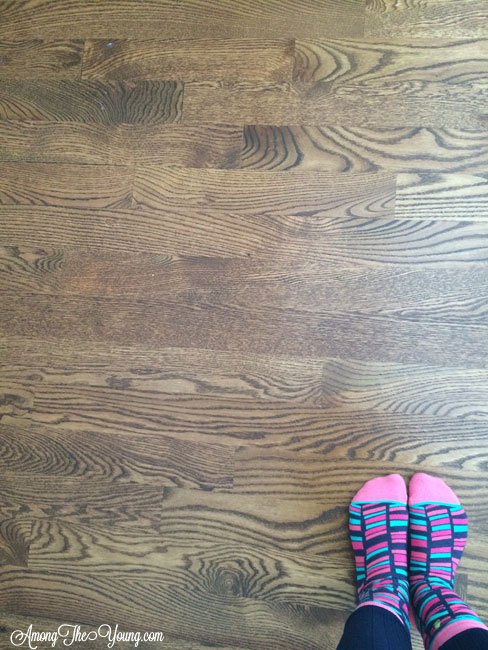 The finished product is absolute perfection. Seriously, I am in LOVE. Plus, that faucet? It may be my favorite part of the kitchen. It's touch activated – who knew I could love a sink faucet so much??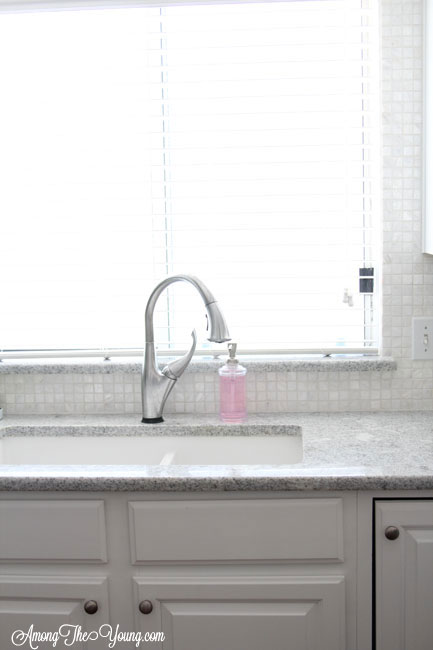 We found our backsplash tile at Subway Tile Outlet. I LOVED everything they had. It was such a hard decision. We bought a small sample of one and they sent us several samples – "if you liked THIS, then you'll love THIS" kind of a feel. Go figure – they were right. I had my eye on one style of back splash, and ended up choosing one of the samples they randomly sent us. It's called Mother of Pearl tiles and it is STUNNING.
(super close up, but my camera doesn't do it justice!)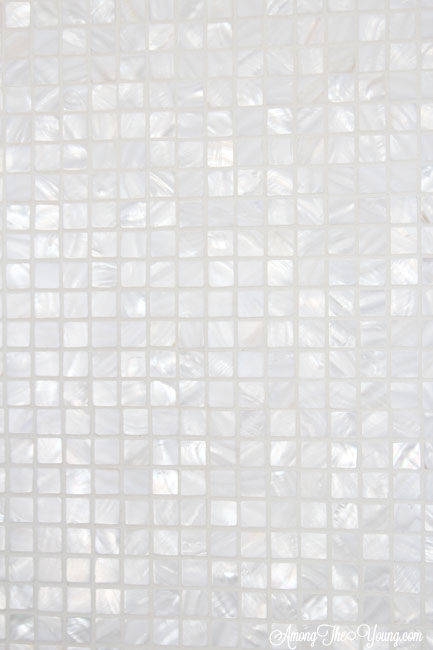 Seriously though – I can't say enough about Subway Tile Outlet – they were amazing to us! Their customer service is superb and I always knew I was in good hands. I would HIGHLY recommend them to anyone buying gorgeous tiles.
The bead board is another touch that I simply adore. We've since added several white barstools and I wonder why I hadn't put chairs there before. Duh, right?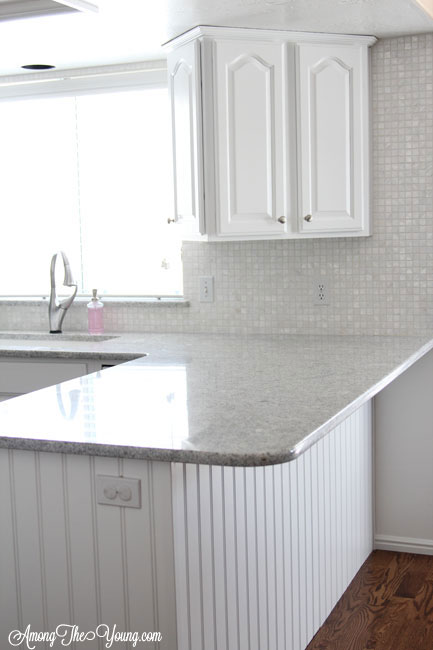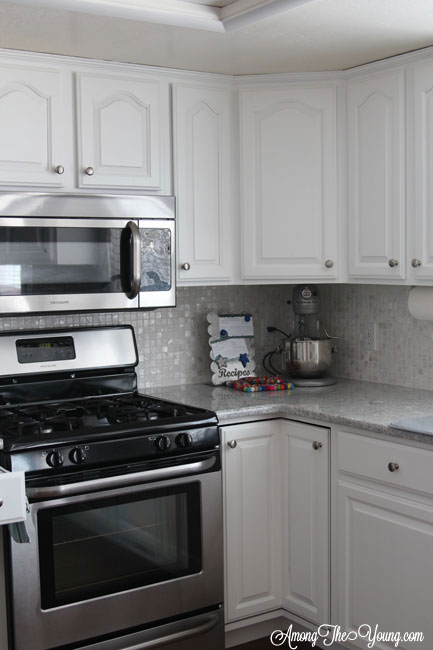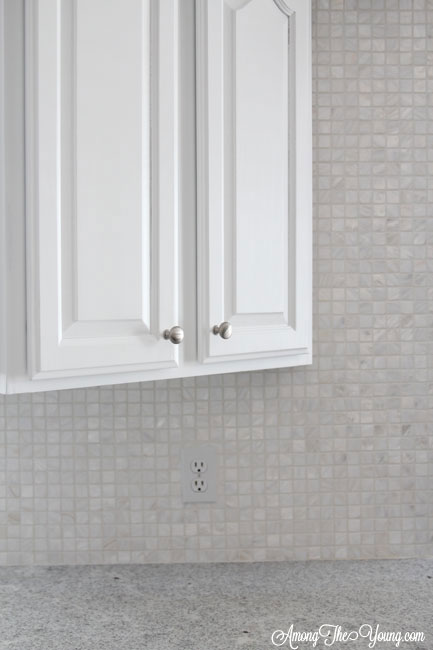 I searched far and wide for a cute silver recipe holder and found the perfect fit on Etsy.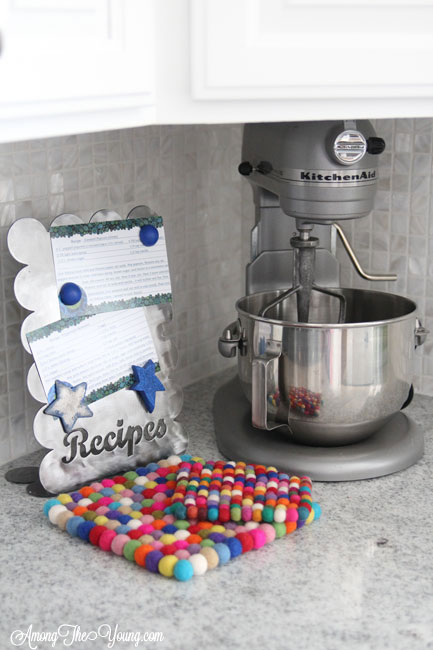 We might have a few Torani syrups…. I blame World Market for that addiction! Plus the back splash! SO SPARKLY!!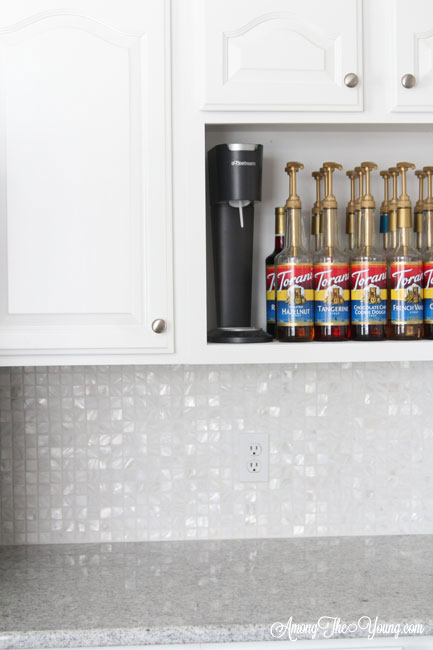 I found these amazing magnetic spice jars at World Market forever ago. I knew I wanted them, but I never knew how to make them work. Oh man – I was so excited to buy those! I added some Expressions vinyl silver letters and VOILA! Organization!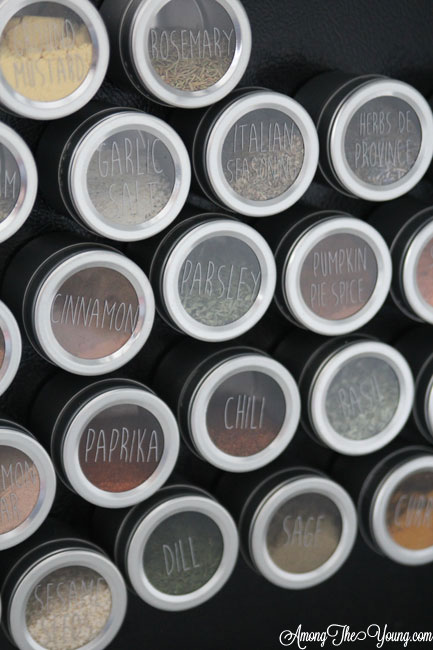 I knew I wanted a GIGANTIC calendar. In my old kitchen we'd had one that was 12×12 and it was TOO SMALL. It drove me crazy actually. I found a few ideas on Pinterest, but this one stayed with me. It's a piece of glass mounted into the wall (and into the tiles and grout) with small silver knobs. The vinyl application was kind of a pain… luckily I had Handsome's help and Expressions Vinyl fast shipping for when I needed extra!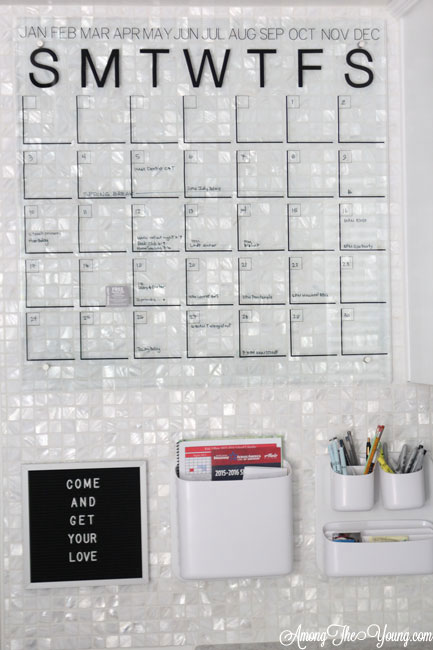 The Letterfolk and wall organization make me so happy I can barely stand it. My inner "Monica" is so proud.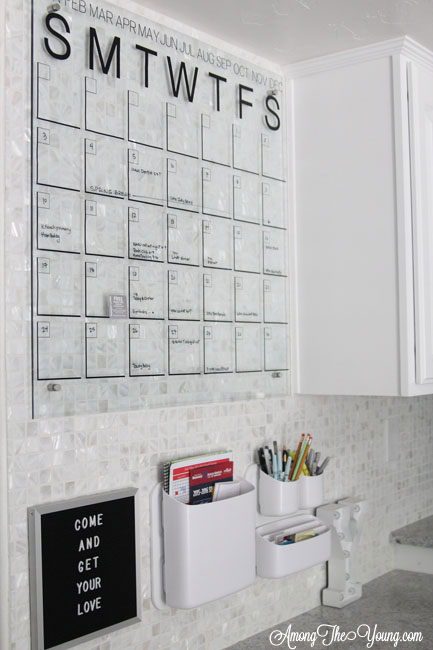 Here is my best attempt to get the entire kitchen in the frame – I'm in love. I'm totally kicking myself because I never took any really good "before" pictures. Just imagine the ugliest yellow oak on the cabinets and floor. Add a black counter top and the place felt small and dark.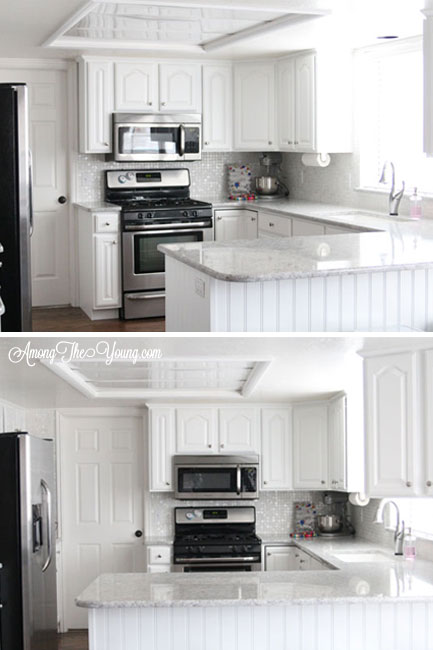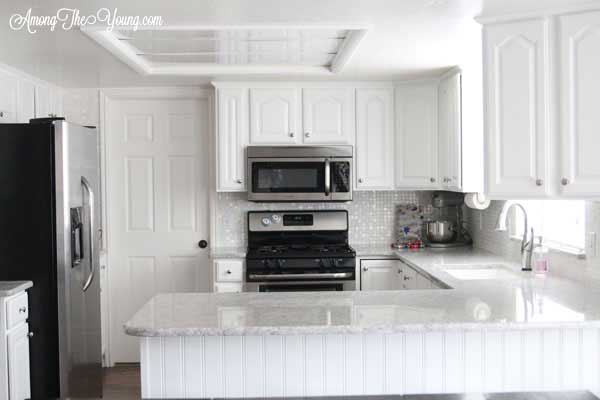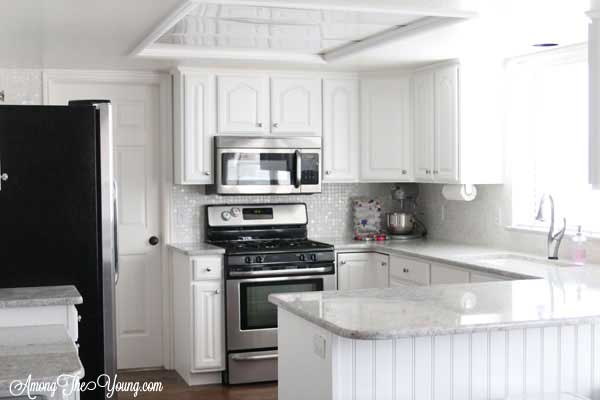 I love spending time in the kitchen, but now I love it even more. It was SUCH a long couple of months – eating microwave foods only, working around a newborn feeding schedule and letting random workers in – but it's amazing how quickly I forgot about all that.
Hope you loved my kitchen reveal – now I need to start making videos in there. Am I right? *yikes* (Also, my amazing kitchen was featured on an interactive by Shutterfly! How cool, right? Check it out!!)