*This post may contain affiliate links to support my cookie/ donut / all-things-pastry eating habits*
Top Utah lifestyle blog, Among the Young, features this "Mama con Leche" shirt. It's a must for any woman who is lactating. Get the free cut file here!!
I did not come up with this saying "Mama con leche" – but I ran with it.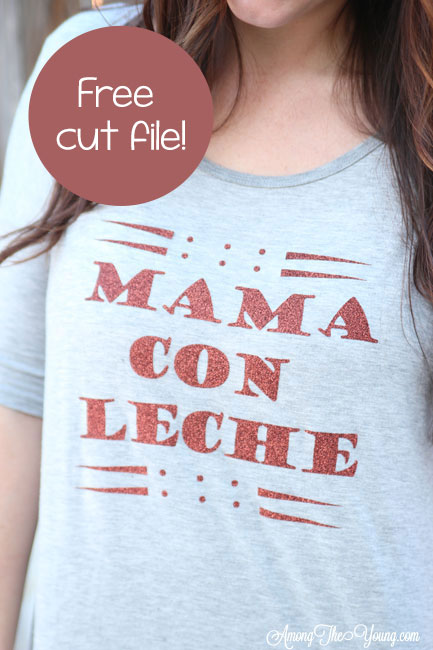 CLICK HERE TO GET THE FREE DESIGN! This will work if you have a Cricut Design space account. If not, please scroll down to get the free image to load into your program of choice.
DIY vinyl shirt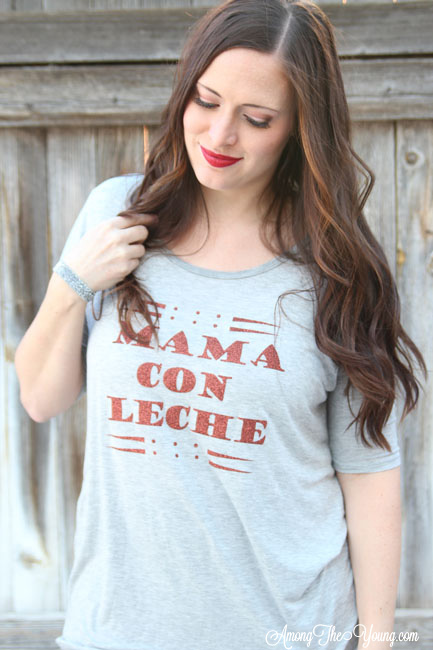 With my first child, I breastfed for an entire year and I didn't fully understand how freaking awesome that is. I realize that it was a TON of work and I was basically attached to that baby by the hip, but I didn't appreciate my body for what it was doing. Um…hi? I'm sustaining life? How crazy cool is that?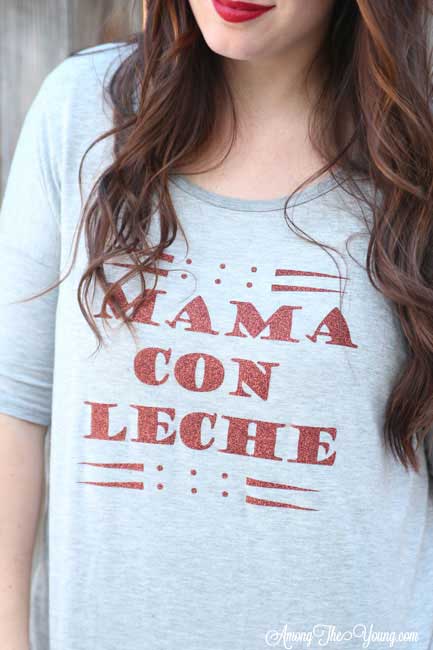 I mean, first the body grows a baby, all the while feeding, nurturing, and then after the birth, the female body continues to help a baby grow. My small brain boggles at how incredible that truly is.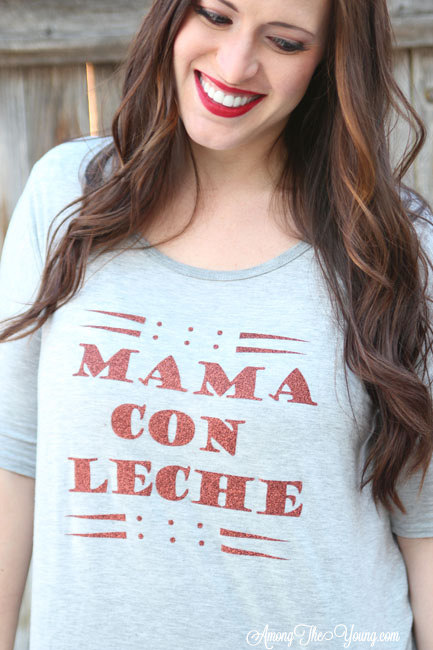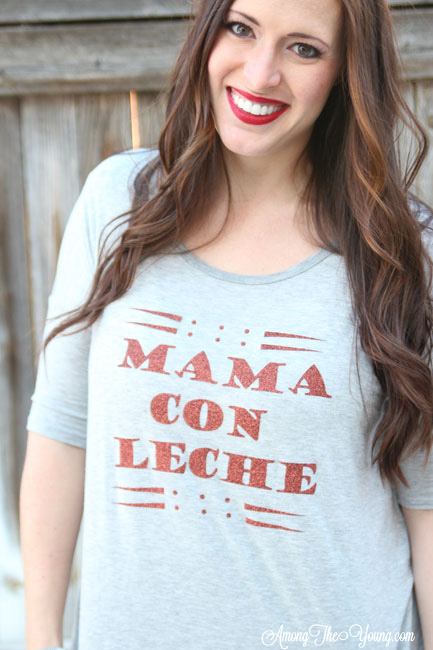 Needless to say, with this pregnancy I am much more "girl power" or even "boob power." So when I heard the phrase Mama con leche I fell in love hard, because that's what I am. A mama with ALL the milk. Hear me roar.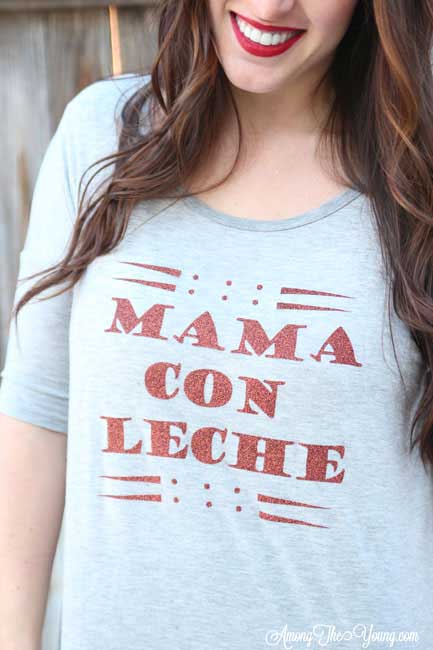 Of course I used Expressions Vinyl for the lettering, my Cricut machine cut said letters out, and an Agnes and Dora tunic (because they are the best).
Free cut file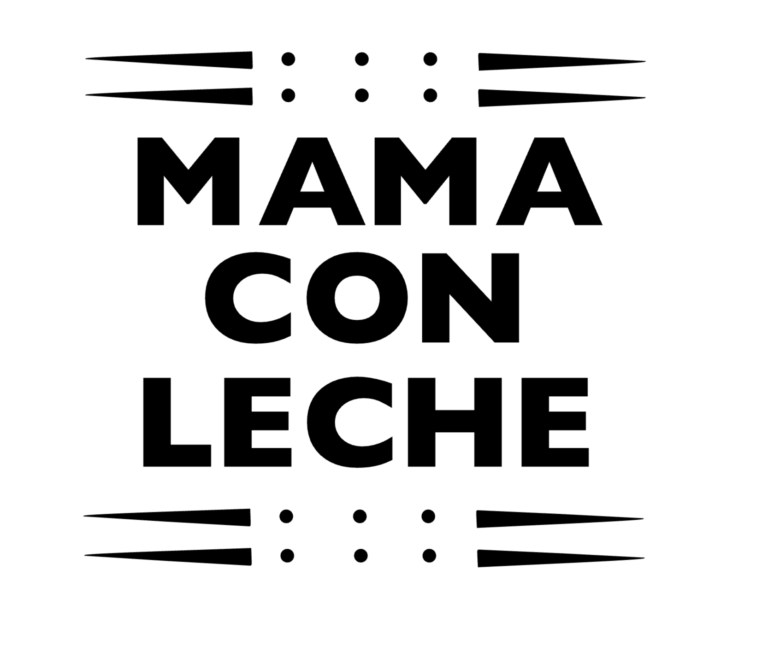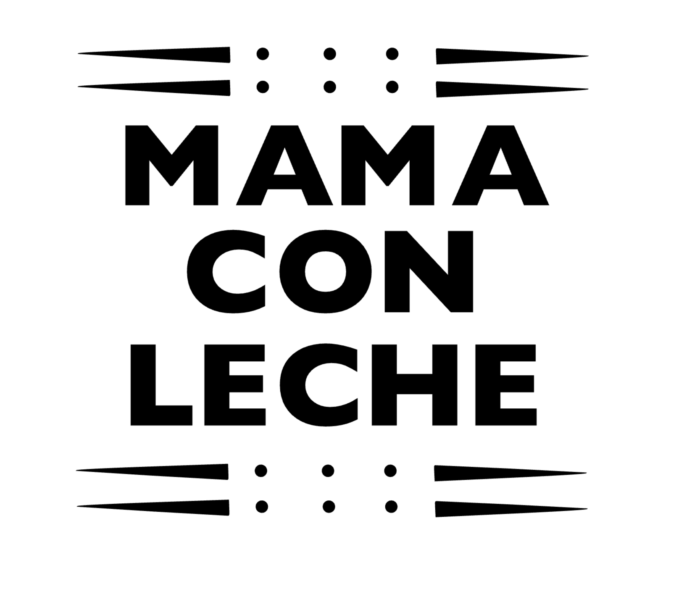 CLICK HERE TO GET THE FREE DESIGN!(on Cricut) Save the above image if you want to use it on another machine or program.)
This was my first time using this specific color of Expressions Vinyl iron on vinyl for Mama Con Leche. It is STUNNING. Pictures don't do it justice though. The copper is fabulous and SOOOO sparkly, which (of course) I love.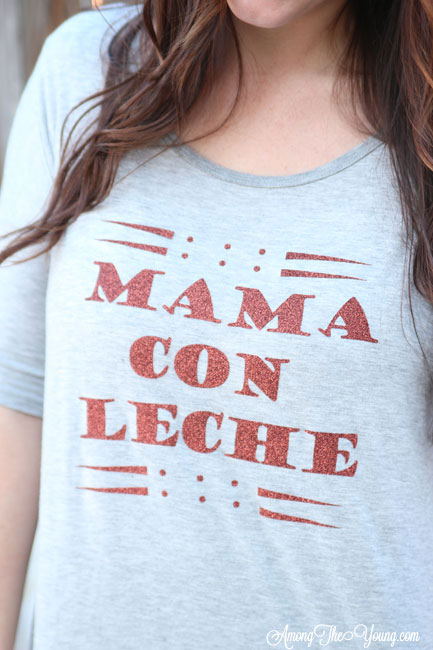 Once again, I must profess my love for making rad shirts. If you could make anything into an amazing shirt, what would it be and why? (haha – I totally just had a flashback to taking the ACT test. YIKES! None of that!)
If you'd like to create this yourself, I used a font that is no longer supported, so now it's Gil Sans (just in case you can't find it or it doesn't show up on your computer!) It would be WAAAAY EASIER to just use my free cut file. Save that image. Upload it into your program of choice. Boom.
I love this shirt so much and I hope you do too!
Would you wear this Mama Con Leche shirt?