*This shop has been compensated by Collective Bias, Inc. and its advertiser. This no bake fudge stripe dessert and all opinions are 100% my own. #TreatYourselfToSummer #CollectiveBias
Summer is here and it is HOT! I love me some heat – I say the hotter the better… except in the kitchen. That's why I dreamed up this no bake fudge stripe dessert –
it's layered with cookies, pudding, cream cheese, whipped cream, and Rice Krispies cereal.

Ok, here's my rant:
You go to a BBQ and there's always delicious FOOD and delicious FRUIT, but the dessert is usually some weird pudding mixture with mystery ingredients thrown in. I have ZERO patience for mystery desserts. (I also can't handle fruit and cookies in the same said MYSTERY dessert, but that's a different story all together!) I like to know what is is my food/desserts and I like to SEE it.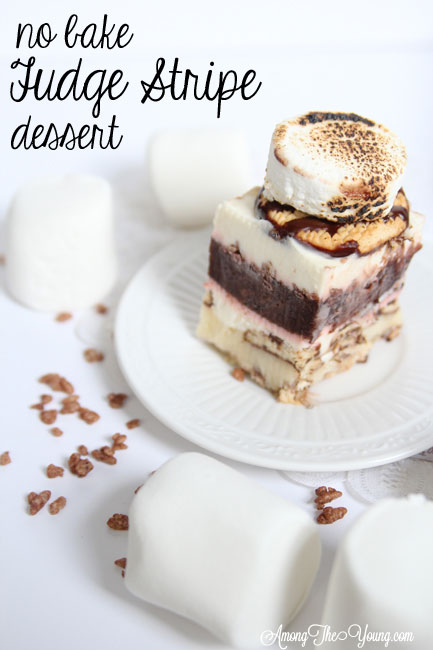 After yet another BBQ of mystery dessert d'jour I was done. I decided that there was NO way this could continue. No more biting into a dessert and wondering if you're about to eat a grape or marshmallow. YUCK. I wanted a dessert where I could see everything (thus, layers), with all things good (cookies, pudding, etc), and NO FRUIT because, I'm sorry, they don't mix. I know – I'm weird.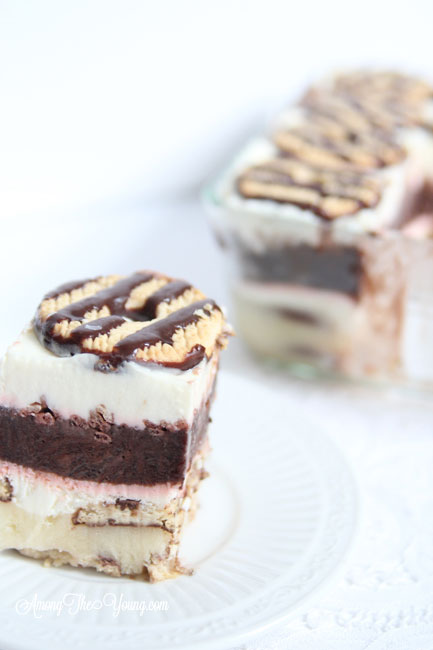 So we hit up our local Target to find some inspiration and these Fudge Stripes drew me in – they are one of the few cookies that are delicious no matter what you do to them. I love eating them as s'mores and I love baking with them – so why not try NOT baking with them? Bring it.
(This picture cracks me up because little girlfriend is so focused on delicious cookies she can't be bothered with the camera!)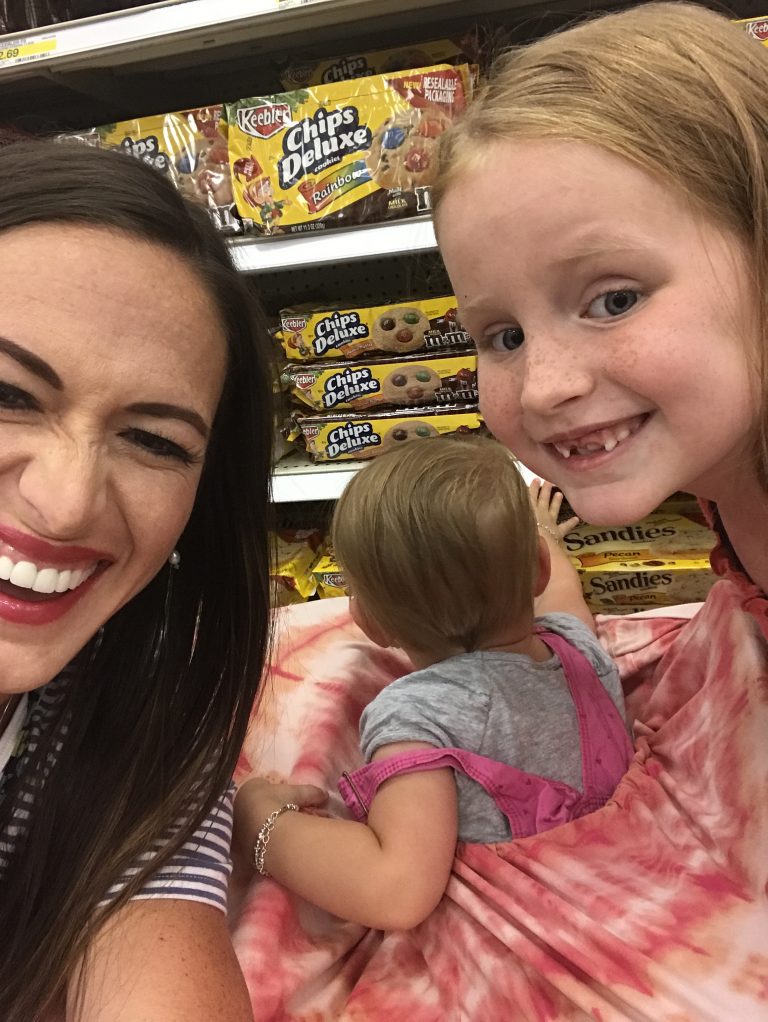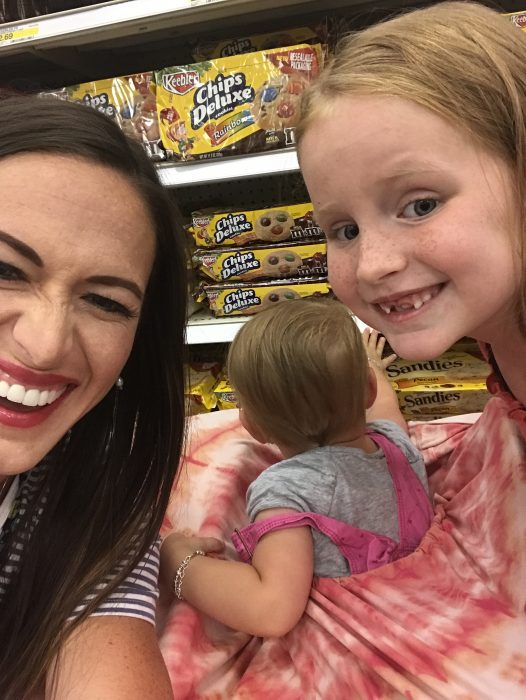 I also wanted to try adding in some cocoa Rice Krispies cereal. I had never eaten this (as a cereal) and I had always wanted to try it – what a perfect excuse to live out your childhood dreams, right?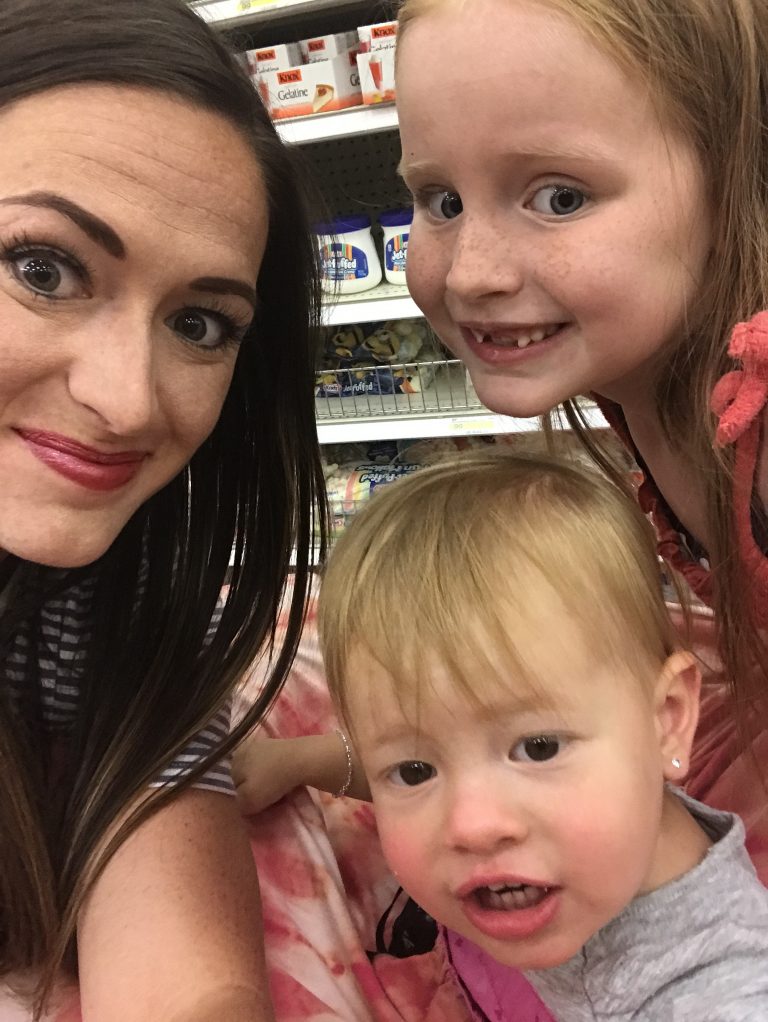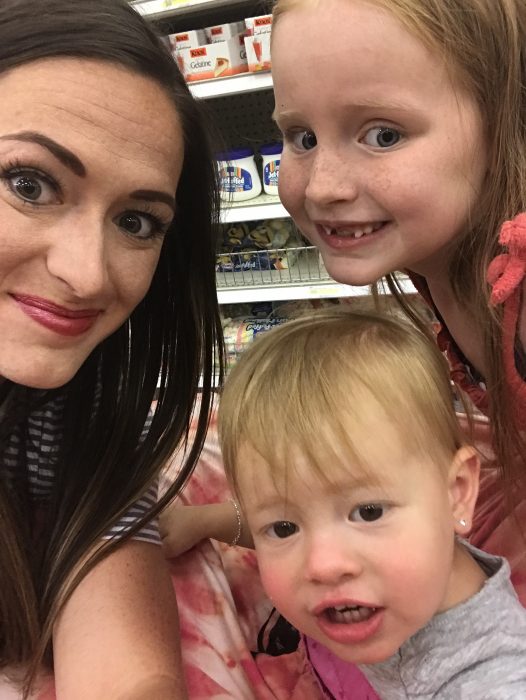 I might be biased, but I'm pretty sure I have the cutest helpers ever.
I've got some sweet deals for you – be sure to check out these great offers –
Offer valid: 5/21 – 7/8
Get $1 when you purchase Rice Krispies Cereal and Jet-Puffed Marshmallows
Offer valid: 5/18 – 7/12
And thus, the fun began. Layers of chocolate pudding, cheesecake pudding, cream cheese goodness, Fudge Stripe cookies, and Rice Krispies cereal were layered into this gorgeous no bake Fudge Stripe dessert and the result?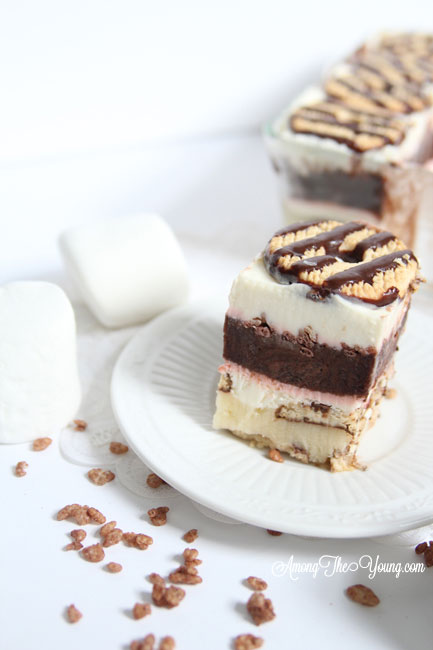 O.
M.
G.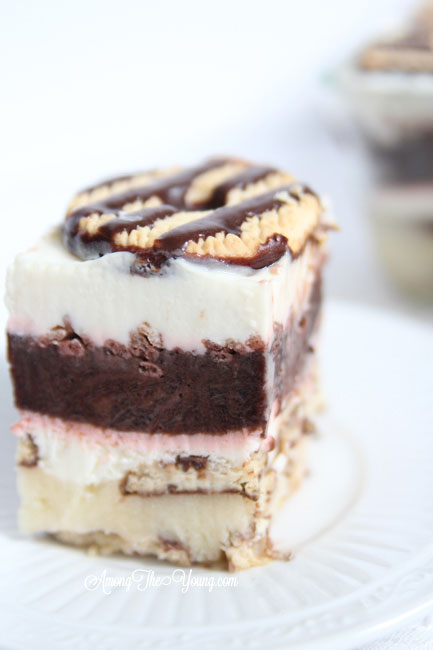 Guys, my BBQ life has forever been changed. I bit into this dessert and all the flavors are perfect together. It's not too sweet. It's no bake. It's easy. It's a real game changer.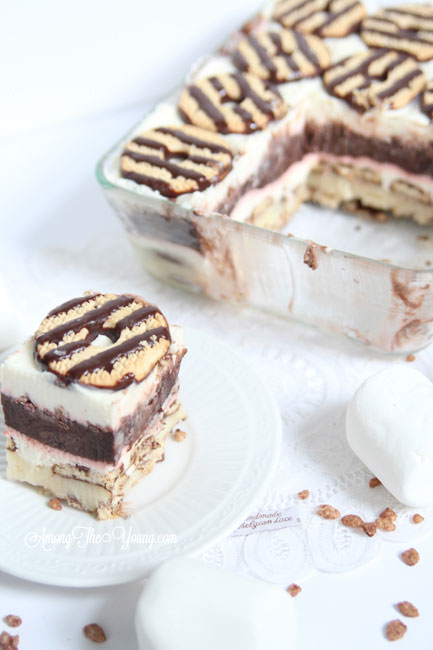 Trust me when I say this is my new BBQ staple. I can't say it enough, this Fudge Stripe dessert is the best option in my summer recipe arsenal. Best part? It looks so pretty that people thought I put a ton of work into it but you and I KNOW the secret. 😉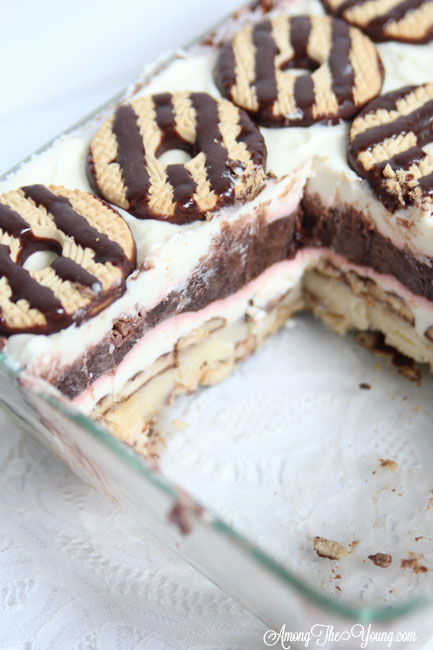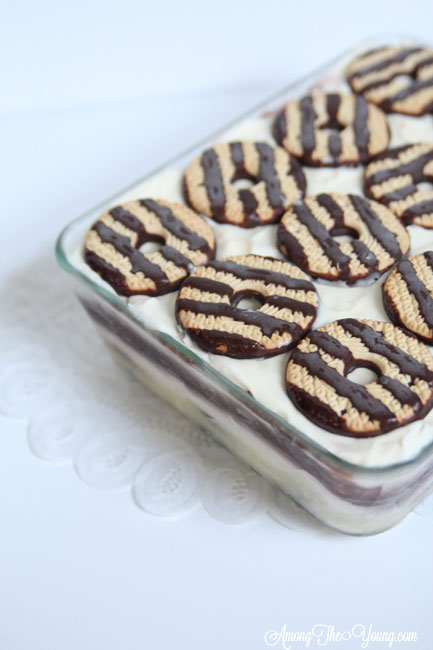 I might have gone a little crazy and added a toasted marshmallow to my piece of Fudge Stripe Dessert … because it was too good to pass up.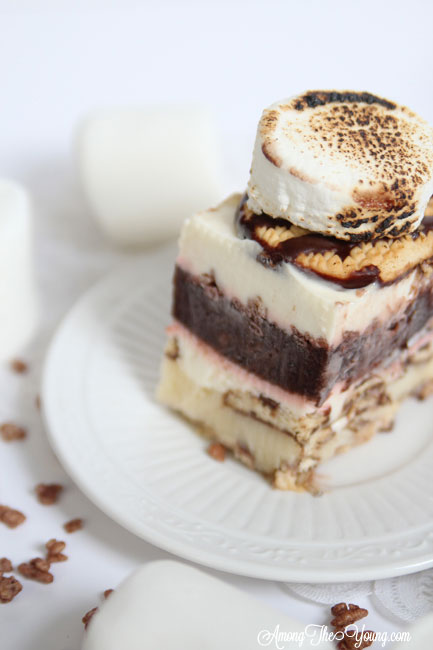 Life lessons from Kaylynn: When you see the opportunity to put a toasted mallow on top, the answer is always yes. And it was good.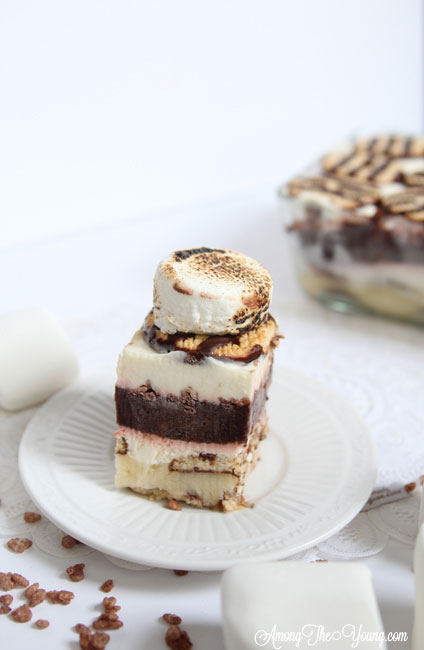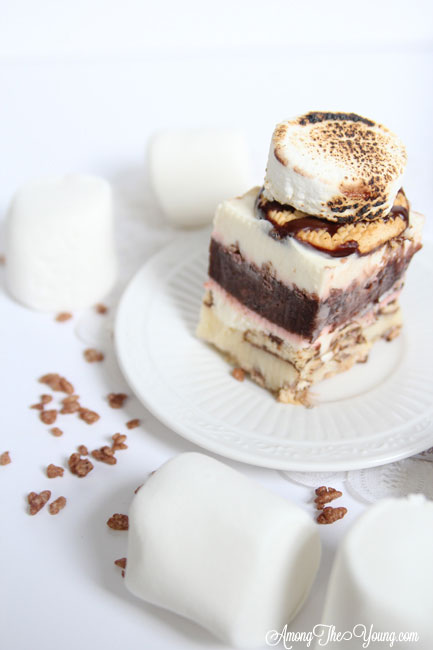 For gorgeous cuts, freeze for 30 minutes. I was lucky this had been slightly frozen otherwise the entire pan would be gone. NO LIES.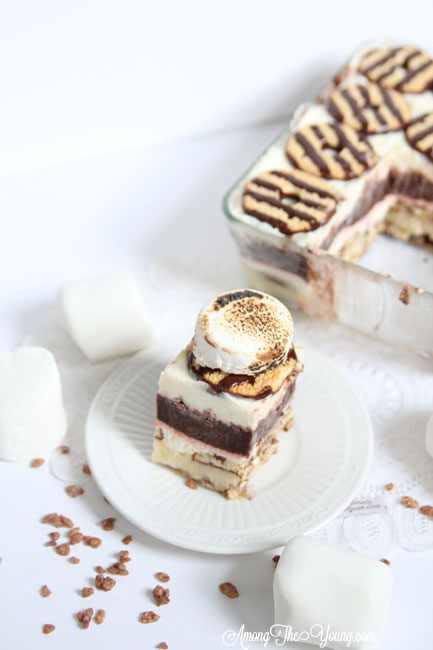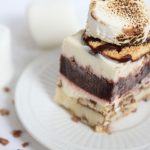 No Bake Fudge Stripe Dessert
This super easy pudding dessert is sure to be a crowd-pleaser at your next summer event!
Ingredients
8

oz

cream cheese

2

cup

whipping cream

1

cup

sugar

1

3.5 oz box

chocolate pudding

1

3.5 oz box

cheesecake pudding

1

17.3 pkg

Keebler Fudge Stripe cookies

1-2

cup

Cocoa Rice Krispies cereal

Jumbo Jet Puffed marshmallows

optional
Instructions
Beat cream cheese and sugar until fluffly.

Set aside.

Beat whipping cream and sugar until stiff peaks.

Fold whipping cream into the cream cheese mixture and set aside.

Make the chocolate pudding according to box.

Set aside.

Make the cheesecake pudding according to box.

Set aside.
Begin Layering in a 9x13 or 9x7 (2.75 qt) pan:
Cookies

All of the cheesecake pudding

Cookies.

Half of the whipped cream mixture.

All of the chocolate pudding.

Rice Krispies Cereal

Remaining whipped cream mixture.

Top with cookies.

Put in the refrigerator and let set 6 hours or overnight.

*Optional* place marshmallows on top of the dessert and lightly toast them with a torch.
For more incredible Kellogg yumminess, check this out!