This pumpkin roll makes me shed tears – it's that good guys.

But I have a confession to make: (get your stones ready) I hate pumpkin. Bring it on – throw away! But really, pumpkin is so NOT my thing. The texture is weird, the flavor is meh, and it's just not for me. Everyone goes crazy over all things pumpkin and then there's me, like, "Where's the Egg Nog?"
One of my FEW pumpkin exceptions is this pumpkin roll. I know, I know – can it really be THAT good? Well if I (the pumpkin hater) like it, then yes – it IS THAT good!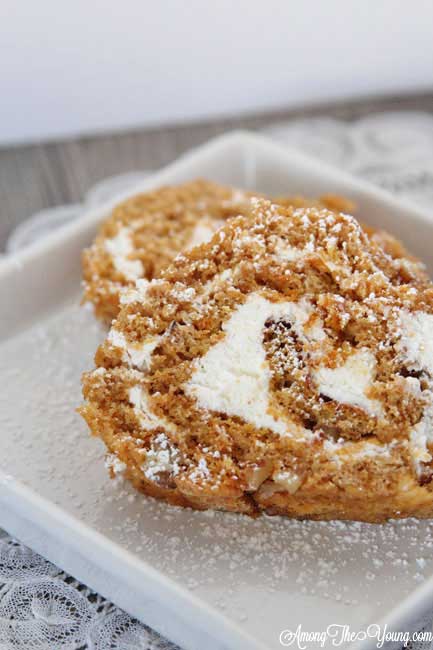 My mother in law made this a few years ago and I was skeptical. A born pumpkin hater – I was hesitant to try it. I'm happy to admit I was wrong. I don't hate ALL pumpkin things. This pumpkin roll is more spice and cream cheese – maybe that's why I love it so much?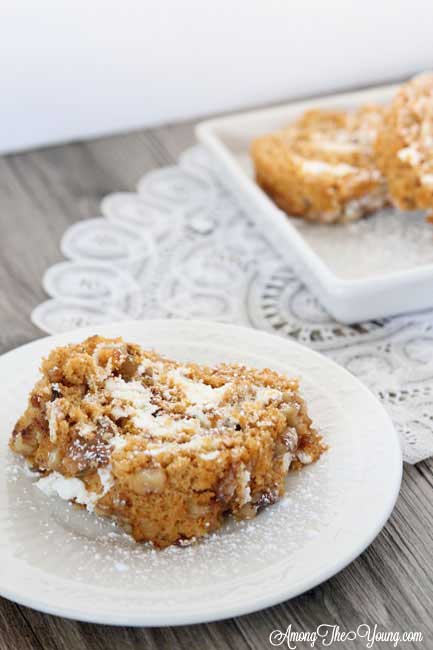 This pumpkin roll has all of my favorite things:
Cream cheese filling – check.
Nuts (texture) – check.
Cake – check.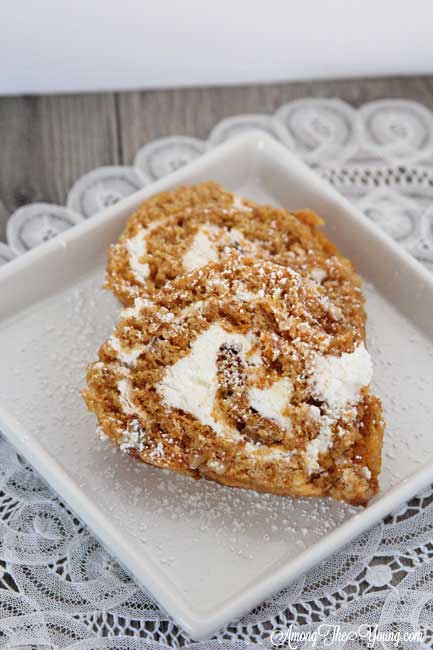 Really though, it might just be the cream cheese frosting. I could drink that stuff. No lie. Disclaimer, I have my own cream cheese frosting recipe that I used for this recipe. No, I won't share it, but I'd highly recommend you use something delicious.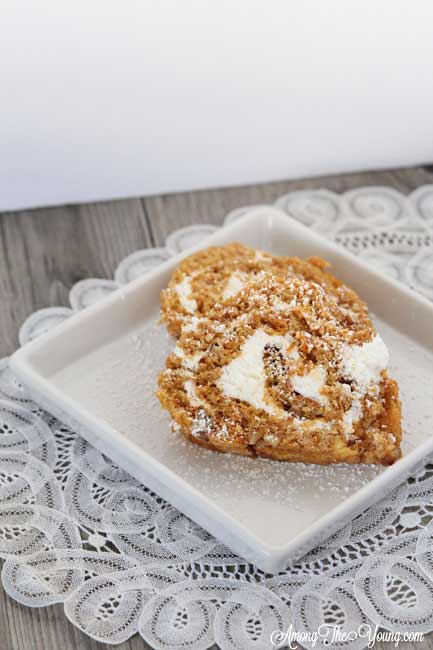 This recipe was adapted from Kraft Recipes – I added my own vanilla bean cream cheese frosting and made it even more delicious. To find the cream cheese frosting they used, click here.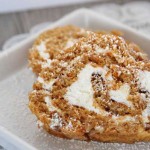 Pumpkin Roll
Servings
:
1
roll (10 servings)
Ingredients
Cake:
3/4

cup

powdered sugar

divided (more below)

2

TB

powdered sugar

3/4

cup

flour

1-1/2

tsp.

pumpkin pie spice

1

tsp.

Baking Powder

1/4

tsp.

salt

3

eggs

1

cup

granulated sugar

3/4

cup

canned pumpkin

1

cup

chopped walnuts
Instructions
Cake:
Heat oven to 375°F.

Spray 15x10x1-inch pan with cooking spray; line with waxed paper.

Spray waxed paper with additional cooking spray; dust with flour.

Sprinkle clean towel with 1/4 cup powdered sugar.

Mix flour, spice, baking powder and salt.

Beat eggs and sugar in large bowl with mixer on high speed until thickened.

Add pumpkin; mix well.

Add flour mixture; beat just until blended.

Spread onto bottom of prepared pan; sprinkle with nuts.

Bake 15 min. or until top of cake springs back when touched in center.

Immediately invert cake onto towel; remove pan.

Carefully peel off paper.

Starting at one short side, roll up cake and towel together.

Cool completely on wire rack.

Carefully unroll cake; remove towel.

Spread cream cheese mixture over cake.

R-eroll cake; wrap in plastic wrap.

Refrigerate 1 hour.

Unwrap and sprinkle with remaining powdered sugar just before serving.