Next up on our Spring Break essentials list is Swim Zip. I have loved this company for a LONG time and have been coveting a suit for awhile now. (Deidre picked the one I would've picked – she rocks it!) Once I started looking more, I realized that although the women's suits and cover ups are to die for, the kids suits were more practical for me at this current time.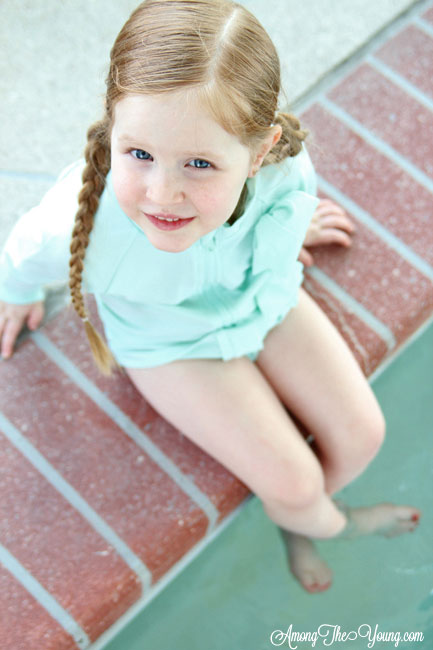 Once I heard the backstory of Swim Zip I was sold (you can read the full story here). Did you know there are more skin cancer cases each year than the next 3 types of cancer combined? Guys – it keeps on rising. That's terrifying. Swim Zip owner Betsy was diagnosed with skin cancer at 26 – craziness, right? She started making sun safe swimwear to keep herself and her kids safe. She left a great job, awesome salary and benefits to try to make Sun protection suits hip, fashionable, functional – and start to bring more awareness to skin cancer.
PS: I pulled my camera out and didn't say anything – simply pointed the camera at her and she pulled this pose. I kid you not. I was shocked. Where has she learned that? Heaven help me guys!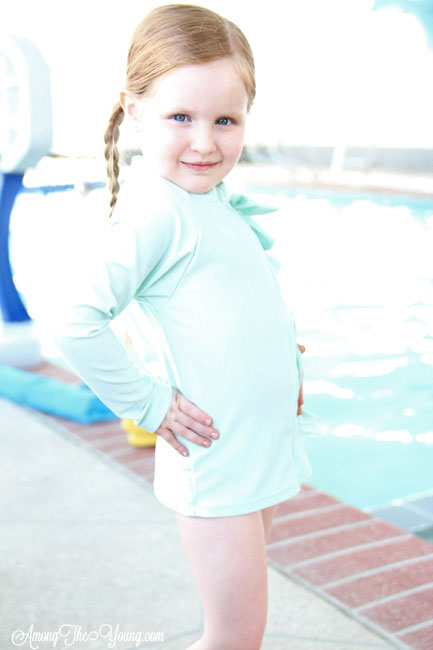 My biggest thing with swimming is always sunscreen. I bring it, but I am the WORST at it. Even if I reapply, I'll always forget a little spot on Miss T and she'll get burnt. Mom fail, right? It's usually a small spot, but an important one – like the top of her neck or a small space on her back. Duh me.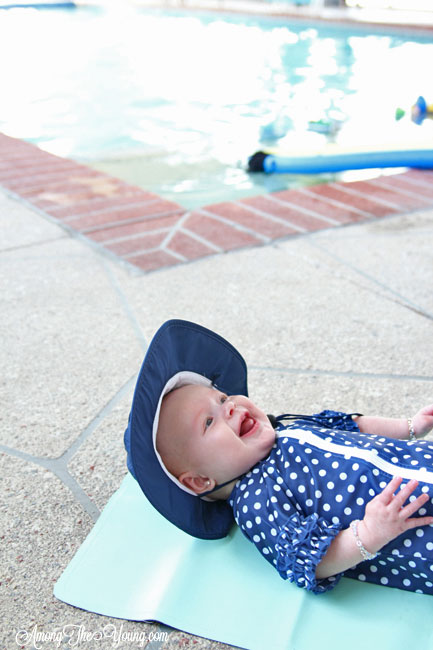 These suits take all the guesswork out of sunscreen. Bless my heart. Plus, now that I have a babe with lots of rolls this Swim Zip suit will be invaluable. How can one sunscreen all the rolls?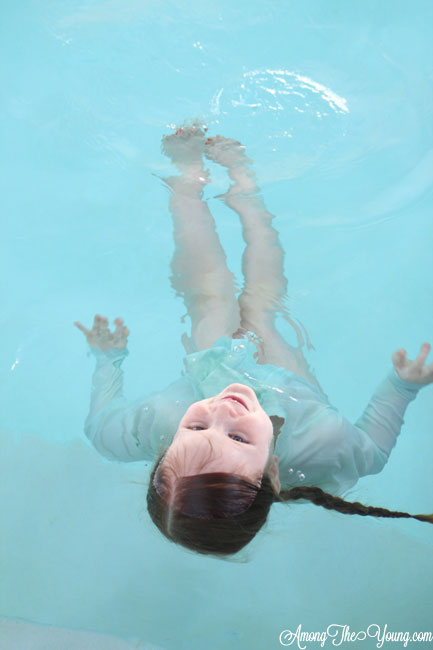 T helped me pick her suit out – she was ADAMANT that she wanted the mint. Then the red. Then the mint. Oy. She's got her mother's talent for decision making. The joys.
The Queen B HAD to wear the little blue polka dot romper. Easy decision. I died. Then I saw it and died a little more. Once I put it on? I couldn't contain myself. Cuteness overload.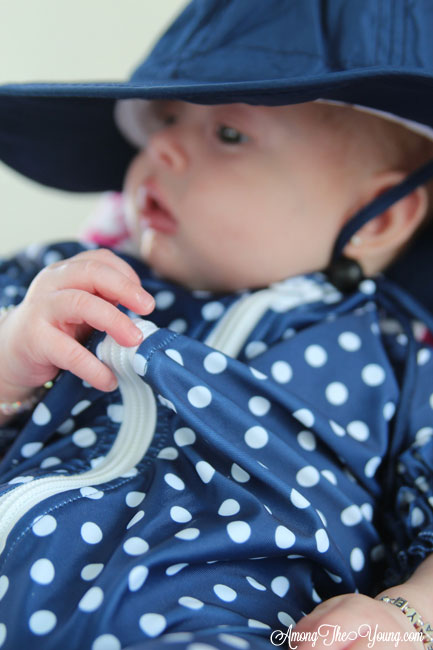 We are super spoiled with some of the best swimming lessons ever. My mother in law teaches in Utah Valley and I used to teach with her. Her program is
Kids can Swim.
T has been swimming since she was 5 months old and I would HIGHLY recommend this program for anyone with kids of any age. It boosts confidence and helps me feel safer when we are around the water. No – my kid is NOT "drown-proof" but she's got some awesome skills to use.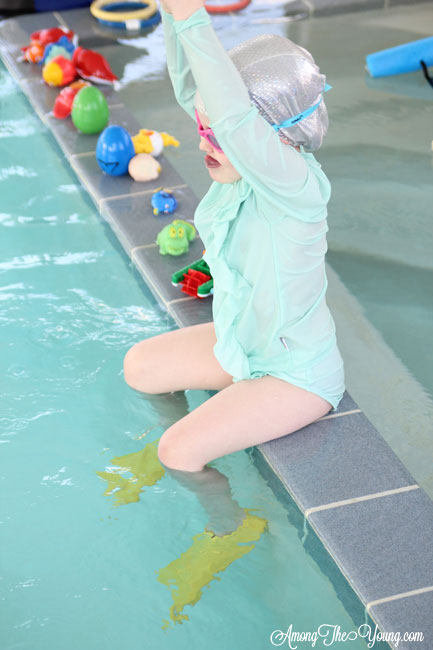 Also – My Lily Jade bag was SO fabulous to take to the pool. It had all my junk (and then some, let's be honest) and left me hand free (backpack mode) to cart two littles around. Hallelujah.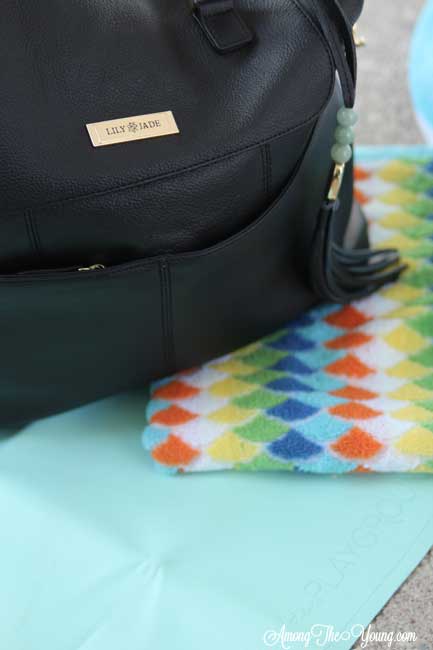 Disclaimer, the Queen B doesn't do swimming lessons – these photos were entirely staged. This was a good chance to play in the pool with Grammy Pam. However, B does take baths and we let her "float" on her back. We aren't shy about water getting in her face (Pam actually encourages that!) and she loves the water. Typically, babes can start swimming with Pam when they are around 8-9 months or crawling. But as you can see, I think Miss B will be a natural swimmer – no crying and fabulous floating. Boom.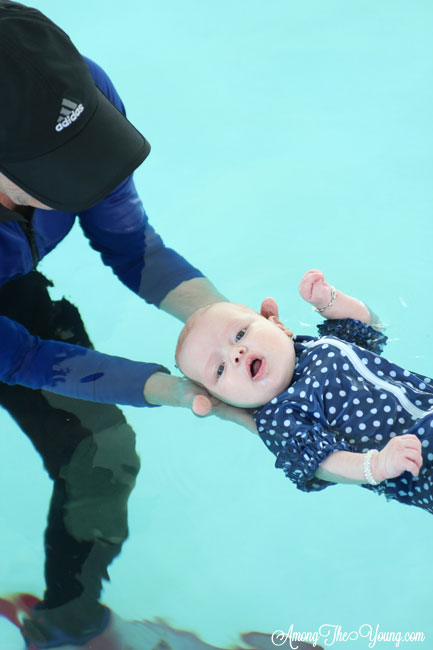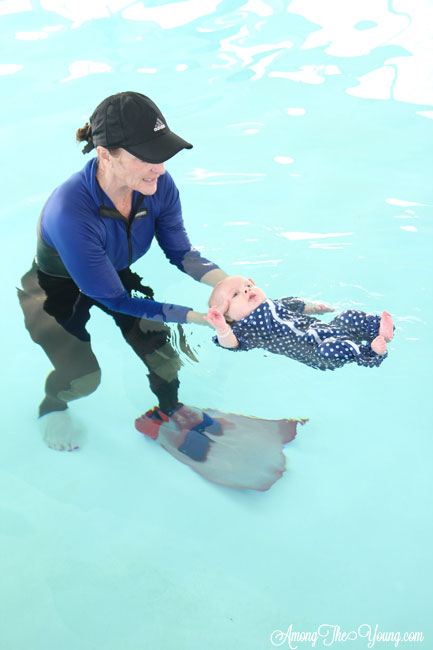 Deidre styled my favorite top for women – it's their classic black cover up and it looks super flattering. (Check it out here). Be sure to go check out her post and see what I mean!