It's Styled by Five time babes!! As soon as I opened the package from Lettie Boutique, (shop it here) I knew I was in trouble. Guys, the dress feels like my buttery soft leggings I love – but it's in a dress form! I don't even know how to express my love for this dress from Lettie Boutique in words. Words fail me.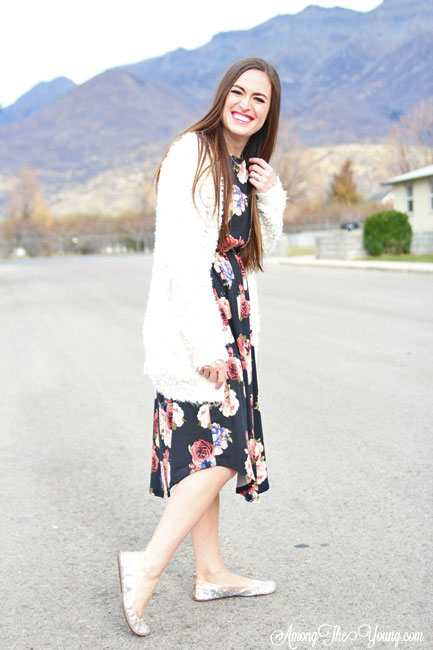 I have teamed up with four other ladies to bring you one piece of clothing styled by 5 different women. Women that look & think differently from one another – hair, religion, location, skin, size, height, style, all of the above. I love sharing my style with you, but I also want you to see clothing I style in other body types so you can find what is best for you. So feel free to check out how Deidre, Kaylynn, Bethany, Jacque, andLauryn styled this outfit as well! And watch for a new piece of clothing styled by 5 every month.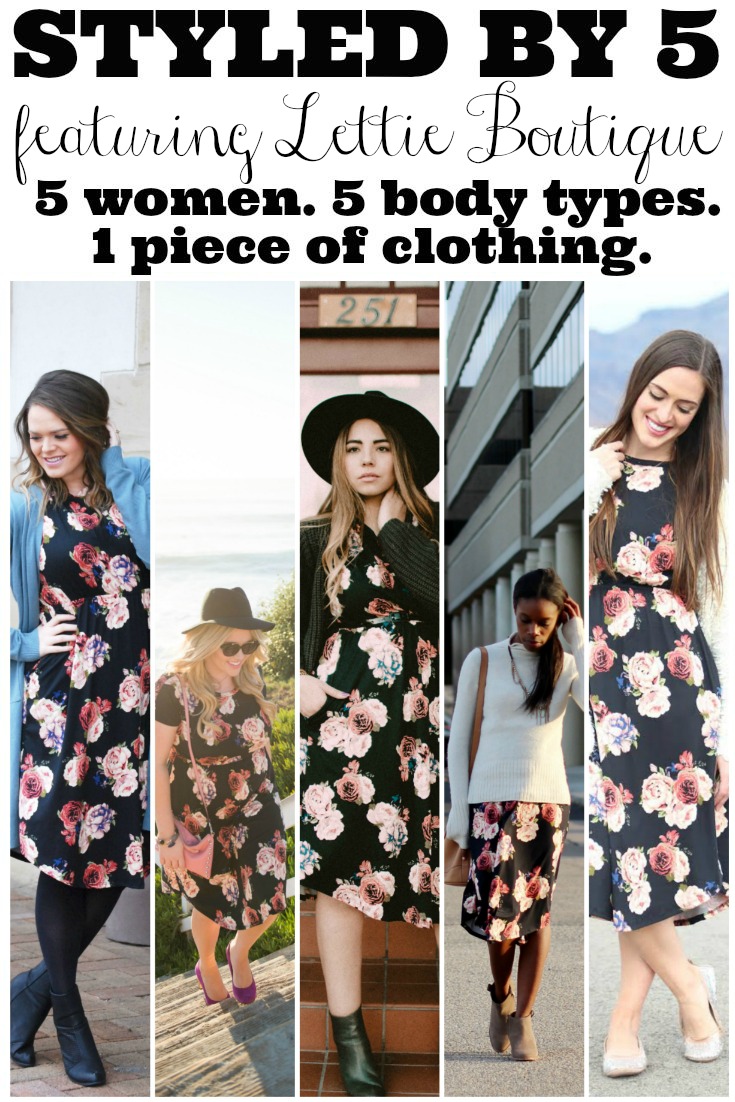 (Their entire store will be 20% off with the code BLACK20. They will have free shipping on all orders, plus the first 50 orders will also get a free gift. They will also have doorbusters, stocking stuffers, and some FLASH sales going on. The sale starts at 6am MST on Friday morning and will run through Monday. (And if you must buy my dress this instant, it's right here!)
The floral and the buttery softness have me so sold. First I had to wear this dress on repeat for several days to make sure I wasn't dreaming. Then, I had to go stalk Lettie Boutique on every social media channel. Their website is bomb.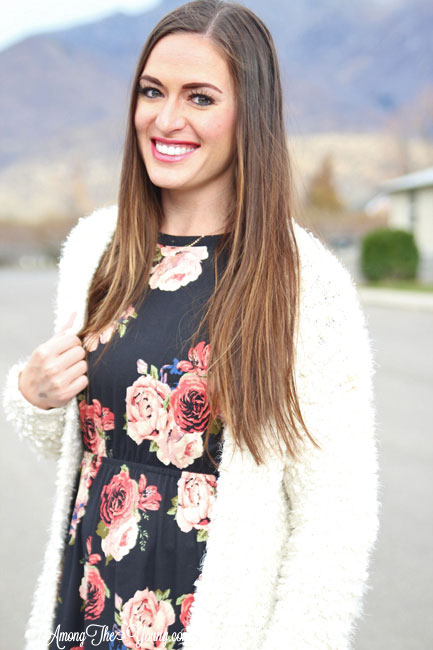 We have been having such a warm fall, I almost forgot I was supposed to be wearing big sweaters! Luckily we had a couple of really cold days and I whipped out this sweater.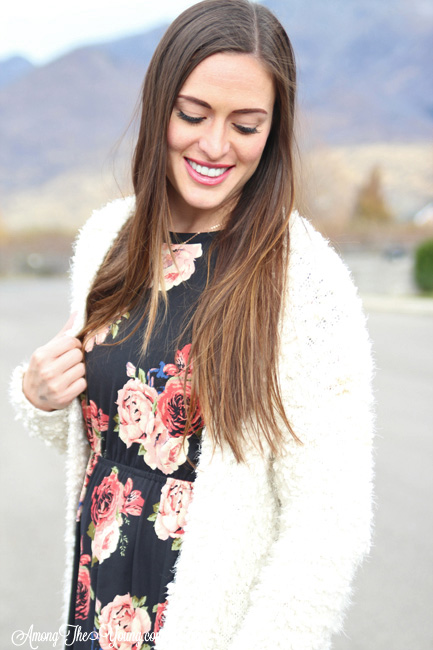 Dress: Lettie Boutique (see it here)
Sweater: Forever 21 (similar)
Shoes: Yosi Samra glitter flats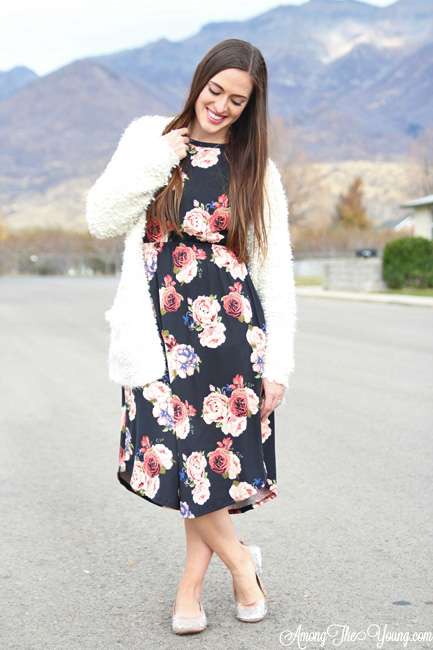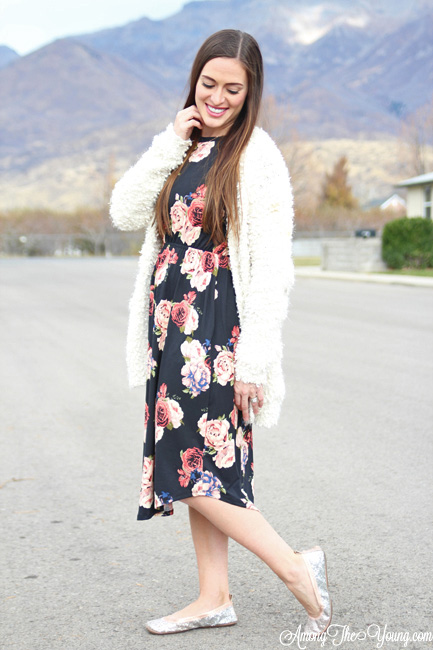 As we all know, I'm a dress snob. Yes, dresses are great, but what makes a great dress? Anyone? Anyone? (Bueller?) It's always pockets babes. ALWAYS. So not only does Lettie Boutique dress fit the pocket criteria, it's so soft…I can't say it enough.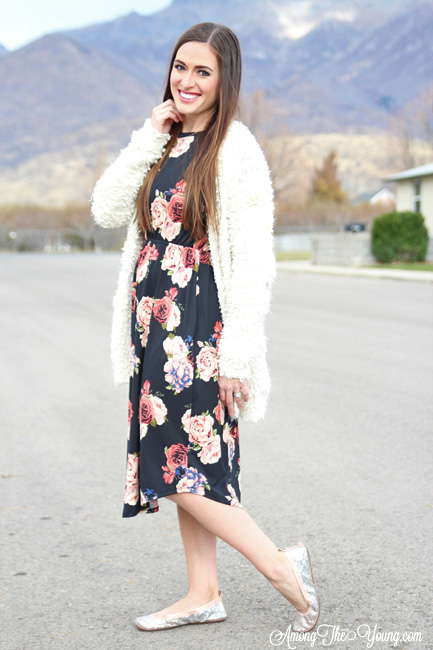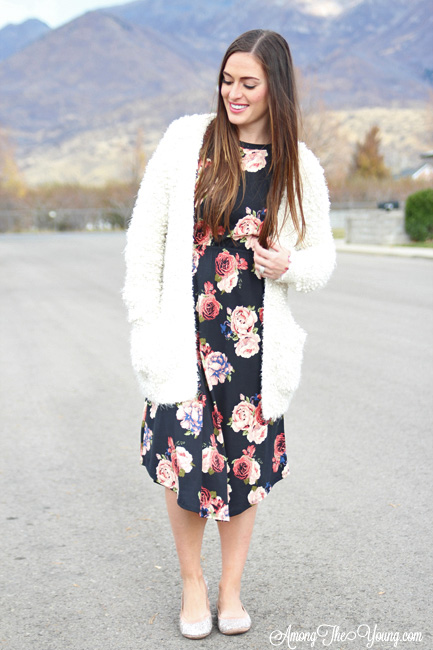 I really am obsessed with everything about this dress from Lettie Boutique – soft, flattering, floral, and amazing. Babes, you need this dress in your life asap. Trust me on this one.