Guys, this dress from Goldie's is one of my most favorite dresses ever. (You can shop it here)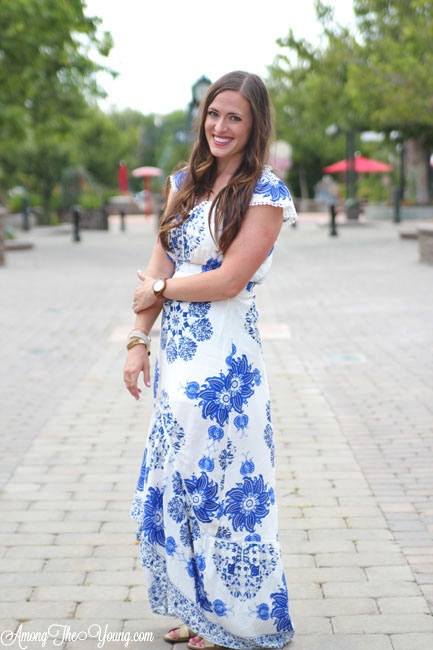 I have teamed up with four other ladies to bring you one piece of clothing styled by 5 different women. Women that look & think differently from one another – hair, religion, location, skin, size, height, style, all of the above. I love sharing my style with you, but I also want you to see clothing I style in other body types so you can find what is best for you. So feel free to check out how Deidre, Kaylynn, Bethany, Jacque, andLauryn styled this outfit as well! And watch for a new piece of clothing styled by 5 every month.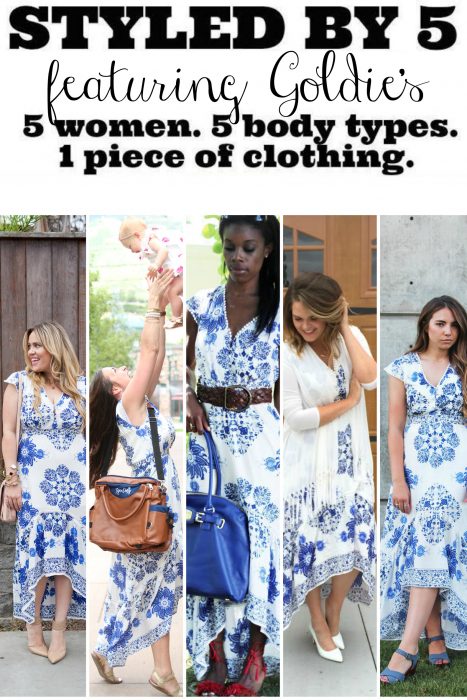 Funny story: this Goldies dress came and I fell hard. I really can't explain why that is… the colors? The fabric? I honestly don't know. But it came and I HAD to put it on IMMEDIATELY. (Yes, I stripped in my kitchen and tried it on – it was super hilarious).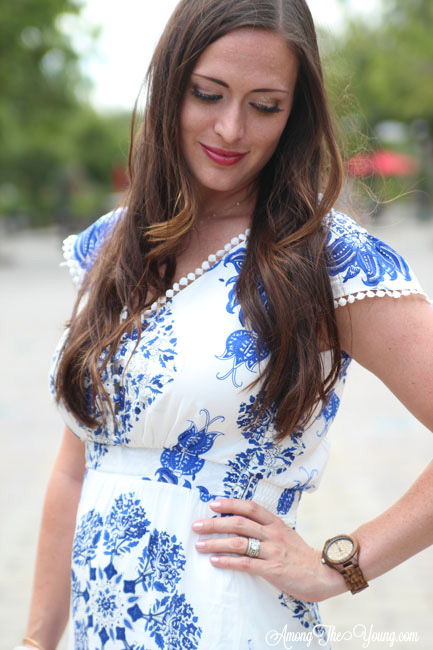 This is the my favorite part of the story: the dress DIDN'T FIT. I repeat: the Goldies dress DIDN'T FIT! I requested a medium and IT WAS TOO BIG! I had to send it back for a size small. Praises be – the miracles of breastfeeding. Maybe that's why I love the dress so much. Who knows.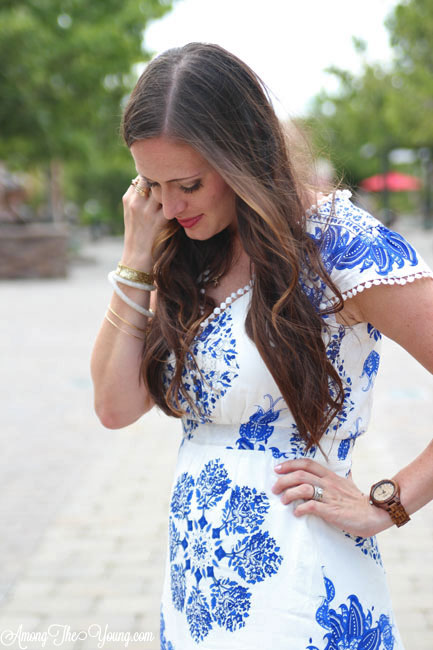 One of my new favorite accessories is this Jord watch. This watch is SO light. I have never had anything like this and I'm pretty obsessed. Plus, you can win your own JORD watch. (ENTER HERE) Best part? Even if you don't win, you'll get an e-gift card for $20 off your own JORD watch. I call that a win-win.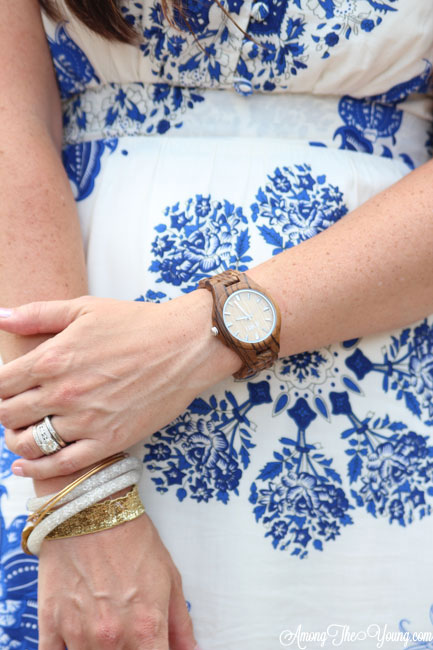 And this Tiger Daisy bag? Guys, it's genius. There are two bags that zip together to make one bag. I know – MIND BLOWN! This tan bag has my heart and it works perfectly with this dress. How nice will it be to separate different things into different bags? Kid #1 and Kid #3 toys? Mom stuff and kid stuff. The options are endless.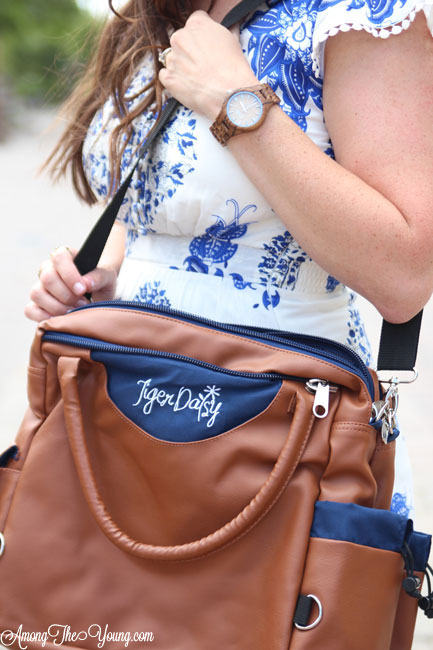 My best accessory, by far, is this little smooshie whether I like it or not. Little girlfriend loves to be held, and if she's not being contained she's crawling away.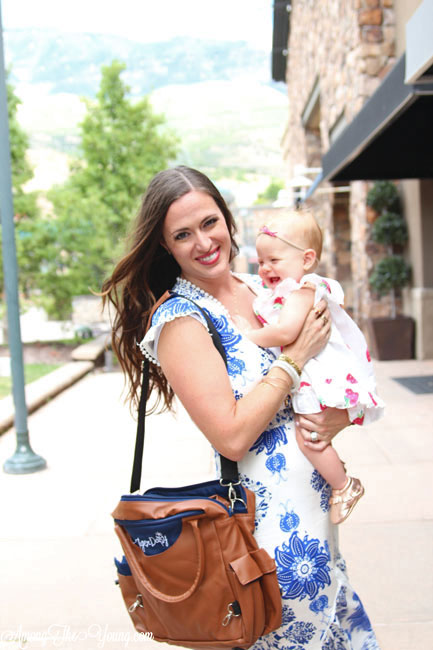 Dress: Goldies (SHOP IT HERE)
Bag: Tiger Daisy
Watch: Jord
*Don't forget to enter to win your own Jord watch!*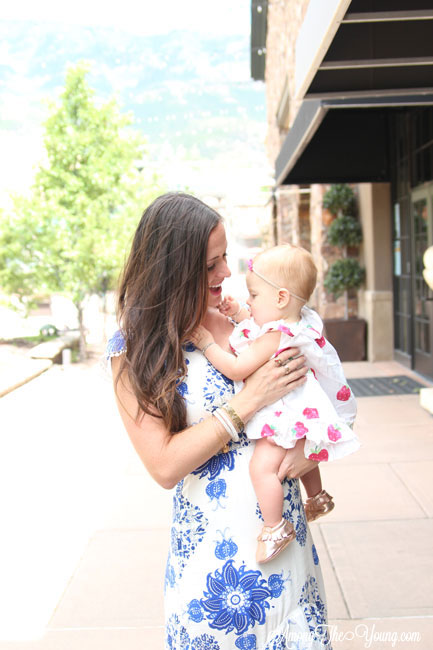 Here's the proof of how amazing this dress is – I can do all my mom things unencumbered by a tight dress. Goldies for the win.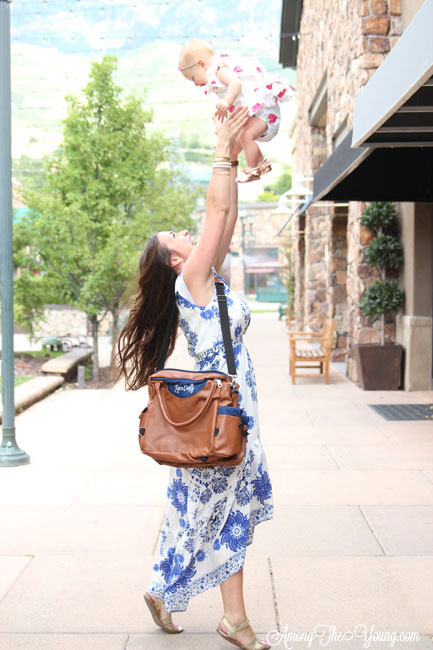 One more story: While taking these pictures there were crowds of people all around us, staring at their phones. We couldn't figure out what was going on. Maybe it was a scavenger hunt? We almost asked what people were doing. Turns out – they were playing Pokemon Go. What is wrong with our world today?