Today is so exciting!  I have teamed up with some of my favorite bloggy friends to bring you:
7 Blogs
7 Projects 
and
7 Times the Fun
All centered around the 4th of July!
Not sure what to bring to that BBQ?  Want that perfect red, white and blue decoration?
  How about what to wear? 

We have got you covered!
So please sit back, relax(I might grab some ice cream), and enjoy these 7 fabulous projects!

1. Melissa of Hollyhocks & Honeybees
2. Emily of The Benson Street 
3. Candice of She's Crafty
4. Ashley of flats to flip flops
5. Adrienne of Free Time Frolics
6. Andie of Maybe I Will 
7. Kaylynn of Among the Young 
Here we go! Today, I'm sharing a family favorite : a watermelon granita. What's that? Kelsey described it as a "Grown Up Slushy." We found this recipe from Kelsey's Essentials.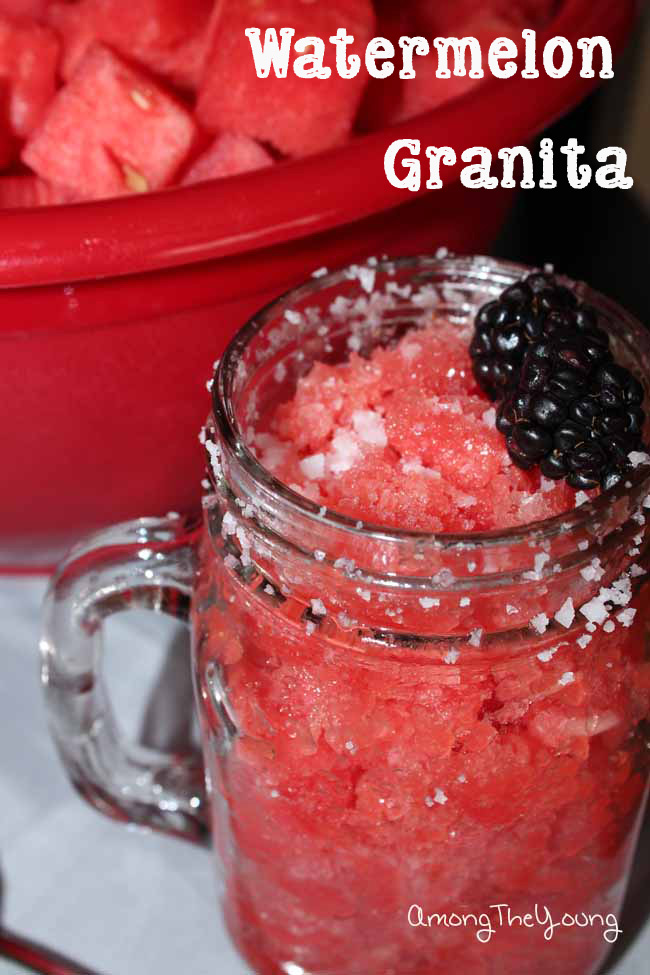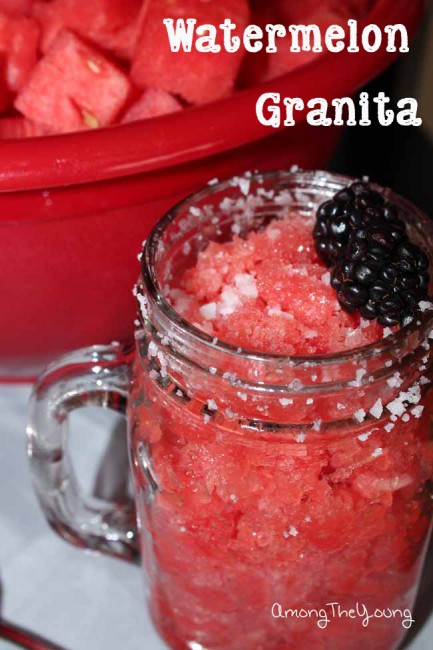 I felt a special connection to Kelsey because we both attended Brigham Young University and we were both Cougarettes. We weren't on the team at the same time, but I saw her on campus frequently and she was always so sweet to me. I was the stalker wanna-be Cougarette and she was the cute, bubbly, talented girl on the team I so desperately wanted to be a part of.
ANYWAY! When I saw this recipe on her show, I was so intrigued because it was a) easy and b) a great way to use up a bunch of watermelon and c) it looked beyond delicious. Again, the thought of a "grown up slushy" was so exciting to me. YUM. You can look at Kelsey's recipe HERE – I made some small changes to make it a little easier.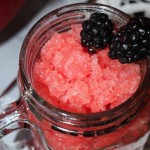 Print Recipe
Watermelon Granita
Ingredients
1/4

cup

fresh lime juice

6

cups

roughly chopped seedless watermelon

about 2 pounds

1/2

cup

sugar

1

lime

zested

1

2-inch piece ginger divided

Fleur de sel

for garnish (I used regular sea salt - it was delightful)
Instructions
For the ginger: , 1-inch cut into coins, 1-inch peeled and grated (I used my Gourmet Garden ginger instead - about 1/2 tsp)

In a blender, blend the lime juice and watermelon together, creating watermelon water.

Strain the liquid through a fine mesh strainer to remove any seeds.

Place 1/2 cup of the watermelon water into a saucepan and add the sugar, lime zest and ginger.

Bring the mixture to a simmer to dissolve the sugar and infuse the liquid with the ginger and lime flavor.

Set aside to cool.

Add the grated ginger to the remaining watermelon water.

Once the syrup is cool, remove the ginger coins and mix into the watermelon water.

Pour the mixture into a 9 by 13-inch glass baking dish.

Place the dish into the freezer to chill.

Every 30 minutes, scrape the mixture with a fork to break up the ice crystals and to keep it light and fluffy.

Continue scraping every 30 minutes for at least 2 hours.

Scrape the granita into elegant glasses and sprinkle with fleur de sel.(Or don't!)