My mom would make these watermelon sugar cookies when I was little and I LOVED them.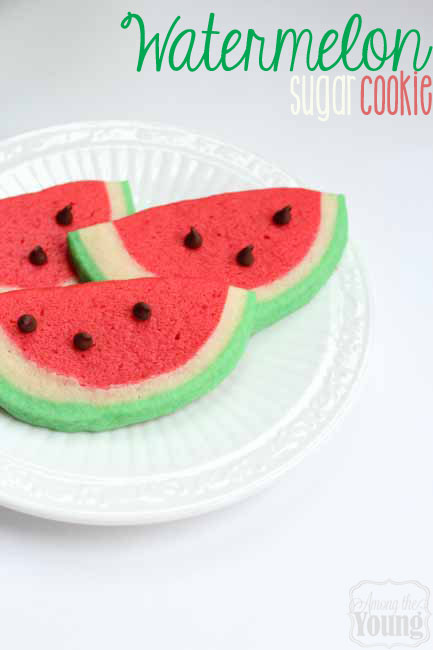 I VIVIDLY remember packing some in a little ziplock baggie to give to my 5th grade teacher, forgetting them in my backpack, finding them a few days later, and still giving them to my teacher – crushed and all. Oops. I'll never forget the face one of my classmates made as I handed this mutilated bag of mess to my sweet teacher. He was obviously disgusted and my teacher took them graciously, even though they didn't looks so hot. Can students even give teachers cookies anymore? As a teacher, I'd be somewhat wary to take some baked goods…but is that because I teach special education or because I'm a germ-a-phobe? Hmmm…
Flash forward to the present day – I still LOVE sugar cookies. No self control. As Handsome and I were gorging ourselves on watermelon, I remembered this recipe and wondered if it was as hard as my mom said it was. Challenge accepted. Project watermelon sugar cookie…commence.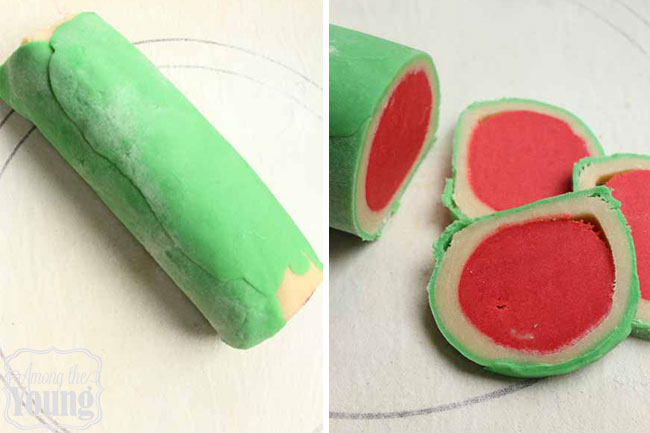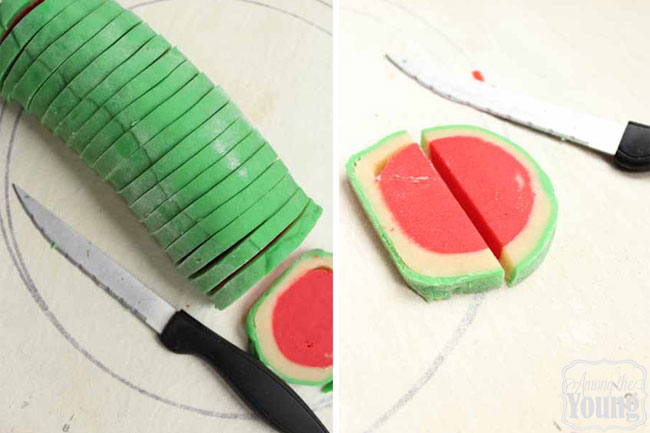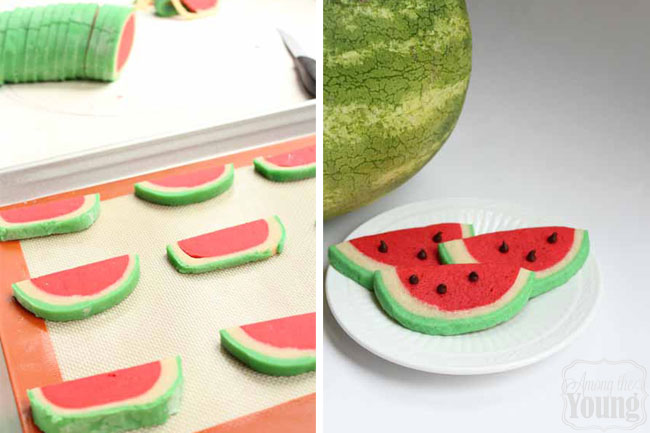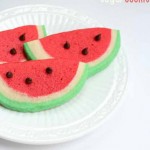 Watermelon Sugar Cookies
Ingredients
1 1/2

C.

butter

1 1/2

C.

sugar

2

eggs

1

tsp

almond extract

4 1/2

C.

flour

1/2

tsp

salt

1/2

tsp

baking powder

Food coloring paste

green and red
Instructions
Beat butter and sugar until light and fluffy.

Add eggs and extract.

Add the flour, salt, powder at a low speed.

Remove 2 C. dough - set aside. (2/3 C. will be green and 1 1/3 will remain "white").

At low speed, beat in red paste.

Shape dough into a 3 1/2 inch cylinder.

Wrap with plastic wrap and refrigerate 2 hours.

Wrap green and plain dough separately and chill also.

Reshape red cylinder (so there are no flat sides).

Roll out plain dough to 7x8 1/2 rectangle.

Roll up around the red cylinder.

Roll out green dough to 10x7 1/2.

Wrap together and refrigerate for at least 8 hours.

Next day slice (cut thick!) and bake at 375 for 6-10 minutes.

Do NOT overbake!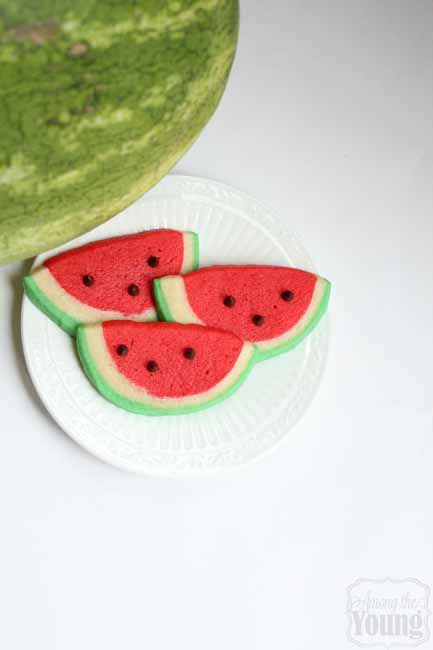 My friend
Aly from Entirely Eventful Day
made some really cute
Jell-O watermelon cookies
– I guess great minds think alike! If you're not up for the challenge of waiting and refrigerating my watermelon sugar cookies, her cookies are adorable and super simple. Go look!