If you're like me, you're probably in need of a last minute Halloween treat for neighbors, family, teachers, or friends. Am I right? These witchy rice krispy treats are the PERFECT solution. A twist on a classic!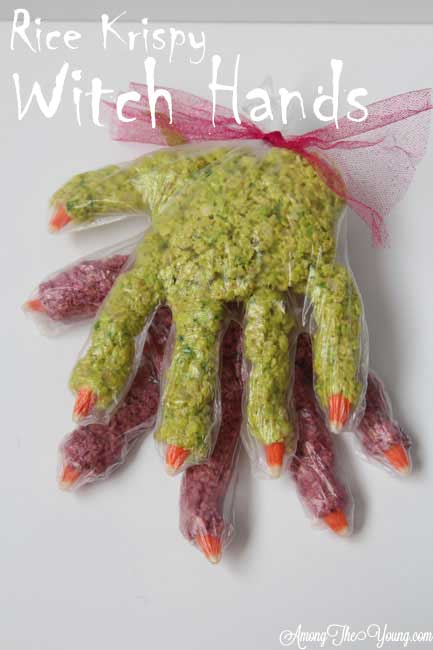 Obviously, rice krispy treats are a classic, but add some food coloring and your standard treat and you get witchy rice krispy treats.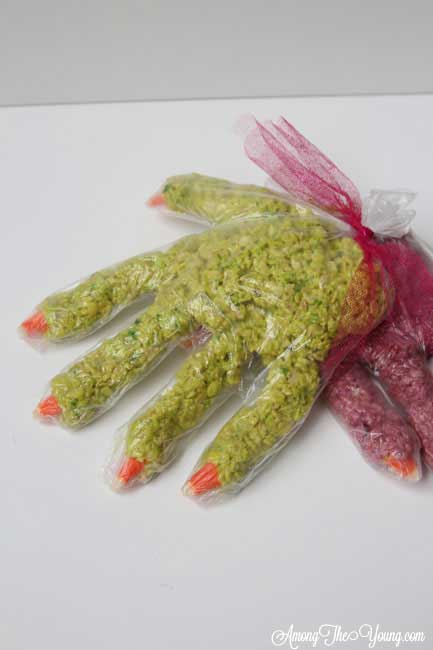 My mom would always make these when I was little and we loved them – it was one of my favorite Halloween traditions (that…and sugar cookies, but that's a different story). There's something so nostalgic about a good, soft witchy rice Krispy treat straight from a plastic glove. It's pure magic I tell you!
When I asked my mom "how to make these" I felt a little silly….really? A grown woman (AND food blogger at that!) who doesn't know how to make a decent batch of rice krispy treats? Embarrassing…. My thing is, these treats can't be stale. They can't be hard. They have to be soft, gooey, and pretty perfect or I won't touch them. Snobby. YUP. Getting the mixture just right is a work of art.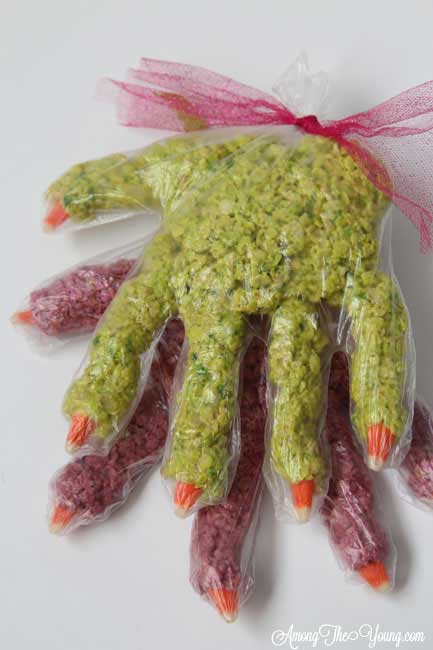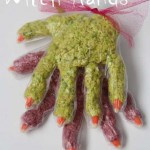 Witchy Rice Krispy treats
A super cute Halloween treat
Servings
:
1
-2 witch hands
Ingredients
4

C.

marshamllow

1/4

C.

butter

4-6

C.

Rice Krispy cereal

Green neon food coloring

Purple neon food coloring

Candy Corn

Clear plastic gloves

Cooking spray

Ribbon
Instructions
Melt marshmallows and butter in the microwave.

Add food coloring to the melted marshmallow mixture.

Slowly add your rice krispy cereal - DO NOT add too much. (You need these treats to be soft, but pliable, and not too hot.)

Spray the inside of each glove with cooking spray

Prep your clear plastic gloves by adding a candy corn to each little finger.

Carefully, roll your cereal into small tubes

Slide each tube into the finger and smash to fill the entire finger.

Repeat with each of the remaining fingers.

Add a large ball for the palm of the hand and smash to spread.

Close shut with a festive ribbon.

Voila! Witchy Rice Krispy treats!