*Product was provided by Cost Plus World Market. All opinions are 100% my own.*
My love for World Market grows deeper by the minute. Every time I go there, I am impressed – just wait until you see their Halloween candy and Halloween baking selection. I die.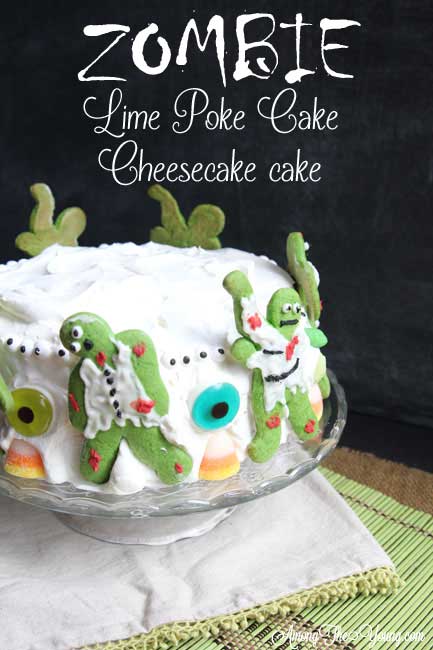 These days, the world is OBSESSED with zombies. I don't get it. But when I saw this cookie set, I about died. Plus, I couldn't stop singing "Thriller." So there.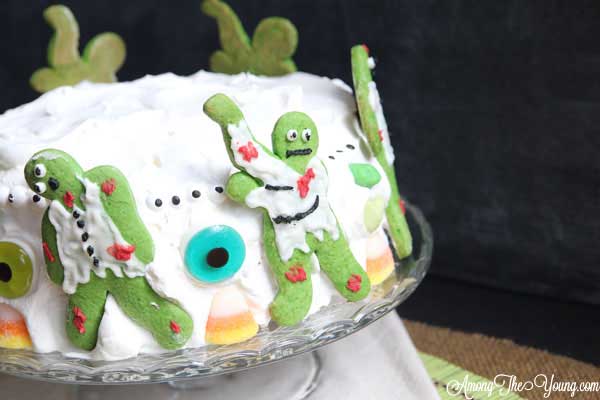 Obviously a cake was in order. A green cake. Duh. I'd been dying to try a poke cake – super easy by the way – and I had some lime jello. YUM.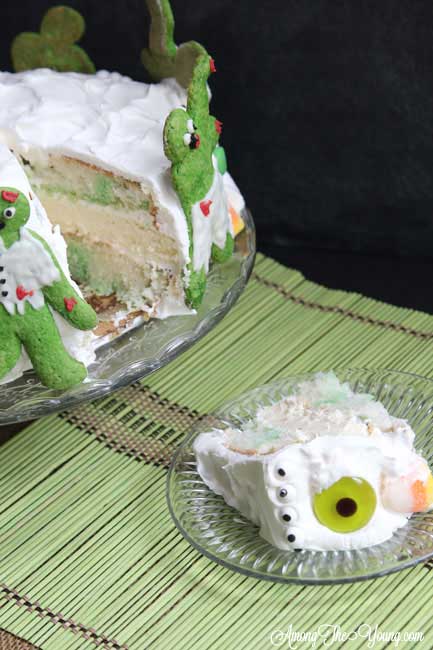 Everything is better with cheesecake. You knew that, right?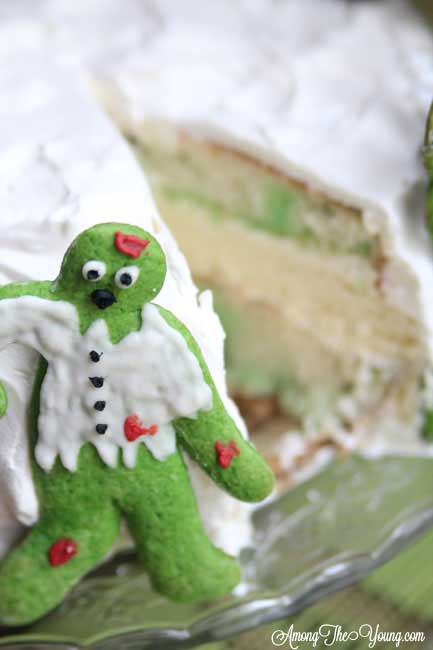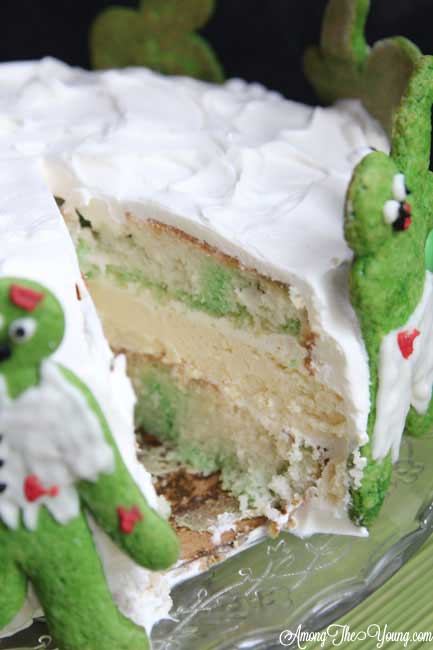 This cake was surprisingly easy to make – it just took a little bit of time. I'm really not loving cake (at this point in my pregnancy) but this white cake was GOOD. Just a hint of lime, not too overpowering, and oh-so-moist. Yes, I said MOIST – because I was describing a cake, not the weather.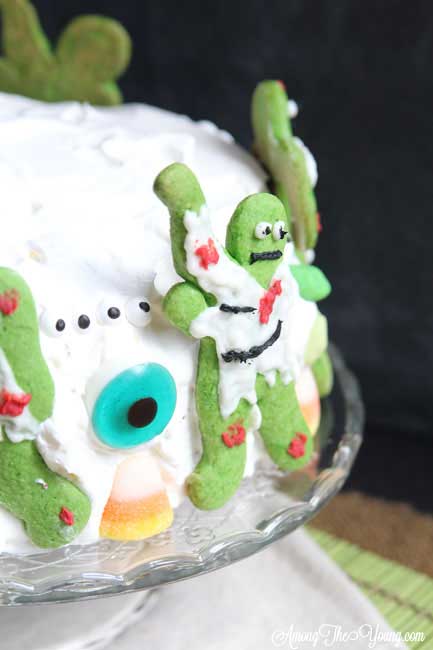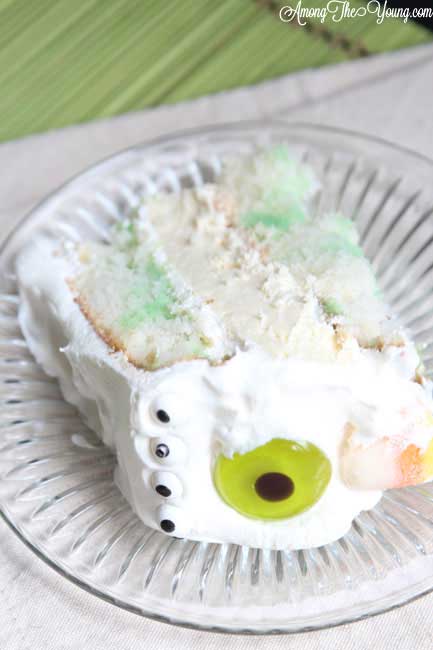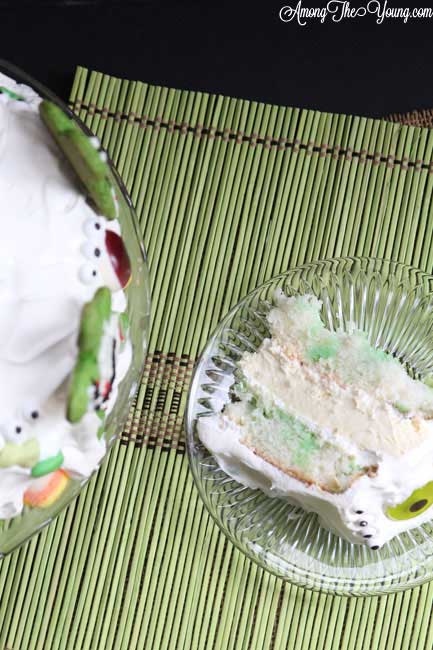 All of this is to promote and get stoked for The Book of Life movie. Based on the cultural celebration of "Dia de los Muertos" (a day of remembering the memories of lost loved ones). Starring the voices of Channing Tatum, Zoe Saldana, Diego Luna, Danny Trejo, Cheech Marin, Directed by Jorge Gutierrez (El Tigre, Mad TV) and produced by Guillermo Del Toro (Puss in Boots, Kung Fu Panda, Pan's Labyrith).
So what's it about? The Book of Life is an animated movie of a Romeo and Juliet-inspired love story set during a Day of the Dead celebration: Manolo (Diego) is a young matador who wants to shed the expectations of his family to follow his dreams of being a musician and his best friend, Joaquin (Channing), is the successful pride of the town. They compete for the heart of Maria (Zoe). In order to win Maria's heart and save her life, Manolo must face his greatest fears and follow his heart to rewrite his destiny. Check out the movie trailer HERE!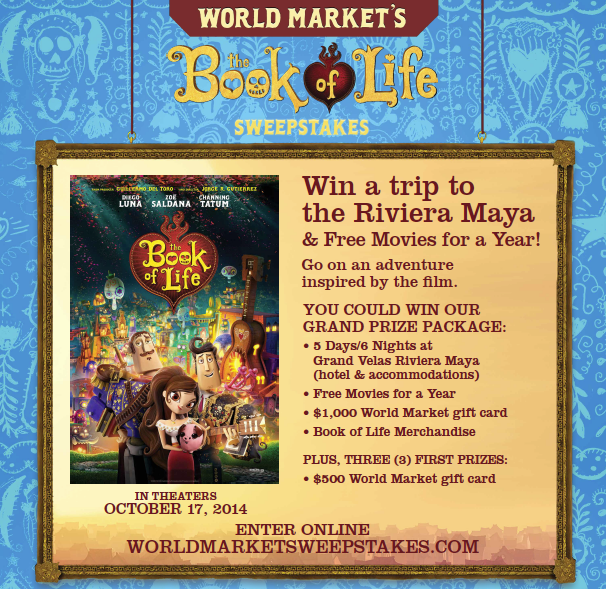 World Market's Book of Life Sweepstakes
*You could win a trip to the Riviera Maya & FREE Movies for a Year!*
Grand Prize Package includes:
5 Days/6Nights at Grand Velas Riviera Maya (hotel & accommodations)
Free Movies for a year
$1,000 World Market gift card
Book of Life Merchandise
Plus, three (3) first prizes: $500 World Market gift card. Sweepstakes ends October 24th, 2014.
You've GOT to enter. Go HERE HERE HERE and don't walk…RUN!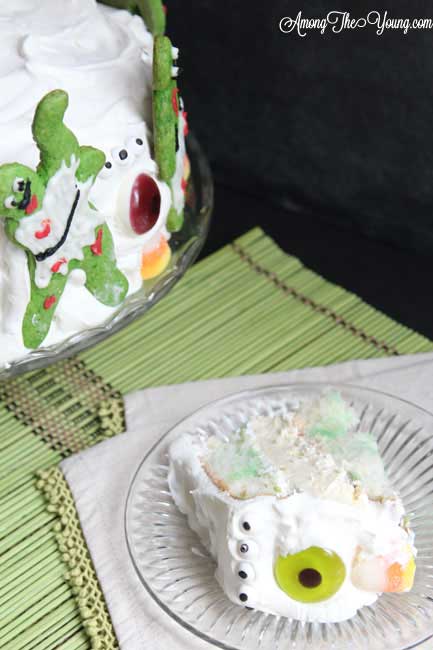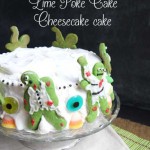 ZOMBIE Lime Poke Cake Cheesecake Cake
Ingredients
Cake
1

box

white cake

1 3.5

oz box

lime jello
Cheesecake
20

oz

cream cheese

room temperature

3/4

C

sugar

1/2

TB

vanilla extract

1/4

tsp

coarse salt

2

large eggs

1/2

C

Greek yogurt
Frosting
Pastry Pride – Enough said!
Instructions
Cake
Bake the white cake as instructed on the box in 2 round 8 or 9 inch pans.




Remove from oven. Cool for 10 minutes in the pan.

Remove from pans and cool completely on a cooling rack.

Place cakes back in pans. Using a fork, poke holes.
Jell-O
Prepare lime jell-o as the box recommends.

Pour jell-o over the two cakes and place in the refrigerator for 2-3 hours.
Cheesecake
Preheat oven to 325 degrees.

Using a blender, blend all ingredients together.

Line springform pan in tin foil and wrap bottom half of pan in foil as well.

Pour in filling; place in a roasting pan.

Pour in boiling water to come halfway up side of springform.

Bake until just set in center, about 45 minutes.

Remove pan from water; let cool 20 minutes.

Run a paring knife around edge; let cool completely.

Remove outer ring of cheesecake pan, but leave metal bottom.

Wrap in plastic wrap and freeze.
Frosting
Whip the Pastry Pride until form is set
Decorations:
<a href="http://www.worldmarket.com/product/monsters+university+gummy+eyeballs.do?&from=fn" target="_blank">Gummie Eyeballs</a>

<a href="http://www.worldmarket.com/product/box-of-boogers-in-theater-box.do?&refType=&from=Search" target="_blank">Boogers</a>

<a href="http://www.worldmarket.com/product/eyeball-sprinkles.do?from=Search&cx=0" target="_blank">Eyeball sprinkles</a>

<a href="http://www.worldmarket.com/product/gummy+candy+corn.do?&from=fn" target="_blank">Gummie Candy Corns</a>

<a href="http://www.worldmarket.com/product/zombie+dance+party+cookie+kit%2C+set+of+2.do?from=Search&cx=0" target="_blank">Zombie Cookies</a>
Assembly:
Place one layer of cake on cake stand.




Frost top with a generous layer of frosting.

Remove cheesecake from freezer, unwrap, and remove metal bottom of the pan, then peel off tin foil.

Place cheesecake layer on top of the cake.

Place top layer of cake on top of the cheesecake, and coat entire cake with a layer frosting.

Top with zombie cookies, boogers, eyeball sprinkles, candy corn gummies.

Refrigerate until ready to serve.