It's blog hop time! Our theme? Black and White. This was such a versatile theme that I honestly had a hard time nailing just ONE thing down. Look at all these cute projects and delicious treats! I'm excited! You'll definitely want to hop around to each of these fabulous blogs!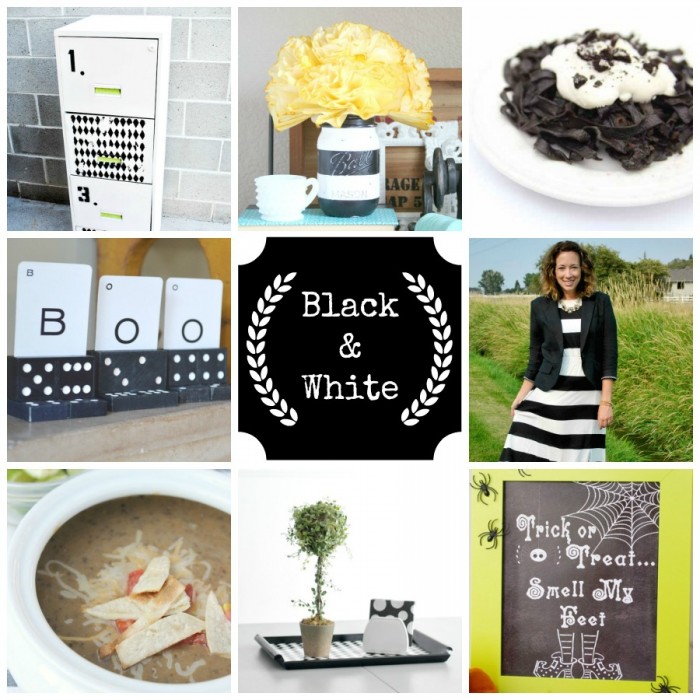 1. Emily – Filing cabinet
2. Rebecca – Striped Bell Jar
3. Kaylynn – Oreo dessert pasta
4. Melissa – Boo Blocks
5. Ashley – Black and White fashion
6. Andie Thueson – Zesty Black Bean Soup
7. Candice – Black and White tray
8. Adrienne – Trick Or Treat Smell My Feet
One of my sweet blog hop friends started asking about Oreo cookies and I couldn't get that image out of my mind. Oreo. Oreo. Oreo. What can I make with some Oreos? Heaven knows I'm a huge fan and use these delicious cookies constantly, but what had I not tried? I was stuck.
I turned to Handsome for some advice and he said, "Why not try a dessert pasta made out of Oreo?" Oreo Pasta? WOWZA. Ding Dong the witch is dead, and we have a winner!!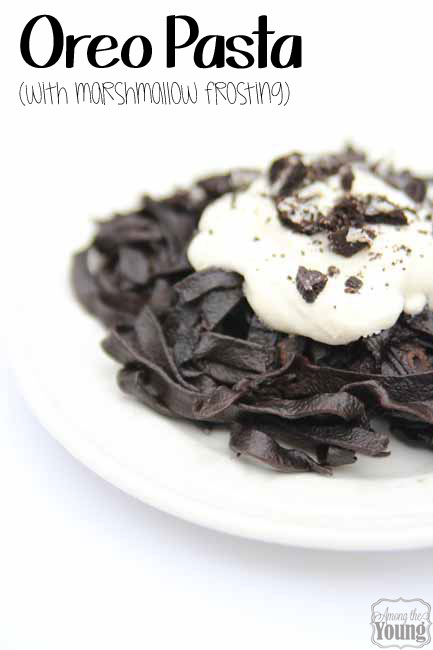 I was excited to use my two new toys: KitchenAid pasta maker and my BlendTech blender. I was not disappointed.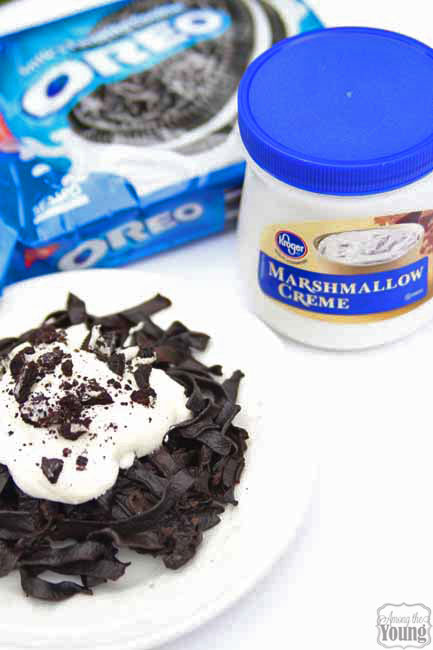 We weren't even sure if this concoction would work. I mean, Oreo pasta? Who were we kidding? We were making this up as we go and hoping that it worked.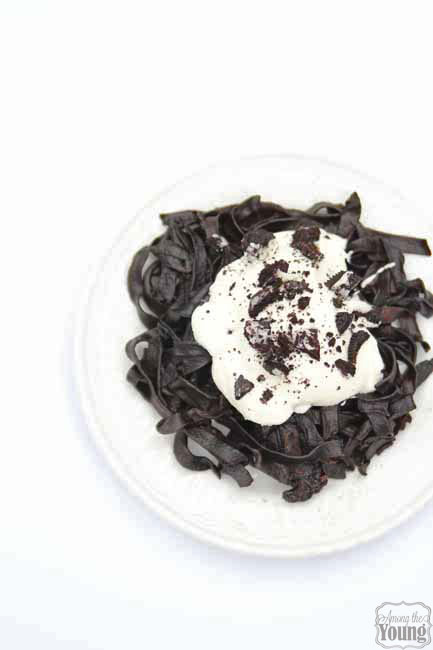 Moment of truth? Oreo pasta win or fail?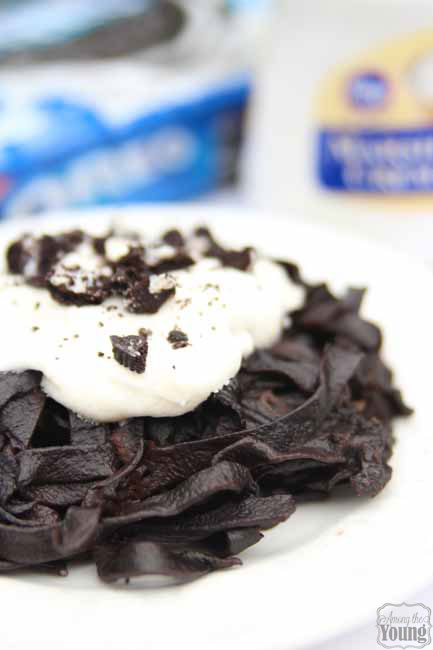 We tried it. The Oreo pasta went in my mouth….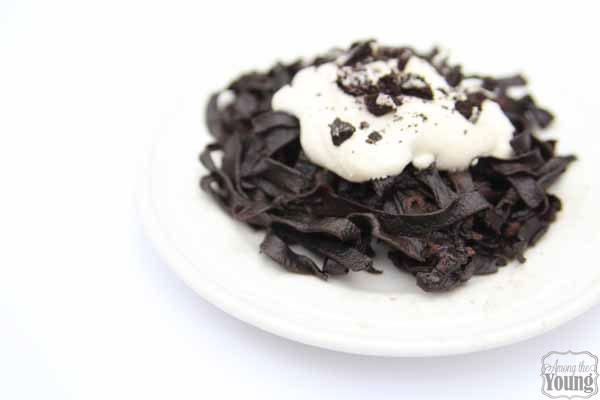 Handsome wasn't a huge fan – because he doesn't like chocolate cookies. DUH. We'll excuse his lame-ness.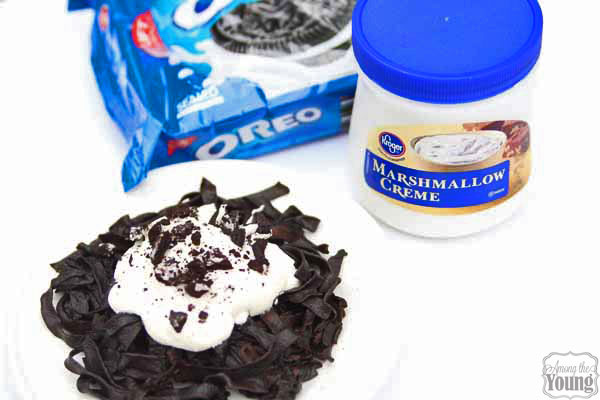 Verdict? From someone who loves pasta and chocolate? This Oreo past was delicious.
The pasta has a nice, rich chocolatey, Oreo flavor, and the sweet marshmallow topping gives it just the right amount of sweetness. Then I started to wish I hadn't eaten so much for dinner and saved more room for dessert. I'll never learn.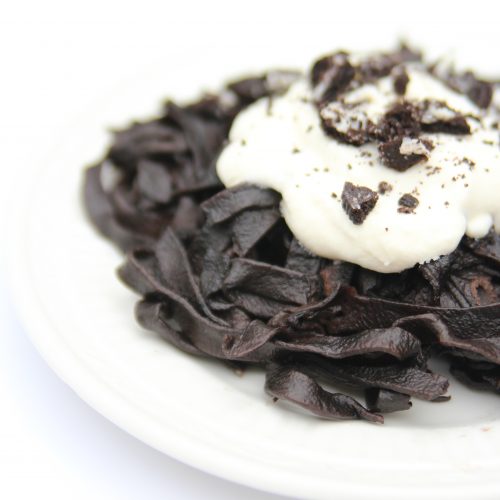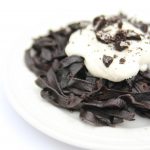 Print Recipe
Oreo Pasta Recipe
Ingredients
Pasta:
2

eggs

1 3/4

c.

flour

1/2

tsp

salt

14

Oreos

cream removed

1

TB

water

extra flour and water
Marshmallow creme:
1/2

jar

marshmallow fluff

1/2

c.

butter

1 1/2

c.

powdered sugar

2-5

TB

milk
Instructions
Pasta:
Add all ingredients (except extra flour and water) to mixing bowl.

Beat with the paddle mixer for 30 seconds on slow speed until well combined.

Exchange paddle for dough hook.

Slowly add flour or water to achieve desired consistency. (Should be tough and not too sticky.)

Once consistency is good, leave mixer on for 2 minutes.

Remove dough from bowl and knead by hand for an additional 2 minutes, using plenty of flou

Divide into 4 balls.

Use pasta maker to flatten and cut to shape.

Boil noodles for 1-2 minutes.

Strain and serve your Oreo pasta immediately!
Marshmallow Creme:
Mix all ingredients together - add more milk to get the desired consistency.
And for the record? The husband gets full credit. Creative genius. Love him.