*This post is sponsored by Musco Family Olives, but these Cheddar Biscuits and opinions stated are 100% my own*
This recipe is my new go-to! These Cheddar biscuits are a delicious twist on my Velvety Smooth biscuits and they are jam-packed with flavor! Cheddar biscuits pair really well with soups, but I could eat them as their own meal! They're THAT good!
I'm so excited to share these Cheddar Biscuits with you guys! I've taken my most favorite Velvety Smooth biscuits and enhanced them with Pearls® Specialties olives and cheddar cheese to create these delightful Cheddar Biscuits … because Life is Better With Pearls® (COUPON HERE)
Cheddar Biscuits


In case you didn't know, my name is Kaylynn and I love biscuits. I love them SO much – they are one of my favorite comfort foods.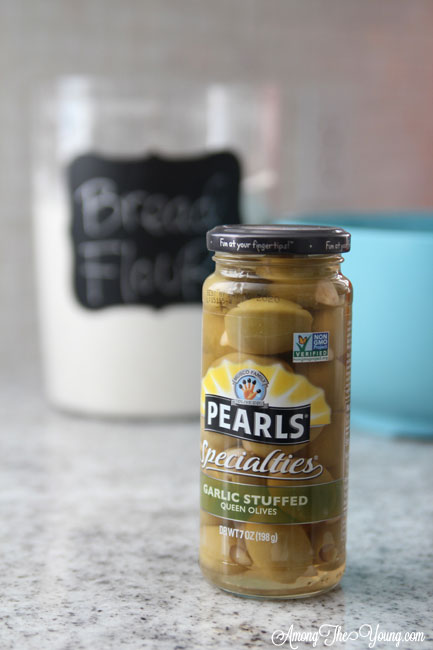 My mom used to make
Velvety Smooth Biscuits
on cold, gray, stormy days and serve it with homemade chicken noodle soup. The thought of it is so warm and cozy! I LOVE it!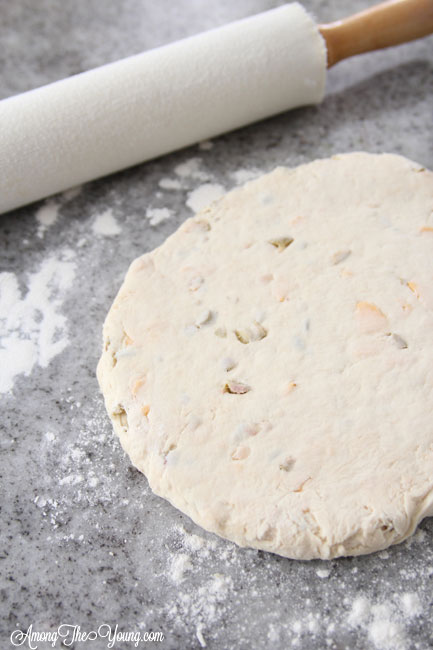 The ONLY biscuits I've found that rival my moms Velvety Smooth biscuit recipe is Red Lobster – because … CHEESE (and a boat-load of garlic). Could I maybe add cheese to my famous
Velvety Smooth biscuits
?
Garlic Cheddar Bread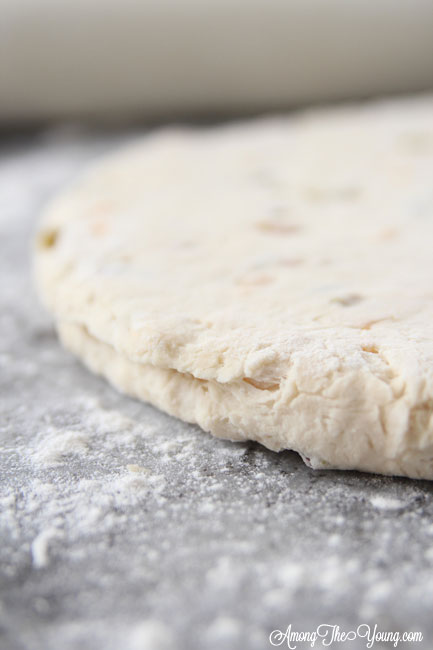 I've always wanted to enhance this amazing recipe – add CHEESE, because … CHEESE. But then I saw Pearls® garlic stuffed olives (
coupon here!
) at the store and was SOLD. If you know me, you know I LOOOOOOOOVE garlic. I could drink it (most likely – I've never actually tried drinking garlic). I once had garlic ice cream and it was weirdly delicious. Of COURSE a garlic stuffed olive and cheese would be the perfect pairing for my biscuits! Thus, Cheesy garlic biscuits were born.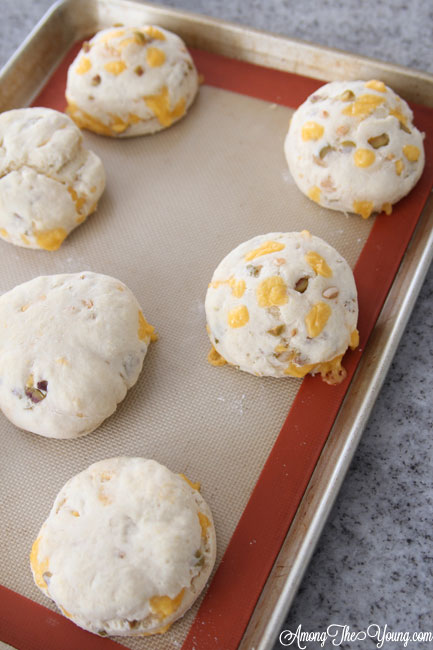 The consensus was mutual – these were DELICIOUS when enhanced. I MIGHT add more salt, but served hot with a little butter? Oh my Lanta!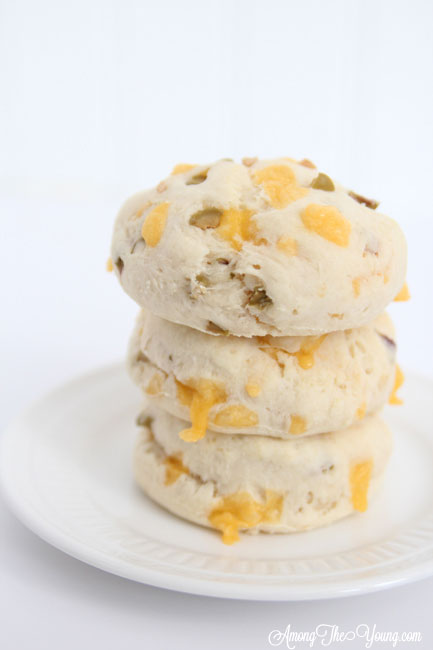 The biscuits are GOLD – that much was already solidified, but when we add cheese and garlic and Pearls (
coupon time!
) the overall flavor was cheesier (well DUH, Kaylynn) and earthier.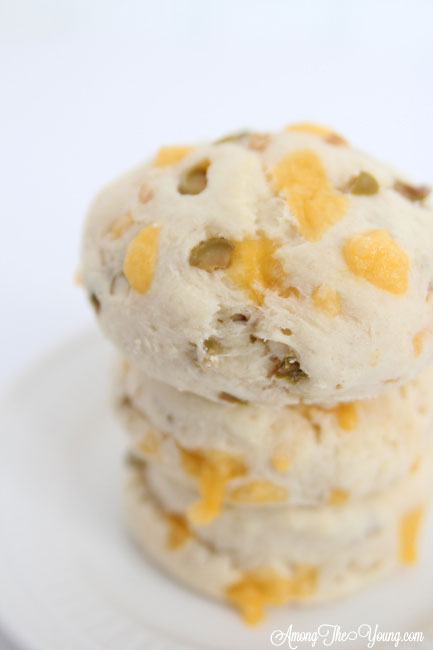 Basically, you're welcome and I'm sorry. I've just added another delicious and dangerous carb to the list. Cheesy Garlic Biscuits for the win! YUM.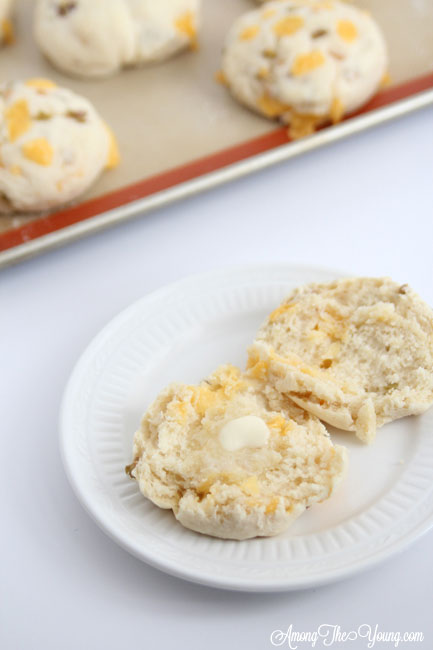 Don't forget to use check out
Pearls® website
for recipes,
coupons
, and other inspiration. Obviously I mixed my Pearls® into a recipe, but if you're strapped for time, why not just throw those Pearls® into a bowl and eat freely? Why not indeed. I found my Pearls® at Harmons, but I also saw them at Smiths – if all else fails, Amazon has got your back!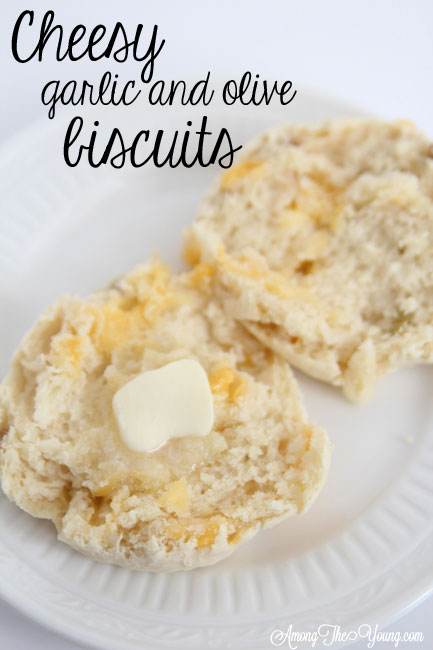 Enjoy my Cheesy Garlic Biscuits with soup or on their own – you won't regret it!
Best cheese biscuit recipe ever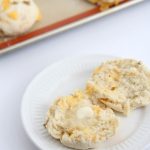 Print Recipe
Cheddar Biscuits
A twist on my famous "Velvety Smooth Biscuits" - this delightful side features cheddar cheese and Pearls® Specialties olives. This is literally the BEST Cheddar biscuit recipe ever!
Ingredients
2

cup

Flour

1

tsp

salt

1

Tbsp

baking powder

1/2

cup

cheddar cheese

grated

1/2

cup

Pearls® Specialties Garlic Stuffed Olives

diced

1 1/2

cup

whipping cream
Instructions
Mix first 3 ingredients together (all dry ingredients) with a wooden spoon.

Add the cheddar and diced olives.

Slowly add the whipping cream.

When you can no longer use the spoon, knead with your hands.

Knead until well combined.

Roll out the dough; about 1 inch thick.

Cut into circles (my 'cutter" was a large cup, approximately 3 1/2 inches circumference)

Bake at 350 for 12-15 minutes (at high altitude) or until golden brown on top.