This shop and Chipotle Pasta Al Pastor has been compensated by Collective Bias, Inc. and its advertiser. All opinions are mine alone. #BarillaFusion #CollectiveBias

The hubby and I recently went to Cabo for our TEN YEAR anniversary. I was excited for the beach and sleeping in – the food didn't even occur to me. DUH, right? Fresh tacos 24/7? OH YESSSSS. Real, legit, authentic food from Cabo …. I could die happy. Most importantly, I FINALLY discovered my favorite type of meat for any kind of taco: AL PASTOR.
No lies, when we came home from Cabo, I was having Al Pastor taco withdrawals. I can't make this stuff up. Luckily I have a local place that I can buy Al Pastor meat already marinated and ready to grill. So easy and so good.
Then the thought came to me …. why not combine two of my favorite things: Pasta and Al Pastor? I mean, a Chipotle Pasta Al Pastor?
The world might implode. TOO. MUCH. DELICIOUS.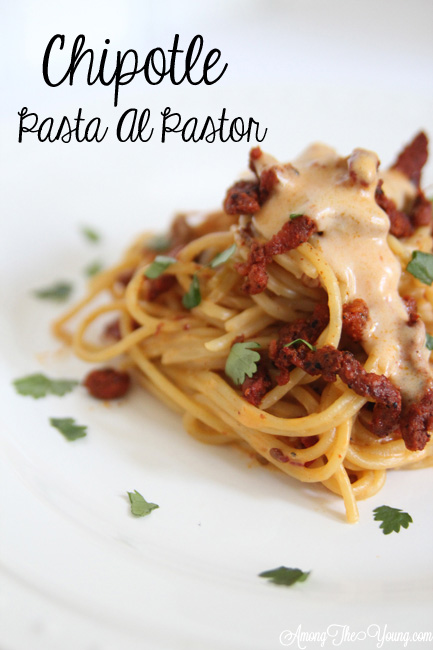 So I headed down to my local Albertson's to grab some Barilla pasta (Always al dente, always perfect) and the new creamy Alfredo sauce, along with some canned Chipotle peppers. I was on a mission.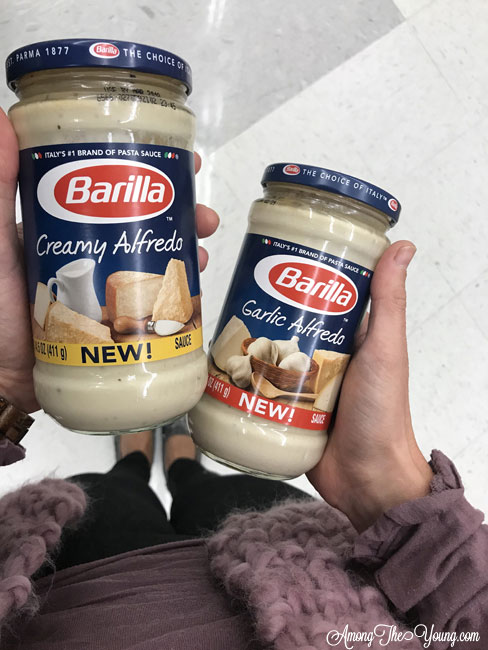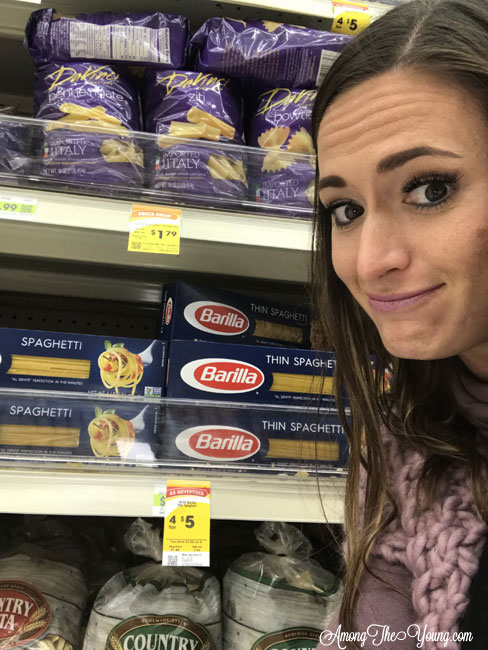 Can I also just say how much I love buying Alfredo sauce? Yes, I have my own recipe for
Alfredo
, but something about buying it is kind of like a treat. It reminds me of quick and easy dinners when I was a kid. This Barilla Alfredo sauce is TOP NOTCH. (AND I might have a sweet
coupon
for you
here
! While you're there be sure to head to the enter the
Barilla contest
for a chance to win thousands of prizes!!)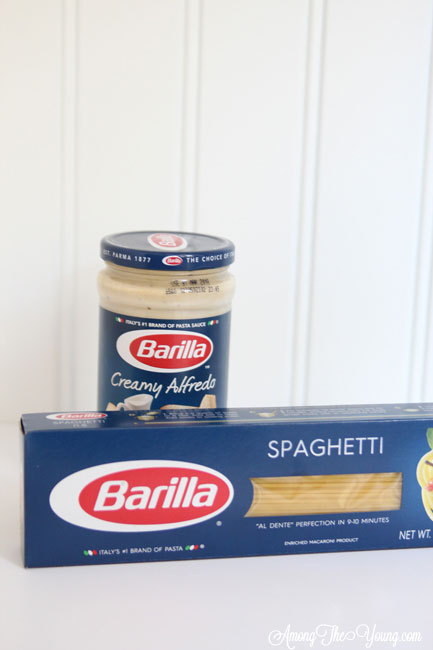 Also, Chipotle peppers – this was my first experience with them and I'm obsessed.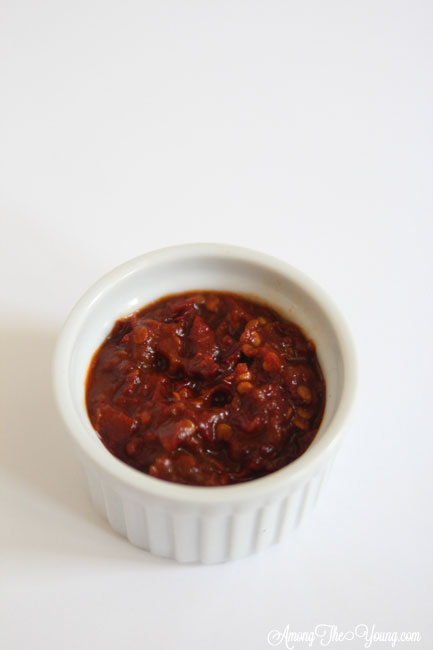 So what happens when you mix delicious Barilla Alfredo sauce with a few Tablespoons of Chipotle peppers?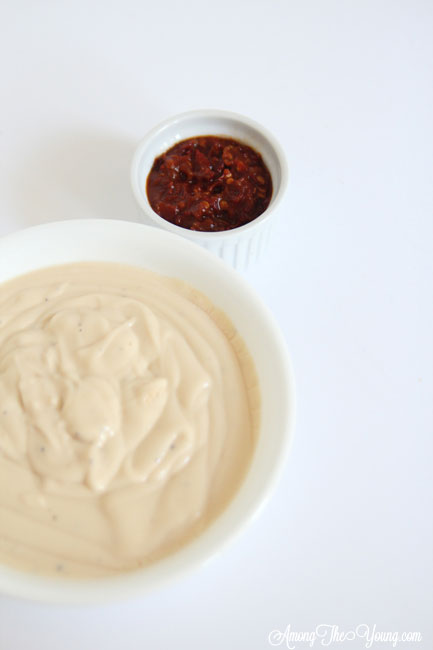 Magic.
You get magic.
Also known as the creamiest Chipotle sauce. IN THE WORLD. Yum!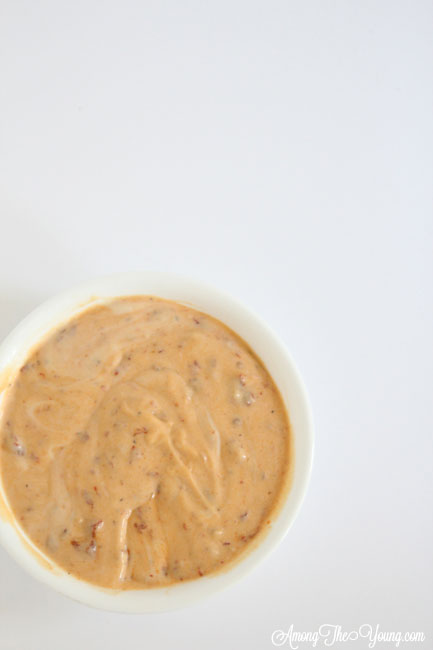 And I haven't even added the Al Pastor meat yet. Just you wait!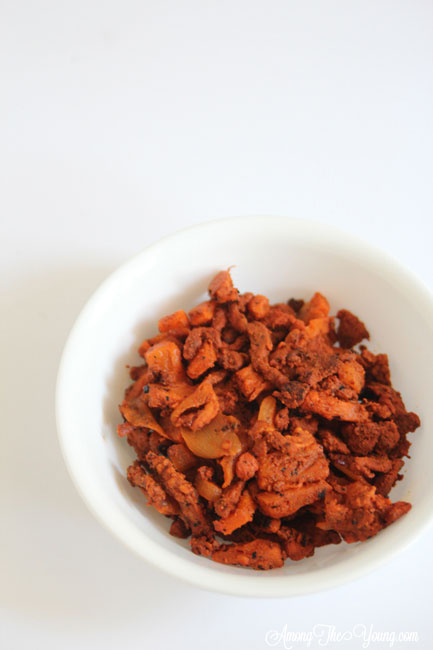 The thing I don't love about Al Pastor meat is that it usually includes pineapple. Kaylynn and pineapple don't get along, so I picked any stray piece of fruit out of my dish, but Hubby said the pineapple added a lovely sweet kick to the spicy sauce and meat. Your call.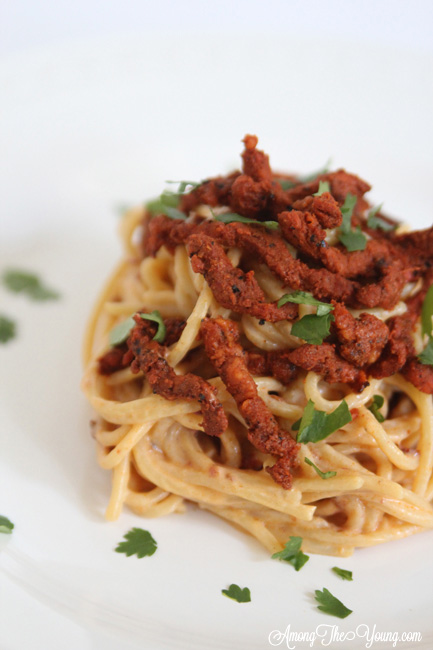 The rest – was easy. Ok I lied. This might've been the hardest part of Chipotle Pasta Al Pastor: trying to stay calm and not devour the dish before photographing. I'm not kidding. This plate might be covered in my drool.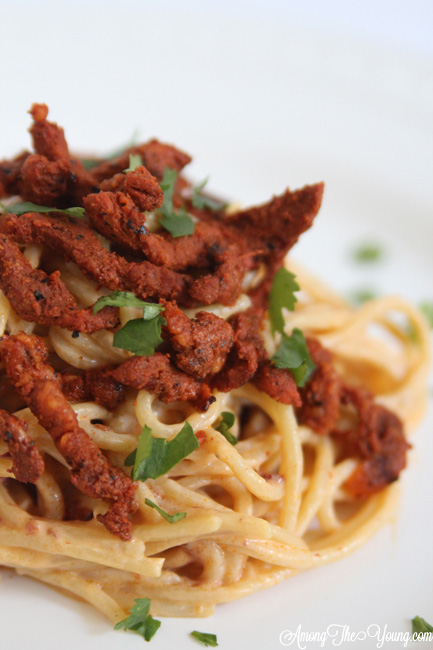 I tossed my pasta in the chipotle sauce, swirled it up with a fork, sprinkled the Al Pastor meat and some cilantro …. Voila! Chipotle Pasta Al Pastor!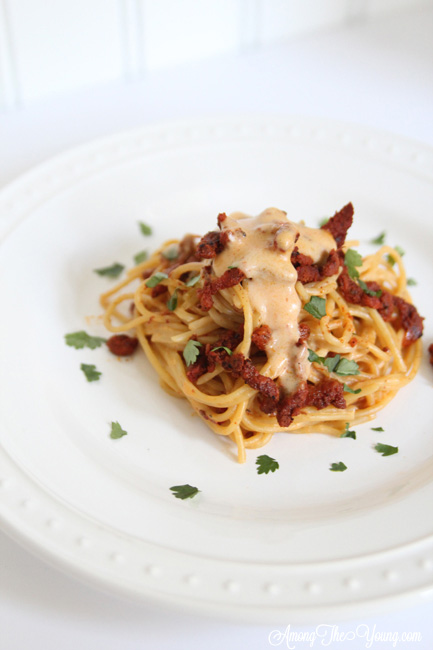 Aaaaaaand just for good measure, I had to drizzle some more of that glorious Chipotle Sauce on top. Because …. Chipotle.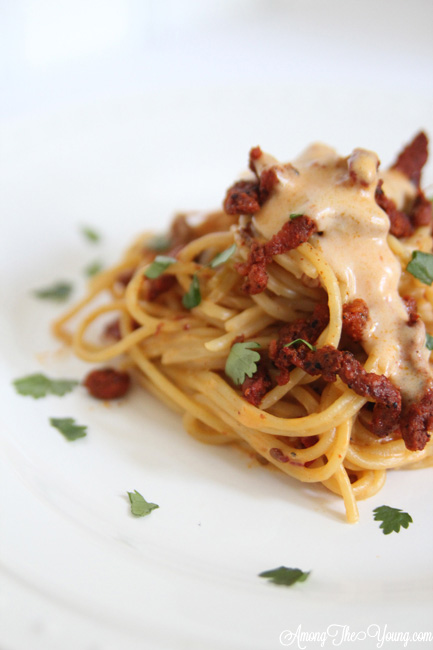 In this batch I added 2 TB Chipotle peppers and
I
thought it was a tad too spicy. Hubby loved it as is. My advice to you is to add 1 TB of Chipotle peppers at a time. One can always add more!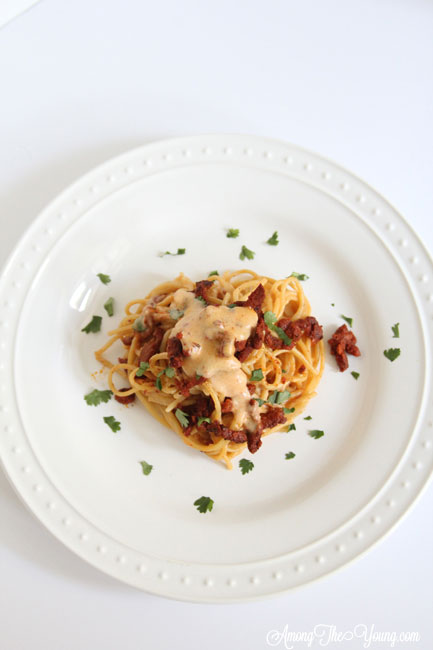 Rest assured that no matter what genre of food my family is eating, there will be Al Pastor meat.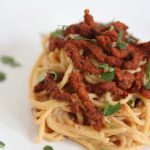 Chipotle Pasta Al Pastor
A twist on a classic Mexican dish - Al Pastor meets its Italian equal 
Ingredients
1

pkg

Barilla Spaghetti

1

bottle

Barilla Creamy Alfredo

1-2

TB

Chipotle Peppers

finely chopped

1/2 to 1

lb

Al Pastor meat

I found mine at the Mexican market

Cilantro

*optional
Instructions
Grill Al Pastor Meat on high until it has a slight char.

Let rest for 5 minutes.

Cook Pasta until Al Dente.

Strain.

Finely chop 1-2 TB of Chipotle Peppers until it makes a paste.

Combine Chipotle pepper paste with entire contents of Barilla Creamy Alfredo.

Stir well.

Plate your desired amount of pasta and toss in a small amount of sauce.

Top with Al Pastor meat and cilantro.

Add additional sauce if desired.
So what do you think? Will you try this Chipotle pasta al pastor? Would you family like it? Maybe this recipe isn't your jam? There a lots of other fun Barilla ideas to try here!
Don't forget to go to Barilla and enter their amazing contest! There are thousands of prizes available – at the very least, go grab that sweet coupon! Everyone wins!!