Have you heard of the Bibbidy Bobbidy Boutique? If you haven't, don't beat yourself up. I hadn't either. Apparently it's a place for little girls to go and get all dolled up like a princess. I'd always seen lots of little girls dressed up and with the extreme gel hair; I'd always thought those moms were a little crazy. Really? You're doing your daughter's hair like that? My bad. Turns out they paid to have someone else do that for them. A fairy Godmother to be exact.
So back to the Bibbidy Bobbidy Boutique – normally I'd be SOOOO against this, but T's in LOVE with all things Disney Princess and her Nana offered to pay. Done deal. No questions asked. It was actually a miracle that we got in – apparently the time slots fill up SIX MONTHS in advance. I can't make this stuff up. So we squeezed in. Barely.
T picked out an Elsa dress and it was a size XXS (2-3) and it was TIGHT. Still fit her, but just a little snug. Poor kid did it to herself. (Can you believe they are SOLD OUT of this dress nation-wide? Incredible.)
I was worried she wouldn't sit in her chair to have her hair done, but we quickly passed that. She was fin. Her fairy Godmother then did her hair, nails, makeup, gave her a crown and a sash, and a healthy dose of glitter.
Then….the pictures. They were corny, but turned out cute.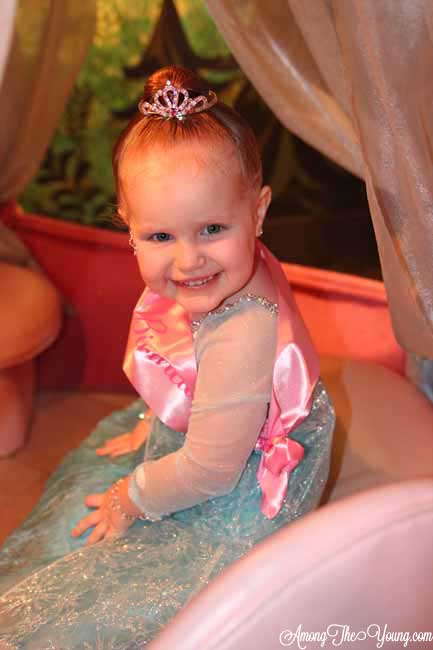 Then we cut straight to the front of the line to see the 3 princesses – T was in HEAVEN. She literally did get the royal treatment. These princesses were calling her "princess" and after they were done visiting with her, they personally escorted her to the next princess. WOW. Personal rant: Why put the Princesses in a place with such terrible lighting? UGH.
Would I do the Bibbidy Bobbidy Boutique again? Maybe, but to a lesser extent. There were some definite pluses, but for the cost I'm not sure it's entirely worth it. Just my two cents. Everyone is different.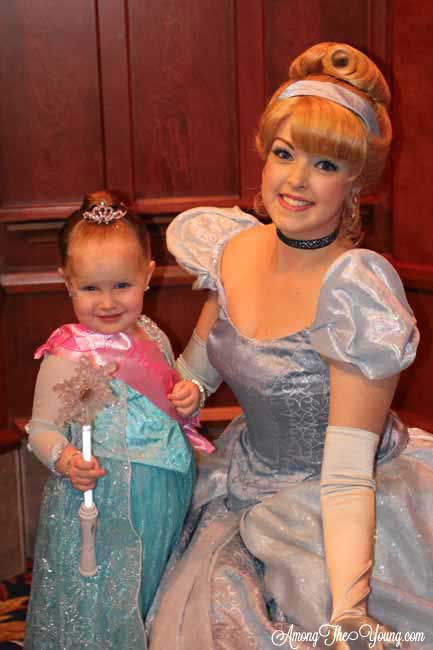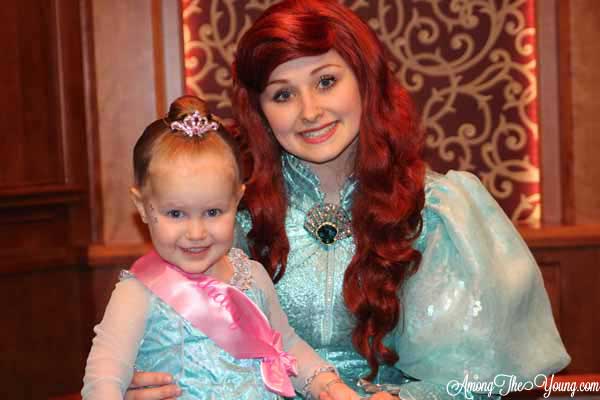 Two of my fav pictures. What a patient man to have an itchy Elsa princess on his head and hat.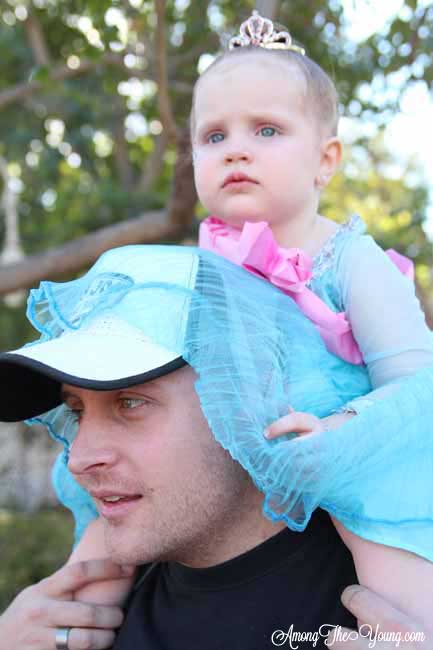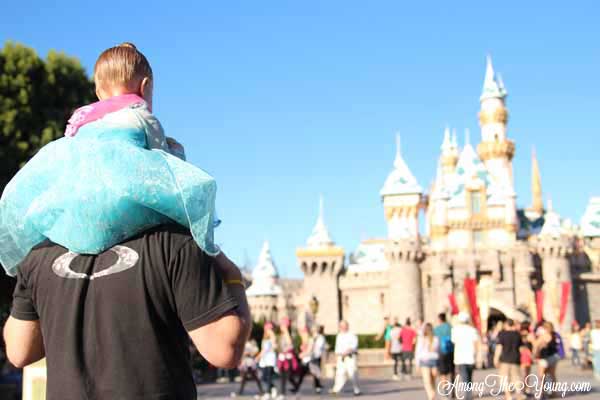 And then, try as we might, we ended up in the line to see Elsa and Anna. *sigh* TWO. HOUR. WAIT. Again, I can't make this up. Handsome decided to stay in line while I took T around on some rides. Luckily, we weren't the only parents doing this. Honestly though, what small child can wait 2 hours ?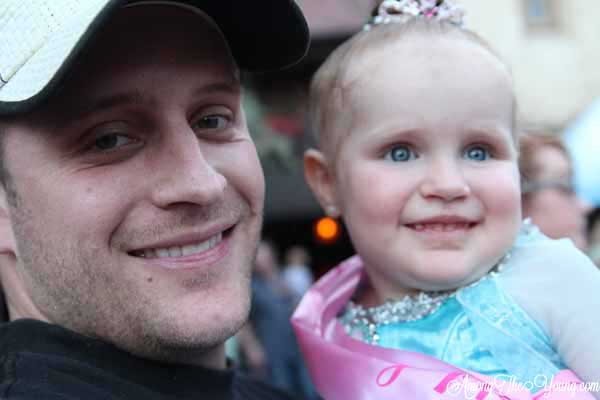 Luckily, we DID make it and were RELIEVED to see that BOTH Anna and Elsa were there (we were under the impression it was one or the other and then they switched every so often). Hallelujah. Again, T (with her makeover from Bibbidy Bobbidy Boutique) was elated.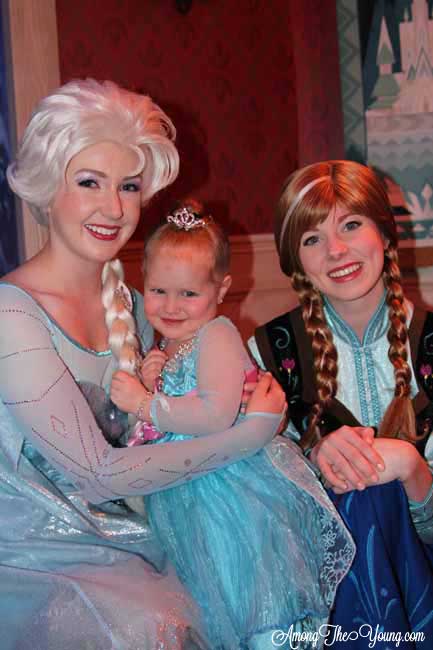 We finished off our first day in Disney with the 1,000th carousel ride and her day was complete.
Are you looking to go to Disney soon? Check out Get Away Today's deals and use code YOUNG10 – it is good for $10 off any Southern California vacation package of 2 or more nights and tickets!