*This Ratatouille with Dorot post is sponsored by Dorot but the content and opinions expressed here are my own.*
I'm new to the Ratatouille game. I'm also new to the Dorot game. Then I realized Ratatouille with Dorot would be the best and easiest combination of them all. Bring it on baby!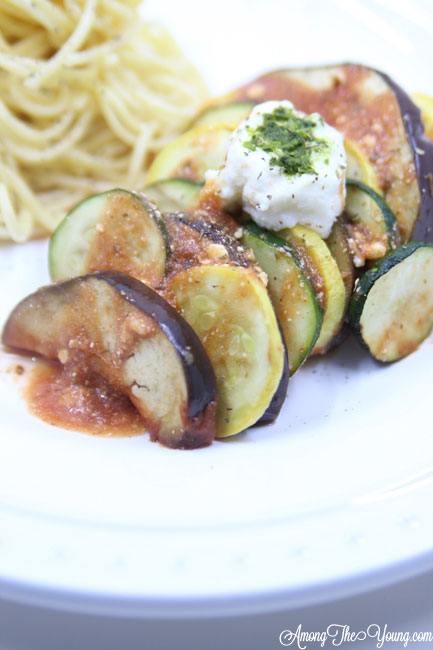 Haven't heard of Dorot? Don't feel bad – neither had I!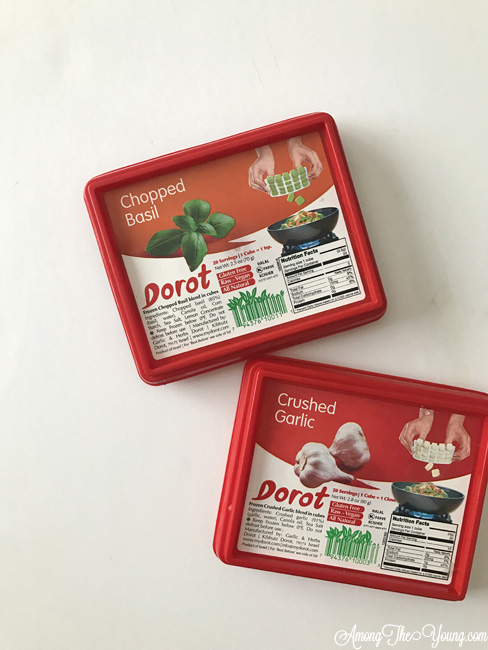 As soon as I realized what it was and how much easier my life would be I was ALL IN. Frozen herbs in little cubes and ready to use. Um…. Yes please?? Give me all the Dorot.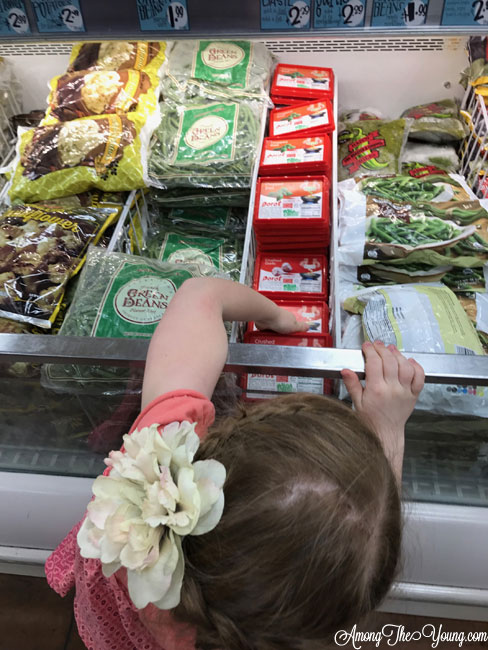 My biggest thing about fresh herbs is not using them fast enough – I feel like I throw away half of the bushel of cilantro/basil/thyme/etc because my recipe usually calls for 1/2 tsp or something ridiculously small. Why can't I just buy a 1/2 tsp? NO MORE – now I've got my freezer stashed full of delicious frozen Dorot herbs and I am SET!!!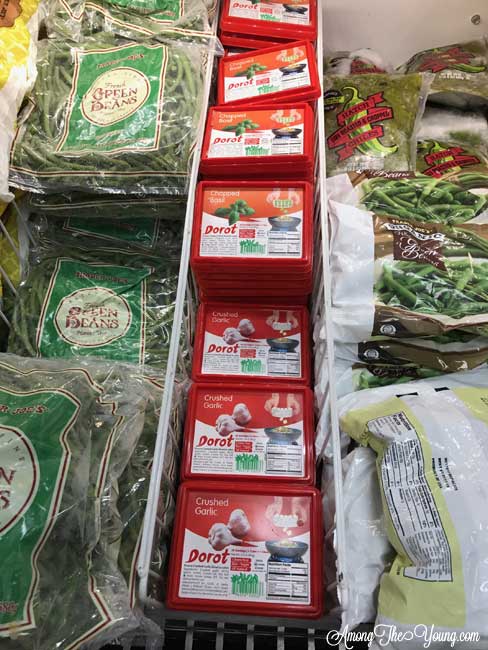 We found our Dorot at Trader Joe's and my little helper was all to eager to help me out.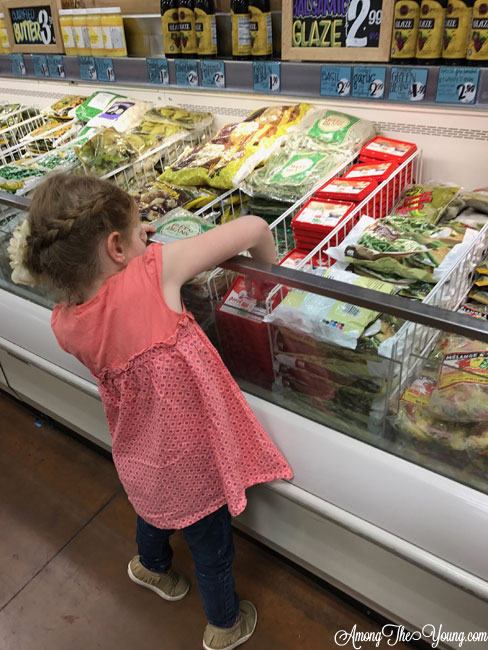 This Ratatouille with Dorot is SOOOO incredibly easy – I can barely stand it. Seriously, why have I not been making this everyday for the last forever?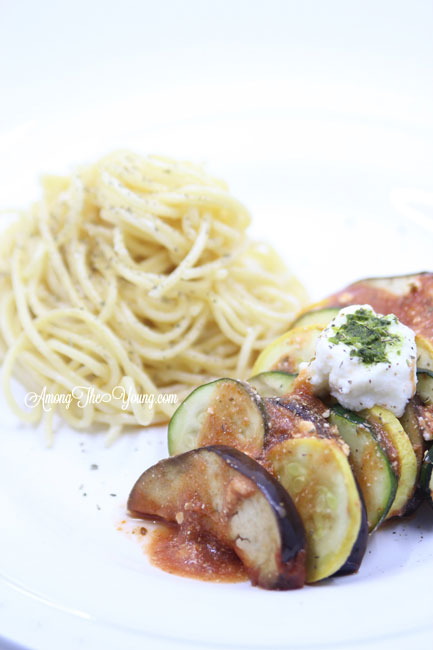 It really is such a pretty dish – I mean, who knew veggies could be so lovely sliced and lined up??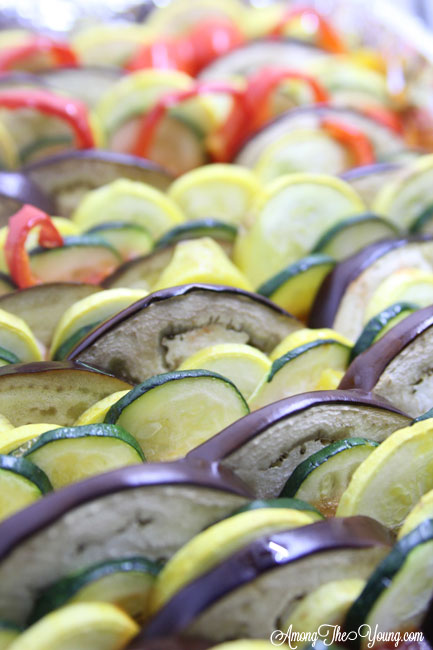 The hardest part of the recipe is chopping up veggies – but if you have a mandolin it ain't no thang.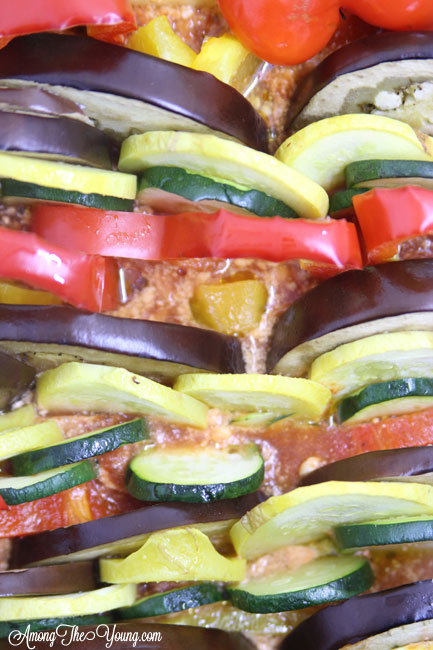 I lied. The hardest part of the recipe is trying to not eat all the Ratatouille with Dorot… I swear…my house smelled AMAZING. I could've eaten the entire pan. No lies.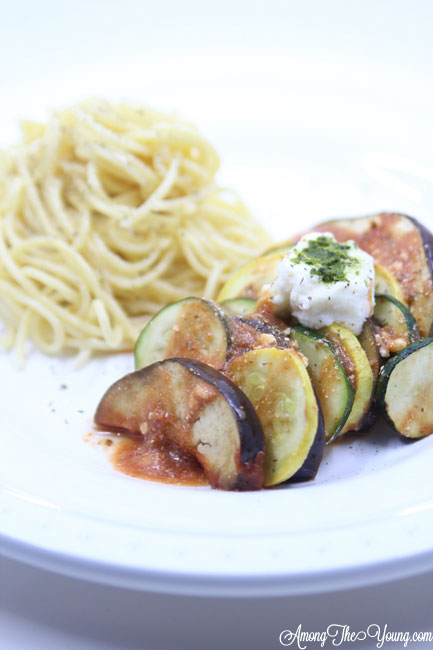 Dare I say… this Ratatouille with Dorot is even kid approved? Sure the one-year-old turned her nose up at it (to be expected) but the six-year-old LOVED it. (Thank you Disney for creating a moving about Ratatouille and helping my little girl realize this veggie dish is delish.)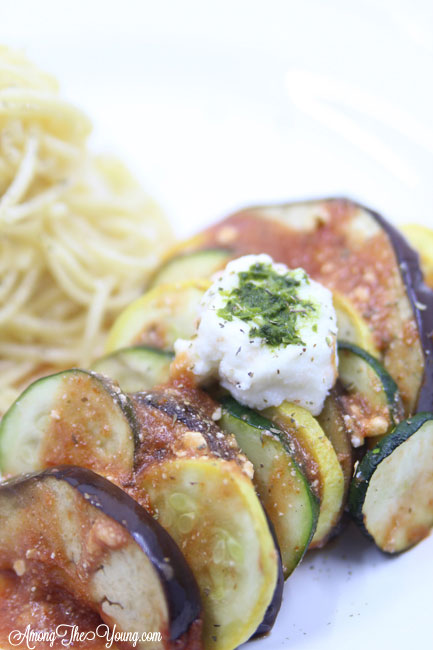 We paired our Ratatouille with pasta, but I've also seen it served with polenta or on its own. Whatever your desire!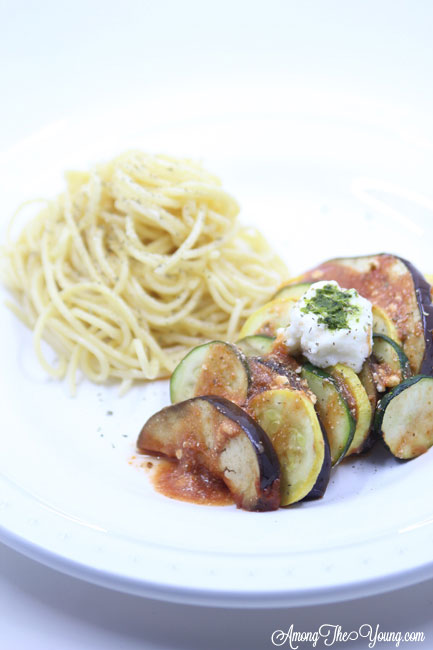 This Ratatouille with Dorot was a huge hit – it was really hard to stop eating it. It's the perfect combination of flavors – reminiscent of lasagna but made with veggies and Dorot herbs. YUMMM.
Don't forget to try Dorot – it has made my life in the kitchen a zillion times easier. Huzzah for the freezer!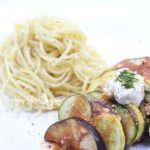 Easy Ratatouille with Dorot
Ratatouille just got a whole lot easier with Dorot frozen herbs.

Ingredients
1

can

Pasta sauce

I used Prego

Cottage cheese

3-5

cubes

Dorot garlic

1

TB

olive oil

1

small

eggplant

sliced thin

1

zucchini

sliced thin

1

yellow squash

sliced thin

1

red bell pepper

cored sliced thin

1

yellow bell pepper

cored sliced thin

3

TB

olive oil

or to taste

3-5

cubes

Dorot basil

for topping

Ricotta cheese

for topping

Balsamic glaze

for topping
Instructions
Preheat the oven to 375 degrees F

Spread pasta sauce, cottage cheese, and Dorot garlic into the bottom of a 11x9 dish

Arrange alternating slices of eggplant, zucchini, yellow squash, red bell pepper, and yellow bell pepper.

Drizzle the vegetables with 3 tablespoons olive oil and season with salt and black pepper.

Cover vegetables with a piece of parchment paper cut to fit inside.

Bake in the preheated oven until vegetables are roasted and tender, about 45 minutes.

Serve with dollops of ricotta, balsamic glaze, and pasta or polenta