I'm a SUCKER for tiramisu (and cake!) — especially when it's FAST and EASY. However, I never order it when I'm out at a restaurant. Why?
1. Too expensive
2. Too full
3. Feel guilty because Handsome won't eat any of it because he doesn't like coffee.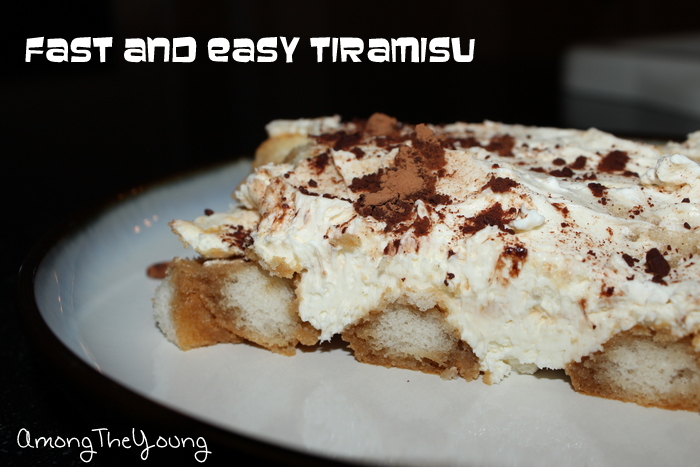 So how do I get my tiramisu fix? Make it! I bought a Philidelphia Cookbook a while back and was STOKED to see this recipe.
I was initially afraid to try it because it calls for coffee. DUH. How did I not know this? No wonder it tastes so delicious…. Finally got brave enough to go buy decaf coffee and give it a go.
Not only is this delicious, but it was SUPER easy.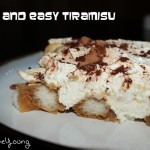 Fast and Easy Tiramisu
Ingredients
2

pkg.

3 oz. each ladyfingers

2

Tbsp.

MAXWELL HOUSE Instant Coffee

Again, I used Decaf

1

Tbsp.

sugar

1

cup

boiling water

2

pkg.

8 oz. each Cream Cheese, softened

1/2

cup

sugar

2

Tbsp.

almond-flavored liqueur or brandy

SKIP this

2

cups

whipped cream

1

tsp.

unsweetened cocoa powder
Instructions
Arrange 1 pkg. of the ladyfingers on bottom of 13x9-inch dish.

Dissolve instant coffee and 1 Tbsp. sugar in boiling water.

Brush 1/2 cup of the coffee mixture over ladyfingers in dish.

Beat cream cheese with electric mixer on medium speed until smooth.

Add 1/2 cup sugar and liqueur, mixing until blended.

Gently stir in whipped topping.

Spread one half of the cream cheese mixture over ladyfingers.

Top with remaining ladyfingers; brush with remaining coffee.

Spoon remaining cream cheese mixture over ladyfingers.

Dust with cocoa.

Refrigerate 4 hours or overnight.
*This recipe is courtesy of Philadelphia and can be found on Kraft's website or in the Philadelphia cookbook.