Top Utah lifestyle blog, Among the Young, features a twist on a classic Italian dessert: Egg Nog Tiramisu. Scroll for all the info and the tiramisu recipe!!
You KNOW I love tiramisu – remember THIS and THIS?? So of COURSE it only makes sense to make an Egg Nog Tiramisu.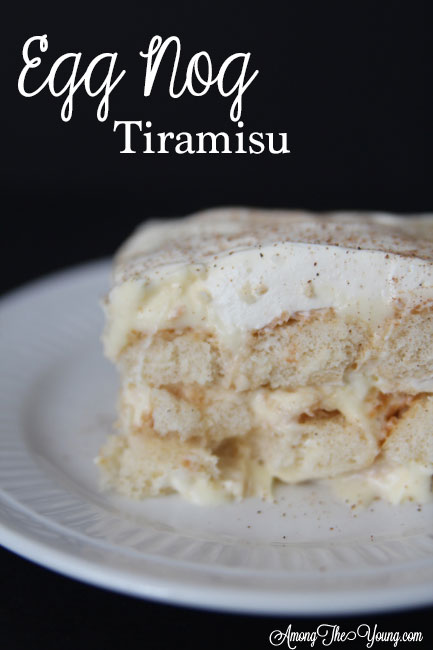 Egg Nog is one of my favorite holiday treats, but it's SUPER easy to over-do it. I love experimenting with Egg Nog and I believe this Tiramisu is the creamiest holiday treat to hit the table. It's subtle (because I used a subtle Egg Nog) and it has the perfect amount of nutmeg. I'm dreaming of Christmas as I type!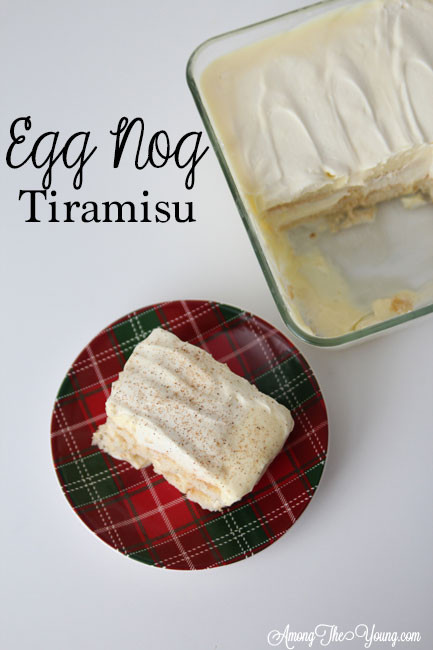 Tiramisu using Egg Nog
First of all – I have to assault your eyes for a brief moment. I went to make this delightful Tiramisu this last season. I pulled up this recipe and was ASTOUNDED by how bad these first pictures were.
I mean, we've gotta start somewhere, but I used to be REALLY big on colorful backdrops. I know this is a Christmas recipe, so I understand WHY I thought RED was a good idea, but I just …. BLECH! It hurts my eyes! It burns!
BEFORE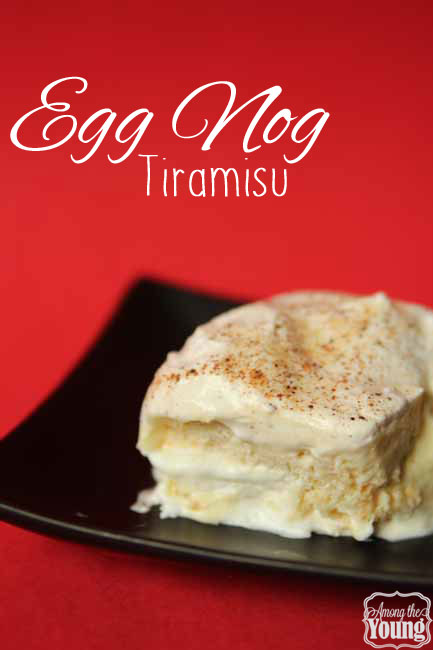 AFTER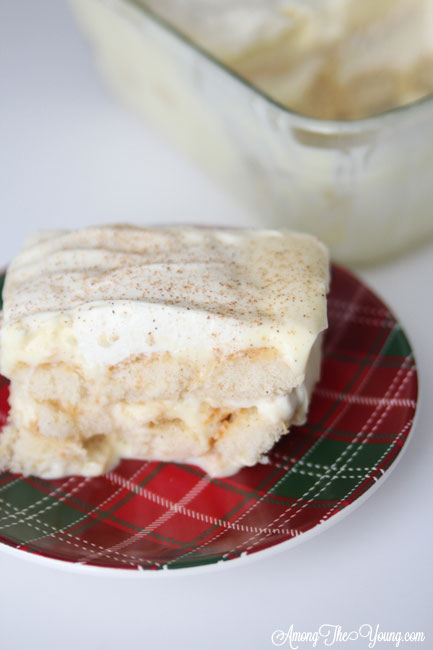 BEFORE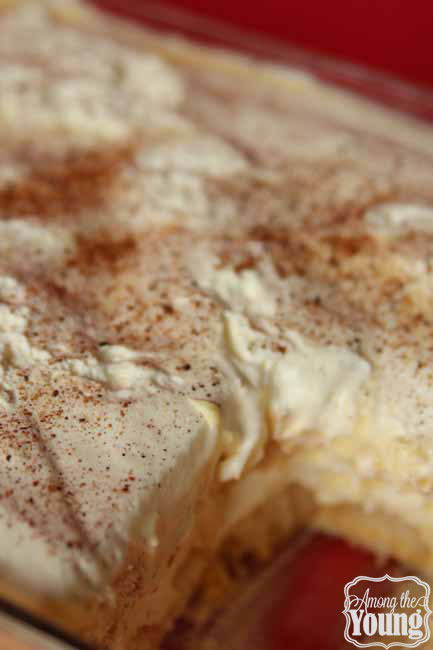 AFTER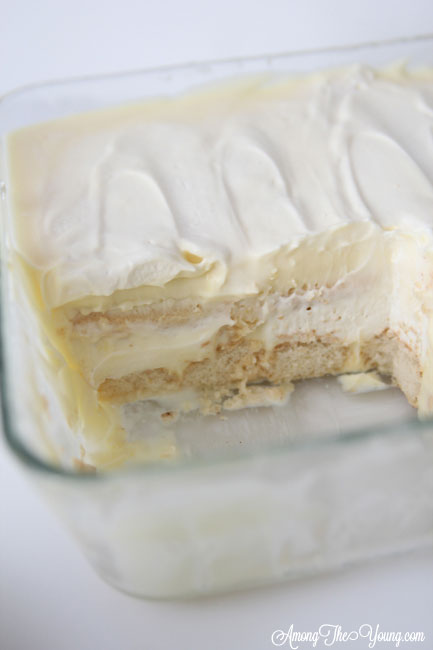 BEFORE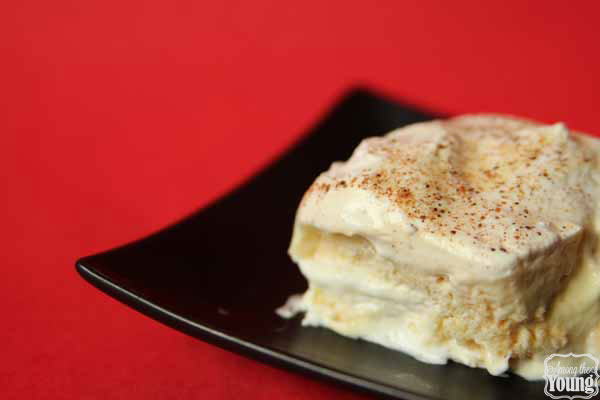 AFTER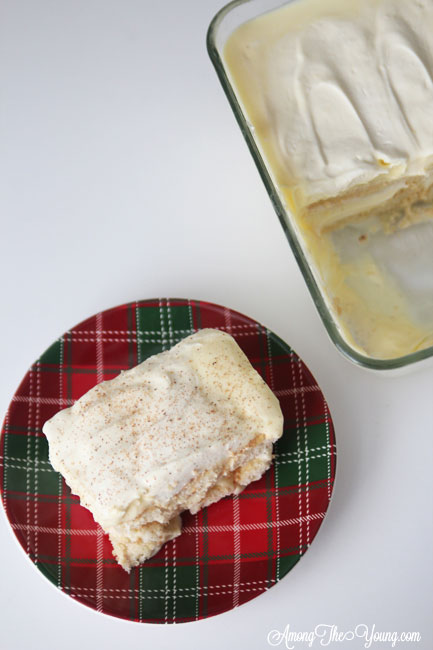 Ok ok, I'll stop. To be fair, it IS a little tricky to photograph a pile of gooey tiramisu. So yes, it still may look like a pile of cream, but you can at least appreciate the better lighting, right?
A Twist on a Classic Tiramisu
I've always loved the concept of tiramisu, but as a non-coffee drinker I try to be creative about different ways to make a delicious tiramisu. Then it hit me. EGG NOG + LADYFINGERS.
Thus, Egg Nog tiramisu. Instead of drenching the ladyfingers in coffee, you dip them in egg nog. Eggnog Tiramisu was born and Kaylynn is the happiest! WHAT THE YUM?
I'm curious your thoughts – because I'm still torn – white backdrop or black? Obviously I couldn't decide so I included both.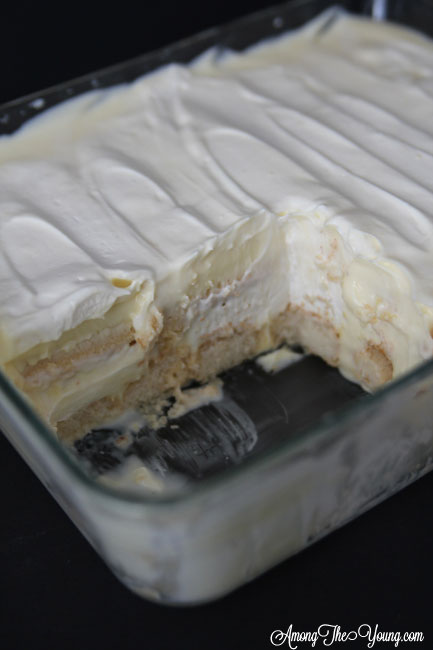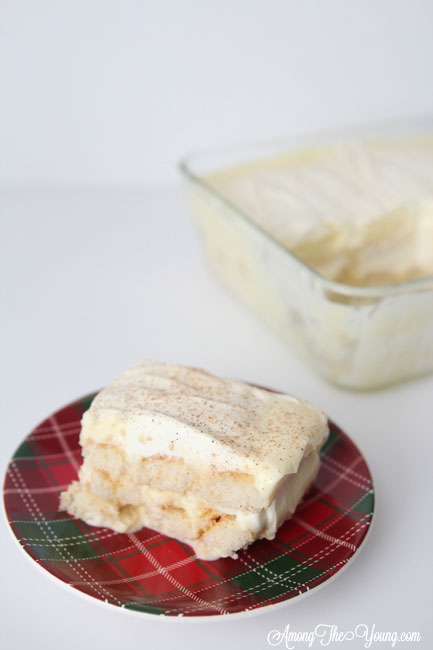 The black really makes the tiramisu POP, but the white is classic and it's my go-to.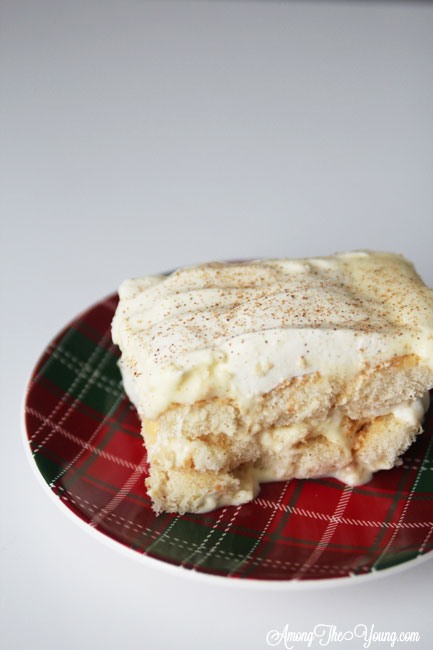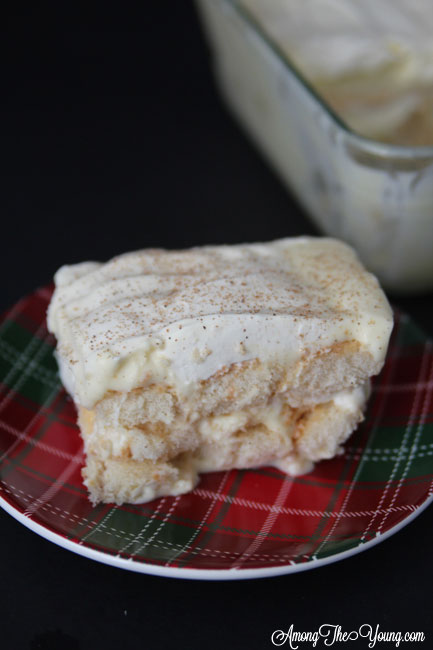 Our favorite Eggnog is Southern Comfort, but it can be tricky to find. (Walmart carries a HUGE carton of it HERE!!) Use whatever Eggnog you like best – be it soy, coconut milk, Meadow Gold, or Southern Comfort!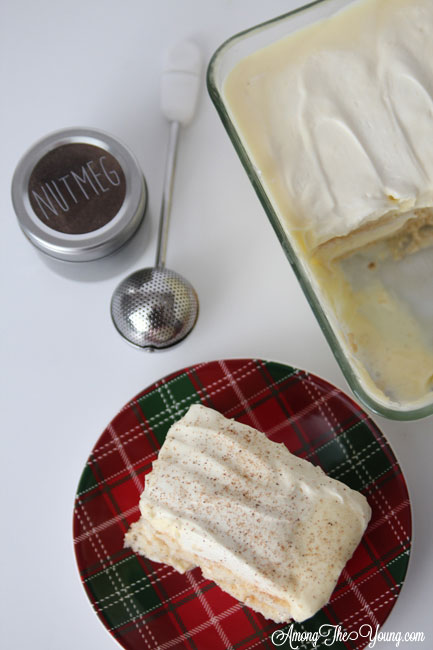 Here was our debate: Do we use regular egg nog or Southern comfort (non-alcoholic) egg nog? Did we want a syrupy full of flavor tiramisu, or a smooth and creamy tiramisu? We went with the Southern Comfort for OUR egg nog tiramisu, but I'm sure the regular egg nog would've tasted amazing too!
My rule of thumb with Egg Nog desserts is this:
If it's being BAKED – always use the SUPER POTENT, thick, syrup-y Egg Nog. Pretty much any Egg Nog will do, but I always recommend the Darigold.
If it's NOT being BAKED – (for example: a cream or drizzle) alwways use the subtle, smooth Egg Nog. Southern Comfort is my favorite. It's non-alcoholic and BONUS POINTS: It freezes EXCEPTIONALLY well. I've tested it out and the happy dance that ensued could not be faked.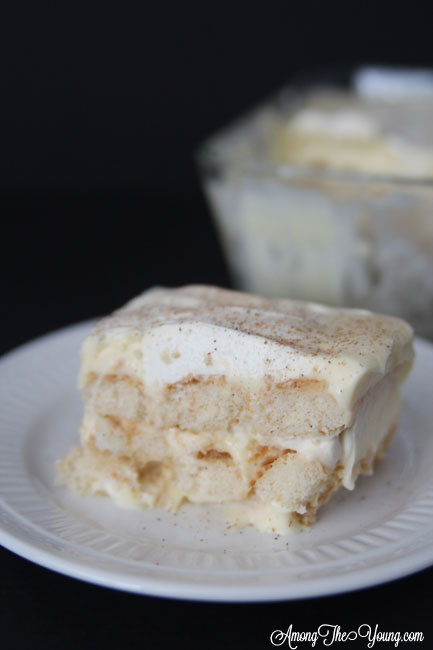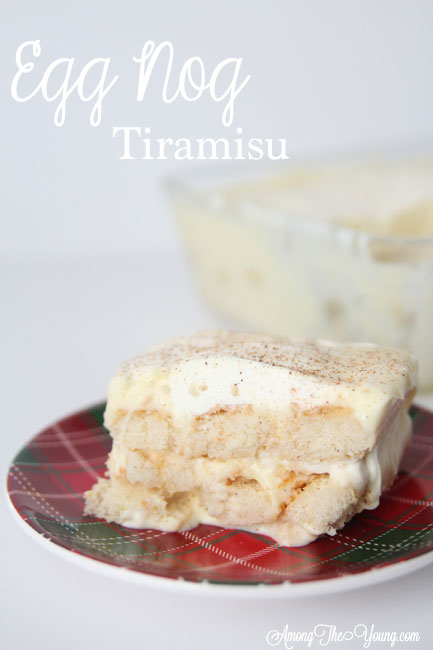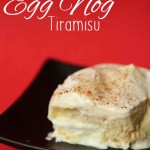 Egg Nog Tiramisu
Ingredients
6

egg yolks

3/4

C.

sugar

2/3

c

milk

1 1/4

c.

heavy cream

1/2

tsp

vanilla extract

1

lb

mascarpone cheese

1

C.

Egg nog

2

3 oz packages ladyfinger cookies

1

TB

nutmeg powder
Instructions
In a medium saucepan, whisk together the egg yolks and sugar until well blended.

Whisk in milk and cook over medium.

Stir constantly until boiling.

Boil gently for 1 minute, remove from heat and cool slightly.

Cover tightly and chill for 1 hour.

In a different bowl, beat cream and vanilla until stiff peaks form.

Pull custard out of fridge and whisk mascarpone into yolk mixture until smooth.

Put egg nog in a small bowl.

Dip each ladyfinger into the egg nog until soaked (Do your best - the egg nog is thick and takes awhile to absorb!)

Arrange half of the lady fingers on the bottom of a 9×13 pan.

Spread half of the mascarpone mixture next, then half of the whipped cream.

Repeat layers.

Sprinkle with nutmeg.

Cover and refrigerate overnight.
Recipes using Egg Nog:
If you're a sucker for Egg Nog, be sure to check out some of my other favorite recipes:

Egg Nog Cake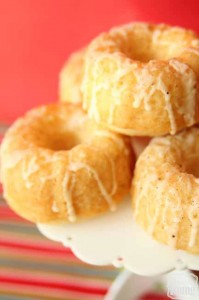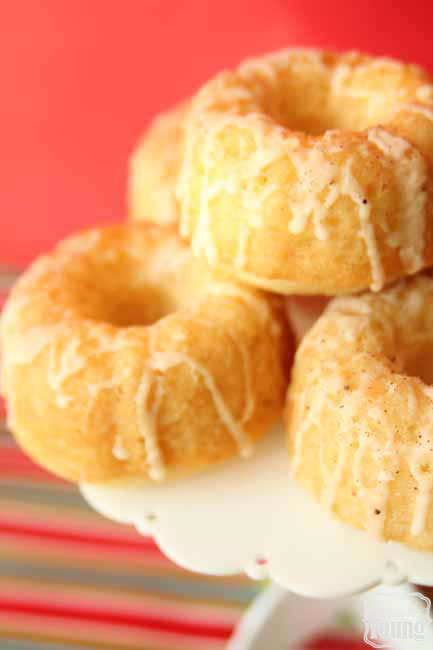 Egg Nog Poundcake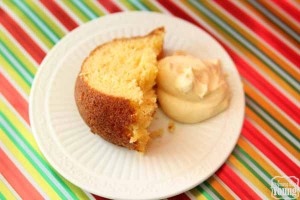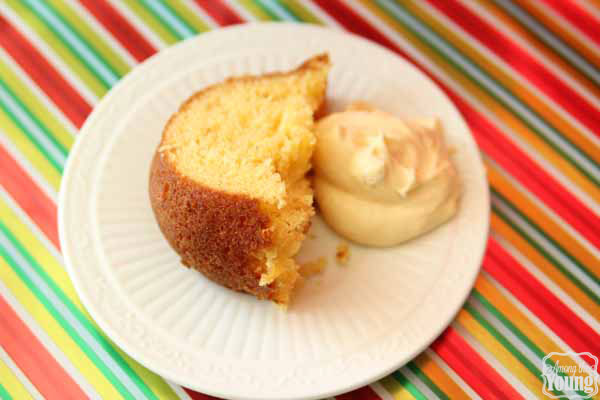 Egg Nog Bars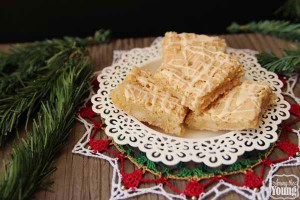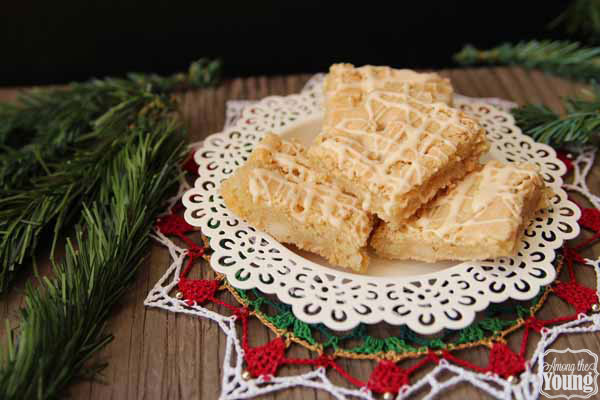 Here are some of the tools I used to make this tiramisu:
Also, I've never attempted this, but my friend Ashlee has a HOMEMADE egg nog – can you imagine MAKING Egg Nog and then using it in this Tiramisu? Oh my gosh …. I need to try it! She also has an Egg Nog cheesecake …. say no more! I'm there!
My friend Amber has Egg Nog Cream Puffs – my mouth is literally watering and my other friend Alli has an Egg Nog French toast that looks INCREDIBLE!
To say I'm Egg Nog obsessed is an understatement!