Top Utah lifestyle blog, Among the Young, features the most amazing layered rainbow Jello dish with yogurt and whipped cream. Click here for the recipe!!
I can't believe this. I'm a traitor to my hometown. I'm from Utah and this is the first Jello recipe I have on my blog. I know. I'm a fraud. But this layered rainbow Jello recipe was worth the wait. Promise. It's a family favorite!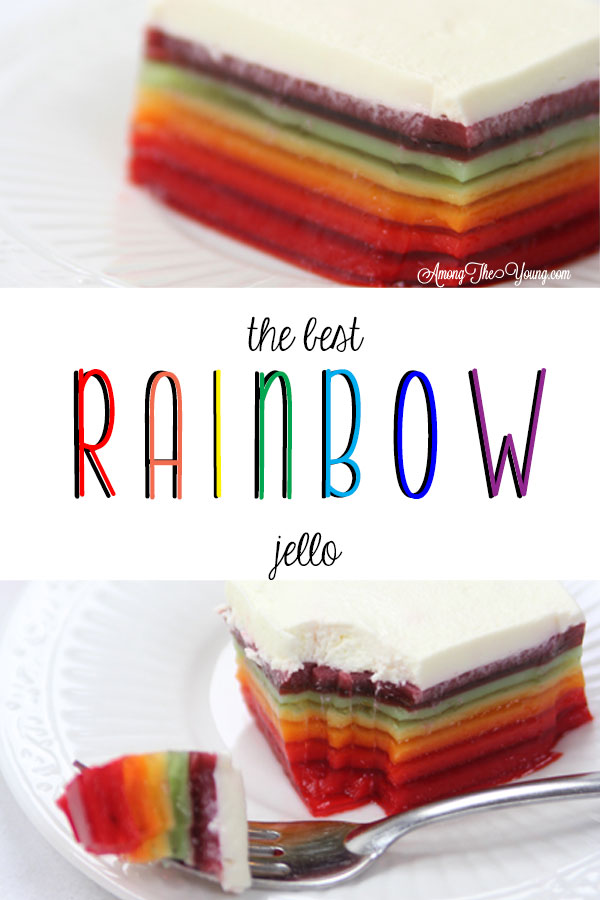 Why do people like Jello?
So if you're from Utah, you get the joke. Jello is our state dessert – believe it or not. I can't make this stuff up. Green Jello – bonus if there are carrots involved (blech, in my opinion!)
But that's the joke. People from Utah love their Jello and they love to mix everything in it. Whipped cream, fruit, candy bars … you name it and it's been mixed into Jello. To each their own, right?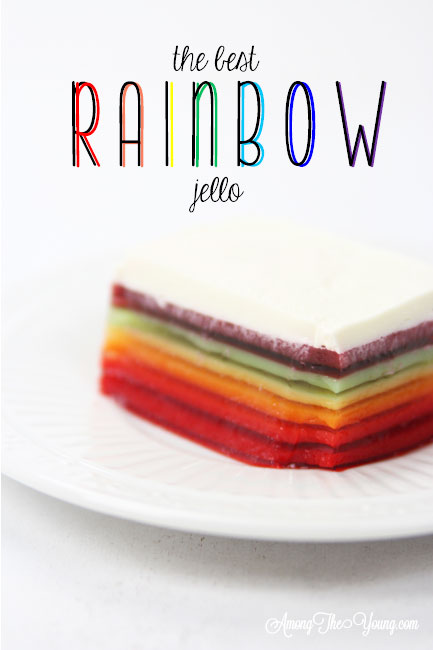 This layered rainbow jello dish is completely safe. It was one of the desserts we grew up on and whenever we saw this layered rainbow jello dish at family gatherings we made a B-line for it! It's a crowd-pleaser for sure!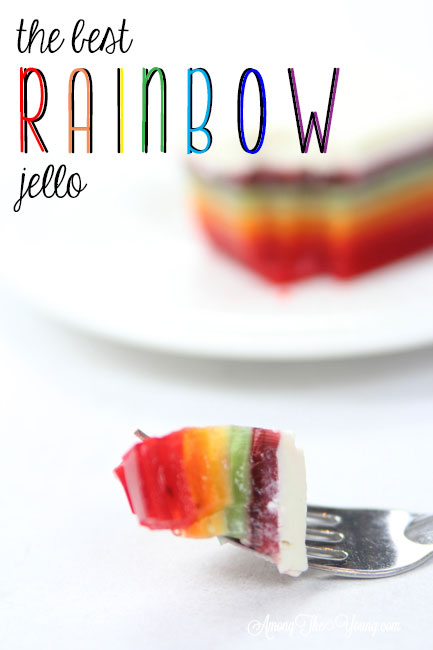 How do you make Jello?
Jello is ridiculously easy to make. If you can boil water, you can make Jello. The end.
This recipe is not hard, but it's TEDIOUS. You're basically making a packet of Jello, splitting it in half, adding yogurt to one half and letting the other half set in the fridge. Repeated …. for all those layers.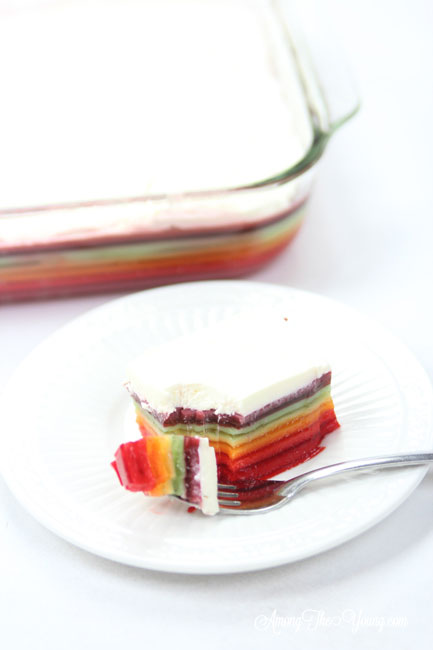 I definitely recommend a GLASS 9×13 dish so you can SEE all your gorgeous Jello colors. BONUS POINTS if they're in rainbow order! (My kids would be so impressed with you!)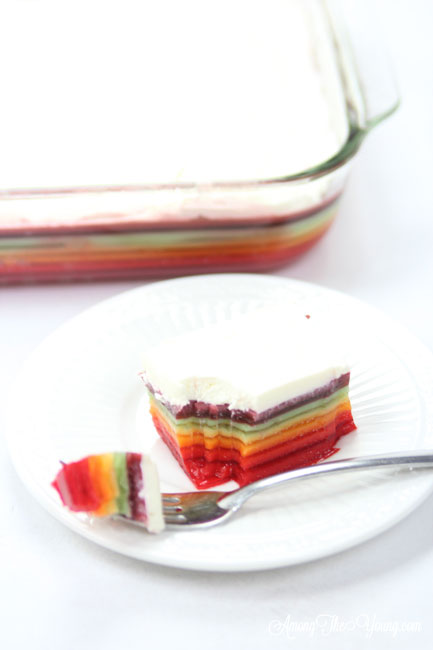 When I think about this layered rainbow Jello dessert, I think of Thanksgiving.
Hear me out! When most people think of Thanksgiving, they think of turkey or pie (like my chocolate mousse pie or apple pie? YUMMM!), but this Jello dessert also had its place at Grandma's table.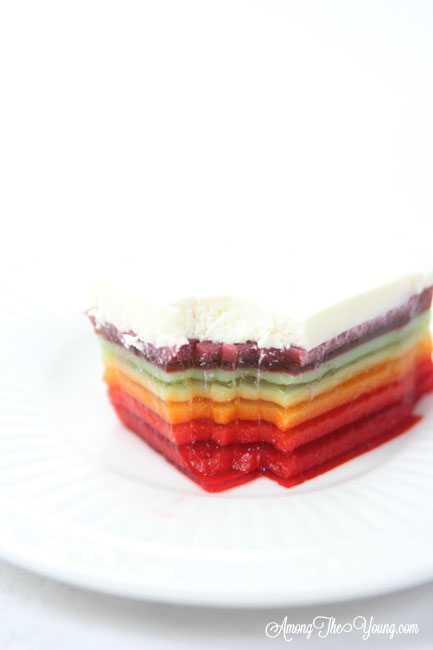 For some reason, my aunt would always make this Jello dessert for Thanksgiving and it was part of the meal …. not a dessert. So you'd load up on turkey, mashed potatoes, stuffing, and rainbow Jello. MY rainbow Jello would NOT be touching my food, but that's because I'm a little crazy when it comes to food.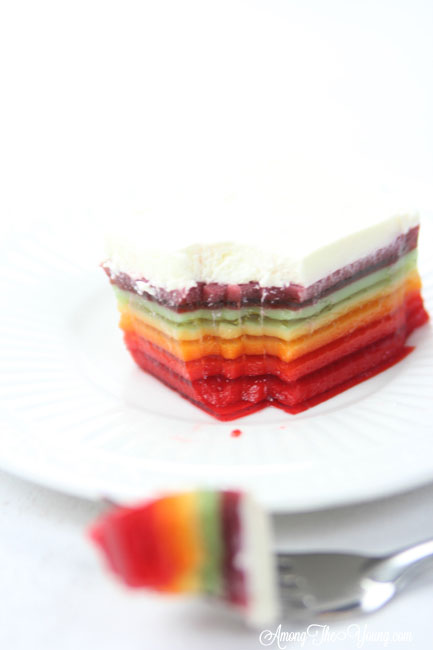 Anyway – while this IS a dessert, it was never served with the desserts. Our family is weird, but this Jello dessert is delicious. And how can you go wrong with all those gorgeous colors?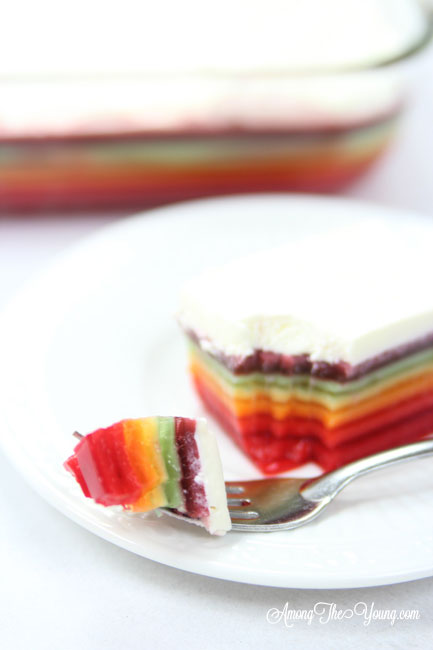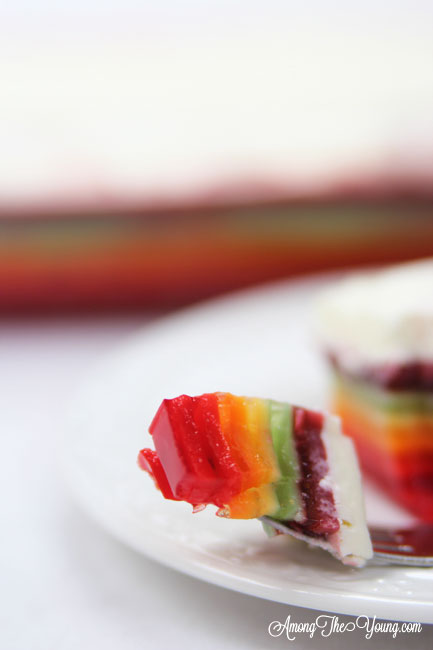 Update: 9/22/23: It has come to my attention that there is actually a BETTER recipe for layered Jell-O. How do I know? Because I've tried it. The colors are vibrant and the "white" layer in between adds a delicoius flavor. This is NOW the recipe I use, but I'll keep mine on hand for family gatherings.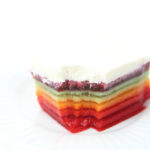 Print Recipe
Layered Rainbow Jello Recipe
Layers of Jello mixed with yogurt and topped with whipped cream …. you literally can't go wrong!
Ingredients
1

3 oz pkg

Lemon Jell-O

1

3 oz pkg

Lime Jell-O

1

3 oz pkg

Orange or Peach Jell-O

1

3 oz pkg

Blue raspberry Jell-O

1

3 oz pkg

Cherry Jell-O

1

3 ox pkg

Raspberry Jello

2

cups

vanilla yogurt

DIVIDED into 1/3 cup

Whipped cream or Cool Whip
Instructions
Mix 1 cup of boiling water with your first color of Jell-O.

Put 4-5 ice cubes in after the Jell-O has dissolved.

Mix until completely dissolved.

Take out 1/2 cup of Jell-O and set aside.

Mix the rest of the Jell-O with 1/3 cup of vanilla yogurt.

Pour the plain Jell-O mixture into the bottom of a 9×13 pan.

Refrigerate until set ; about 30 minutes.

Pour Jell-O and yogurt mixture on top.

Let it set in the fridge.

Repeat with all remaining colors.

Top with whipped cream or Cool Whip.
Supplies used:
Other Jell-O desserts that I love (that don't include any carrots or weird surprises) – I got you!
You can always count on Ashlee to make something amazing with Jell-O and this lime dinner Jell-O recipe does NOT disappoint!
Alli loves Jell-O like I do and made super cute holiday Jell-O cups – this could be customized for any holiday too – genius!
Last, but not least, my friend Pam has the most delicious lemon Jell-O cake …. need I say more?