This NOPE diy has been a long time in the making. Why you ask?
Let it be known, that I (Kaylynn Young) used to be a huge pushover. I don't know if I was just desperate for people to like me, but I'd let people trample all over me. Honestly, I didn't even realize I did it – I'm a strong, independent woman, but I literally DID NOT know how to say "NO" to people. Granted, many people struggle with this, but I literally was clueless. There would be days when I was SO tired from doing everything for everyone else, and I couldn't understand why I was so tired.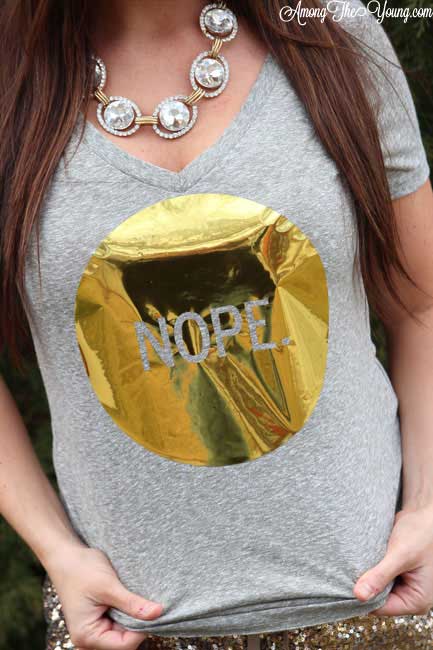 After a long look at my life, and years of Handsome asking, "Why don't you just say 'NO?'", I finally figured it out. I remember the FIRST time I said it – when someone asked me to do something and I said 'NO.'
Guys…. I felt SOOOOOO guilty. I kept thinking of ways I could take it back. "Just kidding – I meant 'YES' but it came out wrong!" Then I thought, "Well, technically, I COULD make it work, but it'd be really hard to work around this that's already planned…." Pretty messed up, right?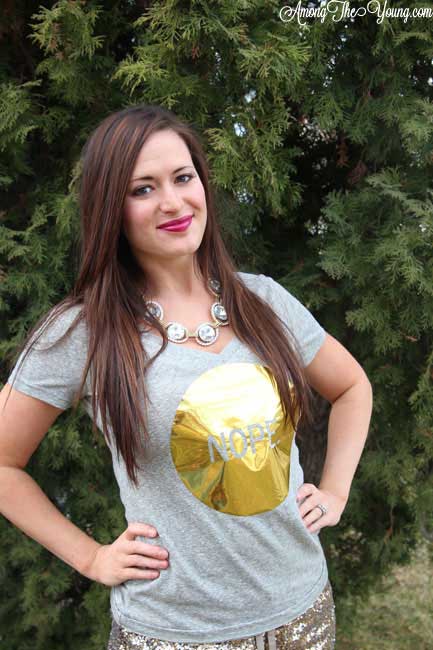 After
my stillborn son was born
I HAD to say no – for a LONG while. I could barely take care of myself, let alone make cupcakes for a friend. It was a humbling time, full of lots of help and lots of me saying, "NOPE."
As I was making a vinyl design for a dear friend (who also lost her little angel) the NOPE diy just came to me. It literally struck me. Just… NOPE. Instead of "Just Do it" or "Be Awesome"… I was going to have a shirt that said "NOPE." DIY win.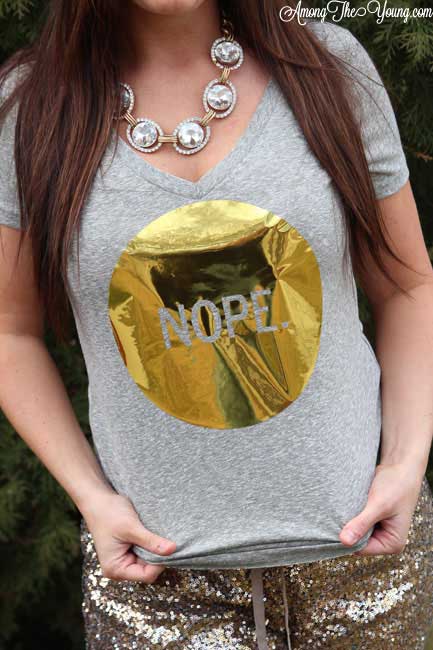 You'll have to imagine that the camera doesn't do this NOPE diy shirt any justice. The
gold vinyl
from
Expressions Vinyl
is STUNNING. Seriously, so gorgeous and so dang SHINY! Yes, you can still read the NOPE diy part (because that'd kind of important). If you see me wearing my NOPE diy shirt you'll know it's a sassy kind of day and whatever you want….NOPE!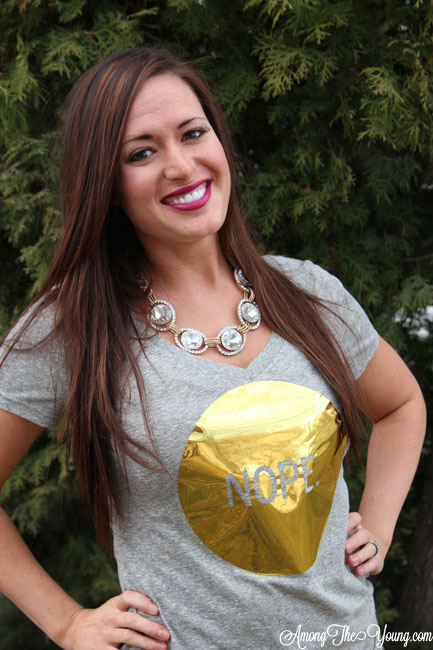 Do you have a hard time saying "NO" to people in your life? I'm curious to know how you got over it, or does a person just grow out of it? Who knows.