One of my friends, who occasionally reads my blog, has said to me several times, "Kaylynn, you need to be more REAL in your posts." I always nodded and agreed, more of a, "Yeah, I know, but I'd just rather share recipes than open up," kind of feeling.
And then I was humbled. Big time.
I've been dreading writing this post, for obvious reasons. The place I need to go to be authentic and real is too fresh. Too painful. But I keep feeling like this is the right thing to do: share, be open, spread awareness that you are NOT ALONE.
At the beginning of October (18 weeks pregnant) I was placed on bed rest. We frequented the Labor and Delivery rooms for weeks, sometimes many times within the same week. Each time, they'd check the babe, give me some medicine, and send me home. But the sentiment was the same…. just get to 24 weeks, there's nothing we can do for you until then. Up until that point, it was one of the hardest things I'd ever done. Hello? I run marathons and bake like it's my job… you want me to SIT? All the time? Ridiculous.
There was never any doubt in my mind that the baby was healthy and it would all work out.
As I was talking to one of my friends one night she said, "Have you thought about what would happen if it DOESN'T work out? At first I was SOOOOOOOOO BUGGED. Why would she even think that? Of course it's all going to be ok. Positive thoughts….positive thoughts….right? But that little bug had been in the back of my mind for some time and was now on the surface.
On October 28th, around midnight, I was awakened by some pretty serious pains. They came and went, and they were pretty intense. My first though was, "Am I having contractions?" I pushed that aside and tried to go back to sleep. It was probably nothing. I didn't want to go see the same nurses in the Labor and Delivery and I REALLY didn't want to make Handsome get up and go down to the hospital … AGAIN.
Two hours later, I was still wide awake and nothing had changed. I woke Handsome up and we agreed that it "couldn't hurt" to go to the hospital. AGAIN. We called my mother-in-law over to watch T and were off.
Once we got there, the drill was the same. Check in. Hospital gown. Baby heart rate. Typical. The nurses said the baby was fine – heart rate was great, but I was also contracting. Obviously. They gave me a shot – in the rear – and told me to wait.
(It was around this waiting period that we heard literal SCREAMING, WAILING, and RUNNING outside. I guess a lady was in labor and the baby was all but out when she came in. I was terrified. Handsome tried to help me laugh, but I wasn't in the mood.)
Wait. Wait. Wait.
The medicine wasn't working.
Wait. Wait. Wait.
I begged for some different medicine. The answer was no. After a nurse checked me, it was apparent that my body had forced itself into labor. It was finally rejecting all the blood clots and hemorrhages, and no amount of medicine was going to stop it.
In the moment, my mind didn't understand. How do you wrap your mind around this? They told me I would be delivering and I asked over and over and over again, "What can you do for my baby?" "What about my baby, will he be ok?" There was no answer. Just a nurse looking into my eyes and delivering the most heart wrenching news: NOTHING. Nothing could be done, and that baby was coming out.
It all happened so fast: I was prepped for delivery. I had an epidural and an IV put in and I was ready to go. Still we waited. And it still hadn't sunk in. I hovered dilated at a 4-5 for hours.
Around 9:15, my midwife came and manually broke my water hopping to speed up the process. It did. A few minutes later it was go time.
I was beyond hysterical. Crying doesn't come close – nor does ugly crying. Pushing meant it was over. Pushing meant I wouldn't be pregnant anymore. Pushing meant saying goodbye, and I wasn't mentally ready to do this, but my body was. At 9:41 one push was all it took. Blood, blood clots, placenta, and little man popped out – he was a fraction of the mass. Handsome was just glad I didn't see how much blood there was.
My little babe was checked and cleaned right on my chest. He was pronounced stillborn, but very recently since his color was still there.
At a mere 21 weeks, he was perfect. He had fingernails, knuckles, and little baby hairs on his forehead. He amazed us.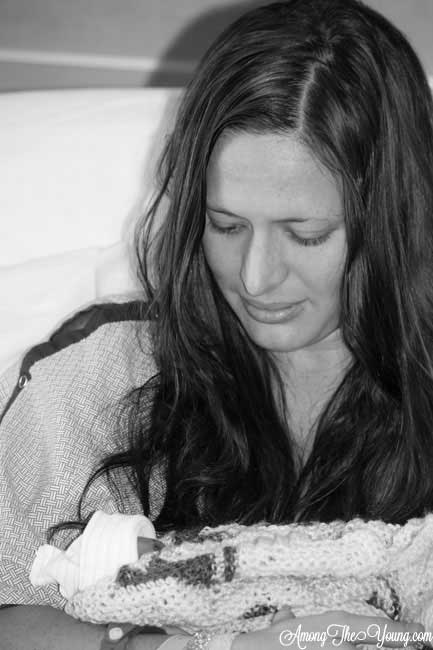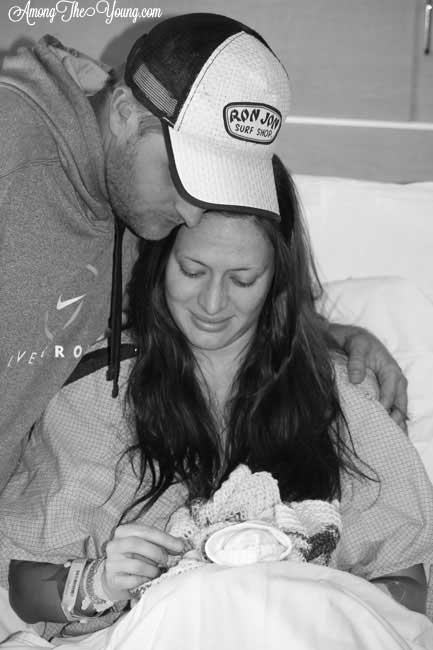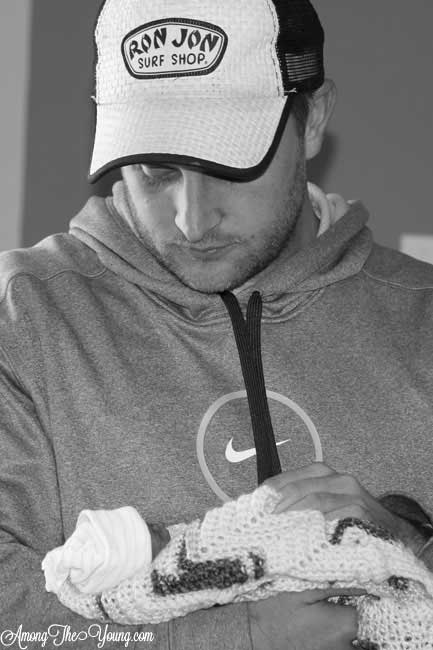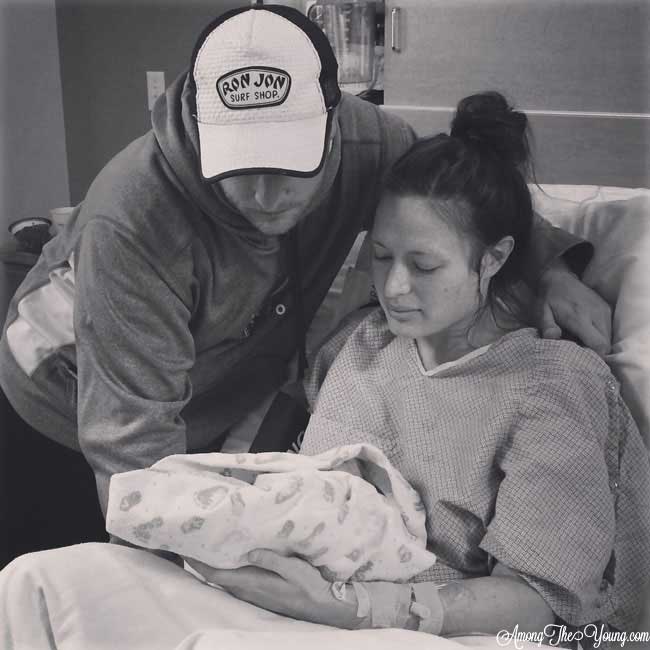 We spent some time with him, bathed him, held him, and cried. Lots.
My sister was the only one we invited to stay – we would've sent our own parents away – and she was a great comfort to us. I can't explain why. I've often wondered if this was a mistake on our part. We denied everyone the chance to experience this sweet spirit….maybe if I'd allowed them to come they could understand a little? But then I come back to the fact that I wouldn't change a thing.
Frequently Asked Questions:
How are you doing?
It's always the first thing people ask, with a little head tilt and squinty eyes. And honestly, my answer is usually the same. There are good days and bad days, but more good days as time goes on. I've been all over the place – from sad, happy, angry, tired, depressed, hopeful… it just depends on the minute. Handsome and I really do know that everything will be fine. We trust that God has a bigger plan for us and we are honored that we could be parents to such a choice soul.
Why did you decide on the name "IAN?"
When it came time to name this precious little babe, the name we had been planning on just did not fit. The name we had in mind is meant for a little trouble-maker, and while this little one had given us a run, I didn't like it. I threw out the name Ian and then it sunk in…. bear with me for a minute.
As a special education teacher I've always known that someday I'd have a special little one. The special spirit inside these "imperfect" bodies is unreal and I love being around them. I REALLY wanted a little girl with Downs Syndrome. I just adore those angels, and the plan was to adpot. Handsome was on board but reminded me of the life calling that would follow and I understood completely. We put that off, because an adoption would happen AFTER I was done having children.
At some point in my teaching career I had a sweet little one named Ian….with Downs Syndrome… and I adored him.
As I held this perfect little body in my arms I realized I HAD my special little spirit. It's hard to explain, but part of my dream to adopt a little one with special needs was fulfilled by my little angel. A piece of my heart was realized and it all made sense at that moment.
Are you going back to work?
YES – but I need a little more time to heal. Physically, I was fine after 6 weeks – like any other woman who just gave birth to a child. Emotionally, I'm still all over the place. I'm fine one second and then I'm gone. I forget to eat all day. Things I used to like have no allure. The thought of going back to work right now is terrifying…how will I stay on task? How will I do a good job? I'm responsible for teaching children, but I can barely take care of myself right now. Let's not even talk about the fact that I work with sweet little 5 year old children with special needs – some of whom may as well be newborns. It's just not in my best interest right now.
Do you want to have more kids? Will you try again soon?
Yes, yes, and yes. We definitely want to have more kids, and we feel strongly that we'll know when the time is right.
Are you afraid this same thing will happen again?
Of course I am. Terrified actually, but Handsome reminds me that if it's supposed to happen then it'll happen, and we'll face it together.
Is it hard to be around other kids? Babies?
Usually, no. I love to be around most little ones – even babies. My own little babe has been instrumental in my healing process. She keeps me laughing with her 3 year old sass and hilarious sayings.
Overall, the days, weeks, and months since we met Ian have proven to be beautiful and astoundingly spiritual. We've been blessed with new friends and a sweet spirit in our home. Things we dreaded were made easy, and we have been encircled with love. We wouldn't wish this upon anyone else, but at the same time it's the hardest thing we'd never trade. For any of you that have experienced something similar, you are not alone. I know that this is all part of a bigger plan. Not only do I know that we CHOSE this trial, but I know that God knows we can handle it.
Dearest Ian, thank you for teaching us, bringing us closer as a family, and reminding us what is truly important in this life. We know that your earthly mission is complete, and we can't wait to meet you again someday. All our love, Dad, Mom, and T.
I am now happy to report that we have had our rainbow baby! Click here to read our rainbow birth story, Miss M!