*This post contains affiliate links to support my donut eating habit*
These peppermint brownies defy all odds of delicious-ness and peppermint.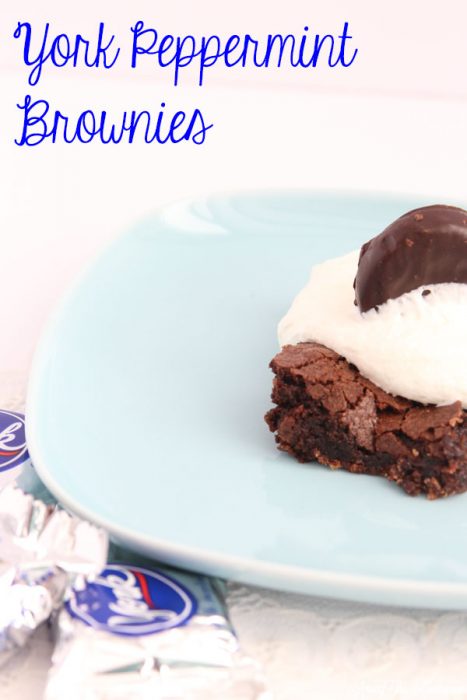 I have a love / hate relationship with the mint flavor. One minute I can't get it into my mouth fast enough, the next minute the flavor is too toothpaste-y and I want nothing to do with it.
I've always LOVED mint hot chocolate – something about the cool mint with the juxtaposition of hot cocoa is so delicious to me. But with food, I go on and off. One minute a mint brownie is my most favorite treat, the next it's just MEH. No thanks.

I'm weird, right?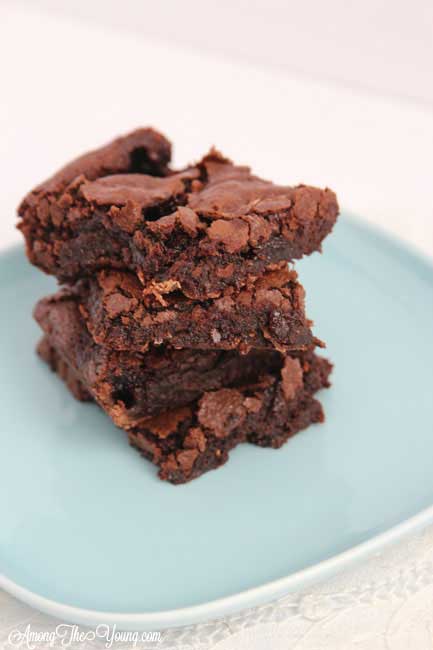 Then a co-worker brought these peppermint brownies to work one day – it must've been a "get all the mint things in my mouth" kind of day because I was instantly hooked. I HAD to have the recipe. SO YUMMY.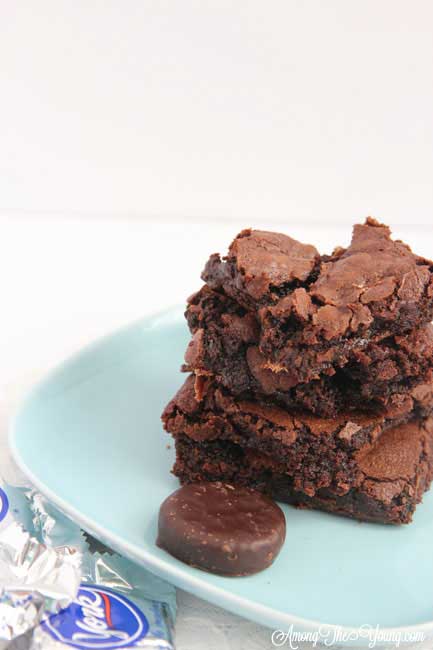 A few months later, I made these brownies (as the recipe states, with
regular cocoa
). I was convinced they couldn't be as good as I remembered them being. I was wrong. My father in law agreed. He calls these brownies "Devil Bars." No joke.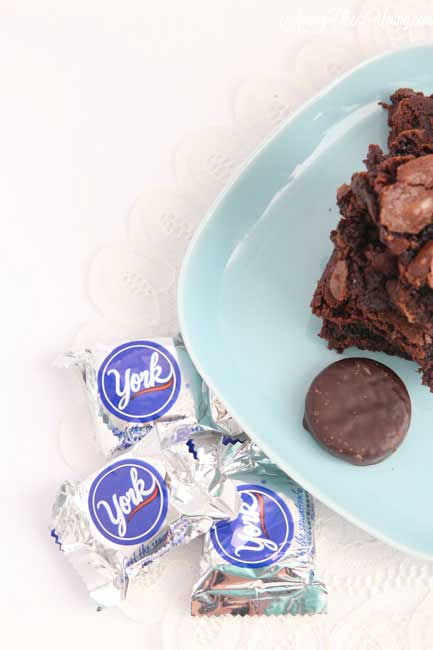 I made these brownies AGAIN – this time with a
dark cocoa
. Again, I was convinced they wouldn't be THAT different or THAT good. Again – I WAS WRONG. The dark cocoa made these brownies even more decadent, more rich, more DARK (duh Kaylynn).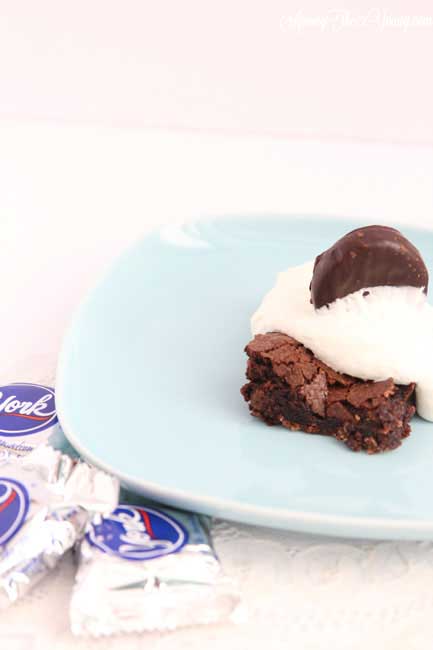 Basically, you can't go wrong with these Peppermint brownies or "Devil Bars" – whichever name you prefer. They are a perfect treat for after a meal – who knew dark chocolate was so dang delicious?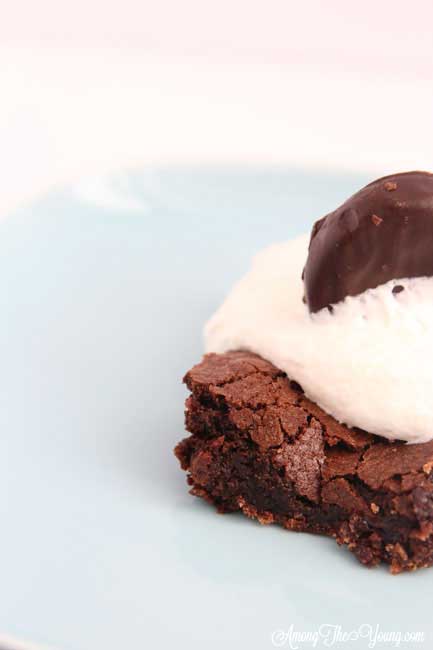 Anyway – moral of the story is, make these. Then you will see. Then you will understand. Are you on the "Peppermint Brownie" side, or the "Devil bars" side? Only time will tell. Plus, we added a little bit of whipped cream and topped it with a decorative Peppermint patty? Who's a sucker for pretty food?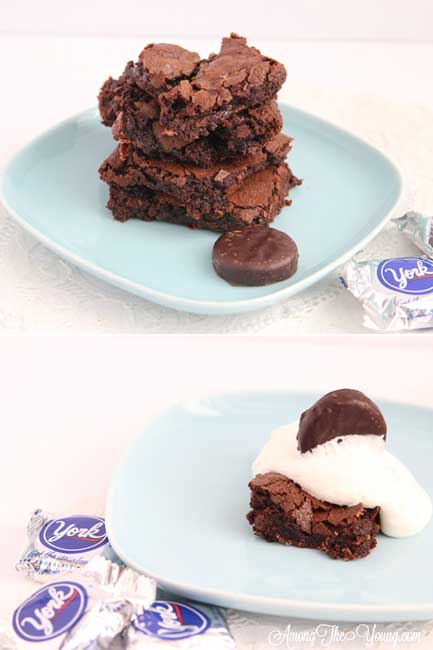 Side note: If you don't like York Peppermint patties, you could EASILY mix ANY candy bar into these brownies. The base is FANTASTIC and super easy. What would you mix in??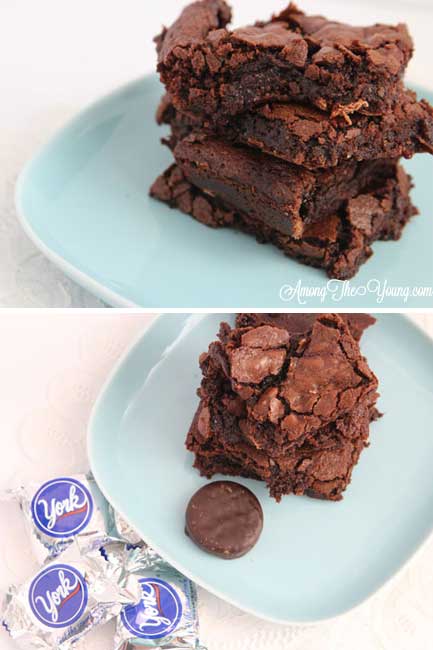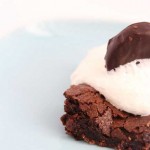 Peppermint Brownies
Ingredients
3/4

c.

cocoa

regular or dark - both are divine!

1/2

tsp

soda

2/3

c.

butter

melt and divide

1/2

c.

water

boiling

2

c.

sugar

2

eggs

1 1/3

c.

flour

1

tsp

vanilla

1/4

tsp

salt

17

York Peppermint Patties

chopped
Instructions
Stir together cocoa and soda in mixer.

Add 1/3 c. melted butter.

Add boiling water.

Stir until mixture thickens

Add sugars, eggs, and remaining 1/3 c. butter.

Stir until smooth

Add flour and salt.

Fold in York Peppermint Patties.

Spread in a greased 9x13 pan

Bake 350 for 35-40 min or until brownies begin to pull away from the side

Cool completely

Cut and serve.