*This post is sponsored by Cost Plus World Market, but all opinions are 100% my own.*
Chocolate and Peppermint go hand in hand … like peanut butter and jelly. These Dark Chocolate Peppermint Mallow stars are to DIE FOR and they're so easy … your kids can help!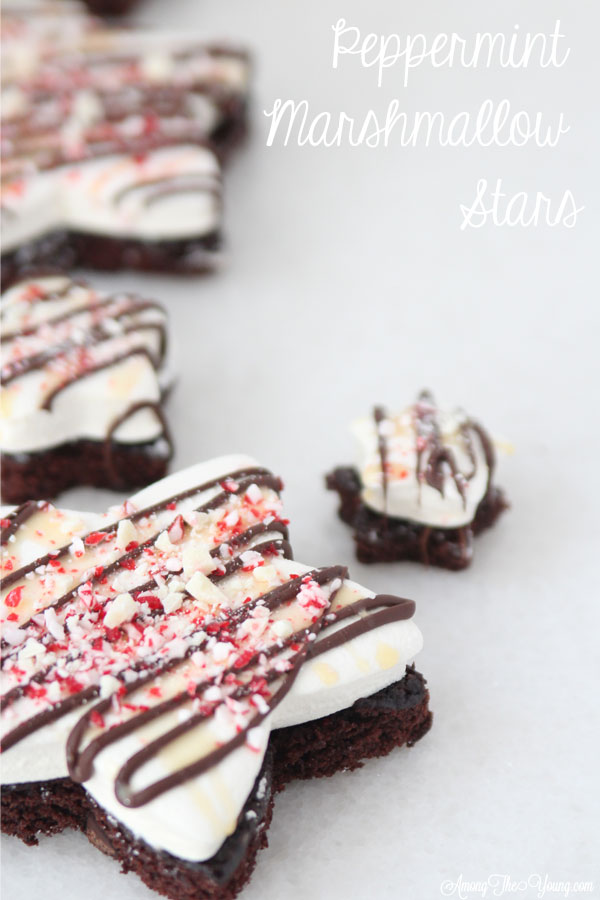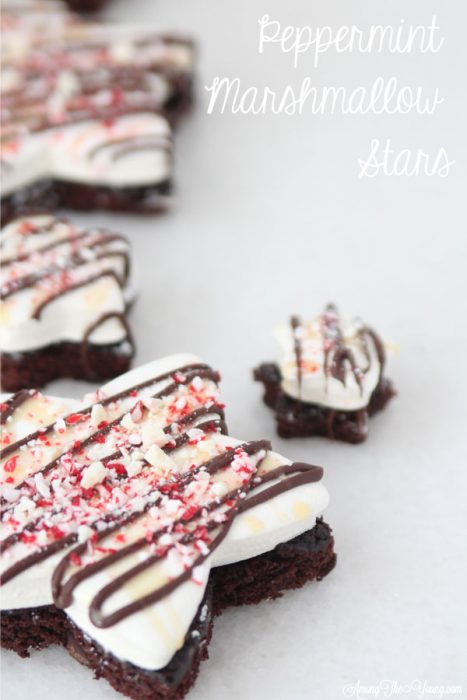 It's no secret that I love peppermint things (see HERE, HERE, HERE, HERE , HERE … I could go on and on!).


So when I saw this Dark Chocolate Peppermint Bread Mix and this marshmallow sheet I knew they must be combined into one awesome chocolate peppermint mallow dessert! I headed to my local Cost Plus World Market in Park City (not sure where yours is? CHECK HERE!) to get my hands on these amazing items.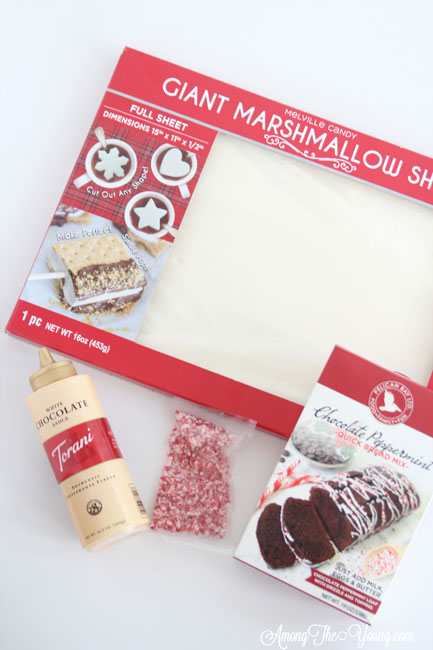 I was a little nervous to work with a sheet of marshmallow – I mean, have you ever seen anything so awesome? I needn't have feared – I used a cookie cutter (any shape will do!) and dipped it in a little cornstarch before each new cut. Easy peasy!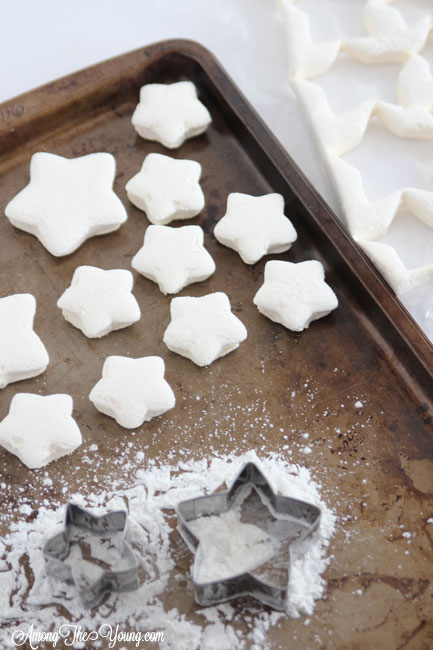 One of my favorite things about the holiday season is the Christmas baking and Christmas dinnerware. (How embarrassing that I love to buy plates and utensils, right?)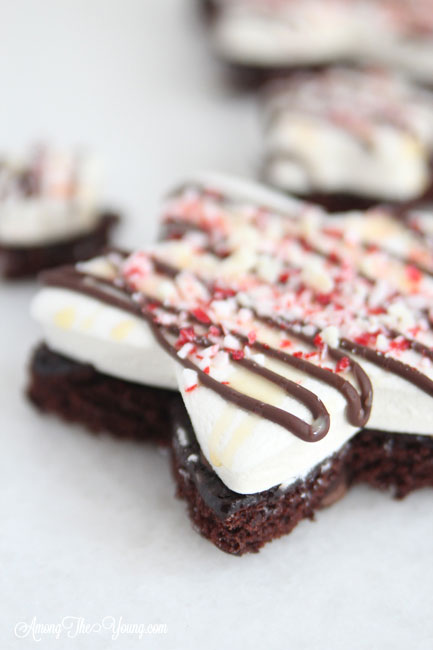 I was pleasantly surprised how easy these little Chocolate Peppermint Mallow stars came together – it was kind of magical actually!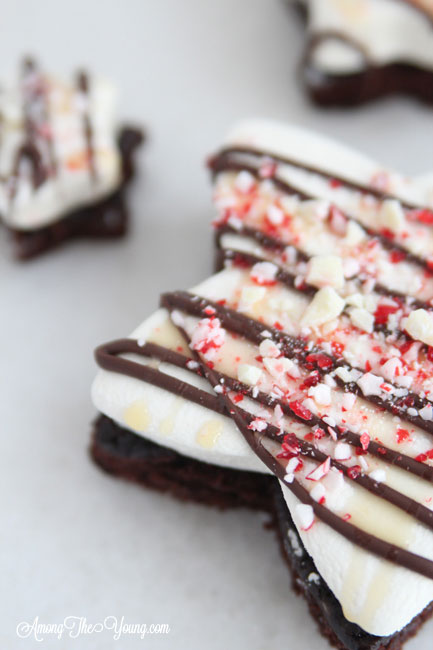 I baked the Dark Chocolate Peppermint Bread Mix on a jelly roll pan. I tried to have it be ABOUT the same size as the marshmallow sheet but it wasn't an exact science.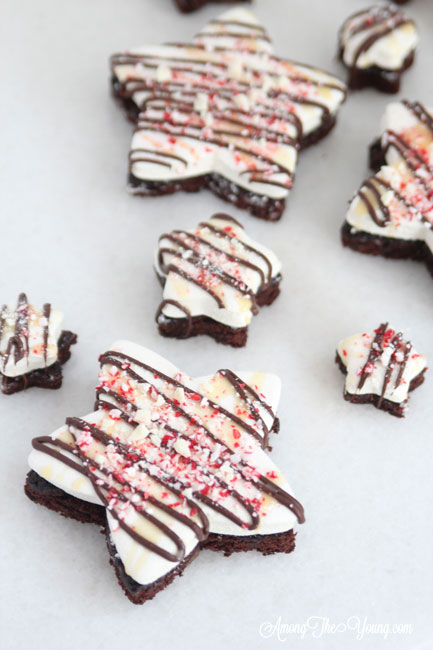 Then, cut out stars! I melted some Dark Chocolate chips to stick the chocolate bread and mallow together.
Also, how amazing is this white marble pastry board? When I saw it I about DIED. YUP. I own it now and it is SO beautiful and very heavy.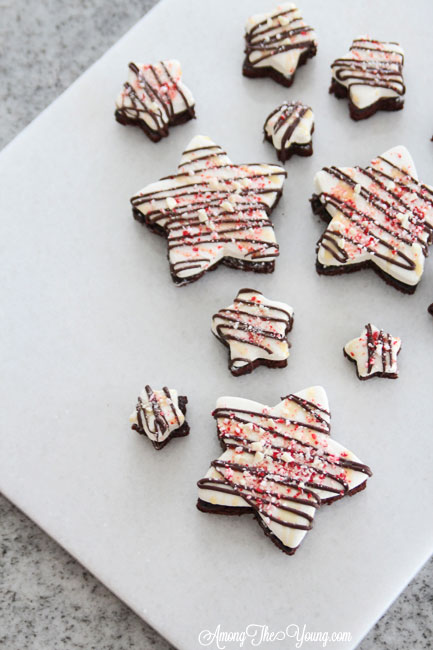 We even made a MOSTLY chocolate free version for our resident chocolate hater. Who hates chocolate? Crazy people … and my husband. I probably should've drizzled it with white chocolate only, but it wouldn't have photographed well, so he can pick that chocolate off.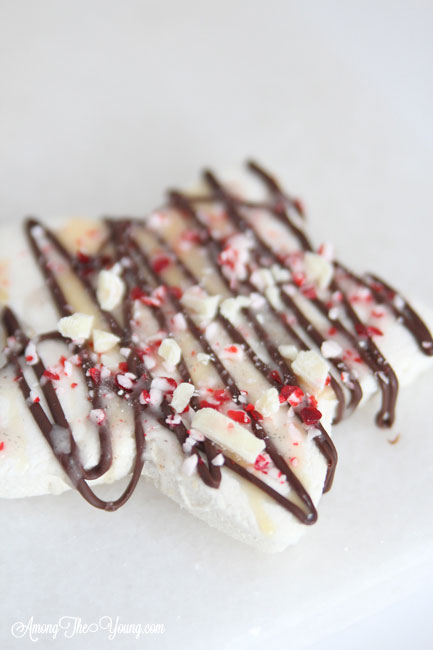 Then, I drizzled the top with the extra melted Dark Chocolate and added some White chocolate as well – just for good measure!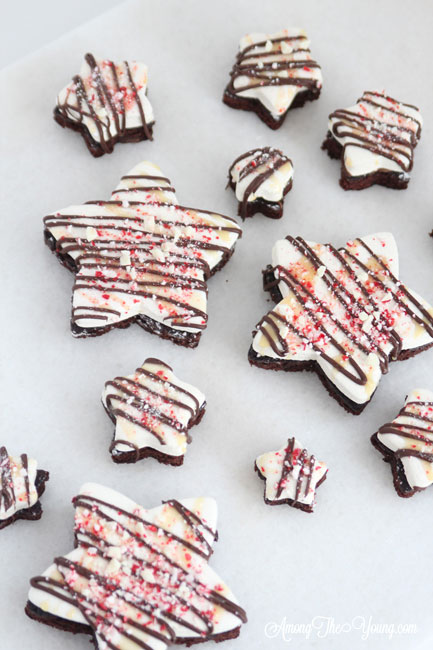 Sprinkle the top with peppermint chips and you're SET! (I should mention that the Dark Chocolate Peppermint bread mix also comes with crushed peppermint so I added that as well!)
So really, how easy is this?
Make a Chocolate Peppermint Bread Mix (follow the mix! I baked mine for about 18 min, but I'm high altitude).
Buy mallow sheet.
Cut into stars.
Melt chocolate.
Stick together.
Drizzle with all the things.
Look like a BALLER when you hand these out at your next party or event.
Mid drop.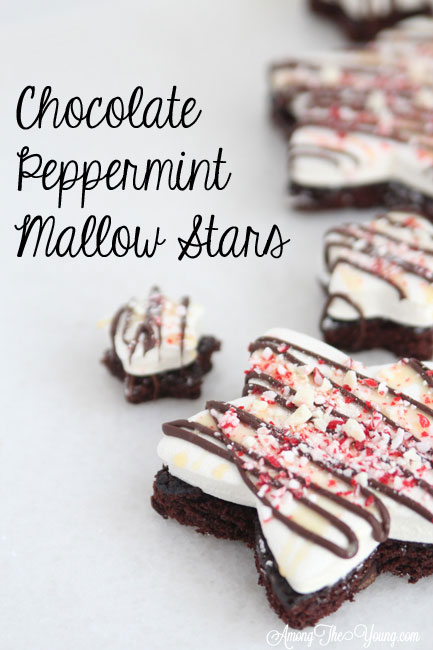 Shop this post:
Chocolate Peppermint Quick Bread
Andes Peppermint Crunch Baking Chips
Guittard Extra Dark Chocolate Chips
Torani White Chocolate Sauce
Giant Marshmallow Sheet
White Marble Pastry Board
Also, be sure to check out some of Cost Plus World Market's new videos with Brandi Milloy!
Sweeten your holiday entertaining with Brandi Milloy's easy Christmas baking recipe for a classic icebox cake made with Walkers Gingerbread Biscuits, Butter Toffee Pretzels and Salted Caramel Bark from Cost Plus World Market. Plus, see her cheery dessert table presentation. #GiftThemJoy

Also, let Brandi Milloy show you how to bring 3 delightful (and affordable!) Cost Plus World Market looks to your holiday tablescape. Go for classic Christmas dinnerware colors, add a touch of wintery shimmer with silver and white table decor, or create global style with vibrant table linens. These festive finds also make fun Christmas gifts! #GiftThemJoy