I love peppermint, and I love cheesecake, so a peppermint cheesecake simply makes sense.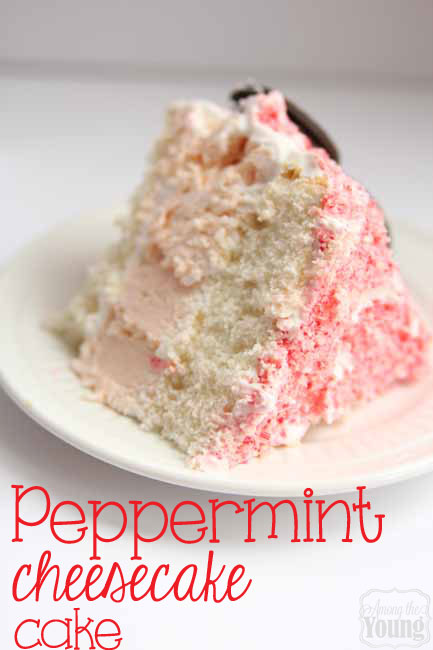 It's funny because as I was making this cheesecake I was reminded of the first time I made a cheesecake. It actually was a peppermint cheesecake and it was a nightmare. The cream cheese wasn't softened. The middle was under-cooked. It was an utter fail – somehow people ate it and said it was delicious. What wonderful liars.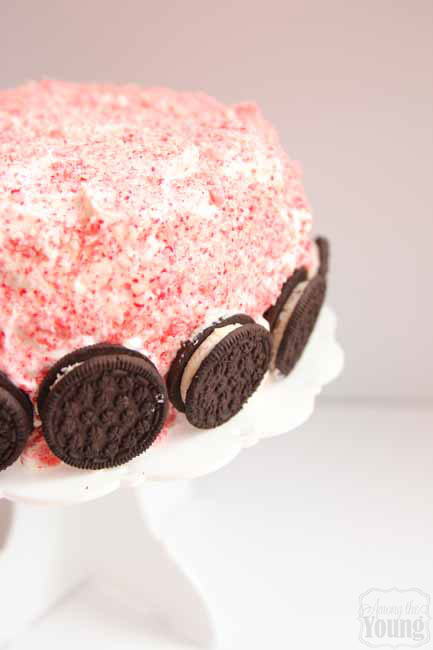 Here I am 4 years later and I've definitely learned a thing or two about cheesecakes and I can usually cook the middle. Bless my heart.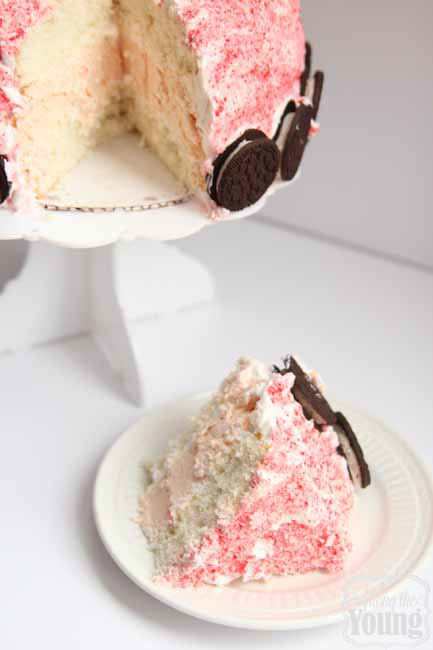 The white cake was a tough call – I could've easily done a chocolate cake. I wasn't disappointed – the white cake was subtle addition to the peppermint cheesecake.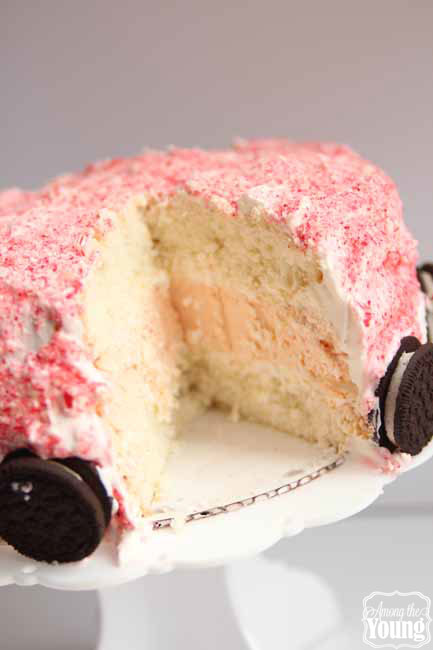 Probably my favorite parts of this cake were the fluffy decorations: the
Trader Joe's Peppermint Joe-Joes
and the crushed peppermint garnish on top.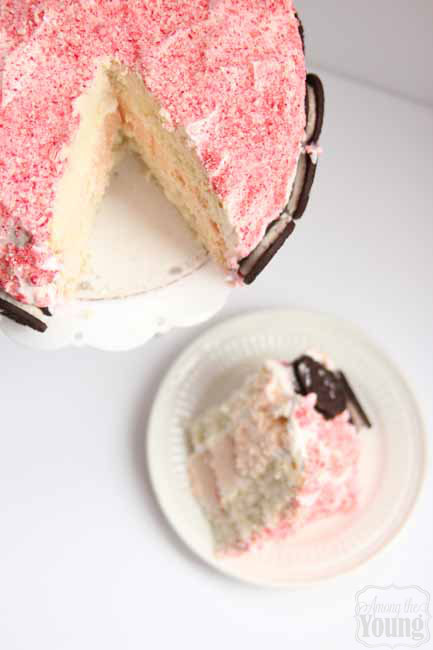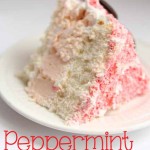 Peppermint Cheesecake Cake
Ingredients
Cake:
White cake recipe or a boxed white cake
Cheesecake:
20

oz

cream cheese

room temperature

3/4

C

sugar

1/2

TB

vanilla extract

1/4

tsp

coarse salt

2

large eggs

1/2

C

sour cream

1 - 1/2

c.

crushed peppermint
Frosting:
Pastry Pride

1 - 2

tsp

peppermint extract

Crushed peppermint

Peppermint Joe-Joe's

for decoration
Instructions
Cake:
Cook box mix according to instructions on the box
Cheesecake
Preheat oven to 325 degrees.

Set water to boil.

Using an electric mixer, beat cream cheese on medium until fluffy, scraping down side of bowl.

Gradually add sugar, beating until fluffy.

Beat in vanilla extract and salt.

Beat in eggs, one at a time, scraping down side of bowl after each addition.

Beat in sour cream. Fold in crushed peppermint.

Cut parchment paper in a circle and line the bottom of the cheesecake pan.

Wrap bottom half of pan in foil – Do this TIGHT – no one wants water in their cheesecake!

Pour in filling; place in a roasting pan.

Pour in boiling water to come halfway up side of springform.

Bake until just set in center, about 45 minutes.

Remove pan from water; let cool 20 minutes.

Run a paring knife around edge; let cool completely.

Remove outer ring of cheesecake pan, but leave metal bottom.

Wrap in plastic wrap and freeze.
Assembly
Place one layer of cake on cake stand.

Frost top with a thin layer of frosting.

Remove cheesecake from freezer, unwrap, and remove metal bottom of the pan, then peel off parchment paper.

Place cheesecake layer on top of the cake.

Place top layer of cake on top of the cheesecake, and coat entire cake with a layer frosting.

Top with crushed peppermint or any decoration of your choosing.

Refrigerate until ready to serve.