Handsome and I LOVE to the Pizza Factory – they have this dish that is so unique that whenever we go there, we HAVE to get this dish. It's called Pasta Primavera Pie. Oh my. I'm salivating just thinking about it. The dish has noodles that are still a bit crunchy, loaded with veggies, chicken, and (of course) alfredo sauce.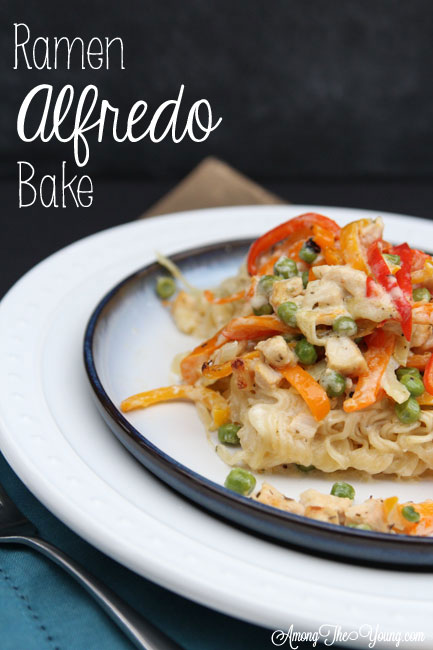 Whenever I make my homemade Copycat Alfredo recipe, I ALWAYS have extra. In my mind, it seems silly to make a WHOLE new batch of pasta just for a little bit of sauce. Bless me, right?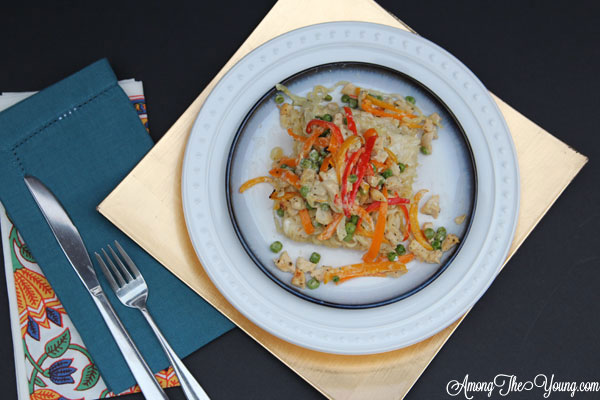 Do you see where I'm going with this? We love this recipe….we always have leftover Alfredo sauce? We're not that smart. It took us a little bit longer to figure it out. One day Handsome said, "We should recreate that pasta pie." DUH us. Seriously? How does it take us SO long to realize that something we order at a restaurant can be SO easily reproduced? And thus, our Ramen Alfredo Bake was born.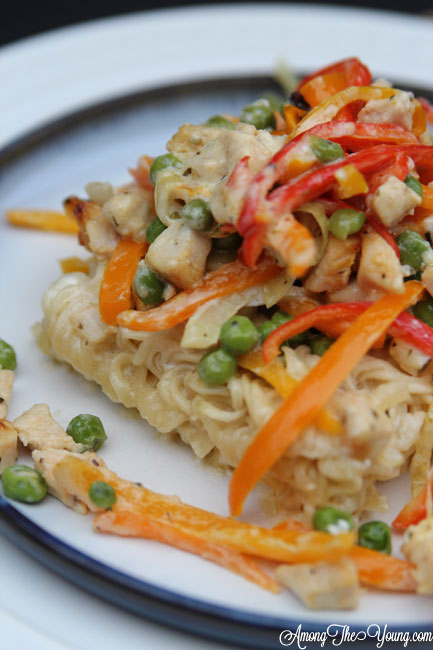 It wasn't hard. In fact, there's not really a recipe. It's more like, throw it together, put whatever you want on it, toss it in the oven until you feel like it's done (or when the noodles are done but still crispy).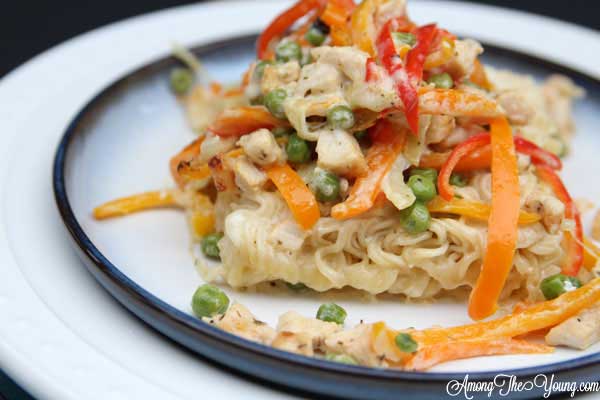 It was actually a little TOO easy. Dangerously easy. As in, I could have this every night easy. And if you don't remember, this Copycat Alfredo Recipe could be inhaled by the cup – yes, I could drink it. No lies. My Ramen Alfredo bake is THAT good.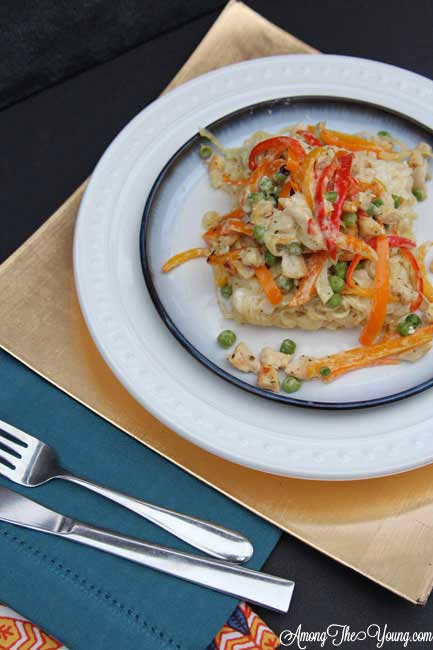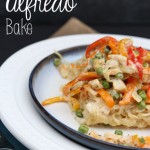 Ramen Alfredo Bake
A quick and easy meal using Ramen noodles and leftover Alfredo sauce
Ingredients
2-3

C.

Copycat Alfredo Sauce

1-2

chicken breasts

cooked and cubed

1

Ramen noodle square

per person

Onion

Assorted mix of bell peppers

Peas
Instructions
Cook chicken and cut into cubes.

Place raw Ramen noodle sqaures in a glass baking dish.

Cover with as much (or as little) onion, bell peppers, chicken, and peas.

Smother in Alfredo Sauce.

Bake at 350 until noodles are soft, but still a bit crispy.