This post is sponsored by OREO cookies and the Oreo Cookies sweepstakes, but the content and opinions expressed here are my own.
I am SO excited to be sharing so much Oreo cookie goodness today! First, I have a dunking sweepstakes (Rules found here), then I'll share hhow we dunk, and (last but not least) my personal favorite: the recipe for Red Velvet Oreo Cheesecake. It's PERFECT for Valentines Day!
My Walmart had the best selection of Oreo cookies – it was tough to decide because there were too many options and I'm awesome at decisions! (Don't know where the nearest Walmart is? I got you!) But seriously … look at the selection!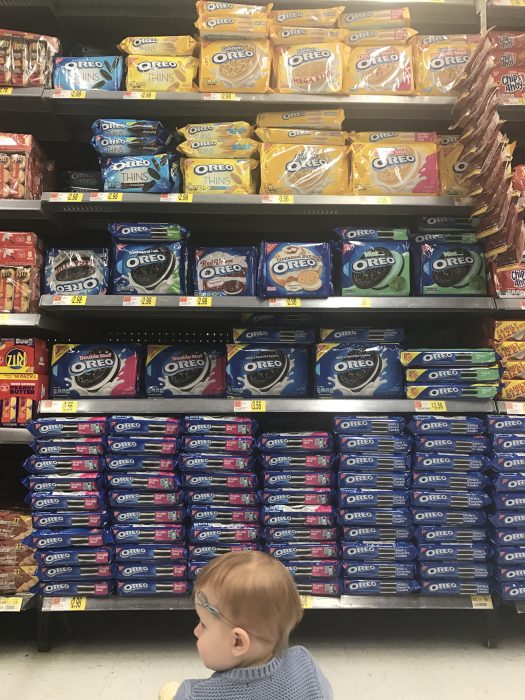 This was her face when I told her we couldn't buy all of them. The struggle is so real and I totally get it!
So how do you enter?? Anytime before 3/5, enter the
OREO Dunk Sweepstakes
for a chance to win a VIP Dunking Experience with Christina Aguilera or Shaquille O'Neal! To enter, just upload a photo and/or video of your dunk style to Twitter or Instagram using #OREODunkSweepstakes. Visit the
sweepstakes page
for all rules and regulations. (Click
here
to enter and
here
to read the rules!)
How do you dunk? That really is the question.
My childhood was deprived because I didn't know Oreo cookies were supposed to be dunked! It wasn't until I got married that I learned this simple truth and my life has been better because of this knowledge.
Hubby likes to use a chopstick to fully submerge his Oreo cookie, but he pulls it out quick so it's not too crunchy. His Oreo cookie of choice is the peanut butter.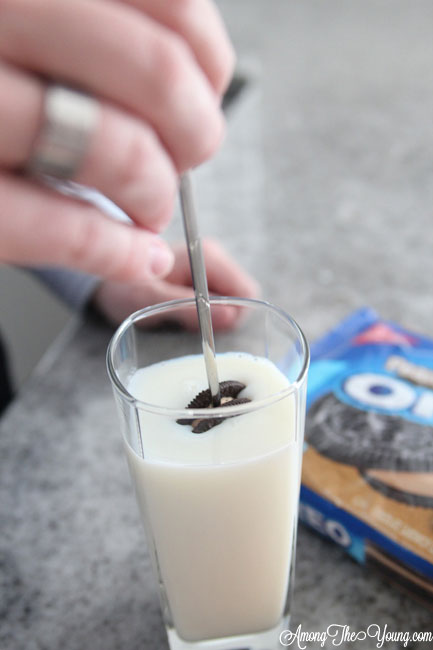 I am a classic Oreo cookie girl. Give me plain – not thin, not double stuffed, no flavors. (I love the flavors but for dunking purposes I'll only do plain.) I have no shame when it comes to my Oreo cookie – plop it in and get it ridiculously soggy. Drink milk and enjoy the soggiest Oreo cookie ever. YUM.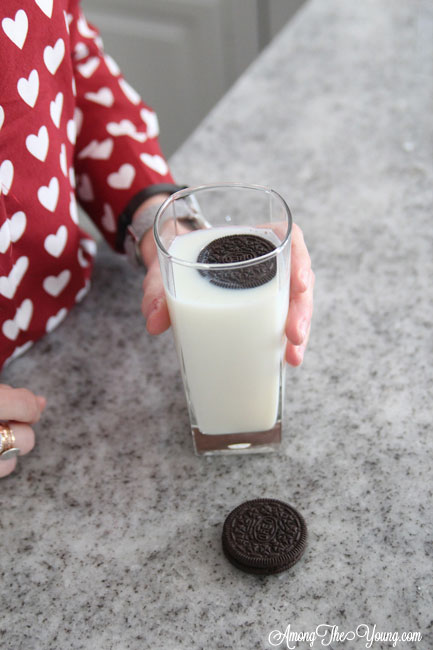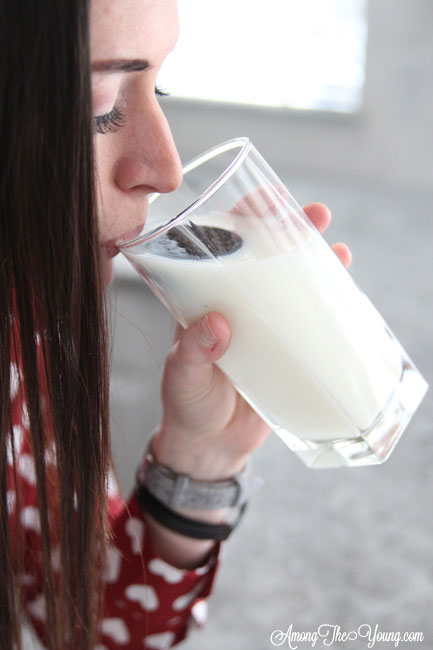 Little girlfriend T wanted a peanut butter Oreo cookie as well, but she wasn't feeling the dunk game this morning. Straight Oreo cookie and a drink of milk afterwards. To each their own, right??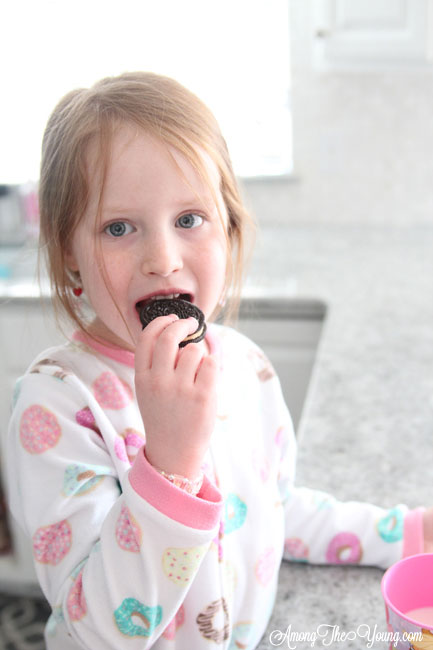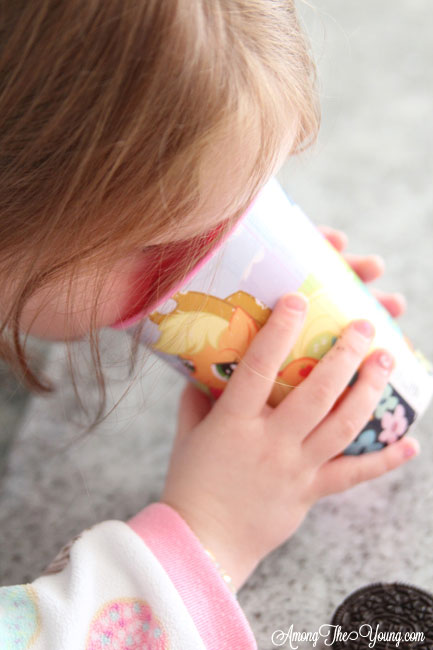 Now onto my favorite part: Red Velvet Oreo Cheesecake! GUYS. I'm OBSESSED with cheesecake…in case you can't tell… I've only made a few of them! (
Red Velvet Cheesecake
,
Chocolate Oreo Cheesecake
,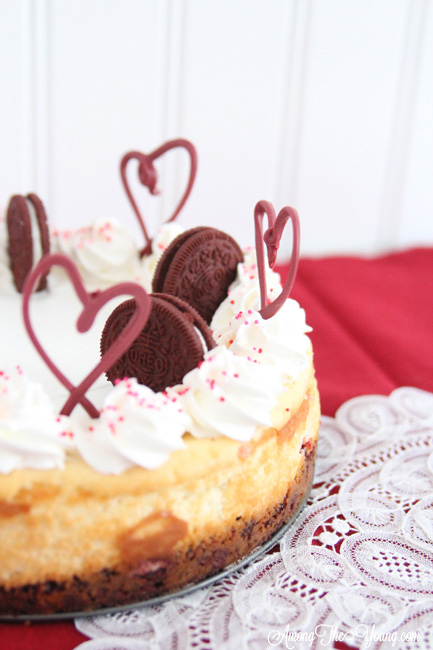 This red velvet Oreo cheesecake is DIVINE. The crust is made of Red velvet Oreos and they add the perfect darkness to the rich and creamy traditional cheesecake.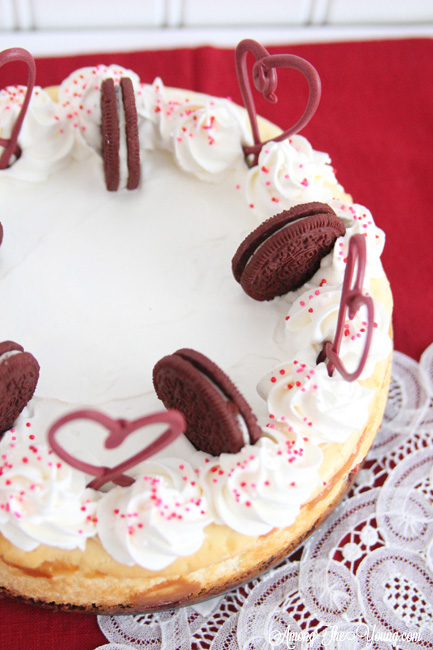 The red velvet Oreo cookies were a little harder to crush than normal, when I make this again I'll separate the cookies from the frosting, crush the Oreo cookies, and then combine the frosting back in. I think that would make the crushing a little easier!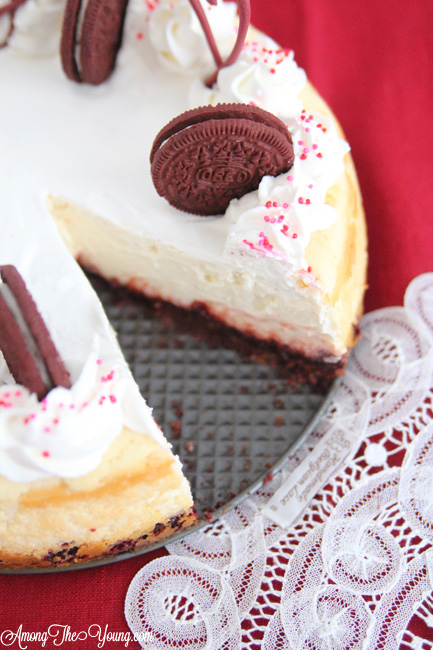 These Red Velvet Oreo cookies are limited edition (usually around Valentines Day). Funny story: I didn't realize they were a limited cookie , so when my friend told me I HAD to try them I trusted her. Bad news? It was past Valentines day and I couldn't find them ANYWHERE. I became desperate. It because my personal mission, nay, my QUEST to find these red velvet Oreos. Lo and behold, Amazon came through and I bought these cookies for a ridiculous price….it was around $20 for a package of Oreos. My husband did not understand but I HAD to have them!
Now I have learned my lesson – buy the Oreo cookies when they're in season!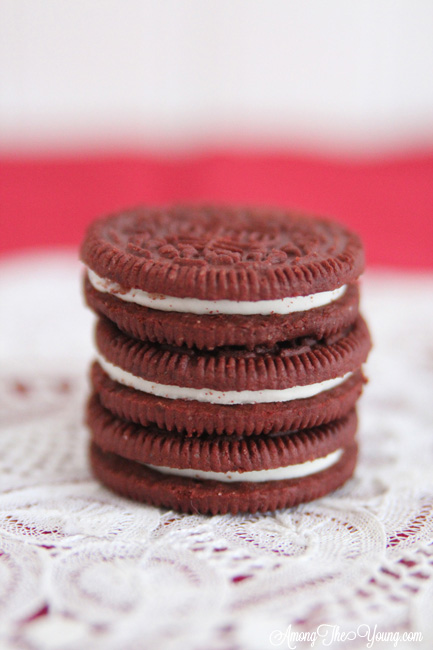 But the result was PERFECT! that red crust? I was worried it wouldn't show up as red, so I was VERY pleased to see such a vibrant red crust!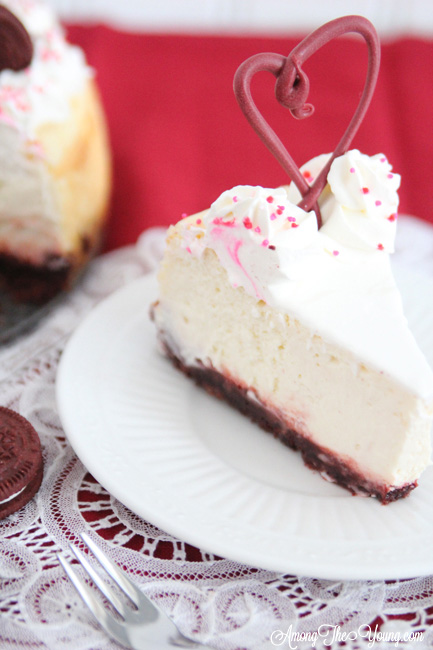 The red heart filigrees might have been my favorite thing ever, and guess what? They are red velvet flavored too. Wilton for the win!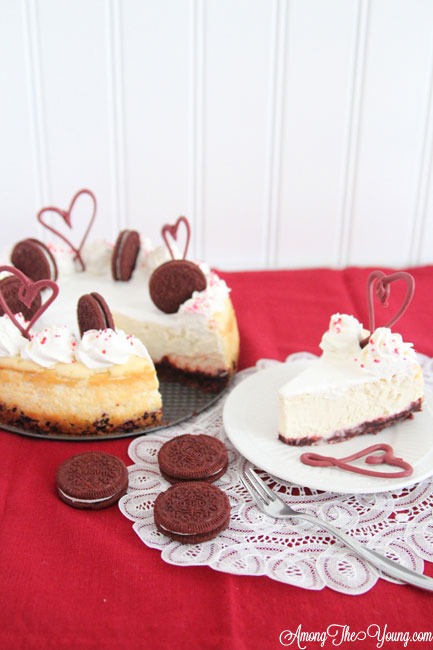 Moral of the story: Red velvet is my fave. Cheesecake is my other fav. Put them together and what have you got? Bibbedy Bobbity Kaylynn has NO control!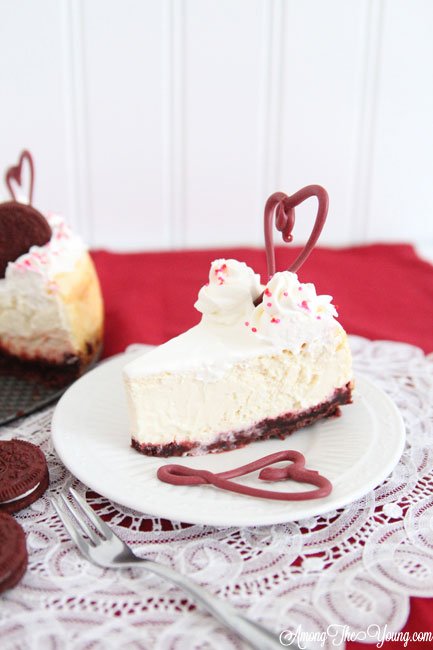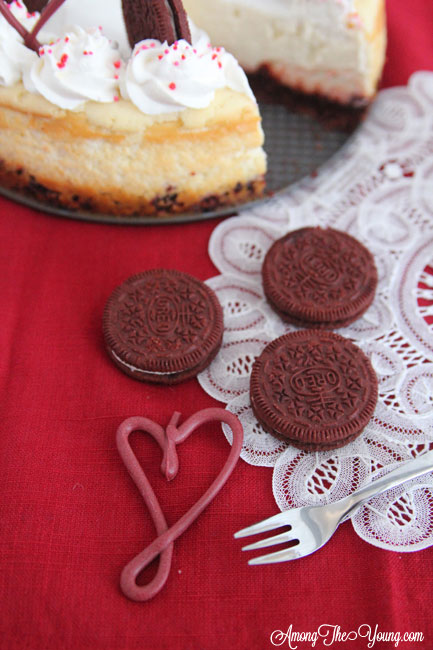 The hardest part of my job? Photographing before taking a bite. It looked good. It smelled good. It was OH-SO-CREAMY. It wasn't until my picture mania had finished I allowed myself to taste my creation. I wish you could see the progression of pictures because I INHALED that Red Velvet Oreo Cheesecake. It had NO chance and may be my new favorite thing ever. The crust was red and perfect. The filling was creamy and cheesecakey. Kaylynn was in heaven and then I was frantic because I realized I had no self control and HAD to get this stuff out of the house! It's too darn good!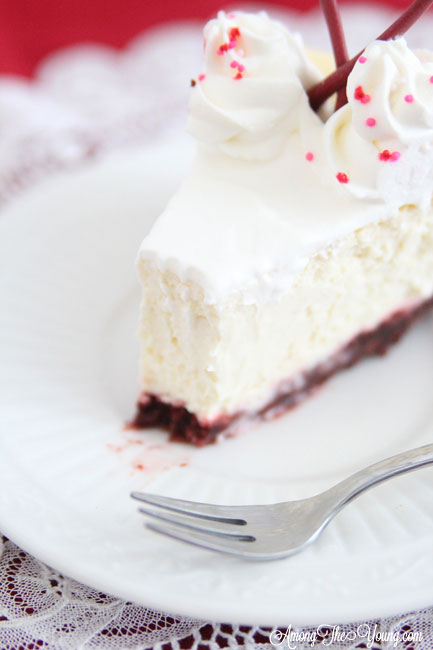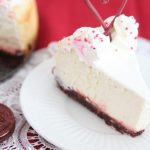 Red Velvet Oreo Cheesecake
This is the perfect treat for Valentines (or any time) ! The red velvet Oreos make this cheesecake extra decadent!
Ingredients
Crust
20-30

Red Velvet Oreo cookies

3

TB

butter

melted
Cheesecake
4

pkg (32 oz)

cream cheese

softened

1

cup

sugar

3

TB

flour

1

TB

vanilla

1

cup

greek yogurt

4

eggs
Instructions
Crust:
Separate Oreo cookie creme from cookies

Crush Oreo cookies

Add creme back in.

Mix well.

Melt butter.

Stir butter into crumbs.

Combine.
Cheesecake:
Preheat oven to 325

Beat cream cheese, sugar, flour, and vanilla with a mixer until well blended.

Add sour cream; mix well.

Add eggs one at a time.

Pour over crust.

Bake 50-60 min or until center is almost set.

Cool completely.

Refrigerate at least 4 hours.

Decorate with whipped cream, sprinkles, crushed cookies, and filigrees.