Cricut Design Star.
The theme: Holiday Home Décor or Gift Ideas
Bless. My. Soul.
This month was HARD HARD HARD for me. I'm a bright kind of girl, and my house is just that – BRIGHT. So fall decor was OUT.
That left me with gifts. I kept coming back to jewelry… did you know that the Cricut Explore can cut METAL? Thin sheets of metal work fabulously, and thus, my rustic friendship DIY metal bracelets were created.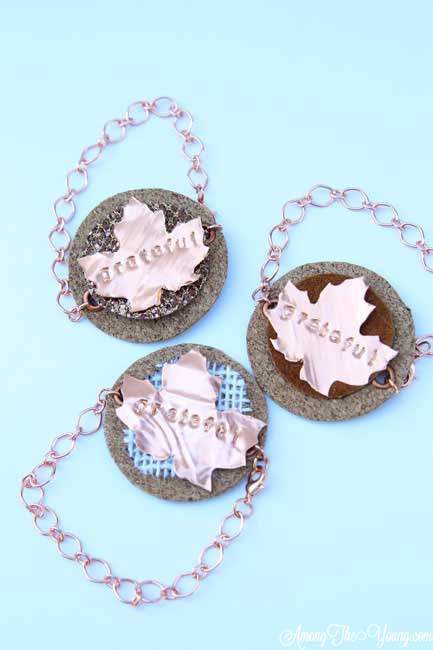 For each metal bracelet that you see, I had someone specific in mind. It helped with the creative process instead of trying to think, "What would look cute" to ask, "What would whats-her-face like?"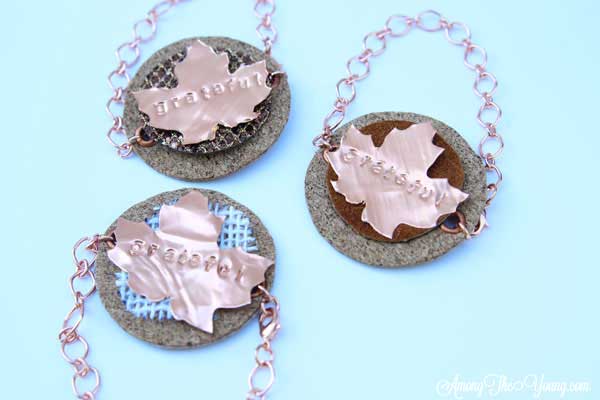 For me – isn't it obvious? The more sparkly the better.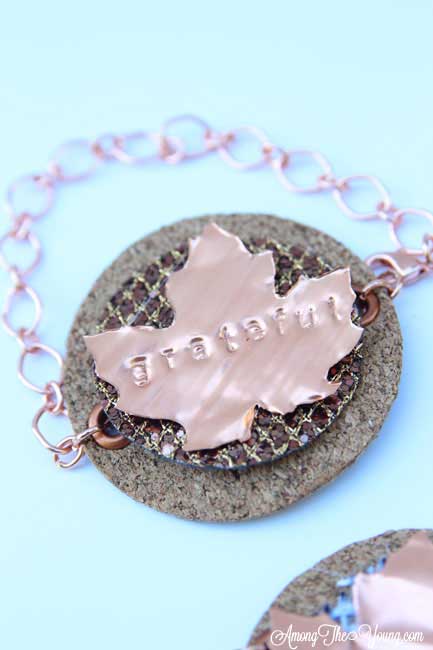 My sister is 100% opposite. She HATES sparkles…. I know, crazy! So it was a toss up which one she'd prefer. Both the suede and burlap have such fun looks – it's totally personal preference.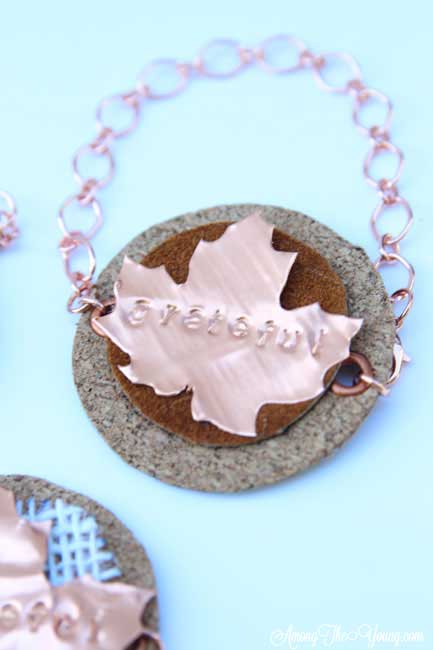 The third DIY metal bracelet it up for grabs…do you wanna be my friend?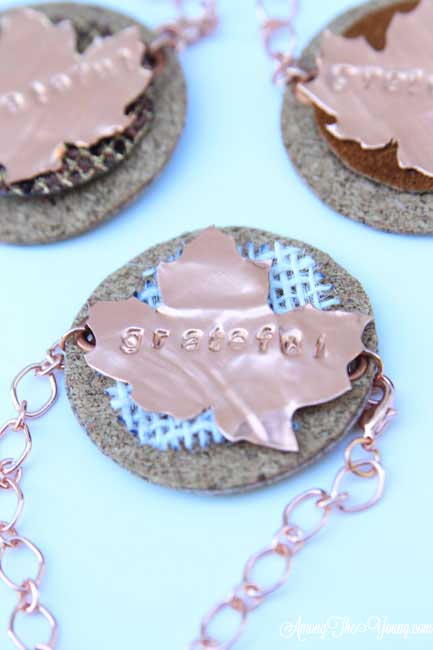 And there you have it – my beautiful hand modeling a pretty cool DIY metal bracelet. Which one was your favorite?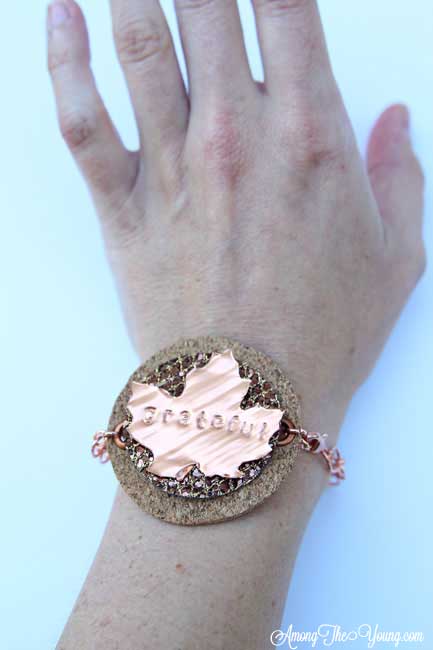 DIY Metal Bracelets Supplies
(I found all of my supplies at Hobby Lobby, but I've linked things that are very similar for you to buy online)
Thin copper sheet
Metal Stamps
Thin sheet of Cork board
Copper chain
Copper clasps
Glue dots
E-600 glue
Crop-o-dile and Eyelets
Burlap
Sparkle fabric
Leather or Suede
DIY Metal Bracelets: Instructions
Thin metal sheet: cut out 2 inch leaves using the Cricut Explore. (I found a maple leaf that I loved, but any leaf would do.)
Using the handstamps, punch out whatever letters you desire. I chose "GRATEFUL" to go with the fall and Thanksgiving theme.
Thin cork board: cut out 2 1/2 – 3 inch circle using the Cricut Explore. (My cork was adhesive, so I ended up cutting out two circles and sticking them together to make one.)
Burlap, sparkle fabric, leather: Cut out 2 inch circles.
Using the E-6000, assemble the bracelet. First cork, then sparkle/burlap/leather, then leaf. Let set until glue has dried (at least 12 hours).
My blog friends have made some pretty radical things this month – I mean, check it out!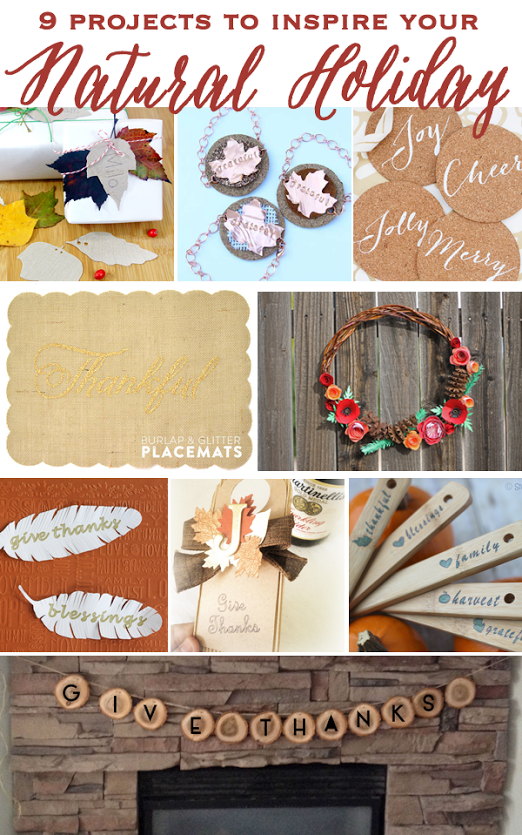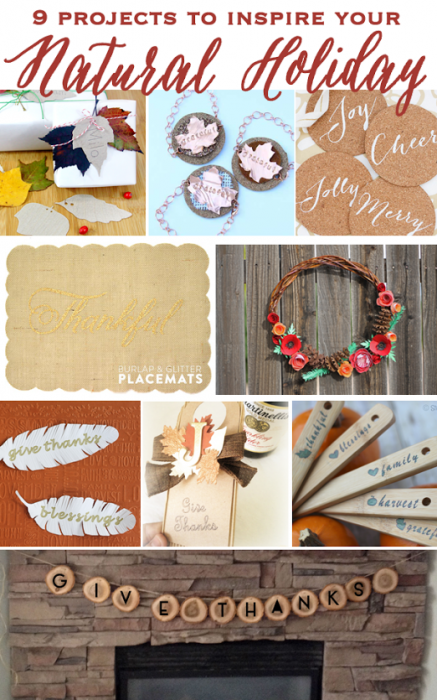 Wood Leaf Gift Tags by Hideous, Dreadful, Stinky
Rustic Friendship Bracelets by Among the Young
Holiday Cork Coasters by Sewbon
Burlap Glitter Placemats by The Project Girl
Rustic Fall Wreath by Laura's Crafty Life
Paper Feathers by The Country Chic Cottage
Thanksgiving Hostess Gift Tag by Freebies 2 Deals
Thanksgiving Table Serving Utensils by Stuffed Suitcase
Give Thanks wood banner by Brooklyn Berry Designs
Plus, have you guys heard?! Something NEW!! Cricut Design Space now has Print then Cut technology – KINDA A HUGE DEAL! My mind hasn't even processed what to do with this awesomeness yet. Stay tuned, but in the meantime, head over to Cricut.com to check it out.
Hope you enjoyed our fall awesome-ness and these DIY Metal Bracelets, stick around for next month! Wahoo!