How is it already August? How am I already getting my classroom ready and preparing for a new school year? Summer went too fast. While summer may have flown by, my blog friends and I have some projects to get you in the mood for back to school. Check out these amazing back to school projects and get in the school spirit! Now if only could get that excited … Just kidding!
1. Back to School Mantle by The Crafted Sparrow
2. Churched up Backpacks by Maybe I Will
3. Back to School Wreath by Among the Young
4. Flour-less Cookies by Hollyhocks & Honeybees
5. Portable Homework Station by The Benson Street
6. ABC Book Page Bunting by She's Crafty
7. Back to School Trends by Flats to Flip Flops
8. Back to School Shopping List by Free Time Frolics
When I was cleaning out my Kindergarten classroom last May, I found a plethora of books that were super cute, but super outdated – as in…NONE of my kids should EVER be expected to read them. Honestly. So what better way to keep these books alive than to make them into a super cute vintage paper wreath?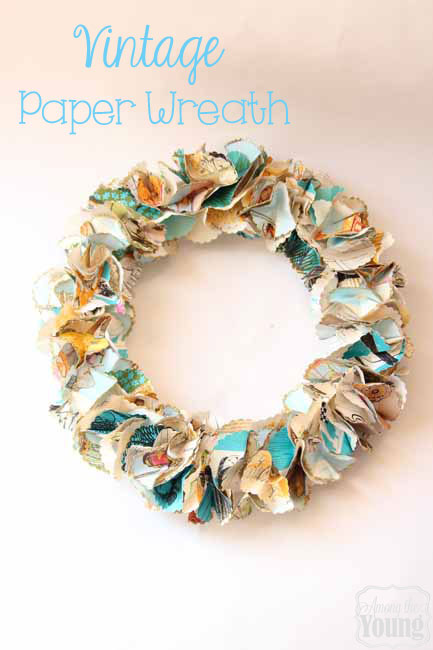 Supplies needed:
*foam wreath
*straight pins
*scalloped paper cut (not pictured) – Mine was purple and about 3 inches
*glitter (optional, but glitter makes everything better!)
*glue (I used mod podge) if you choose to do glitter on the edges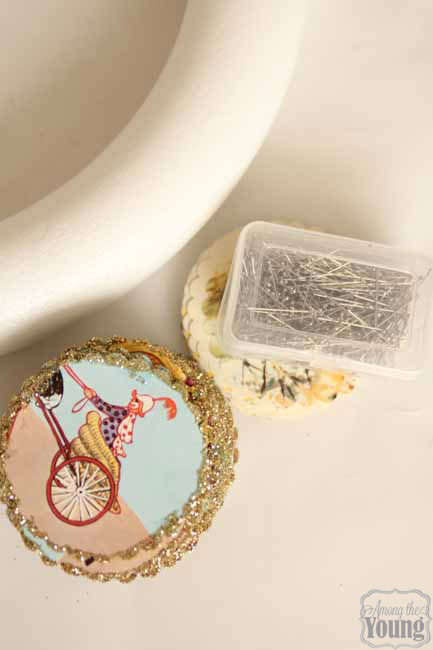 Now, you might hate me after doing this project. I thought it would be a little bit easier than it actually was, but paper is HARD to work with! First thing first, cut out a gazillion scalloped paper thing-eys. If you want to glitter some of your pieces, this would also be the time. Again, mod podge worked great and since I covered it with glitter, I used my matte junk.
Another tip: when you buy your pins, make sure your pins have a nice big "head" so it can grab onto your paper and not just slide off.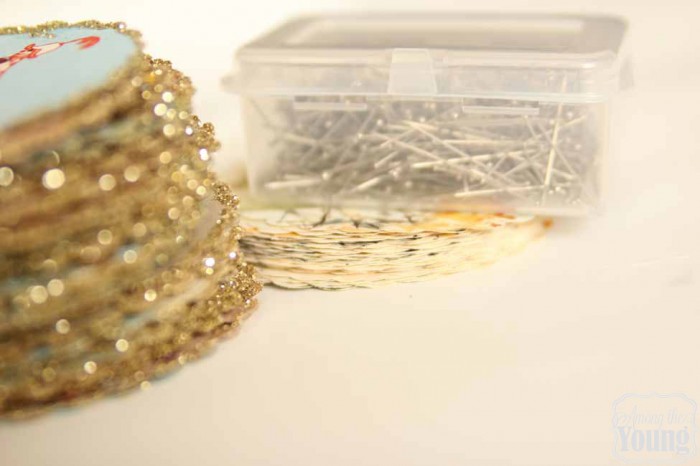 Fold your paper like so – the best way I can describe it? Fortune cookie. Or that game I used to play as a kid where you'd fold a piece of paper into triangles and you'd pick then count…? What was that game anyway?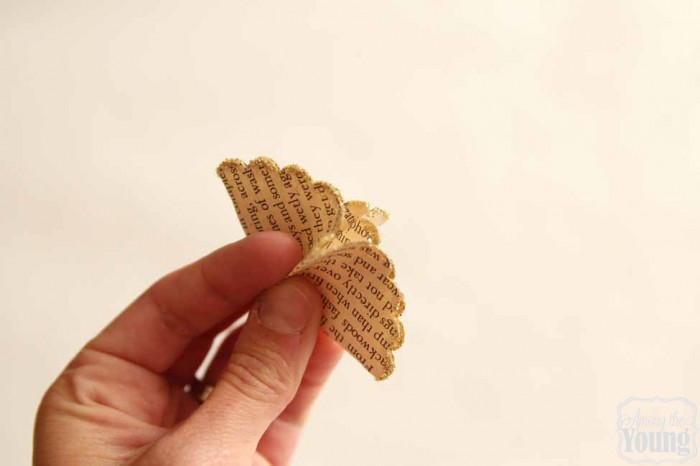 Anyway! GENTLY slide your pin into the center and insert in the wreath ever so gingerly. Repeat 500 times. It's tedious, it's annoying, but look at how cute. Was it worth it? Yes. Will I make this project again? Probably not.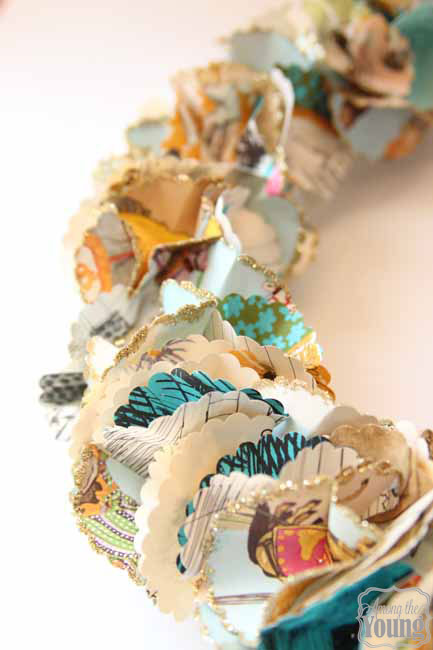 Last step? Display! I hung mine INSIDE because it was such a fragile thing. I didn't want all my hard work on this silly vintage paper wreath to be in vain and ruined outside. Maybe you'll have better luck than me? Let me know! And if you need some "vintage" paper ? I've got a bunch. Give me a jingle, bribe me with cookies, and they're yours! Happy wreathing and let the countdown to school officially begin!