*This post may contain affiliate links to support my donut eating habits*
Guys, I am SO excited to be teaming up with my Styled by Five girls to show you how amazing a Daniel Wellington watch is. Skip the chocolates, skip the roses, maybe buy some Lipsense (You know you want to!) but go for the Daniel Wellington watch this Valentines day!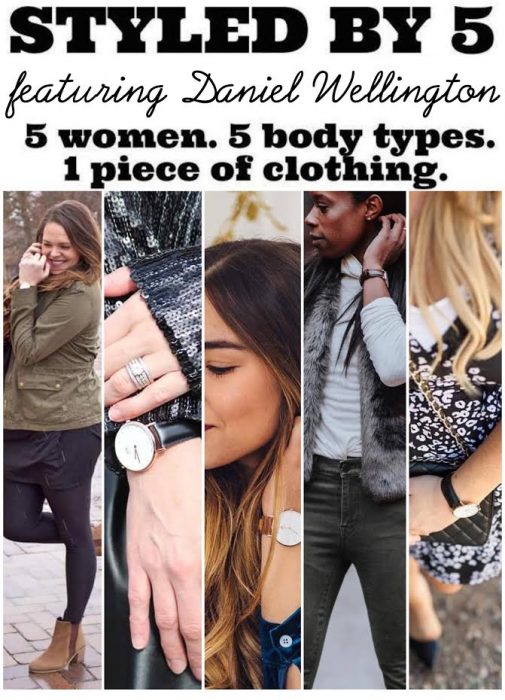 I have teamed up with four other ladies to bring you one accessory styled by 5 different women. Women that look & think differently from one another – hair, religion, location, skin, size, height, style, all of the above. I love sharing my style with you, but I also want you to see clothing I style in other body types so you can find what is best for you. So feel free to check out how
Deidre
,
Bethany
,
Jacque
, and
Lauryn
styled their Daniel Wellington watch as well! And watch for a new piece of clothing styled by 5 every month.
Also, quick shout out to my girl Carissa Miss. (I wrote about blog post about her, her cause, and how amazing her dresses are. If you missed it, check it out here.) I mean – a faux leather dress?! It is AMAZING. I've never had anything like it and I feel like a mix between Bat Girl and a freaking supermodel.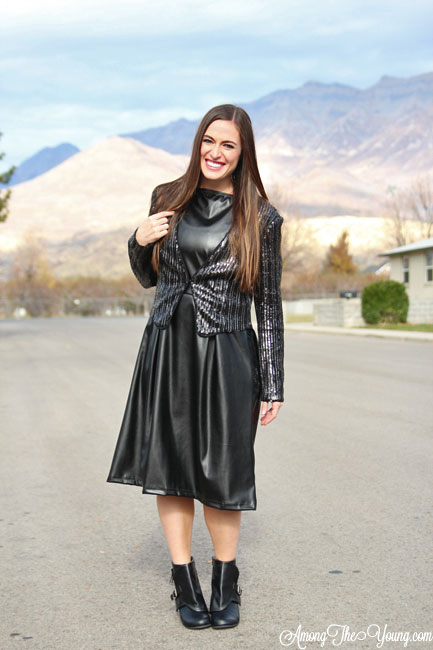 Would you believe I wasn't a watch person until just recently? It's become one of my newest addictions and I can't get enough. Give me all the watches – especially this one from Daniel Wellington. My pictures don't do it justice. It's Rose Gold (which I've recently realized I'm obsessed with) and black.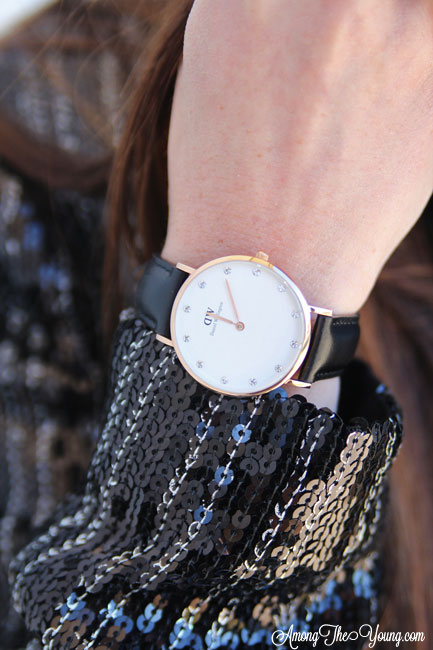 Am I the only OCD freak about not mixing black and brown? I swear – it's like a religion for me. BLACK AND BROWN DO NOT MIX! This makes my accessories, especially watch-wearing, slightly difficult. I used to simply wear gold or silver, but now that I have this incredible Daniel Wellington watch it's pretty much the only thing I wear (unless I decide to randomly wear brown…which is basically never).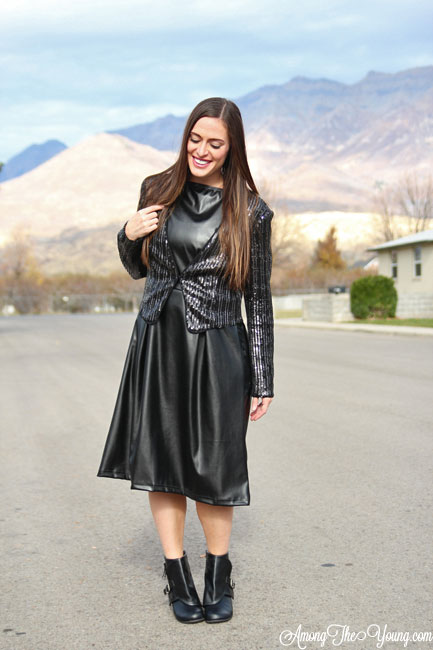 A girl can never have too many sequins, and what goes with sequins? Leather. And this Daniel Wellington watch of course.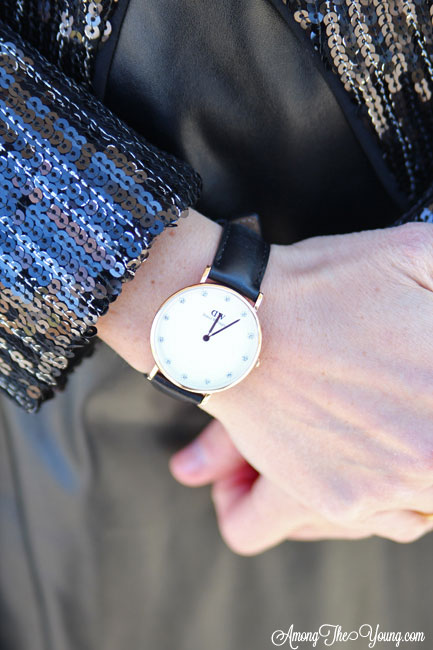 Dress:
Carissa Miss Shop
(She is constantly getting new dresses in and she's always up for a custom piece. Basically, she's the bomb.)
Sequin Jacket:
Cache
(but it's out of business, so a similar jacket is linked
HERE
)
Black booties:
(Similar linked here)
Watch:
Daniel Wellington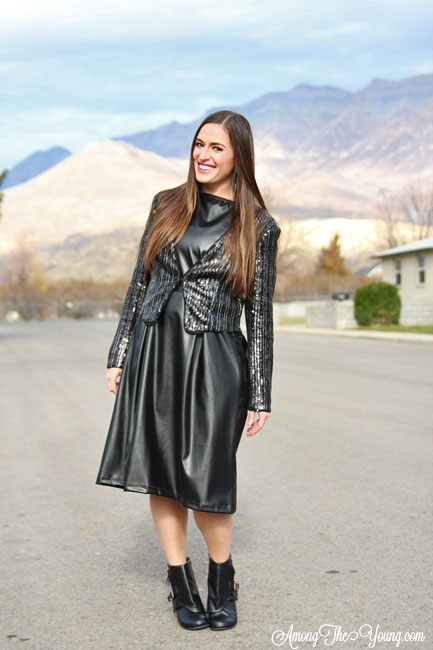 I'm all about cute packaging too. I couldn't bring myself to throw it away – even after I'd taken the Daniel Wellington watch out – doesn't it just scream Valentines Day?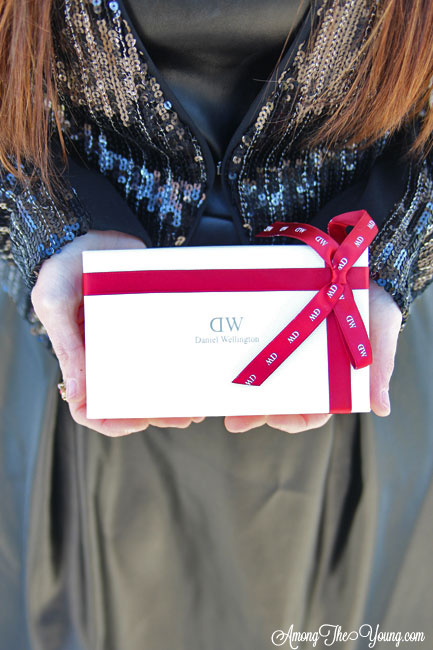 This look was so fun to put together. Sparkles, lace, DW watch, and booties. (Don't forget to use the discount code YOUNG for an extra sweet deal!) I'd call that a perfect Valentines day outfit.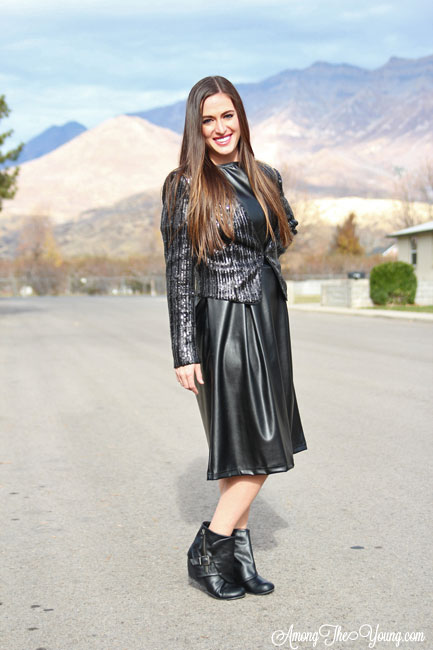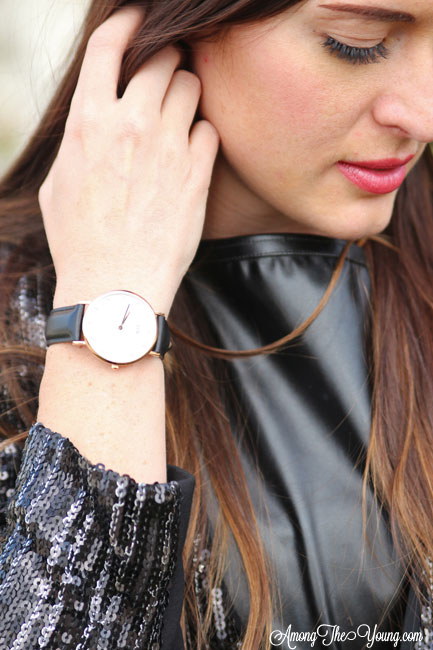 Moral of the story:
Everyone needs a good little black dress.
Everyone NEEDS a good little black LEATHER dress.
Skip the flowers, chocolate, cheesy garbage and get a Daniel Wellington watch and
Lipsense
. YUP.
YES PLEASE.