Last time we were in Florida, this was the ONLY thing I wanted to do (besides run the Tower of Terror 10 miler, of course!) was visit the Wizarding World of Harry Potter. Unfortunately, it just wasn't possible. We brought T last time and we filled our days with NON-STOP Disneyworld adventures. It was amazing, but I was still sad I didn't get to see the Wizarding World of Harry Potter.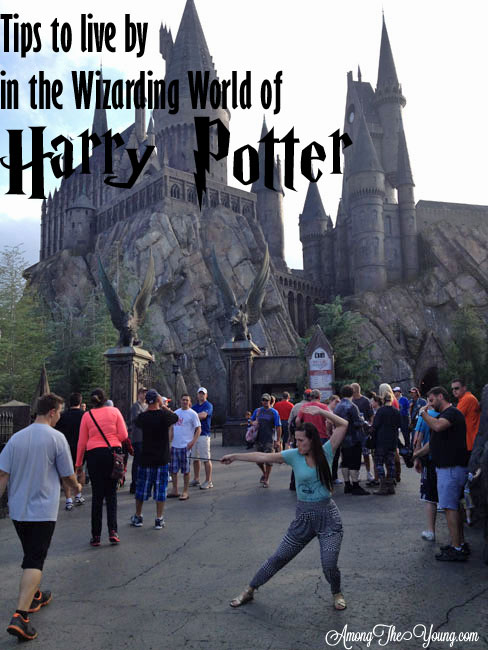 NOT THIS TIME. When we went back in February, that was the ONLY other thing on my agenda. We WILL visit the Wizarding World of Harry Potter. Not up for debate. The end.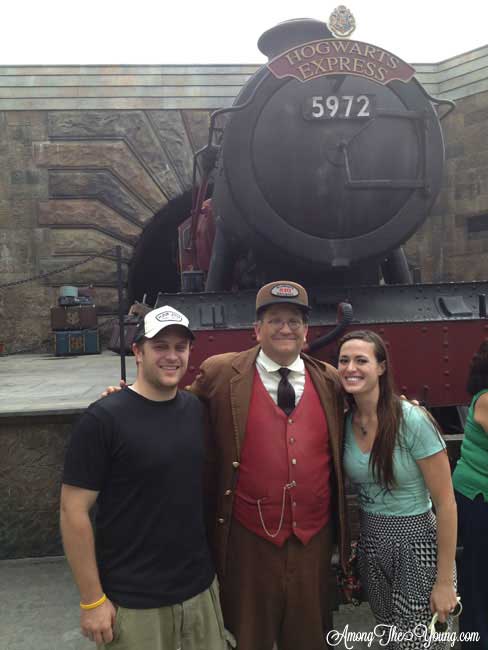 Let's just say… I was in absolute heaven. How can this magical place even be described in mere words? It's amazing. Just like I'd imagined in the books and seen in the movies. Right now it's just Hogsmeade, but they will be adding Diagon Alley as well as Kings Cross Station (complete with a ride on the Hogwarts Express to Hogwarts). AMAZING.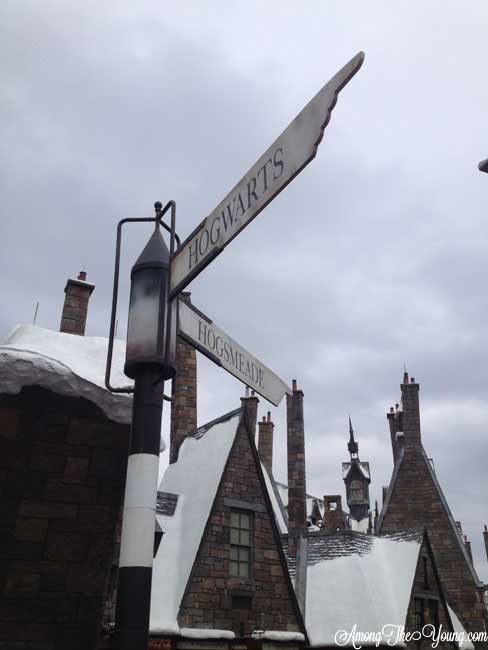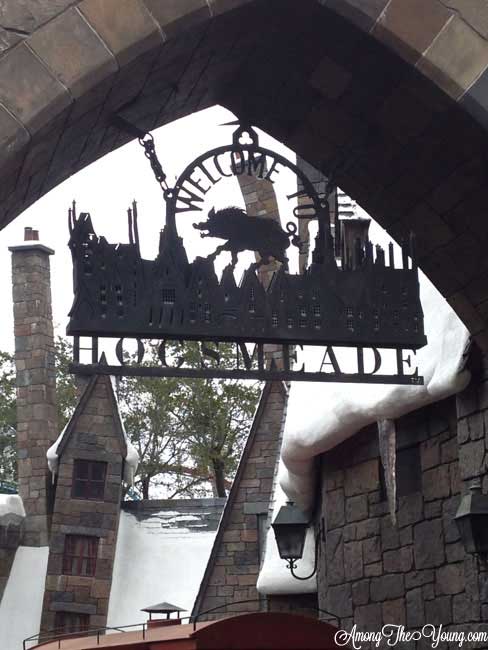 My tips and tricks for the Wizarding World of Harry Potter?
1. If there is ever a question between "WHICH ONE" – the answer is ALWAYS BOTH. Take, for example, both of these delicious Butterbeer drinks. One is frozen, one is liquid. Both are topped with a frothy, creamy delight. How on EARTH could you choose one over the other? You HAVE to get both. This way you can decide which is better and go back for seconds later. (That is, if you can decide which one you liked better, because I don't think I could!)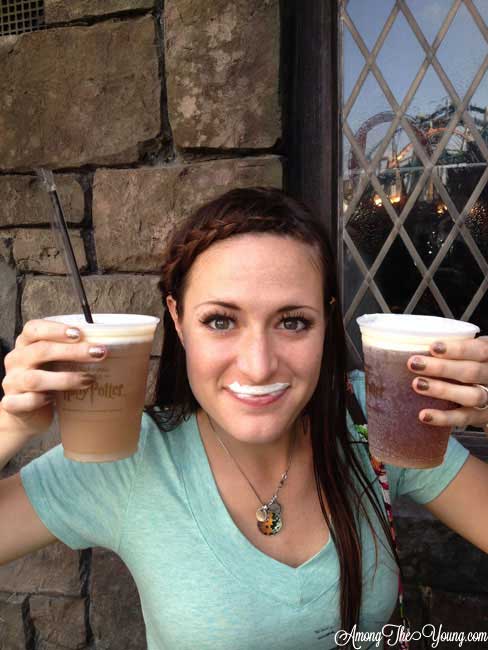 2. Embrace your nerdiness. Yes, I'm a TOTAL Potter-head. I didn't realize how bad it was until I got there, but it's 100% true. I am an AVID fan. EMBRACE it and do whatever that means to you. For me, it meant posing in dueling position in front of the Hogwarts castle while people STARED …. Obviously I got over it. And got an awesome picture out of it. Love it.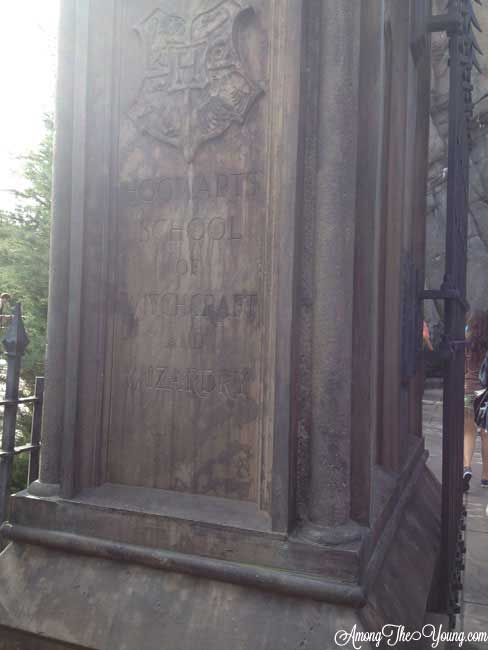 3. Buy a wand. Yes, I know it's $30. Yes, I know you could probably make one. Yes, yes yes….I went through the same arguments in my head as well – but these babies are SOLID and NICE. The stuff I was finding for DIY on Pinterest was super cheap and lame. The stuff on Etsy didn't look good, wasn't legit (Hi, I bought Professor McGonagal's wand!), and it was just as much money when you included shipping. In the end, it pays off to buy it there and choose the one you want (or let it choose you :D).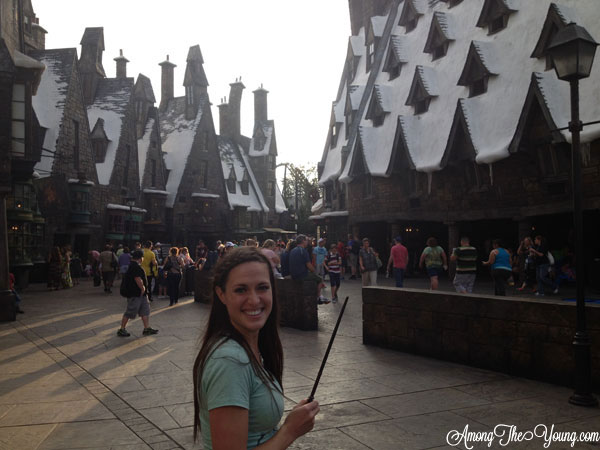 4. DON'T buy any jewelry. YES, I'm a serious Potter fan and I was COVETING a time turner and a Deathly Hallows necklace, but again – in the park they were a total rip off. I may or may not have found BOTH of these necklaces on Etsy for $2 each. Just saying.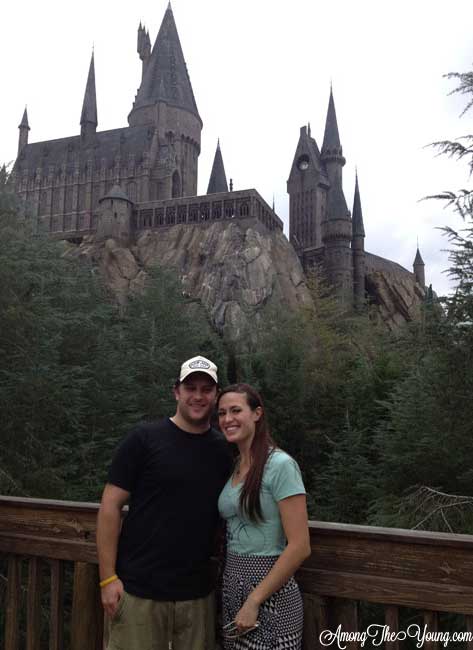 (And YES, I'm wearing
Agnes and Dora harem pants
– silky fabulous-ness on your body. The best!)
5. Refer back to my #1 rule. Always do BOTH. In this case, how could I choose between two adorable Pygmy Puffs? (Still un-named, by the way – I'd love any suggestions!) Plus, it worked out perfectly because I had the PERFECT pillow on the way home from the plane. AND, as soon as I got home, little T fell in love with the pink one. So I really did just end up with one. It all works out.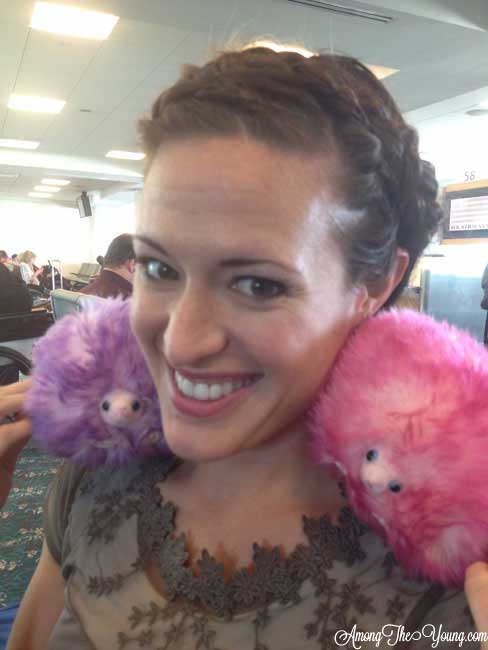 Moral of the story: You are in the Wizarding World of Harry Potter. ENJOY it. Live it up and make the most of this magical place because before you know it, it's time to go. I was STOKED to hear that they'll be building one of these in California – much closer to me! Can't wait to go again!