KW: baby girl birth story
Top Utah lifestyle blog, Among the Young, shares her baby girl birth story with pictures. It's beautiful. Click here now for all the info!!
Birth is AMAZING. It's such an incredibly spiritual moment – especially after you've lost a baby. You just appreciate everything a little bit more. I LOVE reading birth stories. I really don't understand why that is, but I know I'm not alone.
Maybe it's the fact that every person, baby, and birth situation is so unique and beautiful? No two are the same and I love reliving that special moment through a birth story.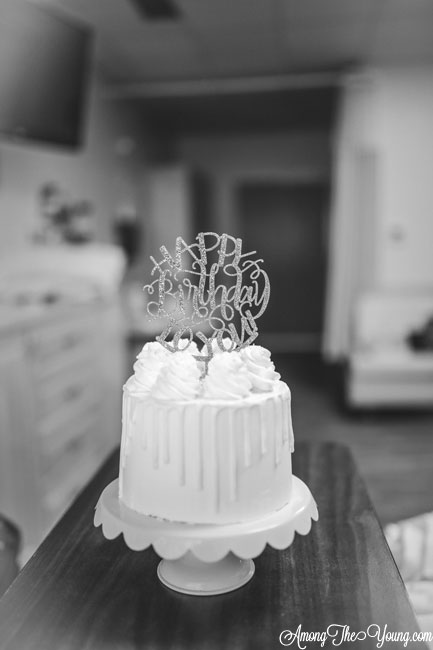 Baby Girl Birth Story
This baby girl was different from the get-go because she was induced. None of my other babies were, so this was a brand new game for us!
(T: the dr accidentally broke my water)
(Ian came naturally and at 21 weeks)
(B: I went into labor naturally)
I was fine to WAIT. I wanted to let her stay in there as long as possible, but there were several factors that went into play. We had never even considered an induction – especially since I was healthy and more that happy to wait it out.
However, the way WE do things (and this may seem strange to some of you!) is different. We like to keep everyone in the dark. No texts, no updates, no parents pacing in the halls. Just me and my husband welcoming a new member of the family. We text family AFTER the baby is here and they can come visit.
So the induction came about because the doctor asked and it got the wheels turning.
Then as we were trying to figure out childcare (without involving parents) it became apparent we couldn't do this spontaneously and still keep people in the dark.
Finally, Memorial Day weekend was coming. That was my due date. With MY luck, I'd be in labor with no one to help with our older girls and doctors would be out of town.
So that settled it. We scheduled an induction, Colby cancelled his appointments for the next day, we asked neighbors for help with the older girls, and made sure our birth photographer could make the switch. Also, I might have made a cake… because I'm crazy like that.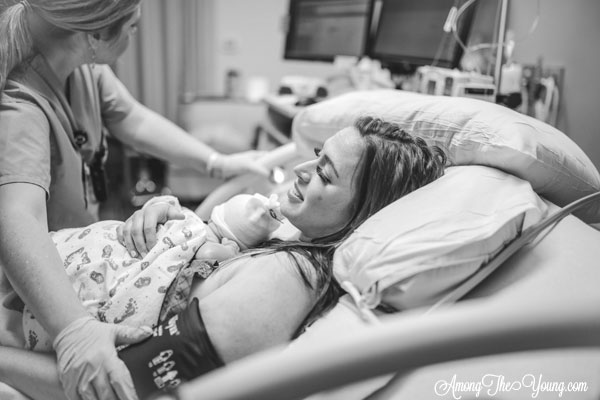 The Birth Story
We checked into the hospital and started Pitocin at 7:30AM. I was dilated to a 1, so nothing cool was happening for awhile. We told our photographer the ETA and she said she'd be there soon.
It was a GOOD thing I knew I wanted an epidural AND requested it early, because for whatever reason it took THREE tries to get that sucker in there. And if you know me, you know I'm not a huge fan of needles … even amazing needles that mean zero pain.
Once the epidural was good to go, I progressed quickly and my water broke on its own, but the photographer was 50 minutes away!
I told my midwife and nurses about the photographer and they were so great – I'm sure they thought I was the most EXTRA human. Yes, even typing it now it sounds really vain and childish.
I started pushing at 1PM, without the photographer. I was sad, but baby was more important. But baby didn't come. We pushed for 45 minutes and had NO LUCK. It was so weird.
It was at THAT MOMENT that Kallie came RUSHING into the room and started snapping pictures. SHE HAD MADE IT!! Baby could come now!
I remember pushing ONE MORE TIME and relaxing …. then POP! She had literally popped out when she wanted to – little diva! Our little baby M was HERE at 1:47PM; she was 7lbs 20in (our tallest baby yet!)
Meeting baby
She was "sunny side up" (aka face up) so she had some "road rash" on her face and she had a little scab on her hand (because she liked to suck on her hand). I can't even describe how perfect everything worked out – she had the cord wrapped around her neck two times and she'd swallowed some Meconium. It's a miracle she came out when she did and we had the help we needed to keep her with us.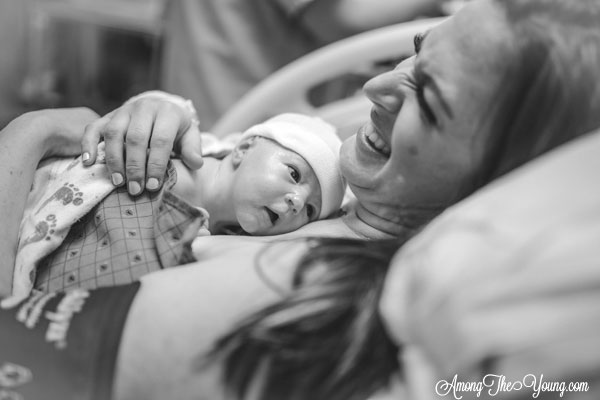 Colby went to pick up the girls – I was so excited to catch their reactions on film. It is seriously priceless.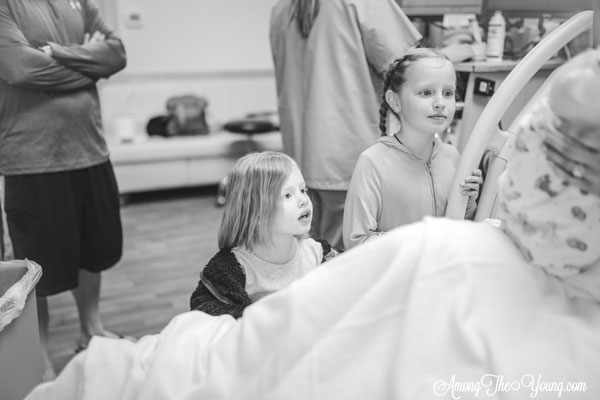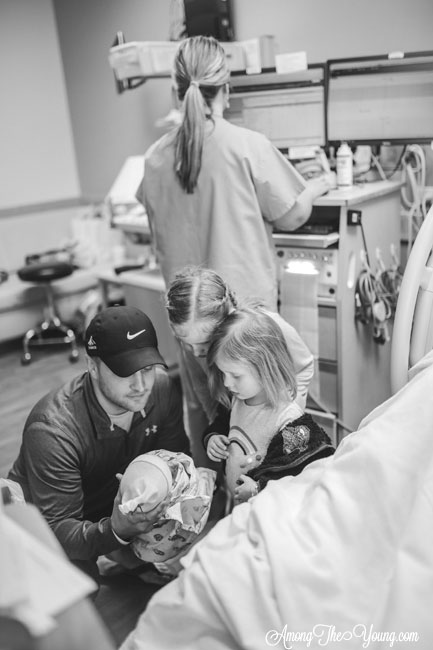 T was so sweet and really wanted to hold her new baby sister – B was not interested at all, but posed while Kallie took her picture.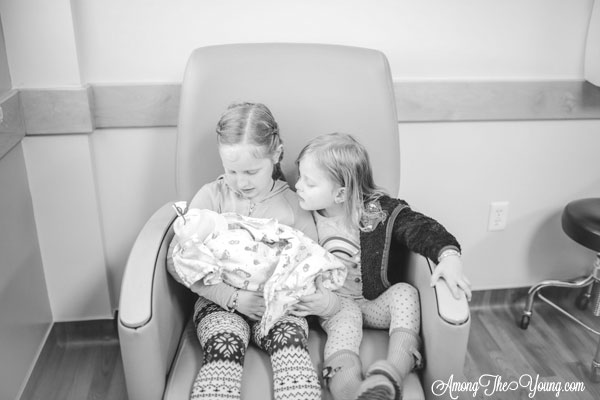 I was still not out of the woods yet – I was bleeding a LOT. The sweet nurses went to put in an IV and it didn't work (twice!). I was a hot mess – I was shaking uncontrollably, barfing, and scared out of my mind. Also, I was really hungry – but that's neither here nor there….
We finally told our parents the baby was here and asked for help – we couldn't do it all and I was still bleeding! After what felt like forever, I stopped bleeding – it was really scary! I had been pumped full of so many meds and I was ridiculously hungry. I finally ate dinner and all was well.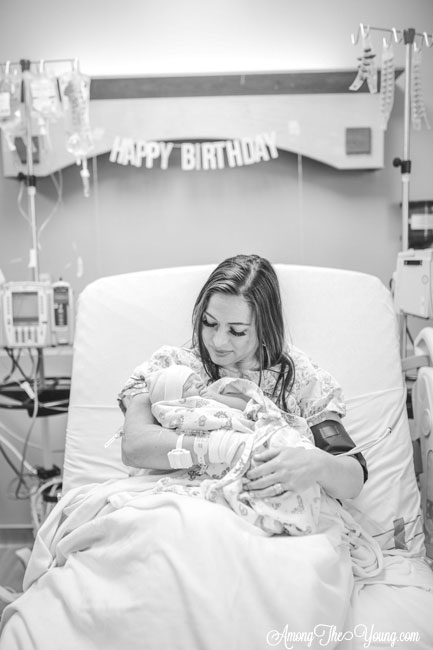 It is so surreal welcoming a new human into the world – I am in awe of the female body and all it can do.
And, of course, if you know me you know I LOVE food, so it was only appropriate that I knew little baby M was born on National Vanilla pudding day. There's your useless factoid of knowledge for the day! The nurses probably thought I was crazy – just passing cake out to people!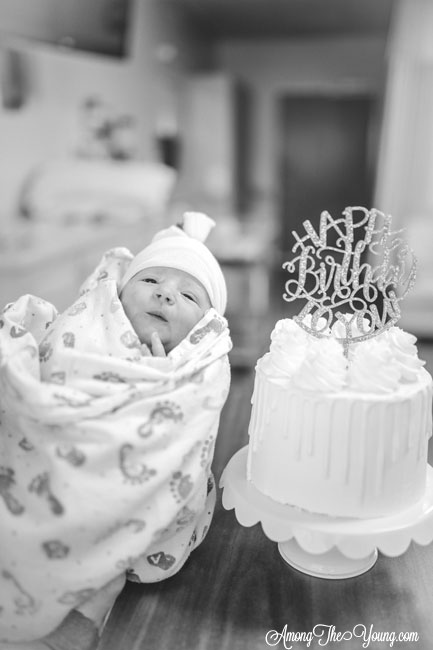 Our first picture as a family of 6 (I am including our little Ian in heaven, in case you tried to count). Birth stories are amazing. Women are amazing. Babies are amazing.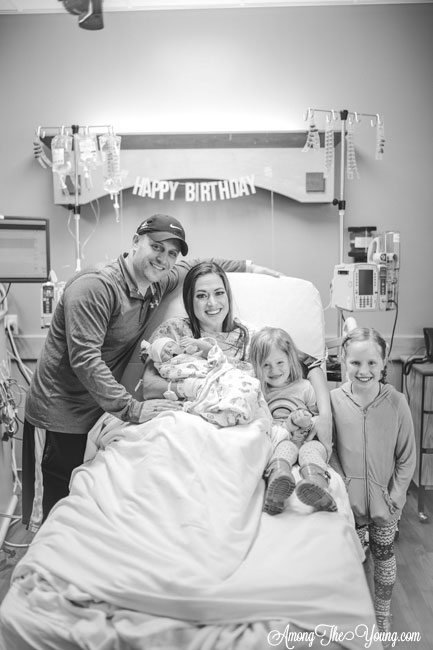 If you want to read the birth stories for my other children, you can find them
here (Ian),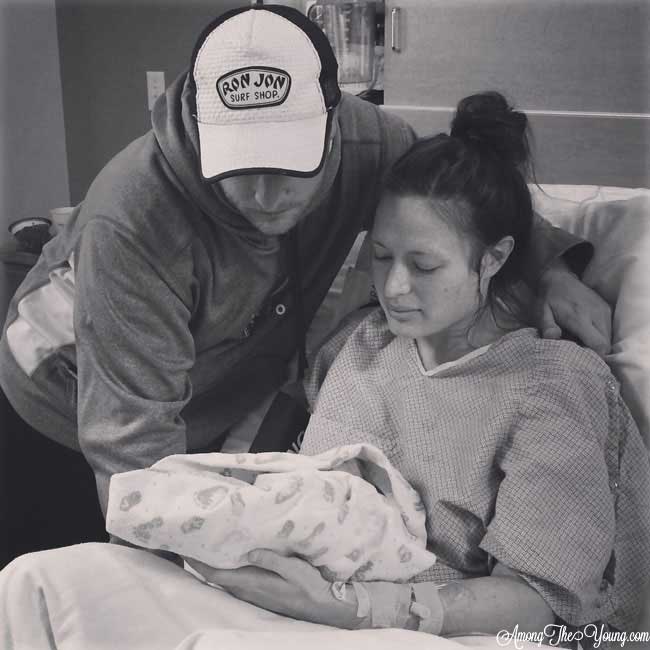 here (B)
.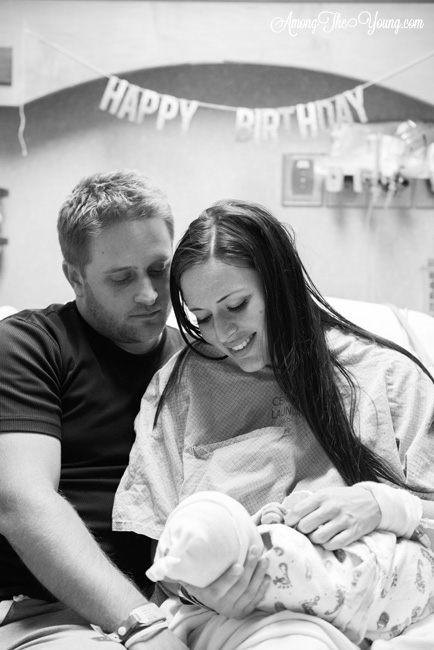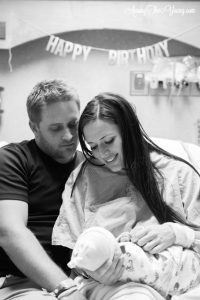 I used to have my oldest's birth story on my blog, but I took it down … I'm going to have to find that! Where on earth would it be?
I would love to hear your own birth story.  So, if you have one, feel free to share it in a comment below!