*This post is sponsored by Liquia and Baby Dove, however, all opinions are 100% my own* #BabyDovePartner
Our bath time routine is pretty simple, but I've had a few people ask me to share what our bed time routine looks like, so here it is! I've also discovered new Baby Dove products – I've always loved Dove, but now we use Baby Dove too! This helps our bed time routine so much!
Bed time routine
I've had a lot of people ask me about my toddler bed time routine, so I figured it was time to share! I love having a schedule and I firmly believe my kids do better when they know what to expect and what is expected of them.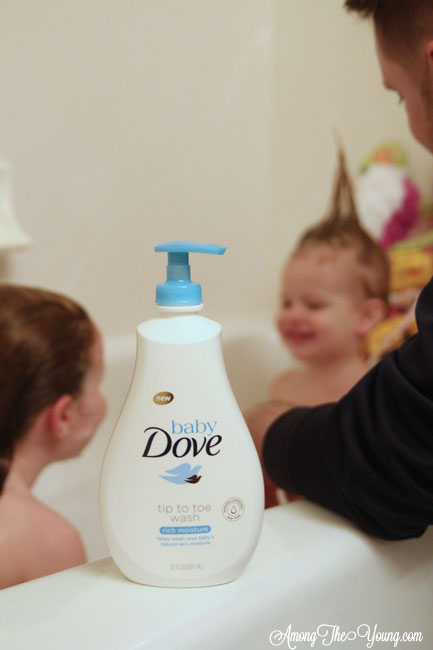 We don't have any special stickers or charts for our kids bed time routine. They know which nights we take baths, and every night they are required to brush their teeth, floss their teeth, etc, etc.
Our bedtime routine is nightly (obviously). However, we only do baths every couple of days: our bath time routine is Tuesday, Thursday, and Saturday. It works for us.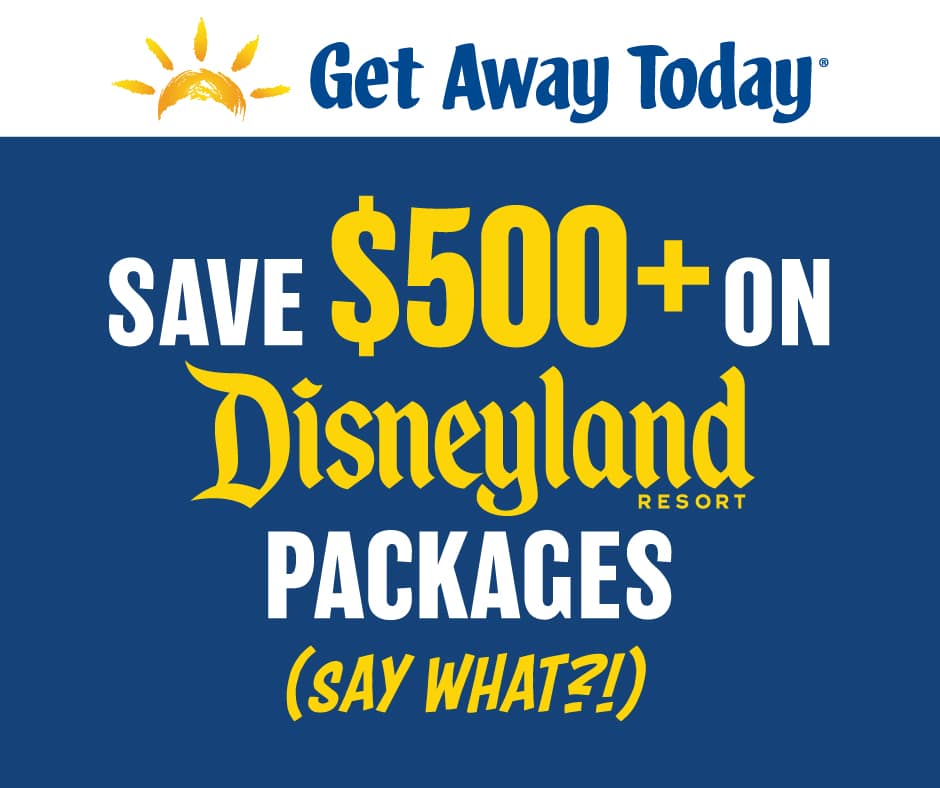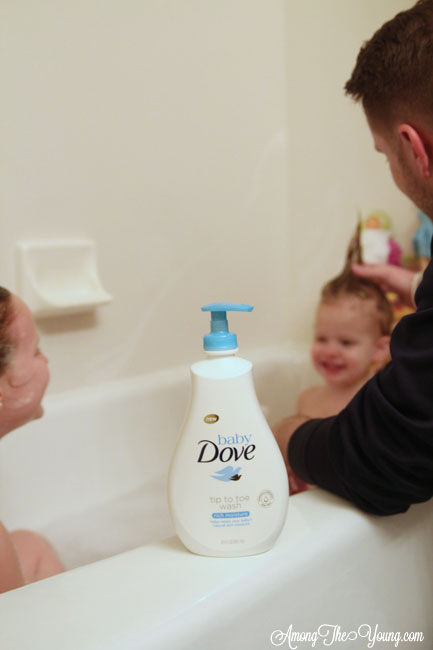 (Also, a total side-note: My seven year old has started showering (instead of taking baths with the toddler) and it has been AMAZING. I mean – independence for her and a small break for mom and dad? We'll take it!)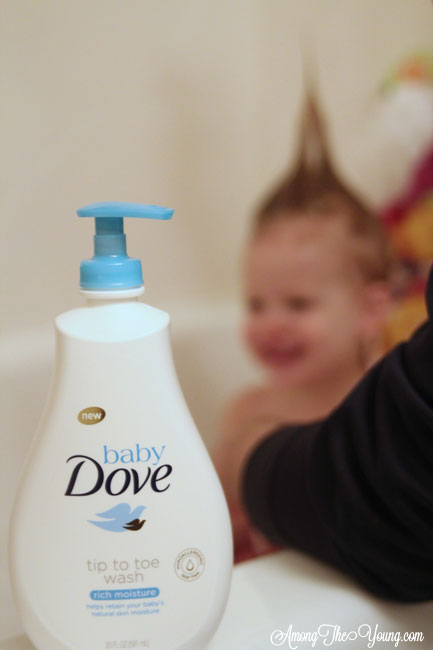 I have always used Dove (more here) body wash products because I like the way they feel – SO lathery and delightful in the shower and it leaves my skin SO soft and silky out of the shower. I've noticed that Dove (more here) has been wonderful for my dry skin, so when I saw there was a BABY Dove product, I jumped on that train fast. This product truly is superior and I know it will help my girls. Both of them have very dry skin, and I know that using Baby Dove cleaner (in the bath) and Baby Dove lotion is going to help a lot!
I'd highly recommend Dove (and all their products) to anyone – especially those concerned about dry skin!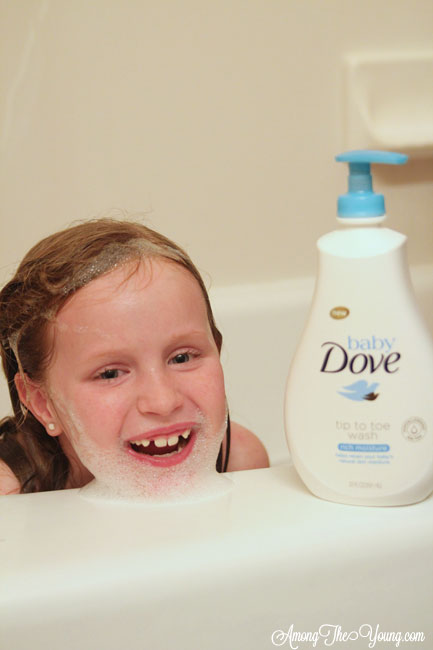 Typically, dad does the bath and mom does the lotion. (Dad doesn't love the slimy feel of bubbles or lotion, but he manages!)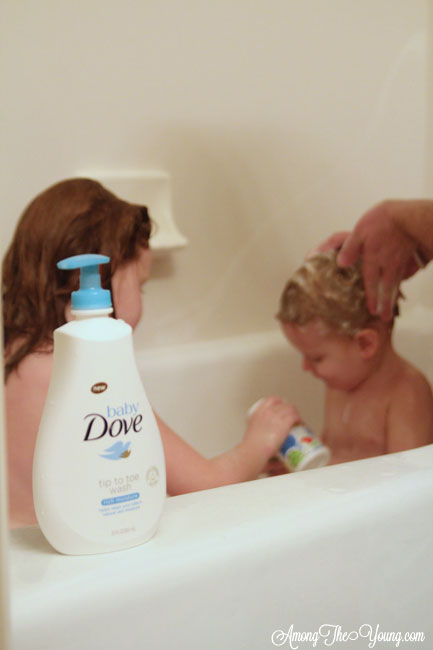 He commented on how well Baby Dove (here) lathered and how thick it stayed on. He even said that he was excited to see how Baby Dove was going to help our little ones dry skin.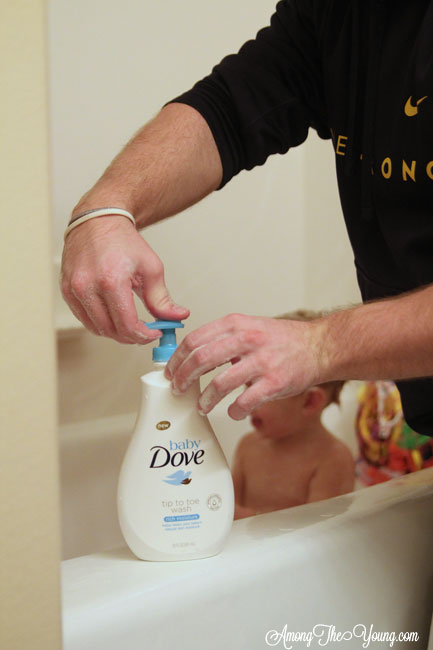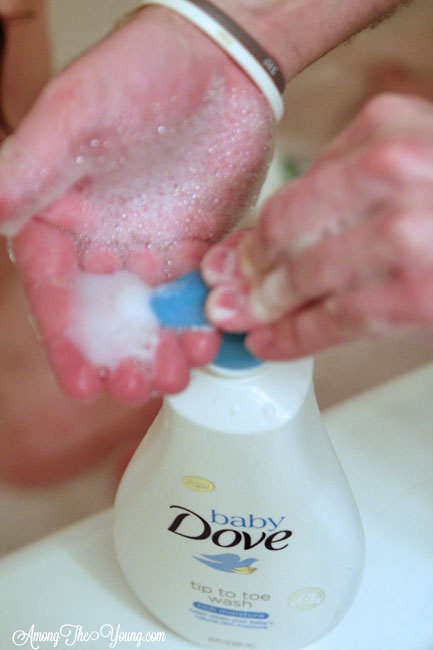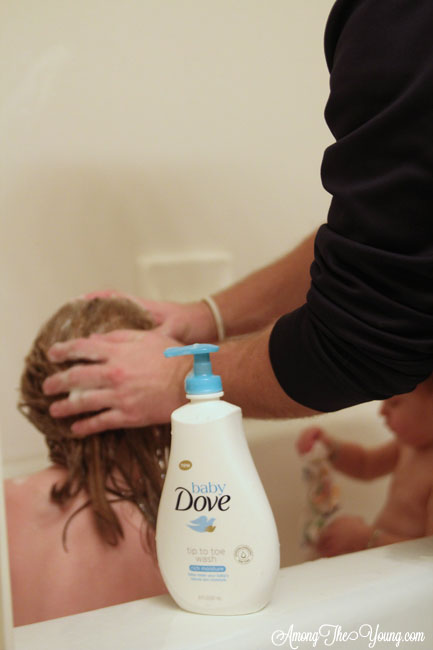 Toddler bedtime tips
The hardest part of our bed time routine? Definitely getting out of the bath. I like to think that our bath time is SO fun that little Miss B doesn't want to get out, but it's more likely that she's 2 and doesn't want to do anything we want her to do. Am I right?
Tip #1: To avoid meltdowns, we give our toddler plenty of warning that it's almost time to get out of the bath – this helps keep our toddler in a routine for bed time and bath time.
And we're onto the lotion…. a crying babe instantly forgets why she was crying and loves to help put on her lotion.
Tip #2: Let your kids "help" in any way they can – it helps them feel involved and often lets them think they're in charge. (Even though they definitely ARE NOT!)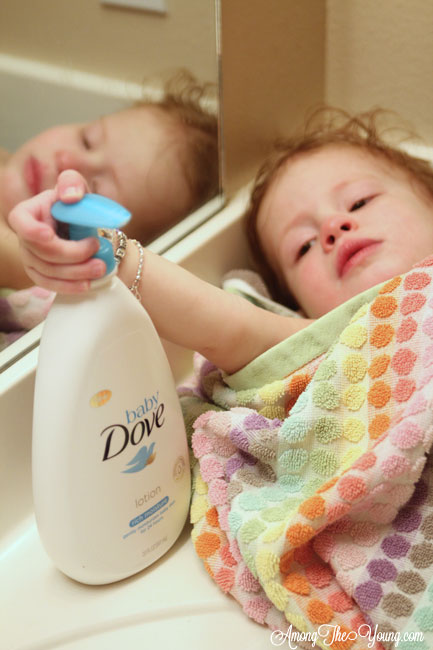 B LOVED being lotioned – and again, this Baby Dove lotion is extra creamy and luxurious. Recently, little Miss B has started helping with the lotion.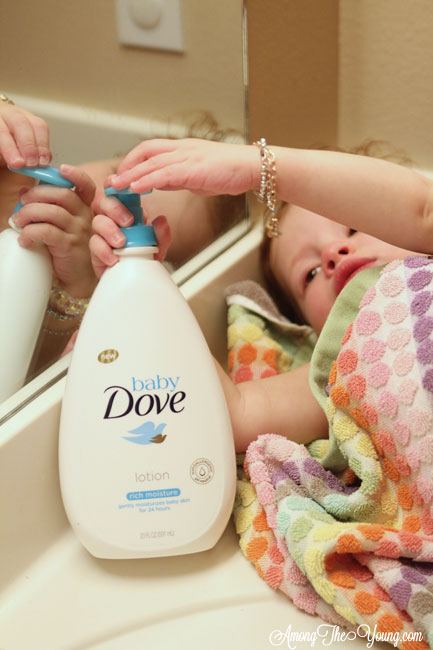 Not sure if she's really that helpful or if it just keeps her hands occupied. The world may never know.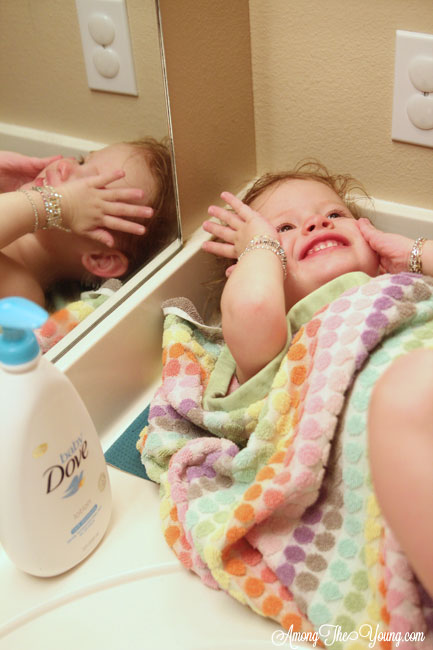 Baby Dove (products) truly has become the center of our bath-time routine. Since making the switch we won't go back. Yes, it smells great and feels good, but we've noticed our girls skin has been less dry in these cold winter months.
After bath time, we brush and floss teeth, read a book, give squeezes, sing a song, and then it's lights out. (Someone give this mama a cookie!)
What have you found works for your bed time routine? Do you kids like stickers or charts? Do they like a simple and predictable bed time routine? I'm curious because kids are fascinating and parenting is different for everyone. Tell me your secrets!
Also, I have a few tips for hiking with toddlers and the worlds best mini muffins for toddlers. (SPOILER ALERT: They're delicious AND packed with good stuff. Your kids will NEVER know!)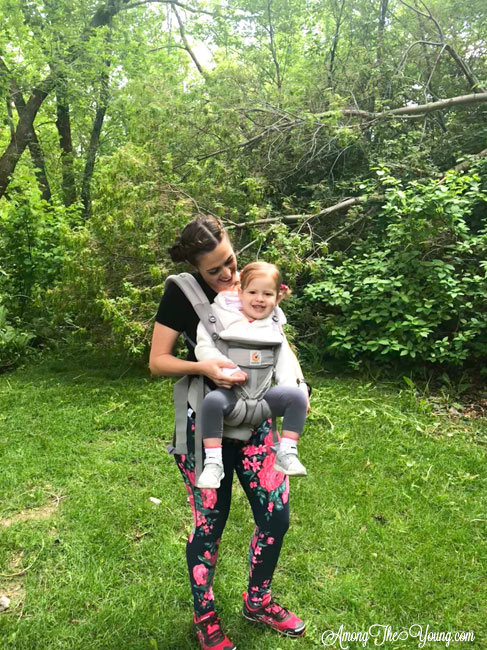 Toddler approved mini muffins: