My friends and I went on a hunt to find the best chocolate chip cookie. It had to be in Utah and it had to be from a bakery or a store. Guess what we found? A UNANIMOUS decision and : the best chocolate chip cookie (store-bought) in Utah Valley!
My friends and I are picky – I'm probably the pickiest of them all, and I'm not ashamed to admit it. When it comes to desserts, I have no patience for mediocrity. If it's going in my mouth, it needs to be fantastic – otherwise it's not worth wearing or exercising off.
We had this idea at a blog conference that we should test different types of food and see which one was actually the best. The thought was SO intriguing. We HAD to start with cookies: it's all the rage right now. Thus, the hunt for the BEST chocolate chip cookie began!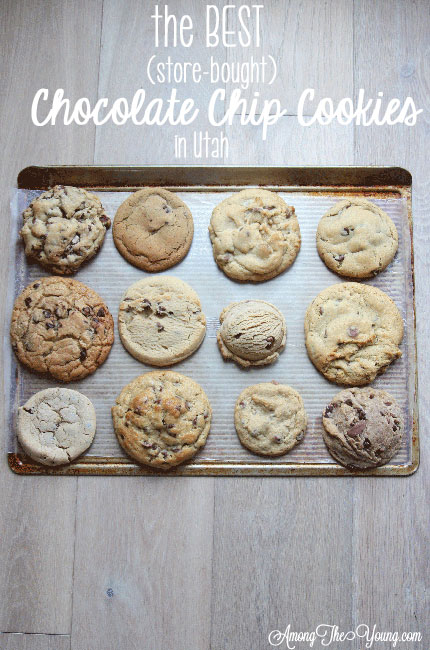 We went up and down Utah, taking suggestions from Facebook, Instagram, and friends – everyone had an opinion about the best chocolate chip cookie and everyone had a favorite. Even as the "taste-testers" had our favorites and we all wanted to be right!
We had a rating scale 1-10 based on taste, texture, price, etc. At first we were worried that we'd overdose on cookies! Have no fear, we all survived and the best chocolate chip cookie in Utah was found!
Last thing before the ratings… the tasters! We have Amber (Dessert Now, Dinner Later), Yvonne (Tried and Tasty), Allie (Cupcake Diaries), Aimee (Like Mother Like Daughter). I consider each of these babes to be very highly skilled and opinionated on good food. This was such a blast and I can't wait to do more tastings with them!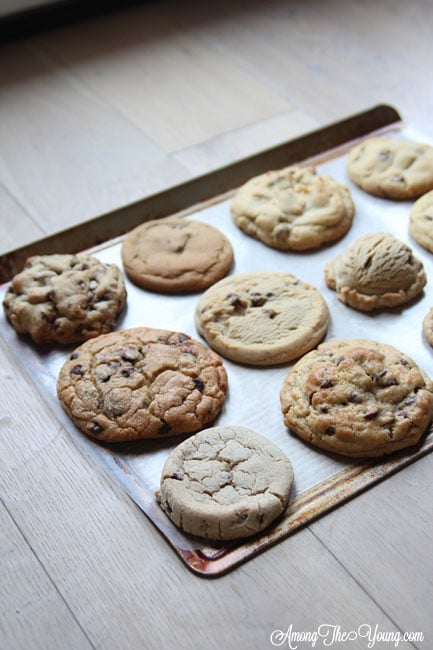 The Worst Chocolate Chip Cookie:
#12: FIIZ.
Score: 5/50
Price: $1.75
Just like our #1 pick was unanimous, so was our #12. This cookie was by far our least favorite and we were all felt very generous giving it a 1 (instead of a zero). Several of us spit this cookie out. The flavor was not pleasing, the texture was crunchy, and it was just …. NOT good. Sorry Fiiz….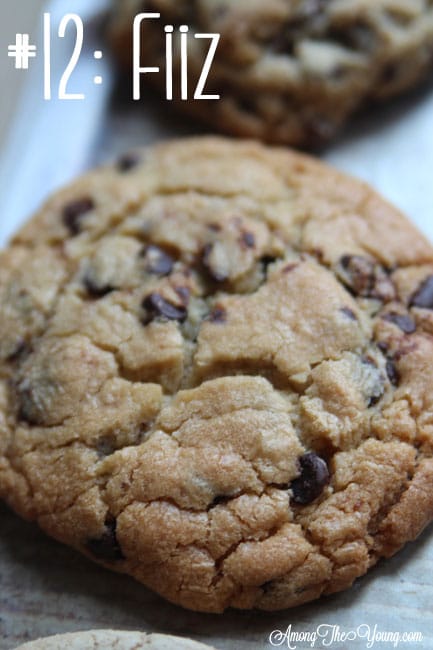 #11: Ruby Snap
Score: 15/50
Price: $2.50
This cookie was SUPER soft and had so much potential, but there was an overwhelming taste of cinnamon that none of the taste testers really like. We could all at least EAT this cookie – no one spit it out!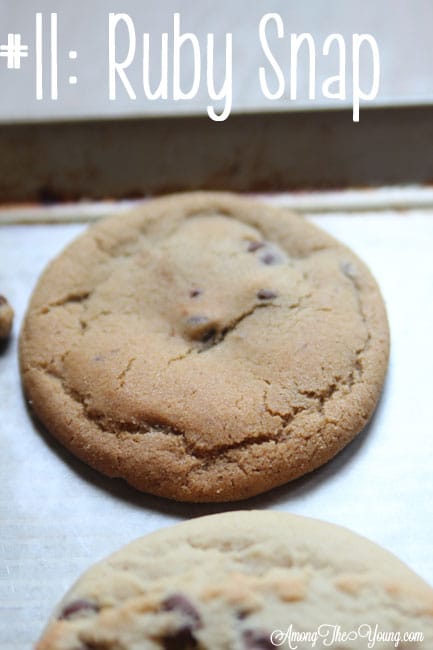 #10: Swig
Score: 19/50
Price: $1.75
This one reminded us of a yellow cake mix batter cookie – certainly not something you'd expect to find in the best chocolate chip cookie. It was sweet and fine, but not the best.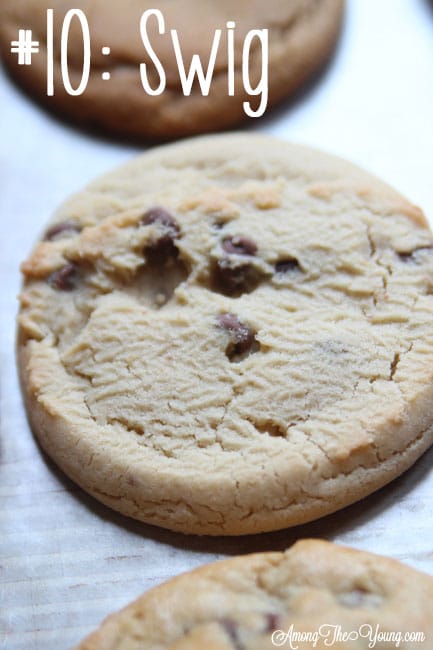 #9: Sweet Tooth Fairy
Score: 25/50
Price: $1.87
Admittedly, this one surprised me. I thought STW would do better. To be fair, STF offers two separate chocolate chip cookies and we only grabbed one of them. For the record, I love Sweet Tooth Fairy and will eat this cookie pretty much any day. The texture was slightly more gritty than the other cookies – it wasn't as smooth, but again – I'd still eat it!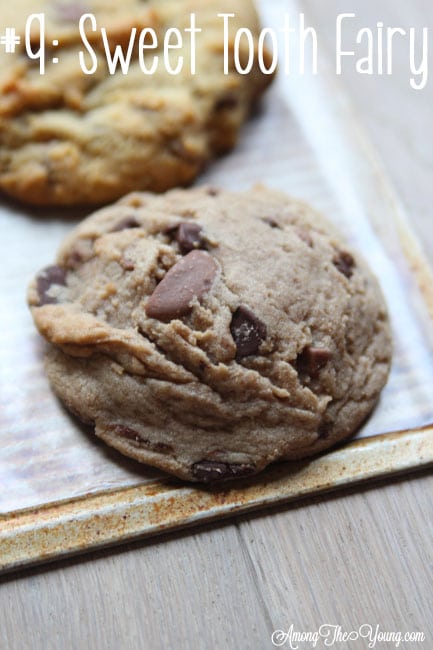 The ok Chocolate Chip Cookies:
We were SHOCKED to have a TIE!
TIED for #8: Crumbl and Cutlers
Crumbl
Score: 25/50
Price: $$2.50
The Crumbl cookie had milk chocolate chips and the dough lacked flavor. We did warm these cookies up, but had it not been warm, it would have had NO allure at all.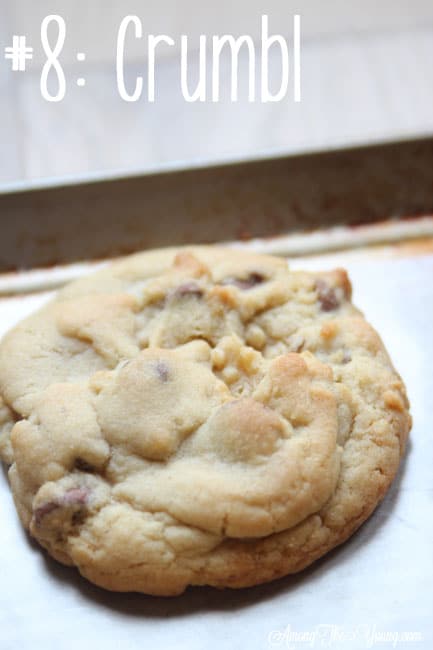 Cutlers
Score: 25/50
Price: $1.49
The Cutlers cookie had a gray-ish appearance, and it was really soft. It reminded us of a Chewy Chips Ahoy – which isn't necessarily a bad thing. Given the choice between this tie, I'd take this one ANY day.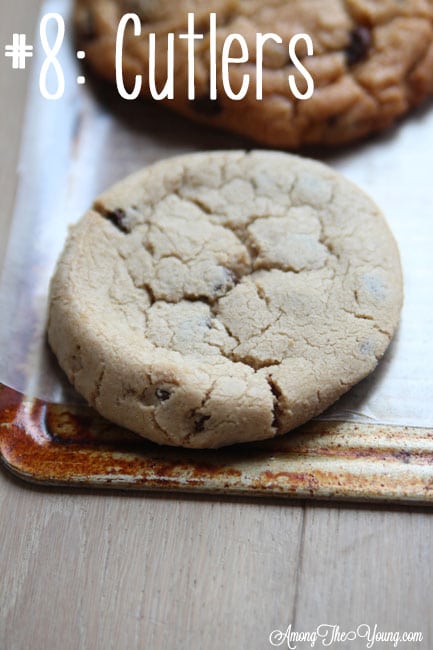 #6: Provo Bakery
Score: 30/50
Price: .99
This one almost didn't make the cut! I was convinced it wasn't going to be good and was happily surprised! It was really soft, had a nice "vanilla-y" flavor, and a wonderful texture. Plus, it's DEFINITELY the cheapest of the bunch, coming in at only .99 cents!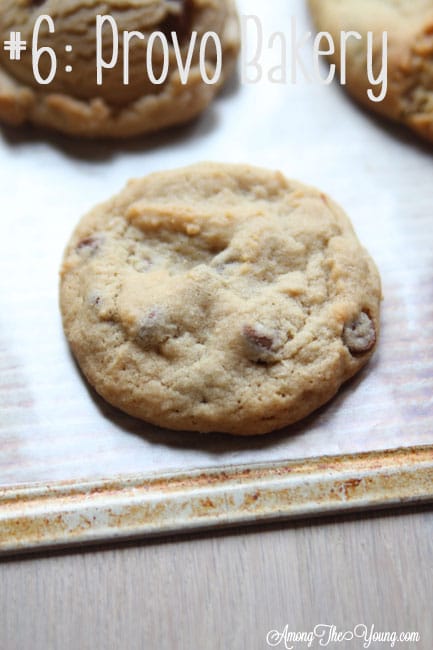 #5: Twisted Sugar
Score: 32/50
Price: $1.50
THIS is my kind of cookie – stacked high like a mound of cookie dough and super doughy. Call me crazy – I knew which one this was in the tasting and I knew I liked it. It's the only one that looked "scooped" like a scoop of ice cream.

#4: Baked
Score: 36/50
Price: $2.50
This cookie was really soft and had a nice saltiness to it. It's on the more expensive side as far as cookies go, but they do donate some of their proceeds to charity, which is a huge plus. I will eat cookies for charity ANY DAY!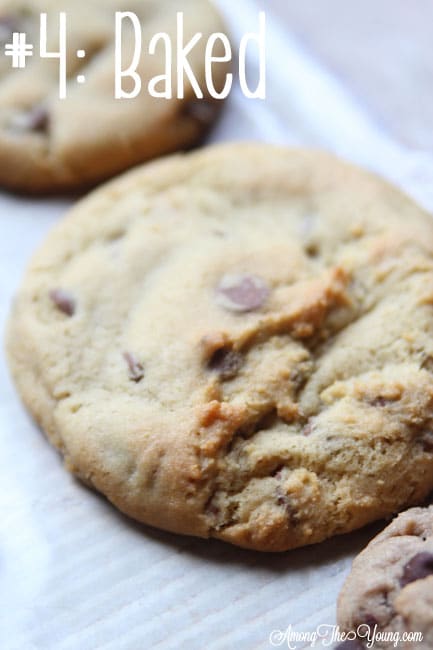 #3: Suus
Score: 40/50
Price: $2.50
Again, on the higher end of the price range, but this cookie was SOFT and had a nice chewy texture.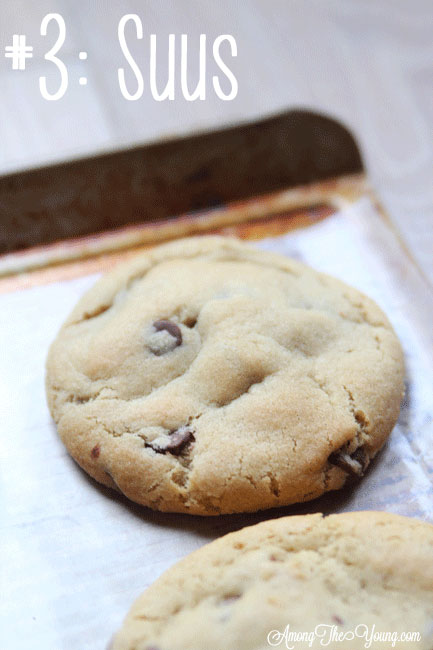 #2: Chip
Score: 42/50
Price: $3.50
I was surprised by this vote, because these are not typically my favorite cookies, but the rating speaks for itself! This had a good amount of chocolate chips and had a nice caramel-y flavor. Again, I was surprised I liked this one as much as I did!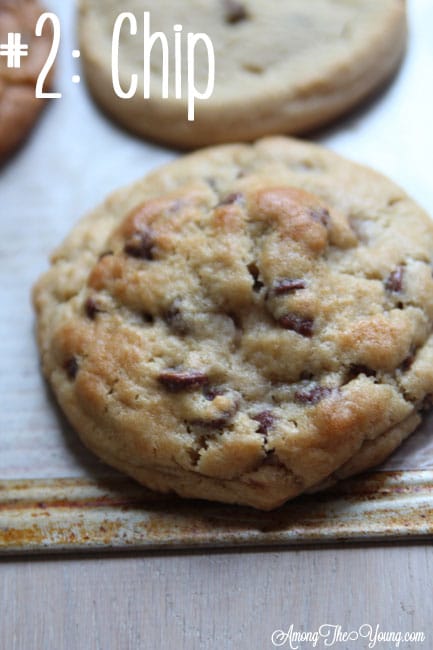 The Best Chocolate Chip Cookie:
And the winner … the BEST chocolate chip cookie (from a bakery or store) that we could find?
#1: Goodly!
Score: 44/50
Price: $3.50
By far the most expensive cookie out there, but these guys also donate to charity, which again – cookies and charity have my whole heart. This cookie was LOADED with semi-sweet chocolate chips. It reminded me of the Levain cookies we had in New York City. Need I say more?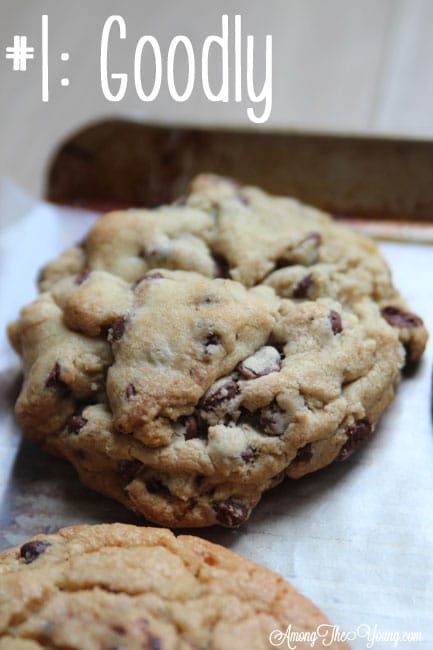 So what do you think? Did your favorite chocolate chip cookie make the list? Have I inspired you to go try some new chocolate chip cookies?
If you wanna watch the live video, I got you! WATCH HERE! It's a tad long, so if you wanted to skip to the end I wouldn't be mad at you. Just watch the results. However, if you want to see some epic facial expressions or see us spit cookies out, you should watch this. It's pretty darn entertaining. I've gotta say, it's a hard job but someone's gotta do it!
It was SUPER fun to try all the cookies we could get our hands on – but know that I'd pretty much eat any chocolate chip cookie at anytime. Maybe I should edit that …. I'd eat any of the top 8 listed here … just saying! If I've got you hankering for chocolate chip cookies but none of these stores are close (and don't deliver your way!) I've got some pretty gnarly cookie recipes as well! My browned butter cookies never disappoint! Just sub out all the crazy chips I've got in there and go with straight chocolate. You're welcome!