Long enough title for you? Let's come up with an acronym. BBBCPBSSC. Haha – no, but seriously. Browned Butter Bacon cookies – I could have stopped right there.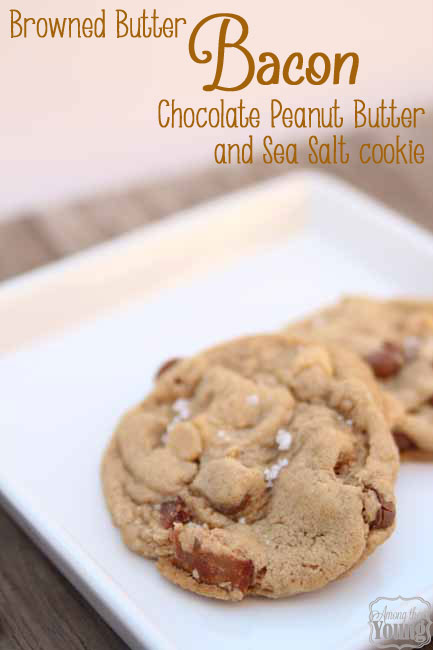 But I didn't.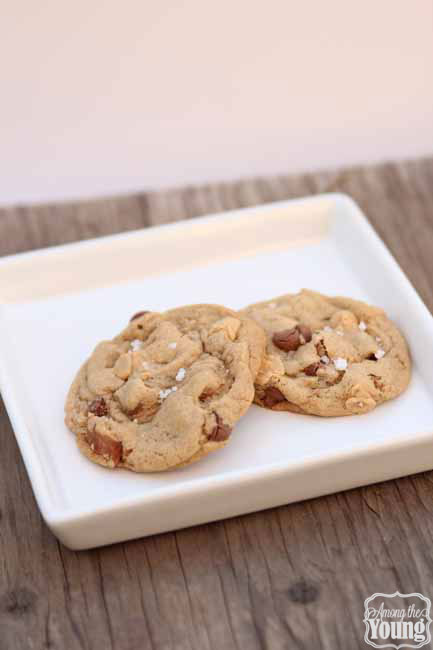 Of COURSE I needed chocolate chips. I love to keep it interesting with peanut butter chips. And Sea salt on top? The perfect combination.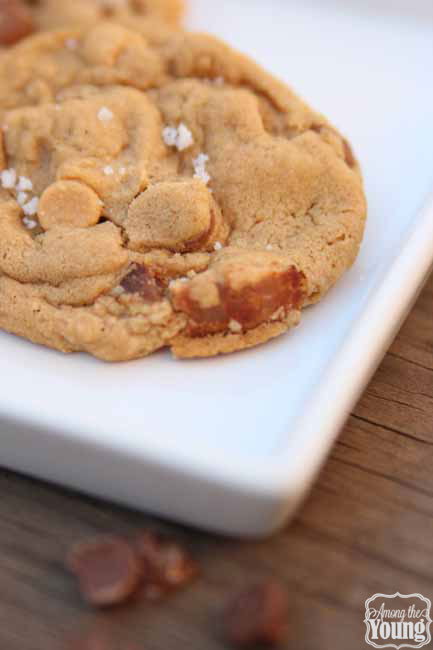 I would have eaten them all, but I needed witnesses (other than Handsome) to attest to the awesome-ness that was this cookie.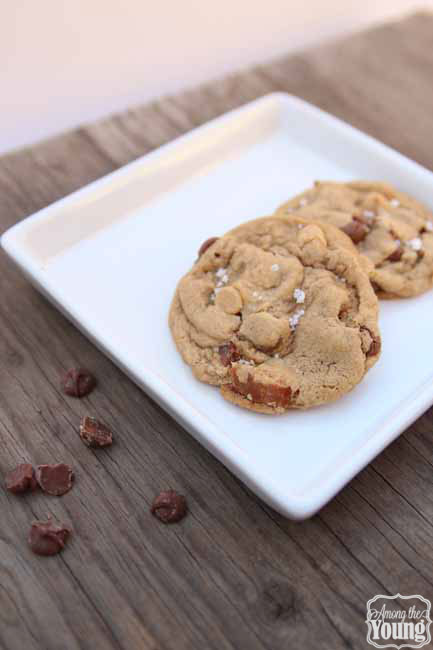 So I took them to work – my elementary school – and they magically disappeared. Why? Because they're to die for.
The trick is to buy high-quality bacon. None of that cheap flimsy stuff. I adapted the recipe from my Browned Butter Cookie recipe
And I was featured on Good Things Utah with this recipe! You should check out the video HERE – bless my heart guys. Chris Wingert (RSL babe) ATE my cookies!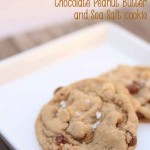 Browned Butter Bacon Chocolate Peanut Butter Sea Salt Cookies
Ingredients
2 1/4

cup

all-purpose flour

1 1/4

teaspoons

baking soda

1/4

teaspoon

of salt

1

c (2 sticks)

butter

1 1/4

cup

packed brown sugar

1/4

cup

granulated sugar

1

large egg

1

egg yolk

1 1/2

teaspoons

vanilla extract

1

tablespoon

plain greek yogurt

1/2

cup

milk chocolate chips

1/2

cup

peanut butter chips

1/2 - 1

cup

bacon

Coarse sea salt for sprinkling
Instructions
Preheat the oven to 350 degrees F

Whisk together the flour, baking soda, and salt in a bowl and set aside.

Melt butter in a saucepan over medium heat.

The butter will begin to foam.

Make sure you whisk consistently during this process.

After a couple of minutes, the butter will begin to brown on the bottom of the saucepan.

Continue to whisk and remove from heat as soon as the butter begins to brown and give off a nutty aroma.

Immediately transfer the butter to a glass bowl to prevent burning.

Set aside to cool for a few minutes.

With an electric mixer, mix the butter and sugars until thoroughly blended.

Beat in the egg, yolk, vanilla, and yogurt until combined.

Add the dry ingredients slowly and beat on low-speed just until combined.

Gently fold in all of the chocolate and peanut butter chips and bacon.

Chill your dough for 2 hours in the refrigerator. (DO NOT skip this step!)

Once dough is chilled measure about 1 1/2 tablespoons of dough and roll into a ball.

Place dough balls on cookie sheet, 2 inches apart and flatten with your hand VERY gently.

Bake the cookies 9-11 minutes or until the edges of the cookies begin to turn golden brown.

Sprinkle with sea salt and let cool.