Top Utah lifestyle blog, Among the Young, features the most amazing Browned Butter Chewy Cookies and Cream Cookies. These are heaven in your mouth! Read on for the recipe!!
Oooookay… are you ready for these cookies and cream cookies? I don't know if you are, because I am about to blow your socks off….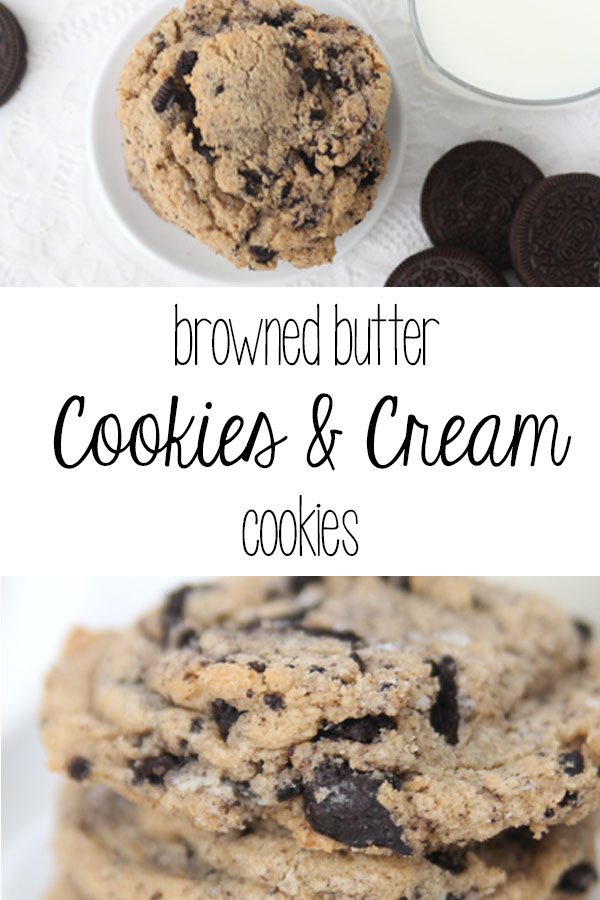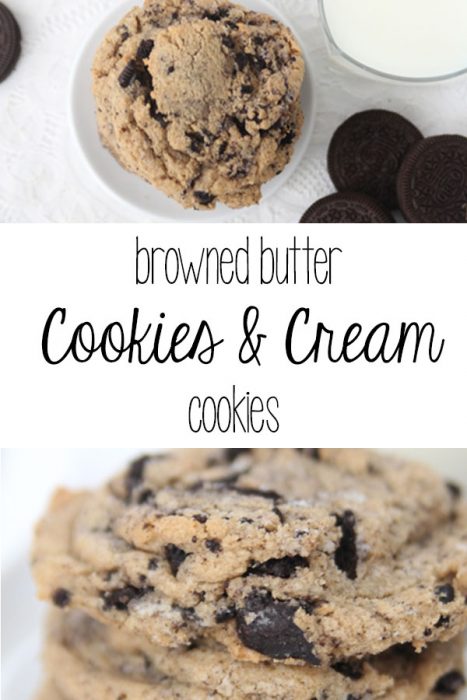 I've always loved Oreos (I mean – are those not the epitome of "cookies and cream?"). I love pretty much every kind of Oreo that has ever been made. So it made sense to add my favorite cookies to my favorite cookie recipe.
Cookies and Cream cookies
Did I lose you? Adding Oreos to cookies isn't a new thing. People have been doing it since the dawn of time (or so it seems).
Several cookie shops have started selling this flavor of cookie and I have tried them all. I'm not exaggerating – I have tried all the local joints version of cookies and cream. All were FINE.
MINE IS BETTER.
WHY?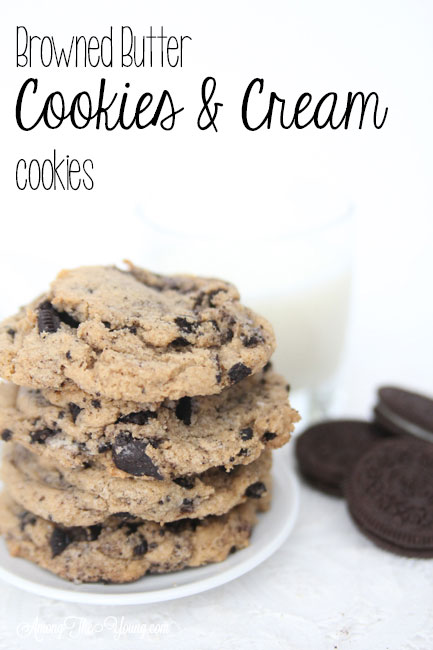 Sure sure, the argument will almost always stand that HOMEMADE COOKIES are ALWAYS better than store-bought. But this holds true for one reason alone: browned butter.
The cookies I have purchased have been soft, chewy, and really yummy…. but if the dough isn't flavorful, the Oreo cookies and creaminess doesn't add a whole lot to the overall flavor of the cookie. Does that make sense? What you end up with is a bland (albeit decent) cookie.
Browned Butter Cookies and Cream Cookie
Friends, the browned butter MAKES IT. It gives the dough a depth and richness. The dough, on its own, has flavor. The Oreo cookies then add the sweetness and you're left with a delightful cookie that is out of this world amazing.
In my opinion, if the cookie dough can stand alone, it's be a good cookie. Adding anything else to a good, stand-alone dough is totally fine because you know you have a good base.
Is your mouth watering yet? It really should be.
The key to this recipe is letting them rest in the refrigerator. DO NOT SKIP THIS STEP! They need time to chill, otherwise you'll end up with flat, sad cookies. (They'll probably still taste good though?) We're looking for that "mounded" ice cream scoop of cookie. Oh yum!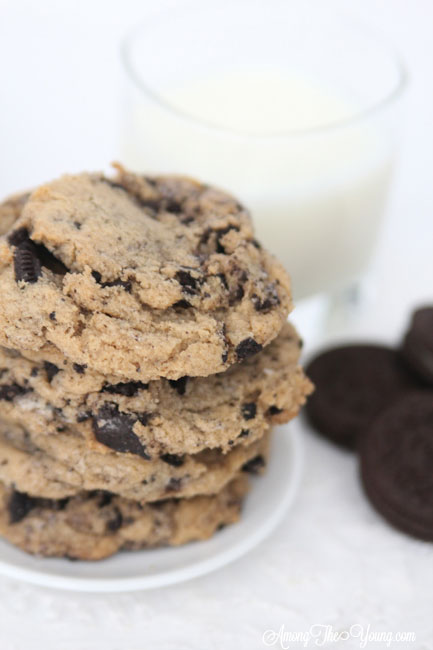 If you liked these Browned Butter cookies, you'll LOVE my other cookies.
Browned Butter Bacon cookies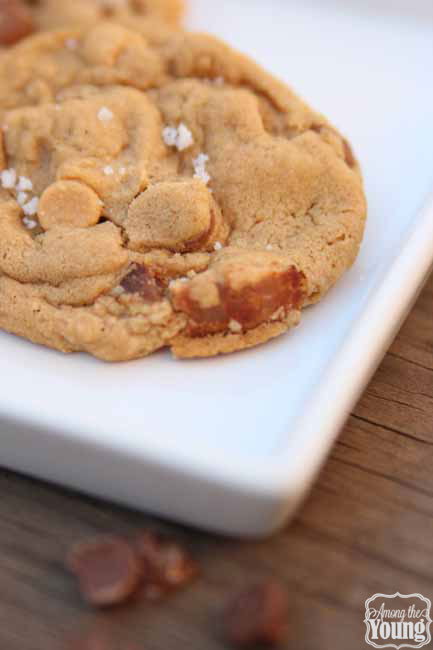 Nutella stuffed Cookies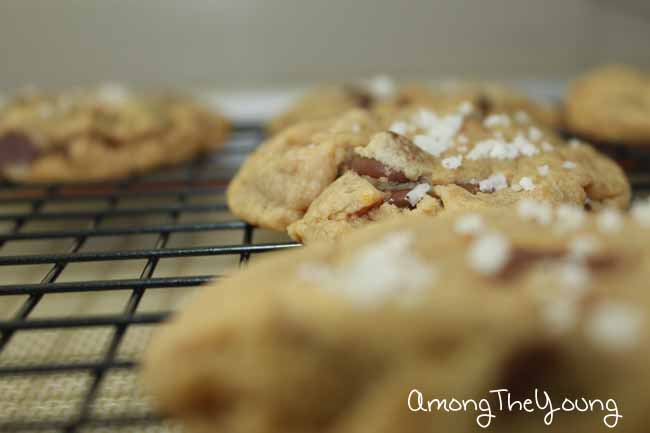 Nutella stuffed Sandies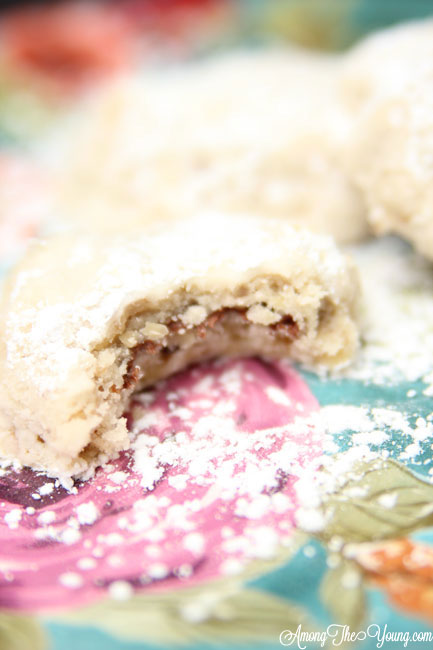 My friend Ashlee also has some AMAZING cookies on her blog. You really can't go wrong with any of her cookies! Her soft chocolate chip cookies or soft fat chocolate chip cookies are on my list of things I MUST make!
Print Recipe
Browned Butter Chewy Cookies and Cream Cookie
Ingredients
2 1/4

c.

flour

1 1/4

tsp

baking soda

1/4

tsp

salt

2

sticks (1 cup)

butter

1 1/4

c.

brown sugar

1/4

c.

sugar

1

large

egg

1

egg yolk

1 1/2

tsp

vanilla

1

TB

yogurt

1-2

c.

Oreo cookies

chopped (as fine or chunky as you like!)
Instructions
Crush Oreo cookies; set aside.

Mix flour, soda, salt in bowl; set aside.

Melt butter in a saucepan over medium. (It will begin to foam - continue stirring)

Butter will start to brown and give off a nutty smell.

Transfer butter (immediately) to a glass bowl to prevent burning.

Set aside; let cool for a few minutes.

In a mixer, combine butter and sugars.

Beat in egg, yolk, vanilla, and yogurt.

Slowly add dry ingredients - beat on low.

Gently fold in crushed Oreos.

Roll into 1 1/2 TB balls. (use the purple #40 ice cream scoop)

Chill for several hours or overnight.

Bake 12 cookies per sheet at 350 for 9 minutes. 

Use a small cup to shape the hot cookies as soon as they are out of the oven.
So now I've gotta know, what's your favorite kind of cookie? Would you try these?
Products I used: